Shortpixel will help you in this scenario you can compress any kind of images that is in different formats, when you upload any images on site then only this plugin compresses that image and you can compress bulk images at a time.
Shortpixel: Compress and Optimize your Images
Increase your site SEO rank by optimizing all sort of images without dropping the original quality
If your website loads faster, it will help to get more traffic to your website and push in the SEO ranking, and visitors also don't need to spend time while loading itself. To reduce the loading time of your website image optimization is must require. This is the easiest way to get loading time down.
Shortpixel will help you in this scenario, you can compress any kind of image in different formats. Whenever you upload an image to the media library, this plugin compresses that image. Further, you can compress bulk images at any time.
With more privacy, you can compress past website images also without breaking any links so this is an easy and safe way to optimize the site.


Shortpixel Plugin Features
Shortpixel is a popular image compressor plugin that is available in the WordPress repository. you can use the free version to check the features and functionalities of the plugin
With basic features of the WordPress plugins like WP Smush and Imagify, Shortpixel has some more features.
You can make your website quick compression test on Shortpixel website, That show how the image compression will take place, and you can compare original and compressed image there itself.
There is no file format restriction in Shortpixel you can use JPG, PNG, GIF, or even PDF format to optimize. there is an option to convert PNG to JPG to reduce even more space in the server.
There are three ways of compression takes place in Shortpixel based on your settings.
1. Lossless compression
Based on the Lossless algorithm this compression method will work. If the speed of your website is acceptable and you want to reduce some amount of image size then this method is the best one. The quality of the image will remain the same after the compression and a small amount of the size will reduce in the image.
2. Glossy Compression
This method gives better image quality and more focused on the Google insights and reduces only a small amount of the size. Overall the loading time was not going to be changed but google insights were pushed up.
3. Lossy Compression
A larger reduction in the file size and the image quality also not so high compared to the other two methods.


You can do bulk optimization of the images and comparing the original image with the compressed image is also possible in this plugin.
Shortpixel gives the option to resize your images too. No need to resize your images before uploading them to the WordPress Media library. Based on where you are using the image, Shortpixel automatically resizes that image.
Shortpixel works with the cloud-based server you need to connect that with API to your WordPress site, so all the optimization process is taking place in the cloud so your server will run smoothly while optimization is going.
How to Start with ShortPixel free version
Download the free version of Shortpixel in the WordPress Repository. Activate the plugin. This plugin will operate based on API so you need to Get the API key from them. Go to settings ->Shortpixel. Enter your Email ID on Box and enter Request an API key Button then Shortpixel will activate your account automatically, You will get a Mail also with an API key so you can add it manually also.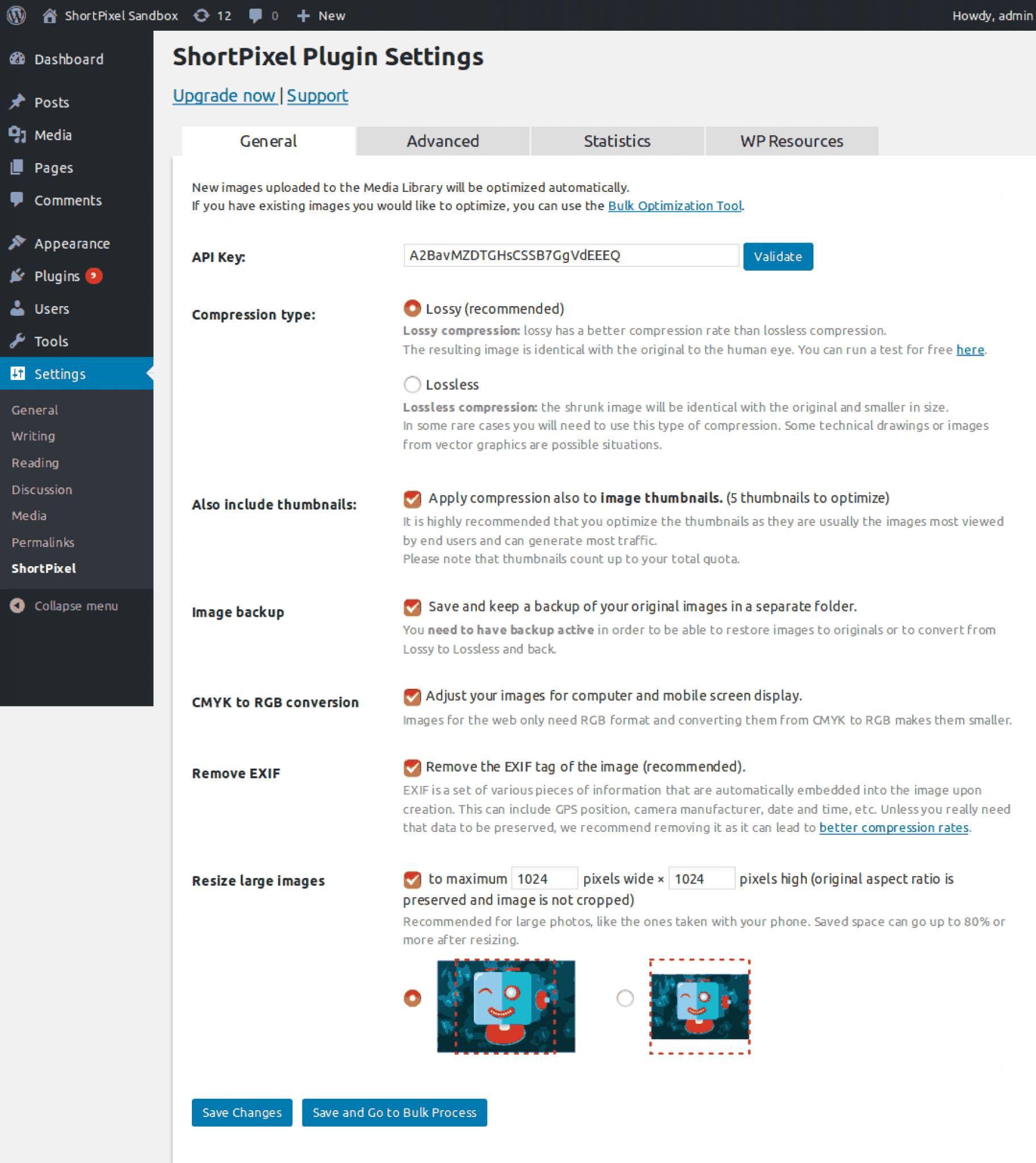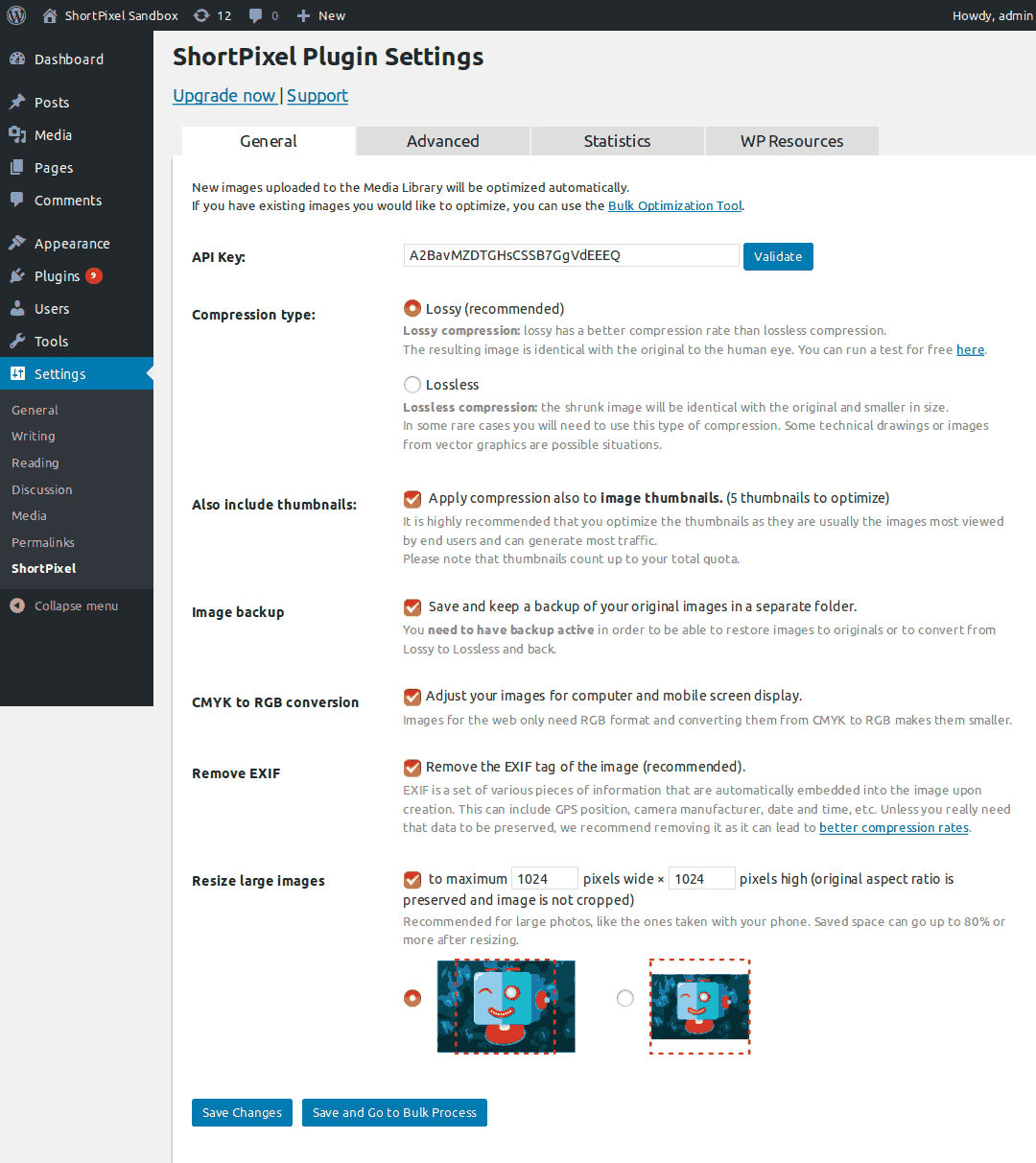 Then You can make some settings based on your requirement in the general tab, You can select which type of compression type you want like Lossy, Glassy, or Lossless.
Set the option for image backup and removing the background metadata of the image by checking to remove the EXIF tag of the image.
You can set the maximum width and height to maintain resize of the image.
In the advance tab, you can find an option for convert PNG to JPEG and you can set automatically exclude some images from the optimization.
Quick Compression test
For better understanding let's make a quick compression test for the image.
I used the image with file size 284kb with 700px X 400px total width and height.
After compression, the file size was reduced to 41kb without damaging the quality of the original image.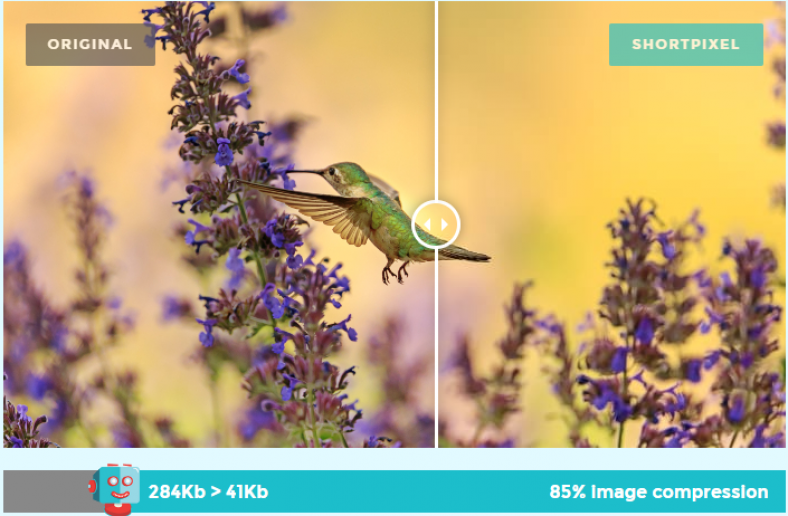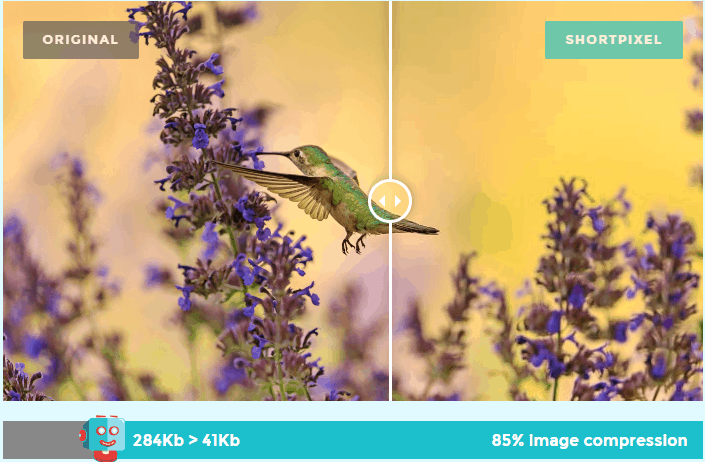 ShortPixel Free V/S Pro
ShortPixel is a free plugin you will get in the WordPress repository but one limit in the free version is you can not optimize more than 100 images per month, other than this limit free version has the same features compare to pro versions.
Free Features
100 images/Month
Regular support
Easy to use
No file size limit
One API key for multiple sites
Lossless, Glossy and Lossy optimization
Automatic and Bulk optimization
WordPress Plugin
Pro Features
5,000/12,000/55,000 images/Month
Priority support
Easy to use
No file size limit
One API key for multiple sites
Lossless, Glossy and Lossy optimization
Automatic and Bulk optimization
WordPress plugin
Php compression tools
Cancel anytime
Pro's and Con's
PROS:
With a 90% compression rate trustworthy compression plugin
All files are supported
3 different compression types
Supports automatic and bulk optimization
One-click backup
CONS:
You can not use unused monthly credit in next month
Pricing
Shortpixel is the pocket-friendly plugin you will get a pro version for 5$. All features are the same in the free and pro versions except the limit of images per month and support. Pro version comes in 3 ways Short, Large, and XXL.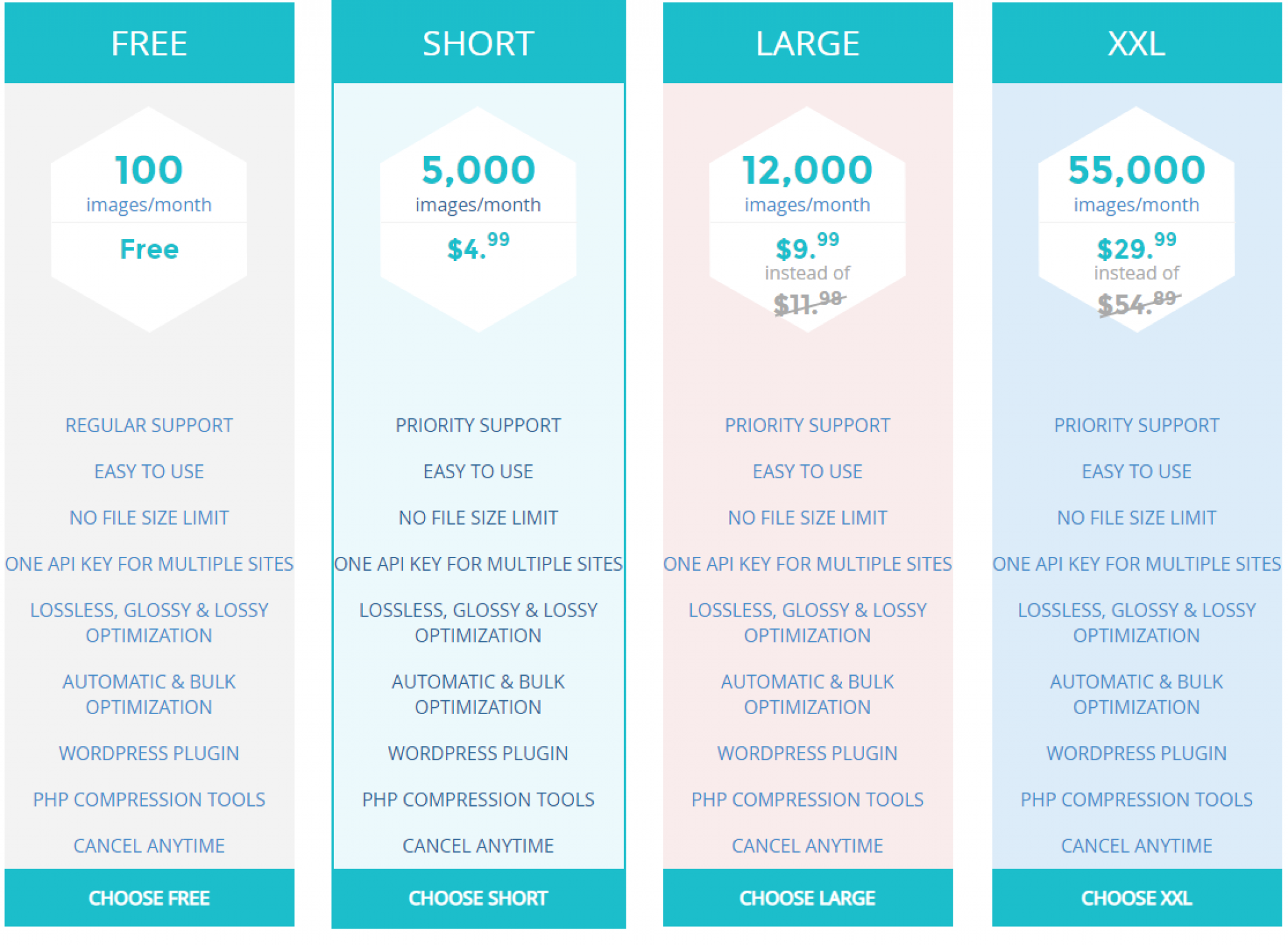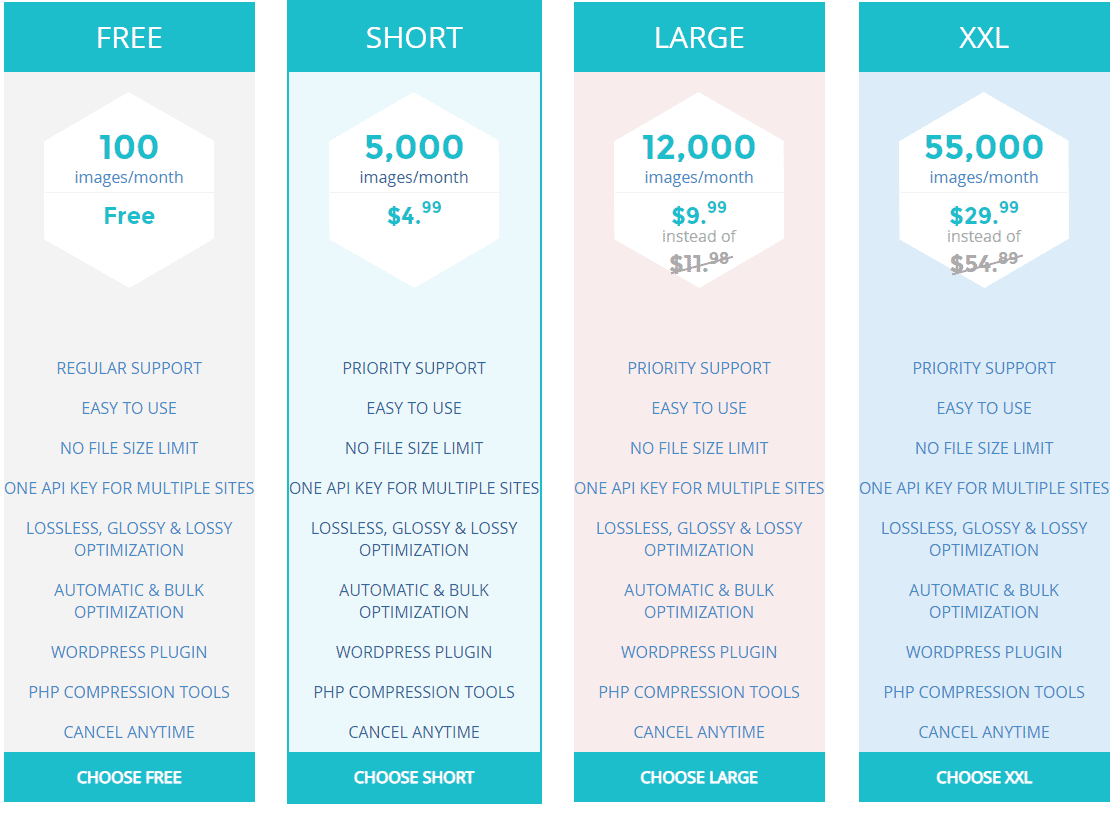 ShortPixel gives a one-time payment option also you need to buy some credits first for that there is no time limit you can use until credits got over.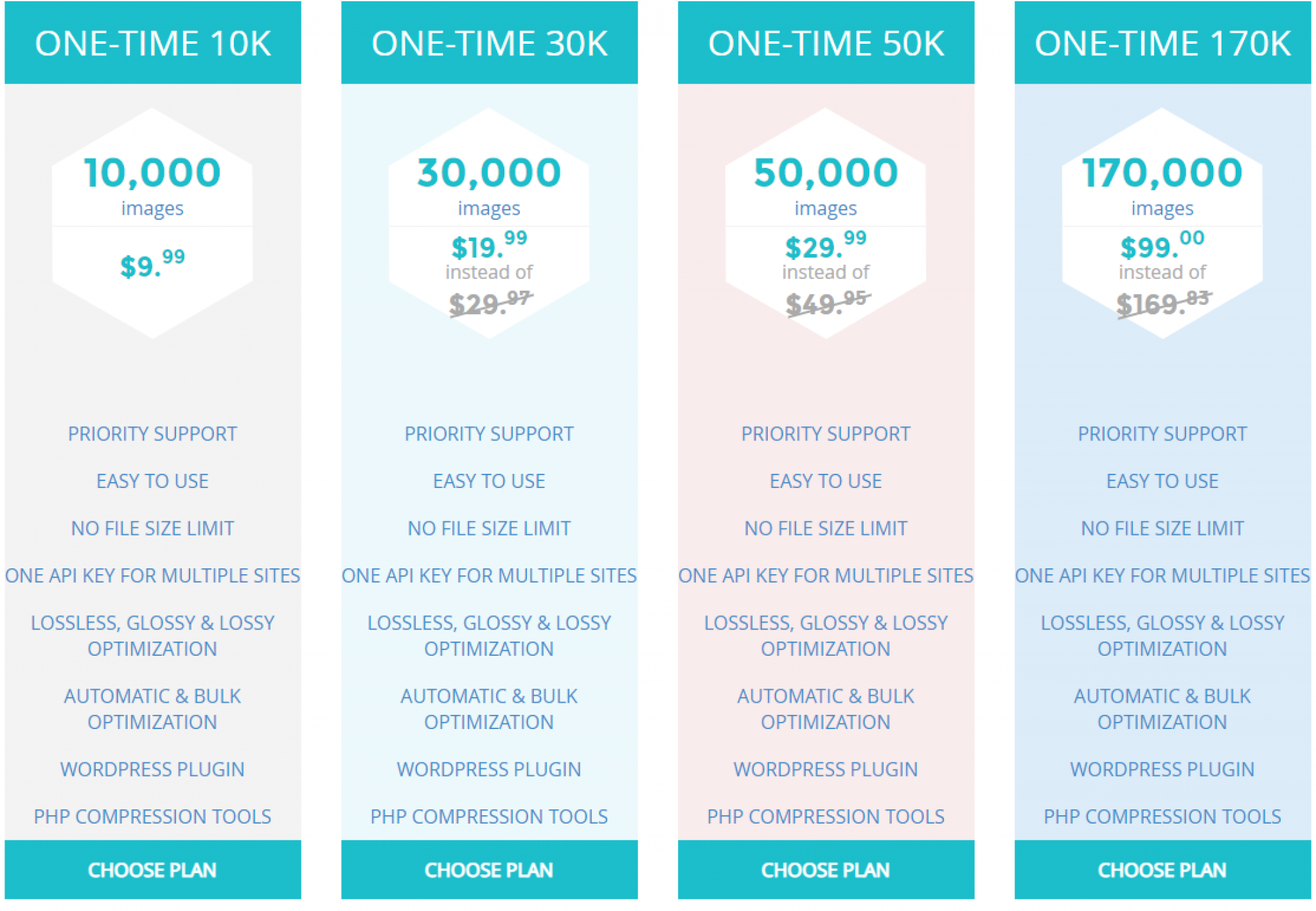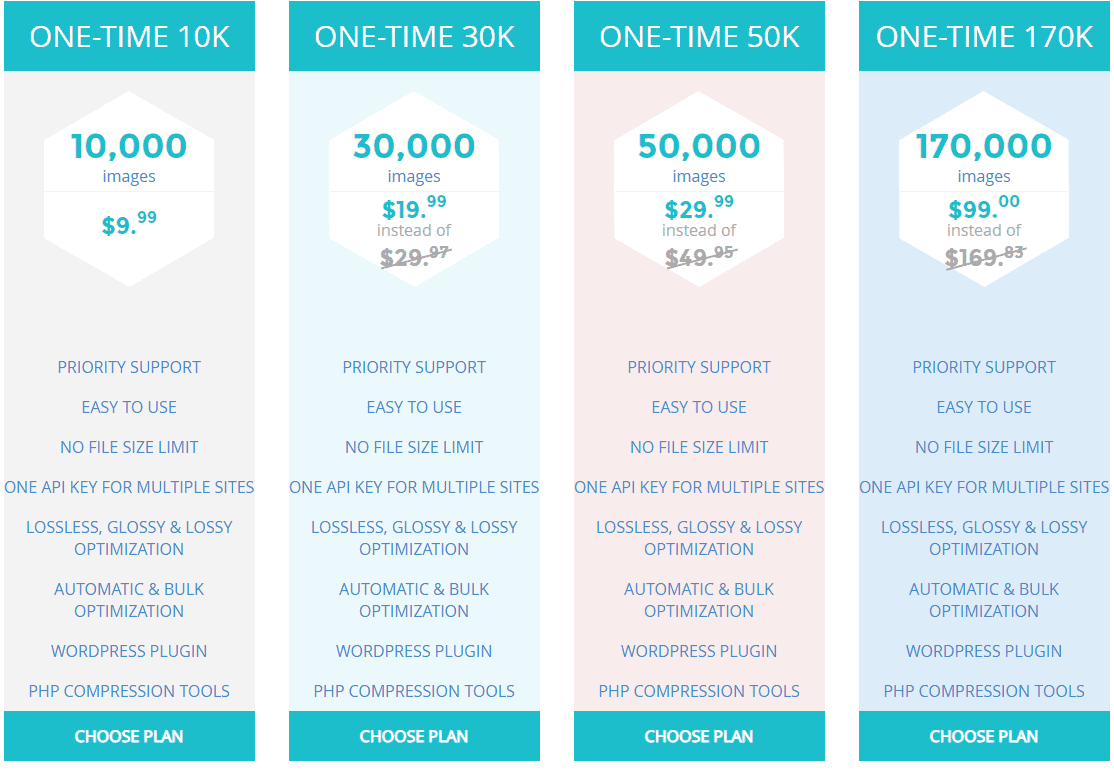 Similar Plugins
No posts for this criteria. No posts for this criteria.
Final Verdict
The final thought was first to start using the free version of ShortPixel once you noticed the compression quality and reduced image size you can get a pro version based on the requirement.