SiteGround Web Hosting: Fastest and Reliable WordPress Hosting
SiteGround provides UltraFast and secure hosting for small and medium sites and businesses. From managed WordPress hosting with specialized tools to fast website launch and smooth site transfer, SiteGround has got you covered.
You will get:
Easy to use with great performance.
99.99% Uptime.
Easy to set up a staging site and move it live when you're done.
Allows access to client websites without needing multiple logins with the collaborator function.
It is reliable, has very little downtime, and has quick servers.
Great support services.
SiteGround Review
Provides quality crafted hosting services
PROS
Easy to use with great performance.
99.99% Uptime.
Easy to set up a staging site and move it live when you're done.
Allows access to client websites without needing multiple logins with the collaborator function.
It is reliable, has very little downtime, and has quick servers.
Great support services.
CONS
Complex pricing structure
Free domain is not included
Are you tired of slow website loading speeds and poor security of your WordPress site? Look no further than SiteGround, the fastest and most affordable WordPress hosting solution. SiteGround is the preferred hosting provider for many reasons, including its unique in-house solutions for website speed and security.
In this blog, we will cover everything you need to know about SiteGround's WordPress hosting features, performance, pricing plans, and customer support.
What Is SiteGround?
Overview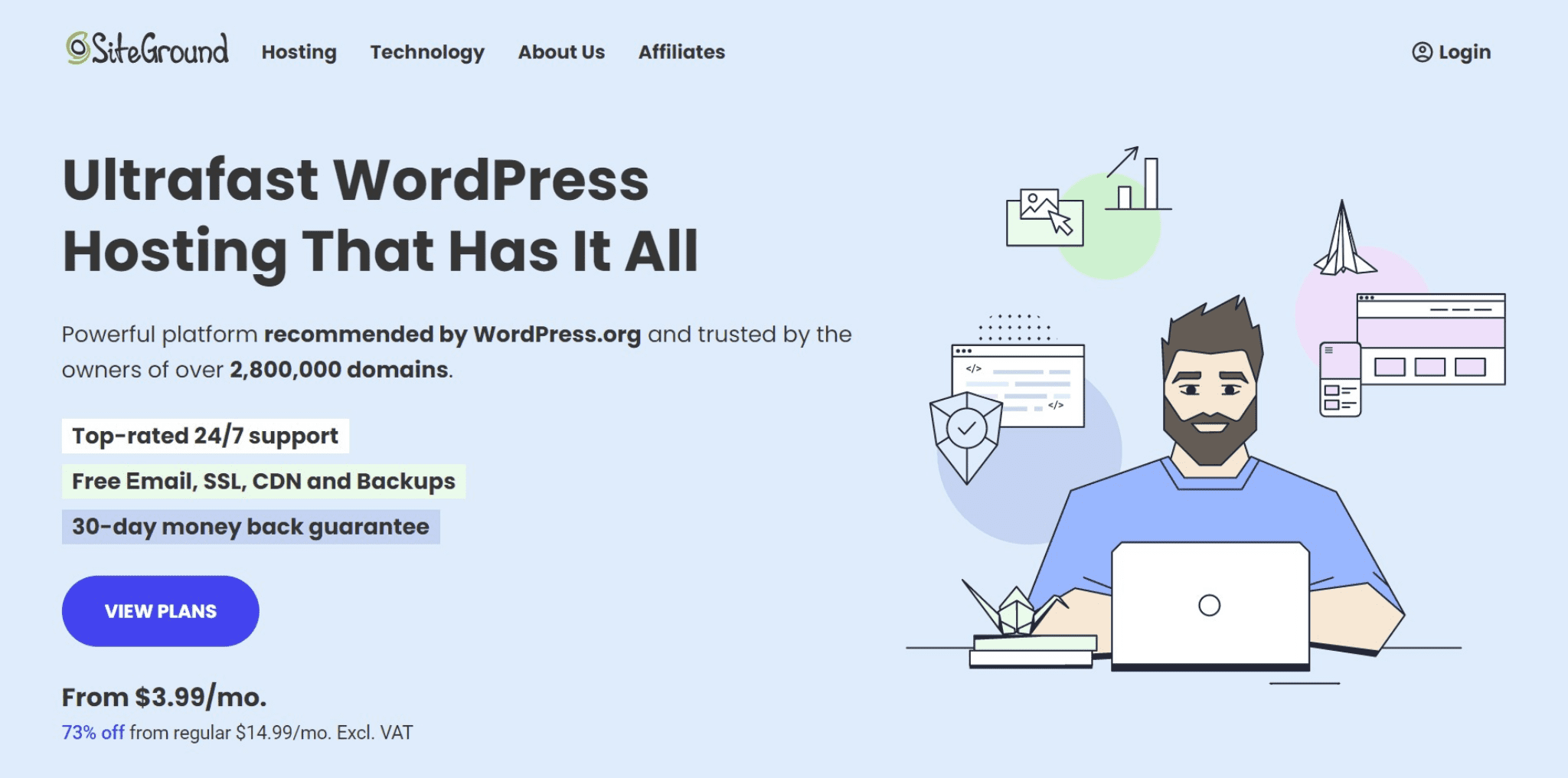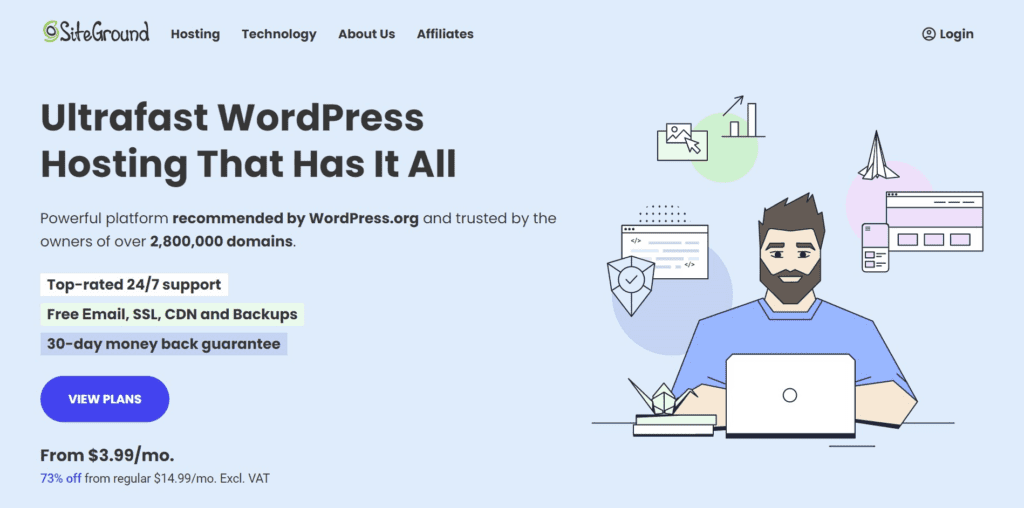 SiteGround is a popular web hosting solution for WordPress that has earned its reputation for being fast, reliable, and affordable. It is a widely trusted independent website hosting platform that caters to over 2.8 million domains globally. Their hosting service emphasizes website speed and security and comes equipped with efficient website management tools and exclusive in-house solutions that enhance the performance and safety of websites. Combined with industry-leading customer service, this makes SiteGround the preferred website hosting provider for freelancers, small businesses, and webmasters alike.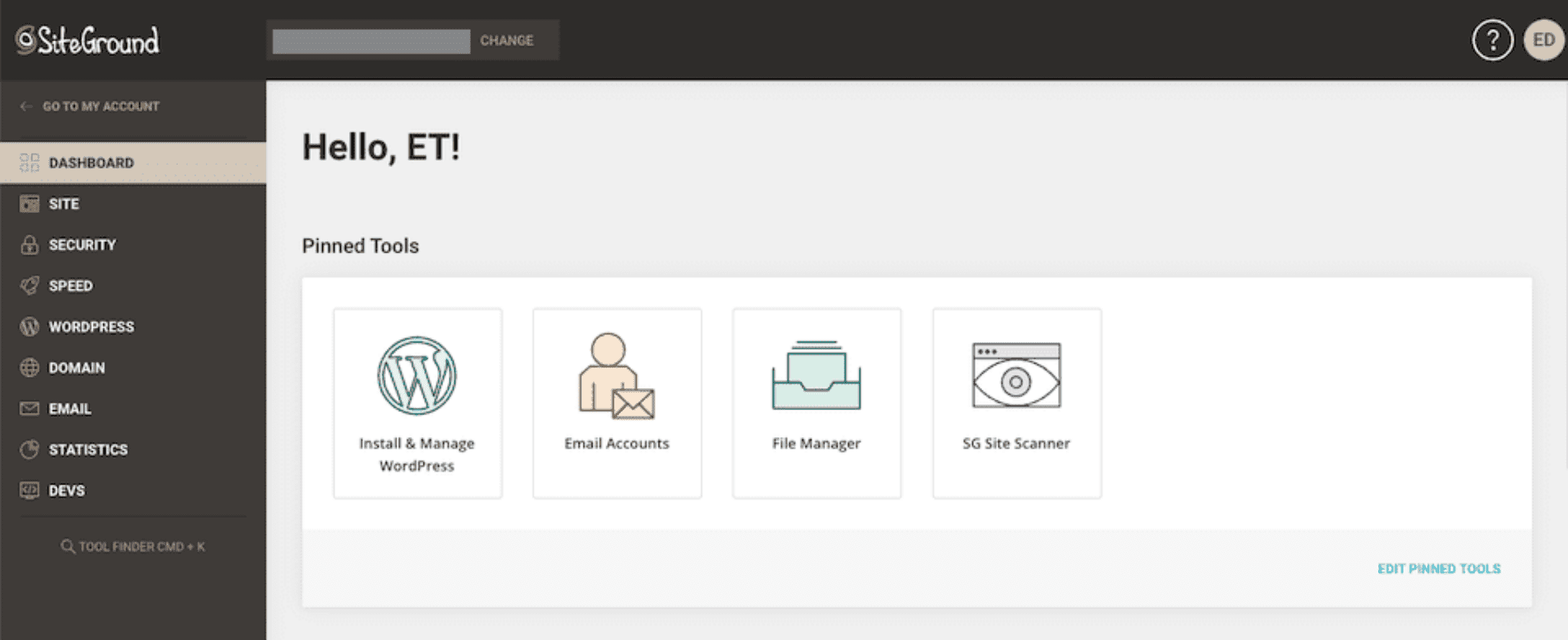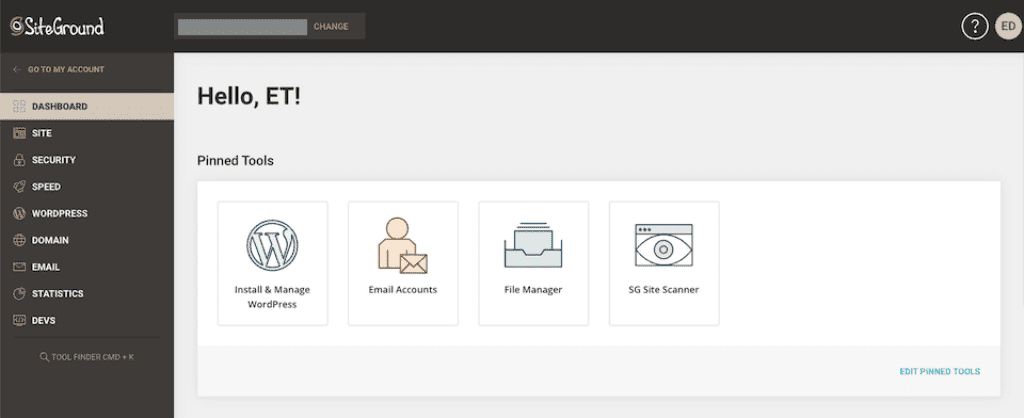 SiteGround is also recommended by WordPress.org, the software that powers over 40% of all websites on the Internet today. WordPress users on SiteGround enjoy managed service with specialized tools for superior website performance and easy management.
Company Details
SiteGround is a web hosting company founded in 2004 in Sofia, Bulgaria. Nikolay Todorov is the CEO of the company.
Today, it has about 200 employees working from 4 different offices and hosts more than 350,000 domains. The company achieved all that by creating its own solutions and in that process came up with technologies in the fields of server security, uptime, and speed.
Online Presence
Overview of SiteGround's hosting services
Different Hosting services

SiteGround is a website hosting provider crafted for easy website management, There are powerful in-house features in Siteground that makes your website faster and safe.
SiteGround servicing more than 2,000,000 domains worldwide. It provides shared hosting, cloud hosting, and enterprise solutions as well as email hosting and domain registration services.
Shared/Web Hosting
In terms of web hosting, SiteGround is an excellent choice for those who prioritize website speed and security. Their web hosting service is designed to cater to various Content Management Systems (CMS) including WordPressPressDrupal, Joomla, and other similar platforms.
SiteGround offers a full website solution that enables you to build and launch your website quickly with your preferred site builder: WordPress or Weebly. If you're an online store, you can install your choice of a shopping cart for free. With affordable and easy domain registration, SiteGround lets you manage both your domain and site in one place
Cloud Hosting
If your website has exceeded the limitations of shared hosting, it is advisable to migrate to the cloud. The cloud platform provides robust dedicated resources and is designed for optimal efficiency and speed, ensuring exceptional site performance.
You can host your WordPress sites on our cloud servers and enjoy amazing performance and a managed service.
WooCommerce Hosting
The WooCommerce packages they offer have been tailor-made to assist you in effortlessly commencing and administering a thriving website that includes an e-commerce store.
Eliminate all the inconvenience and set up WordPress along with the WooCommerce extension and the widely-used Storefront theme, providing you with a fully operational website equipped with e-commerce capabilities, all set for immediate use.
Flexible Reseller Hosting
Get a trusted hosting partner that gives you the tools needed to resell hosting and manage multiple sites easily.
Easily handle all your websites through a unified dashboard located in your SiteGround Client Area. This dashboard allows you to suspend or delete sites, as well as quickly access the Site Tools of each individual site. You can effortlessly locate a specific site in a lengthy list by utilizing our search function.
Why SiteGround is recommended by WordPress.org?
What makes it Unique?

It is a preferred hosting provider recommended by WordPress.org, one of the most trusted sources for information about WordPress websites.
SiteGround offers a range of features that make it stand out as a secure and reliable option for website owners. These include daily backups, free SSL certificates, and fast loading times.
One of the key advantages of SiteGround is its 24/7 customer support team, which is always available to assist with any issues or questions that may arise.
It provides extensive assistance in maintaining the security of your website so that you can avoid losing visitors and credibility. This includes round-the-clock system administration, an intelligent WAF, distributed backups, and numerous supplementary security measures.
Additionally, its affordable pricing plans make it accessible for businesses and individuals looking for a reliable hosting solution. Overall, SiteGround is an excellent choice for anyone looking for reliable and affordable WordPress hosting.
SiteGround WordPress Hosting Features
Best WordPress hosting

SiteGround offers a fast and trustworthy WordPress hosting solution with a 99.9% uptime guarantee, ensuring your website is always available for your audience.
Their hosting plans come with a host of features, including free SSL certificates, daily backups, and simple WordPress installation options. SiteGround has a user-friendly interface with plenty of customization options for your website. You can get customer support through live chat, phone, or email to resolve any issues you encounter while using their service.
Free SSL Certificates
Customers can enjoy added security benefits with their free SSL certificates. All hosting plans include Let's Encrypt Standard and Wildcard SSL certificates at no extra cost, providing users with the peace of mind that their website is secure.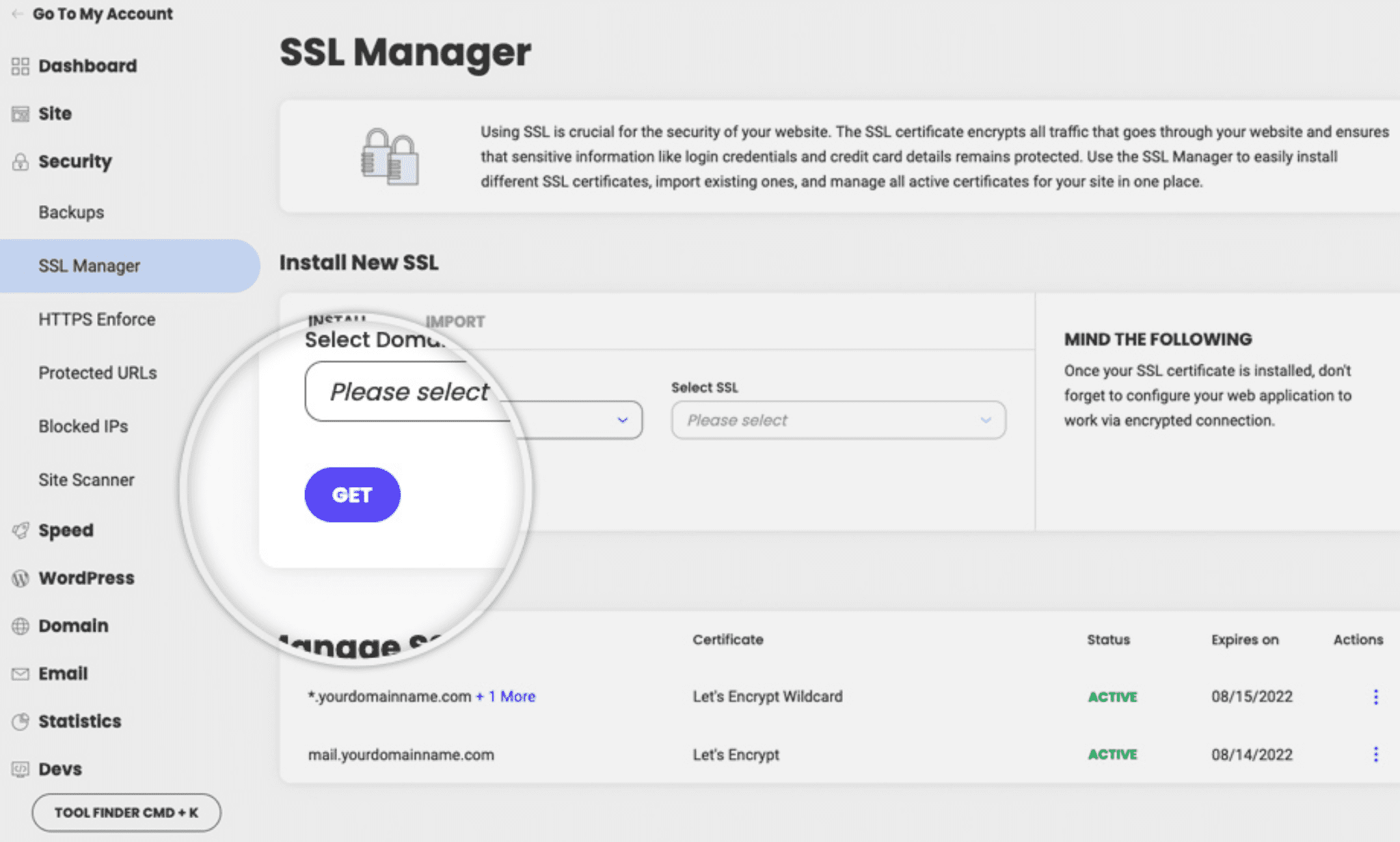 For added convenience, the Standard SSL certificate comes preinstalled on your site, making the setup process as smooth as possible.
Daily Backups
As a leading WordPress hosting solution, SiteGround takes website backups seriously. Your account is backed up daily, with up to 30 copies stored to ensure the safety of your data. Additionally, users have the option to create instant on-demand backups with just a few clicks. In addition to automated backup options, customers can also generate backups on demand from their Site Tools.
SiteGround understands that accidents can happen and offers free backup restores on all shared hosting plans. With SiteGround's commitment to daily backups and user-friendly backup features, you can rest assured that your website data is safe and secure.
Email Service
When it comes to the SiteGround WordPress hosting solution, users can benefit from its email service features. With SiteGround, users can create unlimited email accounts and use a friendly webmail interface that includes options to create forwarders and autoresponders. Additionally, SiteGround supports SMTP, POP3, and IMAP protocols, making it easy for users to manage their email in whatever way works best for them.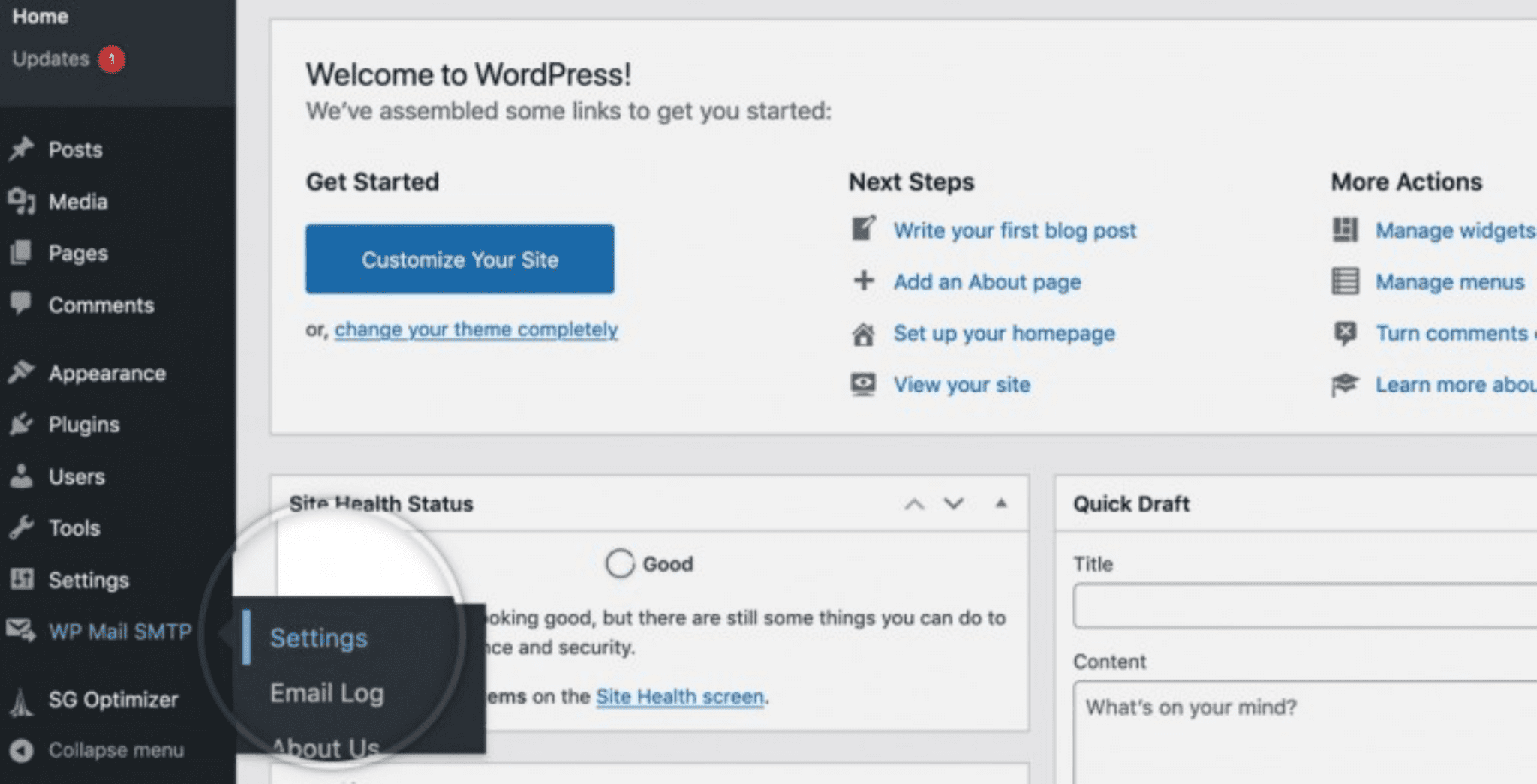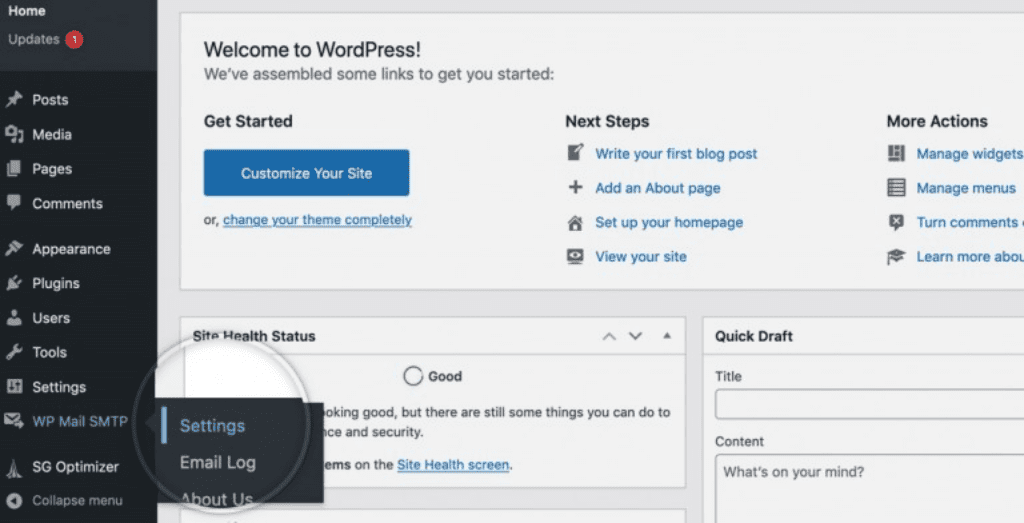 One of the standout features of the email service included with SiteGround is the free SpamExperts service that helps stop spam in its tracks. This added layer of protection ensures that users can enjoy a reliable and secure email service without worrying about unwanted messages cluttering their inboxes.
Dev Toolkit
SiteGround offers a range of advanced tools for WordPress hosting, making it an ideal solution for more experienced users. These tools include WP-CLI, SSH access, PHP version control, Git integration, and more that can make workflows easy and fast. WP-CLI is pre-installed on all servers and available on all plans. SSH access is also freely available on all plans, and the Multisite SFTP key allows you to manage all your sites easily.
In addition, SiteGround makes it easy to switch the PHP version for each site in your account. Git integration of your WordPress is available on our GoGeek accounts.
Collaboration Tools
SiteGround's WordPress hosting solution offers several collaboration tools that can greatly benefit website developers and their clients. These tools include the ability to add collaborators working on a specific website, as well as the option to ship the site to the client once it's ready.
SiteGround also offers white-label reselling and client management options, allowing developers to use their own branding on the platform and giving them full control over their clients' websites. These collaboration tools make SiteGround a top choice for affordable and efficient WordPress hosting.
Managed WordPress hosting with specialized tools
SiteGround offers managed WordPress hosting with specialized tools that make website management easy. Their advanced caching system ensures fast loading times, boosting website performance. SiteGround provides daily backups, automatic updates, and security measures to ensure your website is safe from malware and hacking attempts.
Easy website management
One of the key features of SiteGround WordPress hosting is its user-friendly interface that makes website management easy, even for beginners. With automatic updates and backups included in their hosting plans, SiteGround ensures the security and reliability of your website. Additionally, they offer one-click installs for popular plugins and themes, making it easy to add new features and functionalities to your site.
WordPress staging for testing and development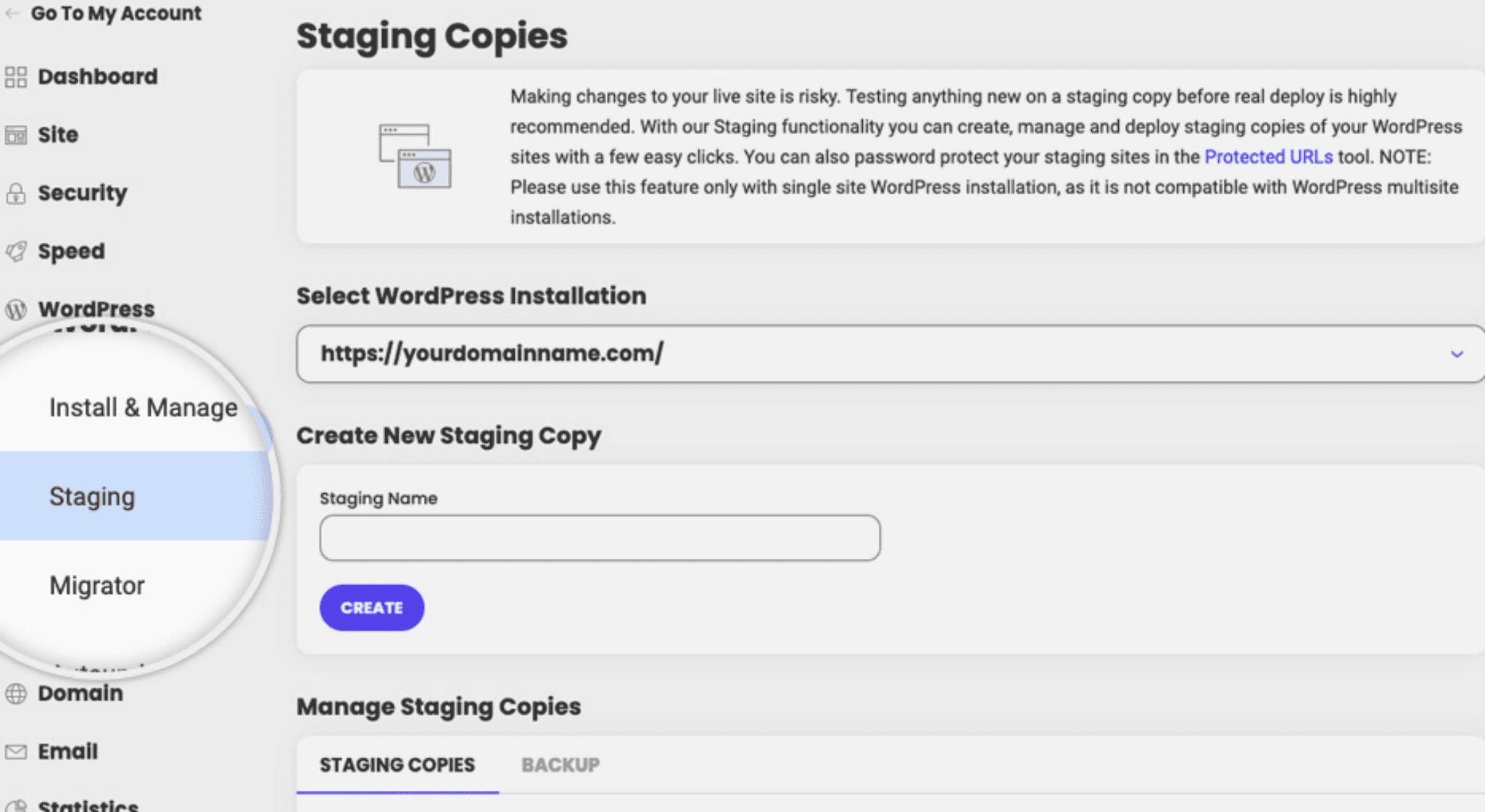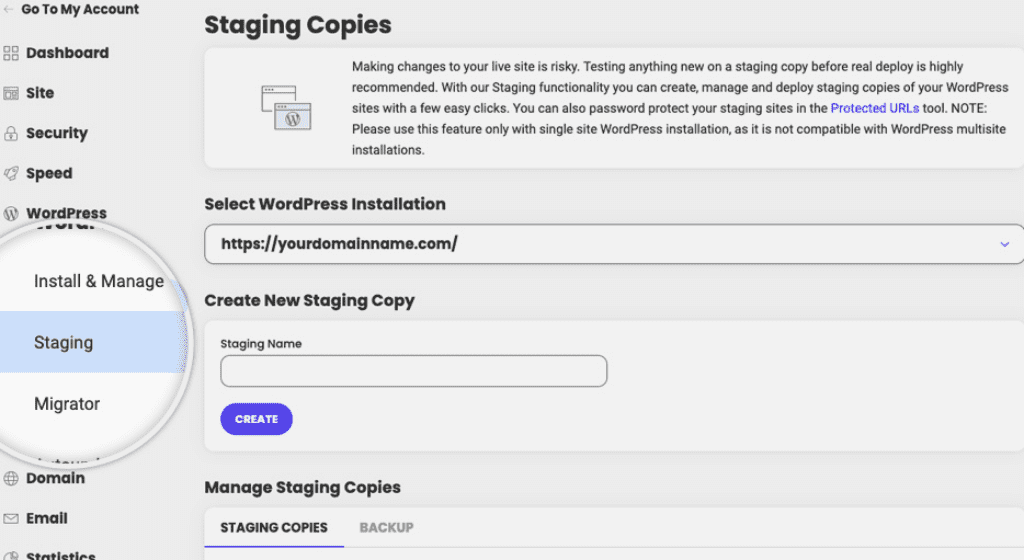 One such feature is the dedicated staging environment, designed specifically for testing and developing websites before they go live. This allows users to make changes and updates without affecting the live website.
Setting up a staging environment with SiteGround is easy and can be accessed with just one click from the dashboard. Users can create multiple staging environments for different versions of their website, or to test various plugins and themes. This feature ensures that your website runs smoothly and avoids any potential issues or downtime. Overall, SiteGround's WordPress staging feature is a valuable tool for developers and website owners looking to improve their website's performance and functionality.
Vulnerability management service for enhanced security
This includes regular security scans and malware removal to keep your site safe from potential threats. Additionally, SiteGround provides a web application firewall that blocks malicious traffic and protects against brute-force attacks.
To ensure fast loading times, SiteGround's hosting platform is built on the latest technologies like SSD drives, PHP7, and HTTP/2. These technologies help to optimize the speed and performance of your website.
Fast WordPress Launch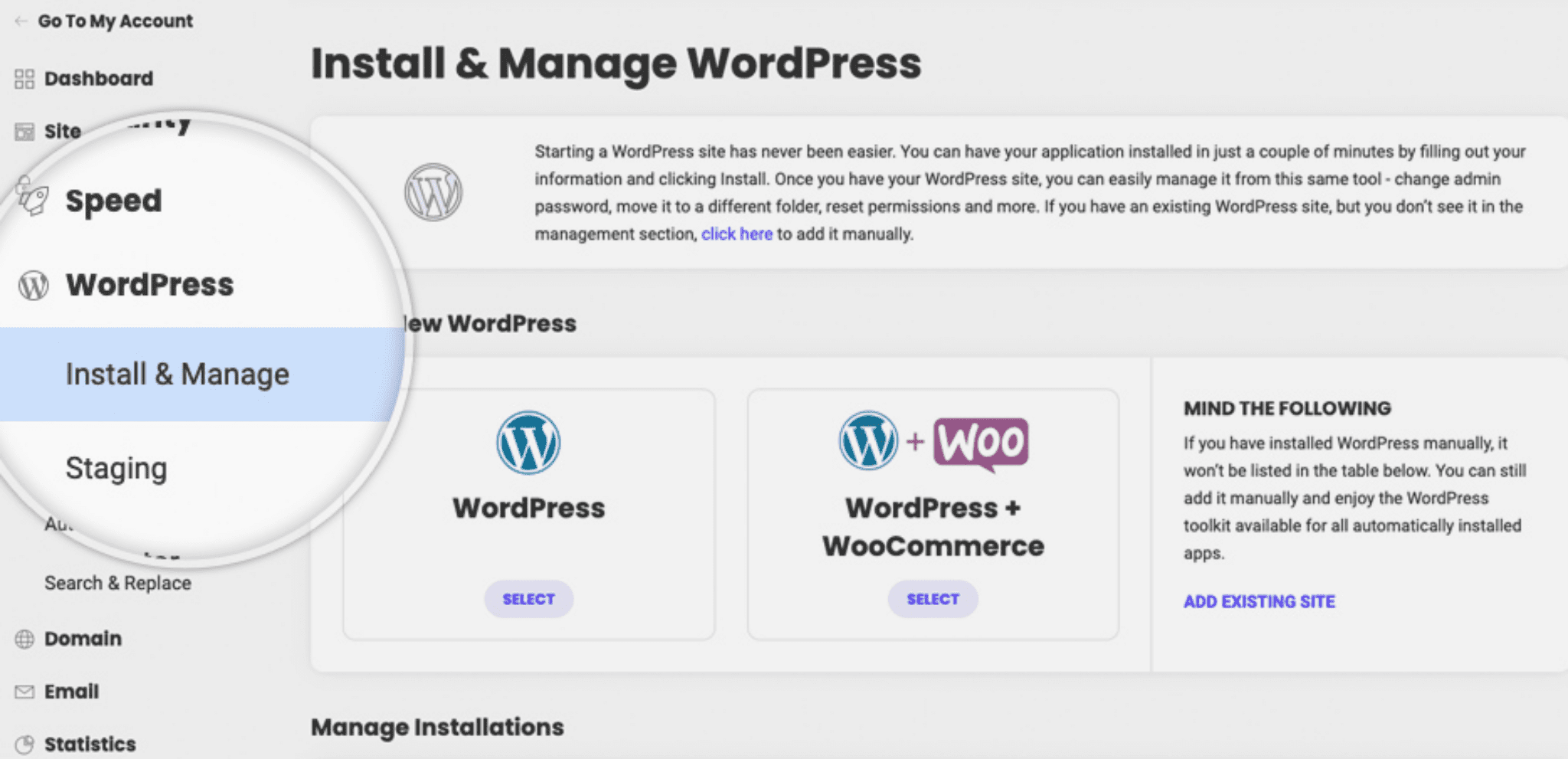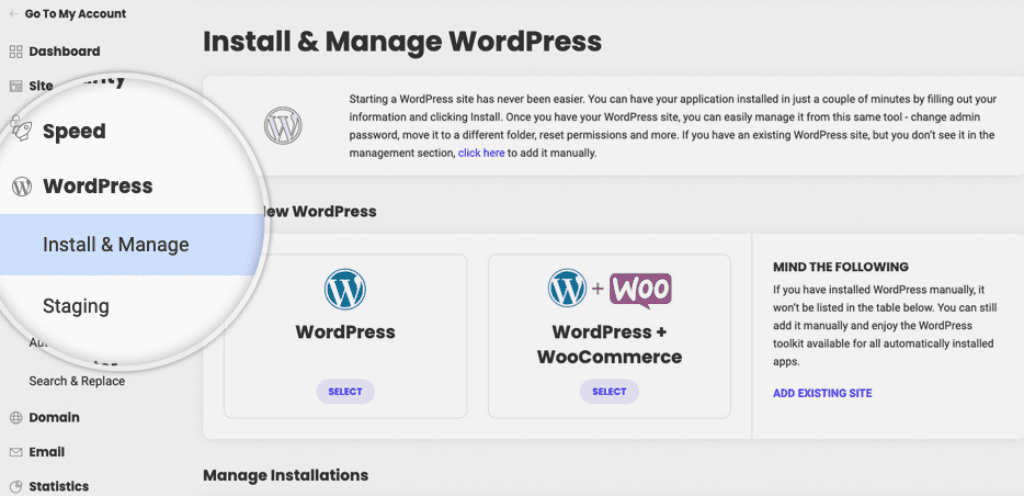 SiteGround offers a range of features that make it the fastest and most affordable WordPress hosting solution on the market. One of its key features is fast WordPress launch, which is made possible through several tools:
– Automatic installation of WordPress with popular plugins of your choice
– Click-and-install option that saves you from the hassle of downloading and configuring WordPress manually
– WordPress Starter tool that allows you to choose from a collection of professional site designs and add necessary functionalities like contact forms, online stores, portfolios, and more.
Once you have installed WordPress through SiteGround's automated installer and logged into your site's admin panel, you will have access to a wide range of useful features that can help streamline your workflow and improve your overall experience with the platform.
Managed Security & Updates
One of the standout features of SiteGround's WordPress hosting is its managed security and updates. This means that SiteGround takes care of updating your WordPress site, as well as patching against common WordPress-related exploits through its server firewall. The automatic WordPress updates and custom firewall rules help to ensure that your site is always up-to-date and secure.
SiteGround also offers a Security plugin that helps protect your website from attacks such as brute-force attacks, common hacks, data leaks, and more with just a few clicks. This plugin is essential for every WordPress site and is included with SiteGround's hosting plan. By taking care of these security measures for you, SiteGround allows you to focus on creating great content for your website without worrying about potential security threats.
Amazing Performance
With their comprehensive WordPress performance solution, which includes the extended version of SiteGround Optimizer and more, you can speed up your site and enhance its overall performance. Additionally, SiteGround utilizes a powerful Google Cloud Platform to ensure that your site is always running smoothly.
One way that SiteGround achieves its impressive performance results is by enabling NGINX Direct Delivery for all sites on its servers. This means that certain items, like images, will load faster from the memory of the server. Furthermore, SiteGround offers a free Optimizer plugin that allows you to use unique caching options to further increase your website's speed. With these features and more, SiteGround provides an affordable yet high-performing hosting solution for any WordPress website.
Awesome Client Interfaces
One of the standout features of SiteGround's WordPress hosting is its awesome client interfaces. With our user-friendly Client Area, creating and managing sites has never been easier. The interface is intuitive and easy to navigate, even for those without technical expertise.
Additionally, our Site Tools demo allows users to experience the wide range of site tools we offer, including easy installation of WordPress, automatic updates, and top-of-the-line security features. These client interfaces set SiteGround apart as a fast and affordable solution for WordPress hosting.
WordPress Hosting Performance
Best WordPress hosting

Ultrafast WordPress hosting with advanced speed technologies
Server health checks for optimized website performance
24/7 uptime monitoring for uninterrupted website availability
Stress testing for reliable website performance under heavy traffic
Latest technologies integrated
SiteGround Control Panel
What control panel does?
SiteGround's control panel is user-friendly and intuitive, making it easy for users to manage their website hosting. The control panel includes features such as account setup and management, domain management, email setup, website builder tools, and more. With its clean layout and straightforward navigation, SiteGround's control panel is an excellent tool for anyone looking for a hassle-free WordPress hosting experience.
The cPanel is part of the interface anyone who has used cPanel before should have no trouble with it. Even without experience, cPanel is quite easy to use. Using cPanel you can upload, delete, and update files.
Overall, SiteGround provides affordable and efficient WordPress hosting solutions with a range of features that cater to different needs. Its collaboration tools make it an ideal choice for developers looking to manage clients' websites efficiently. With its user-friendly control.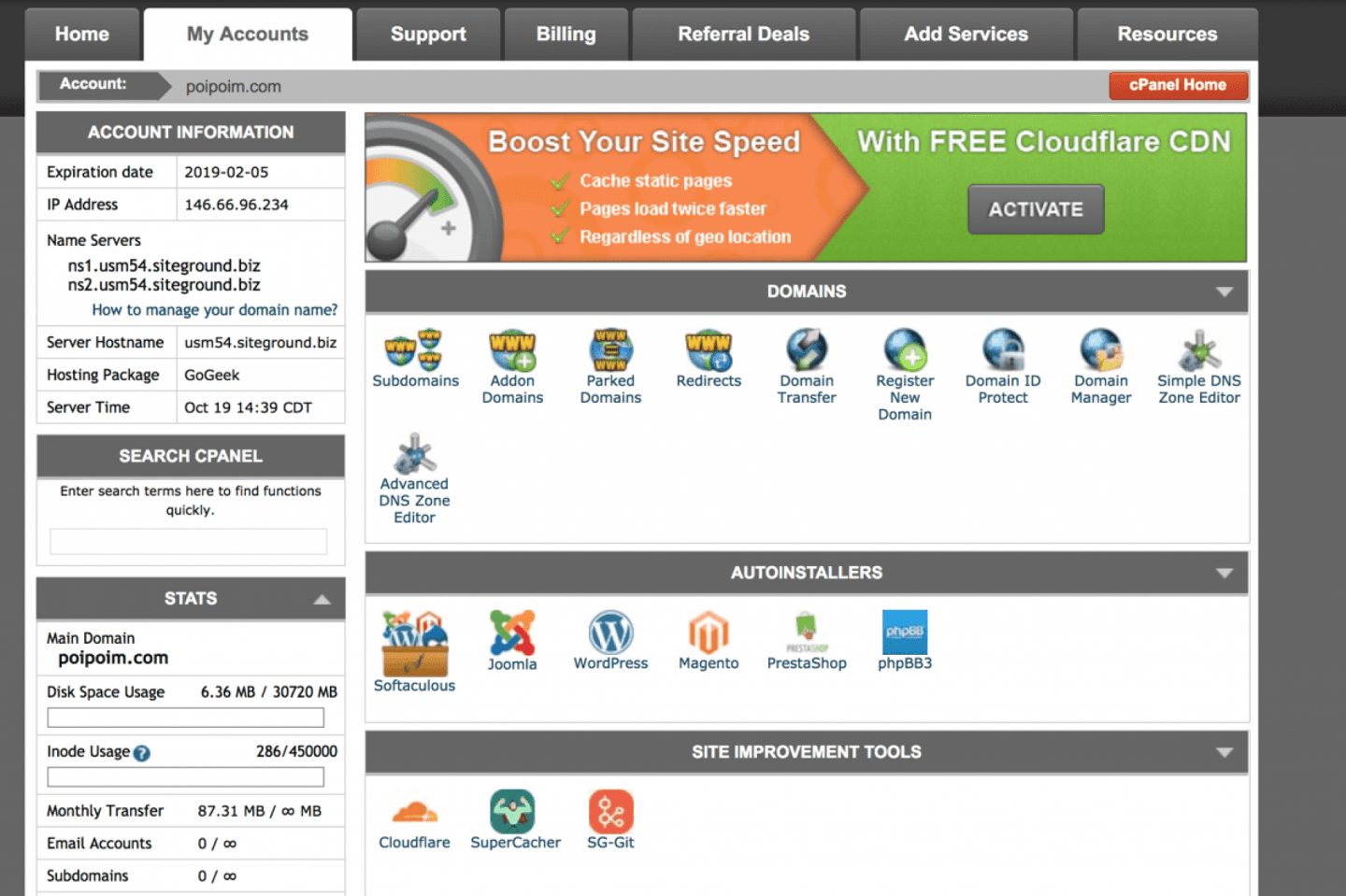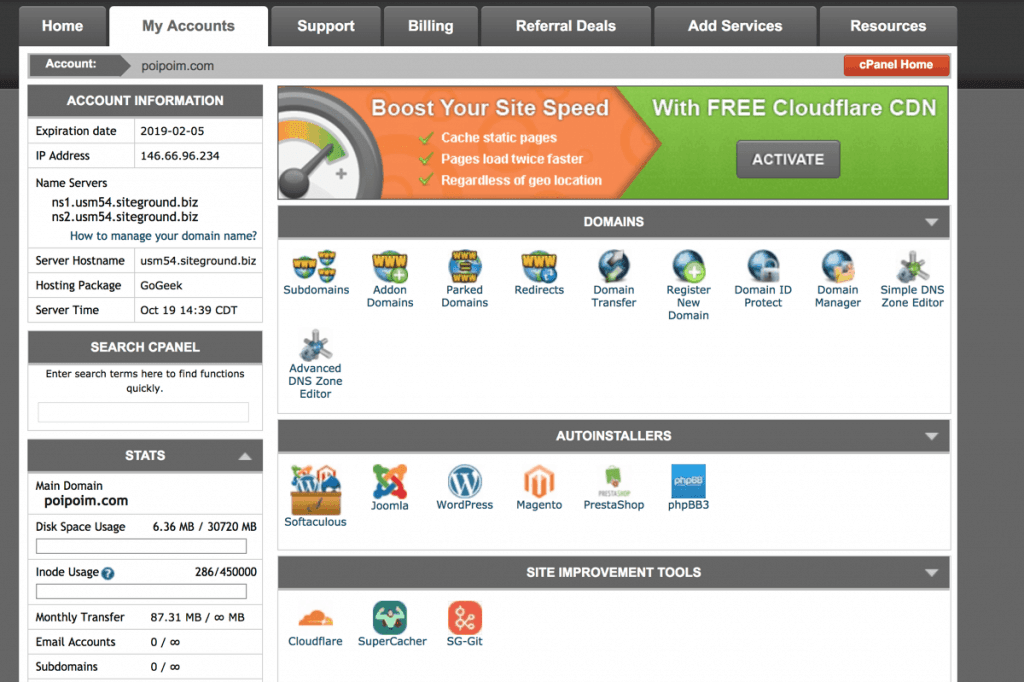 Pricing Plans
Monthly plans
The basic Plan starts from $3.99 per month. 30 days money-back guarantee.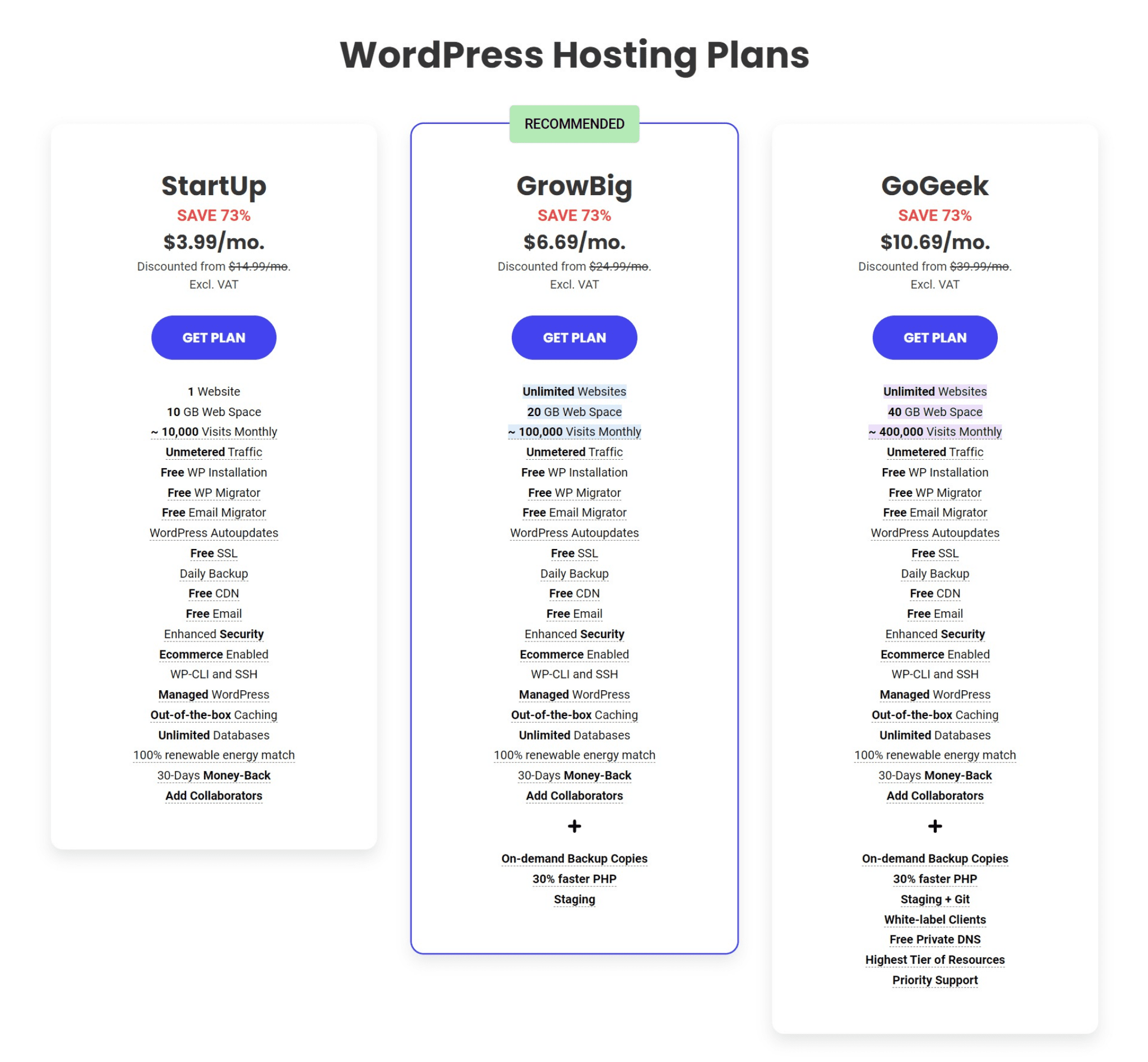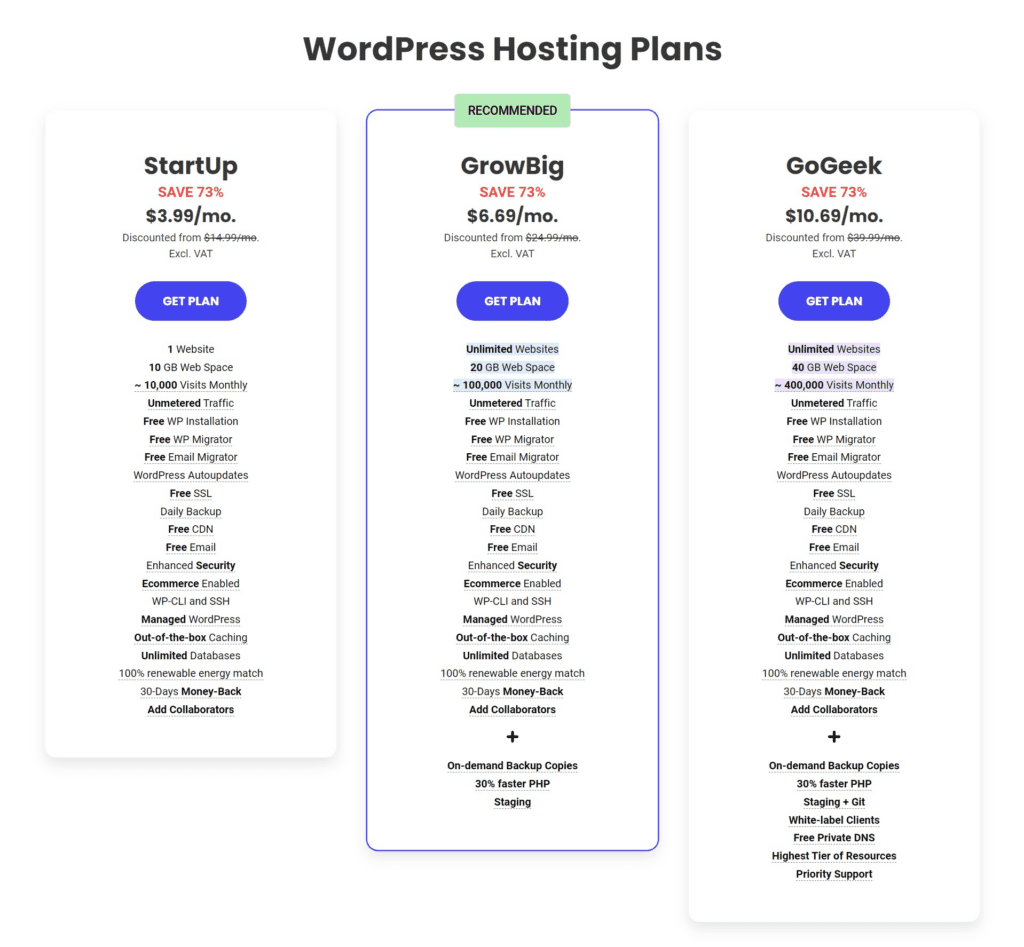 Support
Technical Support, Knowledge Base, Roadmaps, Changelogs
They provide a knowledge base for customers to find their own quick answers. Otherwise, you can call in over the phone or use the 24/7 live chat.
You will get quick and correct solutions for your issues in Livechat.
You can use their WordPress tutorials for more details
Alternatives
Similar Apps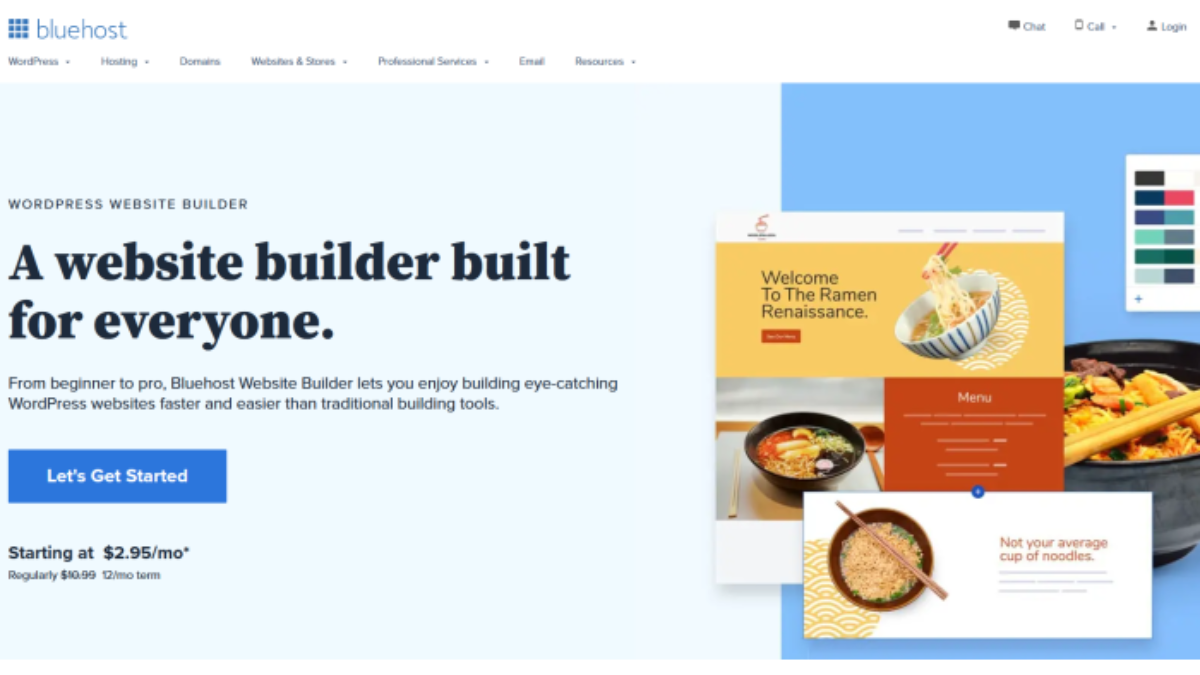 Bluehost is Website building tool that offers managed hosting, dedicated hosting, templates, analytics, and more.
HyperHost is an ultra-fast web hosting platform built for WordPress, Windows & Linux-based websites.
At Hostinger, you have the option to select from a variety of web hosting-related services, including Domain Registration, Cloud Hosting, Email Hosting, SSL Certificates, and LiteSpeed Servers.
Final Verdict
Is Siteground Right for You?
SiteGround has supplied solid uptime for a couple of years currently. And also their uptime assurance makes certain that you'll most likely never have any kind of major downtime problems.
Their website rate is respectable, as well. That's thanks in part to their web servers spread out over 3 continents and also a complimentary Cloudflare CDN account. They also give you cost-free SSL on all plans, too.
Rates are excellent if you make use of the longest term possible. Or else, you'll wind up hitting those high revival prices sooner. Bring your very own domain, too, to leave an additional cost.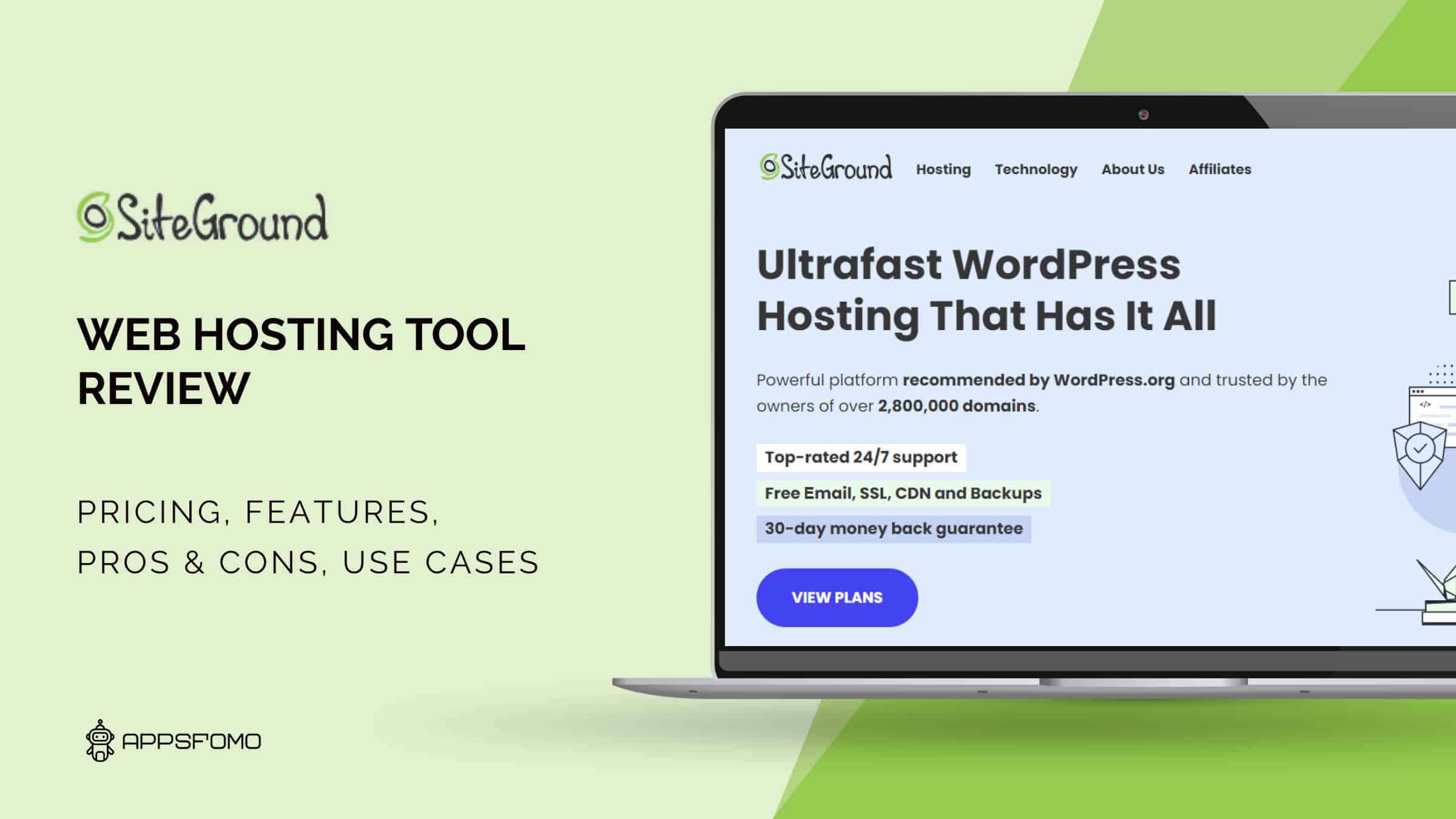 SiteGround Web Hosting: Fastest and Reliable WordPress Hosting