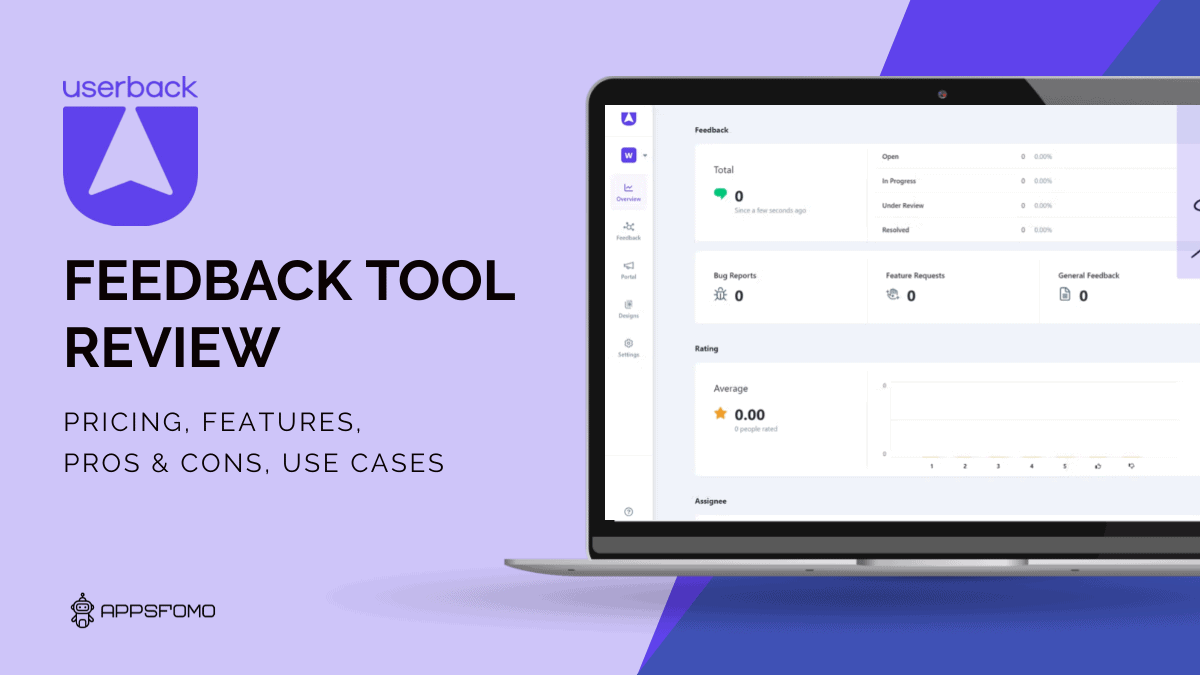 Userback: User Feedback Tool for Collecting Customer Insights
Add to wishlist
Added to wishlist
Removed from wishlist
0
Add to compare
User feedback tools serve the purpose of aiding businesses and product teams in the collection, analysis, and management of user feedback. The platform offers a user-friendly method for expressing feedback on products or services, including thoughts, opinions, and experiences. Through the collection of data, companies gain a deeper understanding of their customers and are able to make informed decisions on how to meet their needs effectively.
Revolutionize the way you understand your customers with Userback – the ultimate tool for collecting, analyzing, and managing user feedback. Empower yourself to make informed decisions and meet your customers' needs like never before!
What Is Userback ?
Overview
Userback is a tool designed to facilitate the collection, analysis, and management of user feedback for businesses and product teams. The platform allows for users to effectively communicate their feedback on products or services to the team. Userback provides various feedback tools, including comment boxes, rating systems, screenshots, surveys, polls, and other options to help customers provide detailed feedback.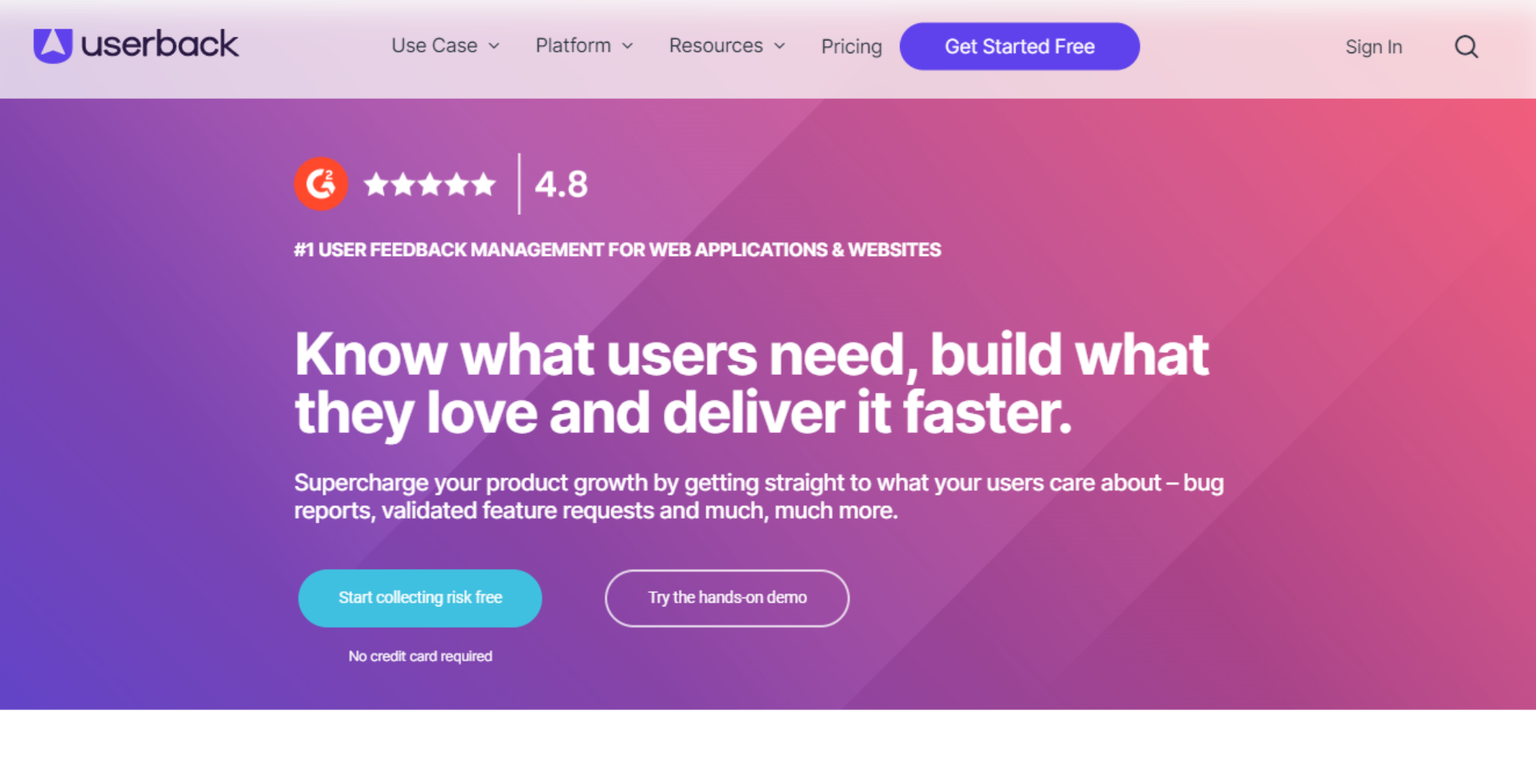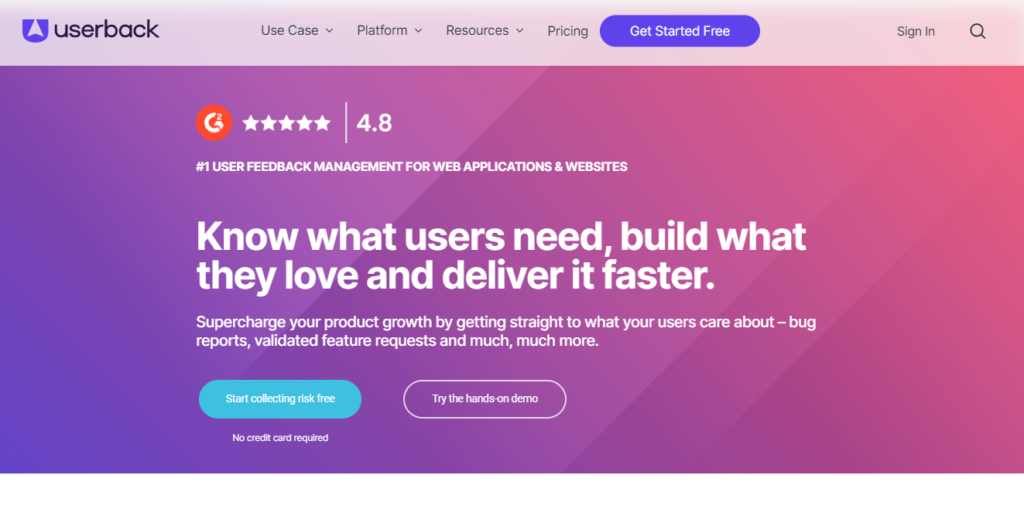 After gathering data, the team can analyze it to gain a deeper understanding of customer needs and use this information to make informed decisions on how to meet those needs effectively. Userback facilitates the exchange of insights throughout an organization, allowing all parties involved in the development process to enhance their comprehension of the customer experience.
Company Details
Userback was founded in 2016 and is a provider of user feedback solutions based in Australia. Jonathan Tobin is one of the co-founders of Userback. The objective of the company is to provide a convenient platform for product teams to efficiently gather, evaluate and distribute user feedback for the purpose of improving their products.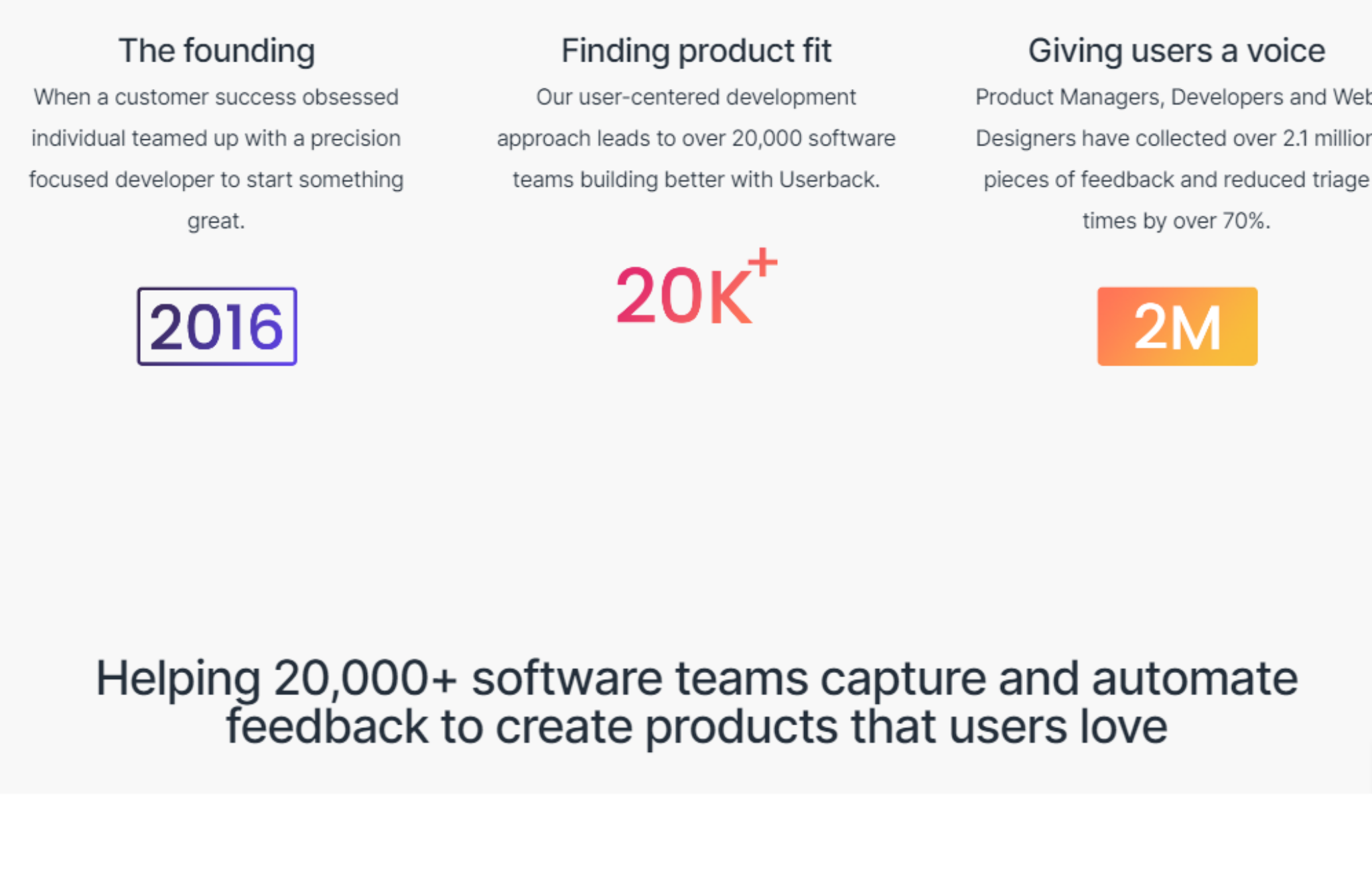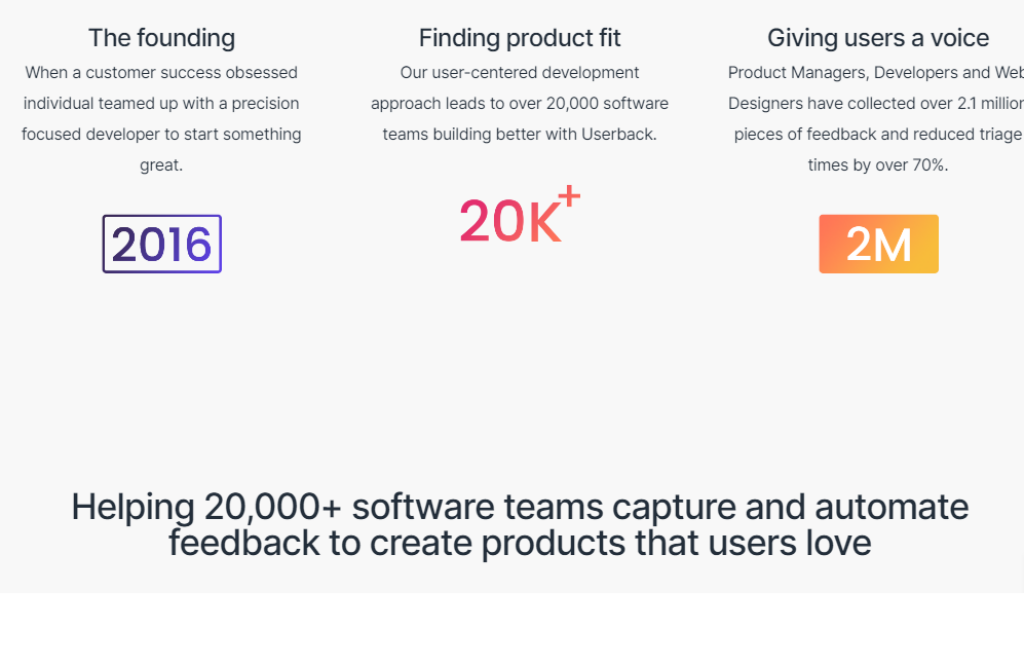 Online Presence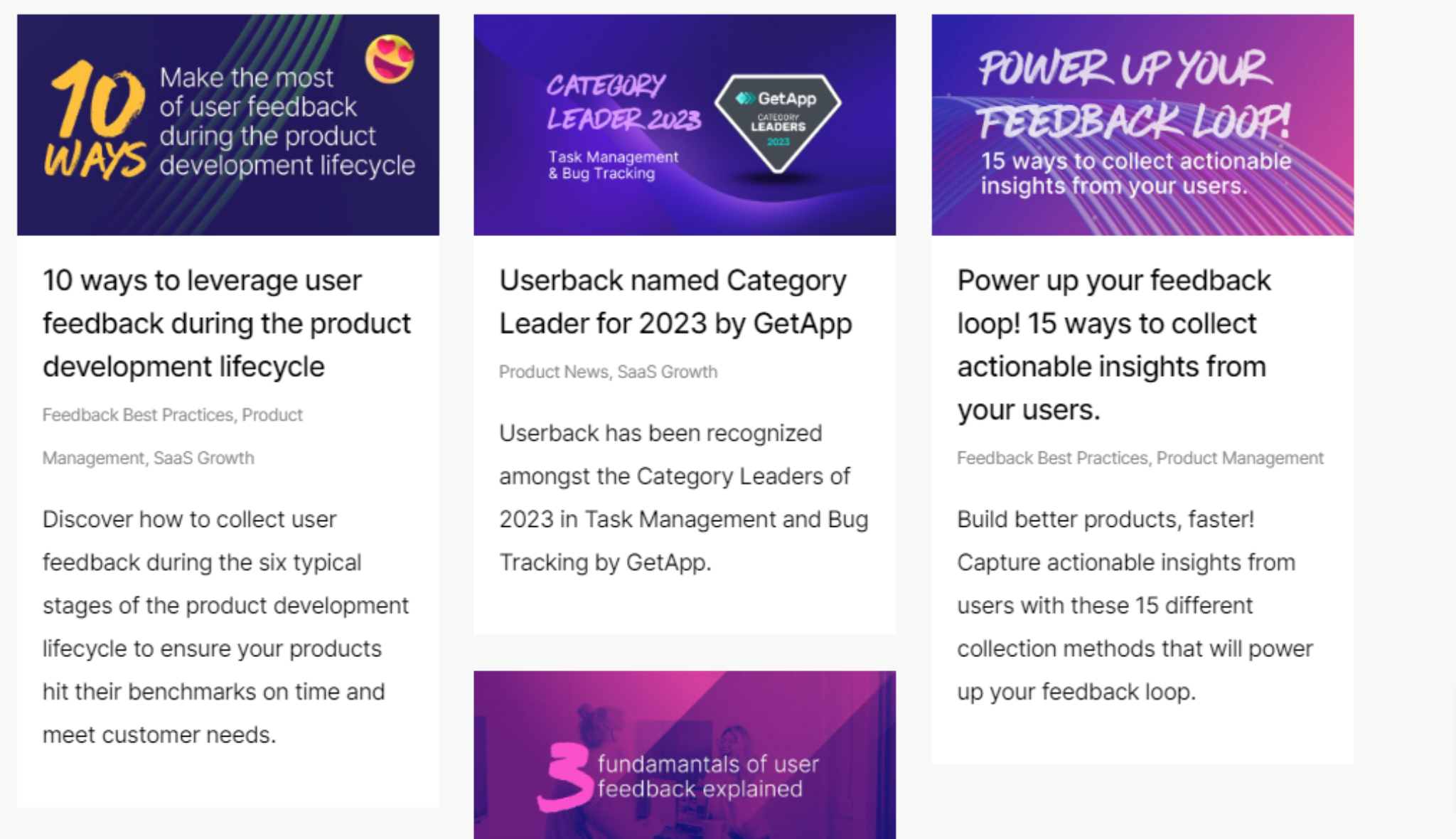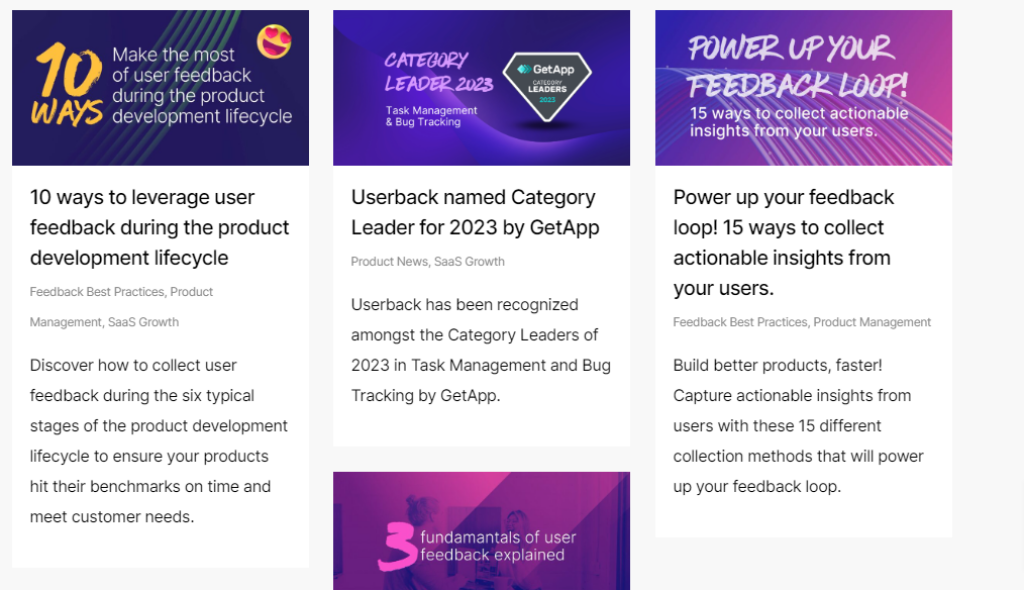 Getting started with Userback!
Steps to work on Userback
Create an account on Userback and link it to the product or service you want to collect feedback from.
Customize your feedback collection form by adding comment boxes, rating systems, screenshots, surveys, polls and more.
Share your feedback form with customers via a link or embed it directly onto your website or app.
When users submit their feedback through the form, Userback will automatically collect and store the data in an organized manner for easy analysis.
Set up automated notifications so that whenever a user submits feedback, everyone on the team gets alerted right away.
Utilize powerful insights tools provided by Userback to quickly identify areas of improvement and respond accordingly.
Bug Tracking
Bug tracking systems enable users to report software issues directly from user feedback forms. This enables product teams to efficiently pinpoint areas for enhancement and promptly implement solutions. After being logged, the bugs are stored in an organized manner to facilitate analysis and resolution. Users have the ability to designate priority levels according to the severity and urgency of the issue for appropriate handling.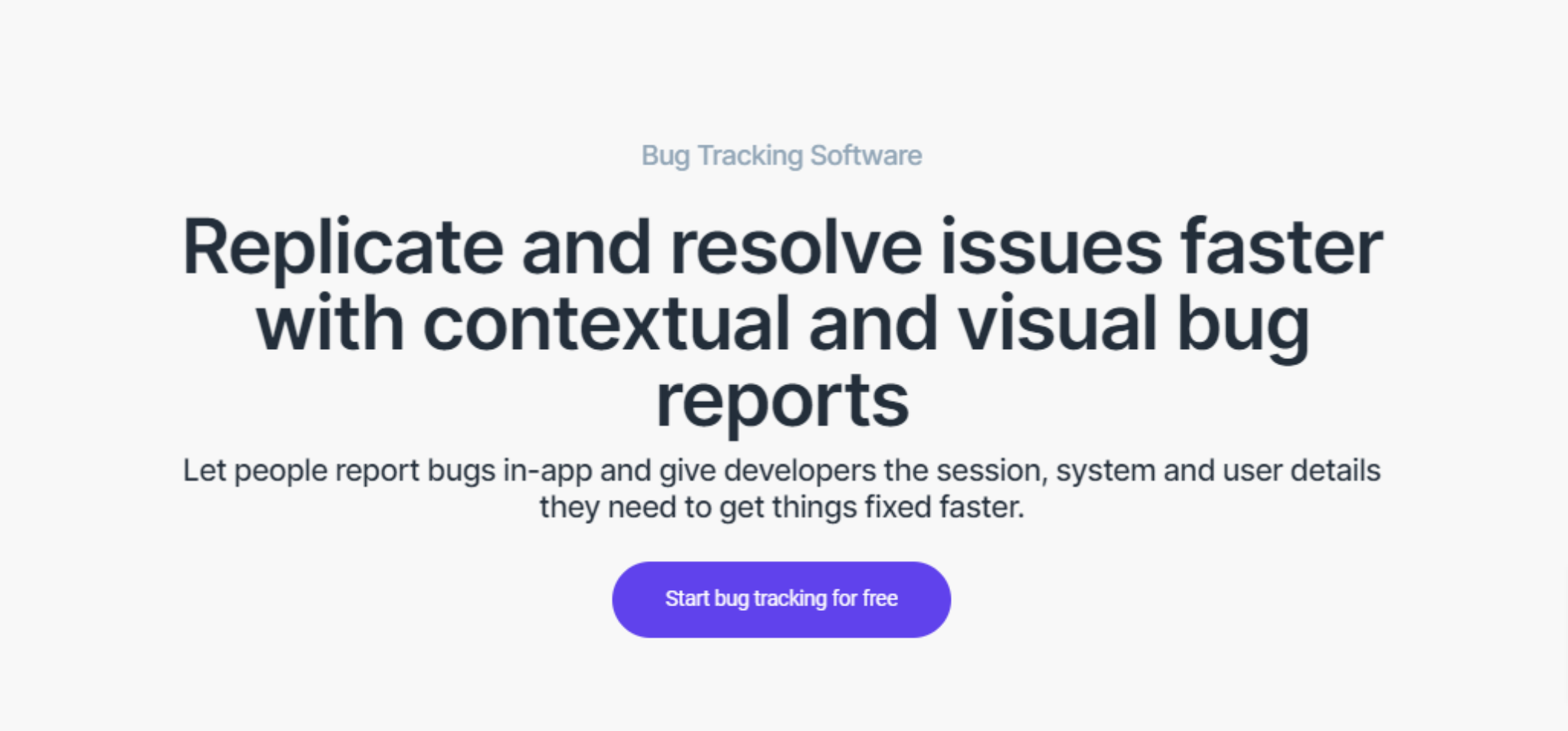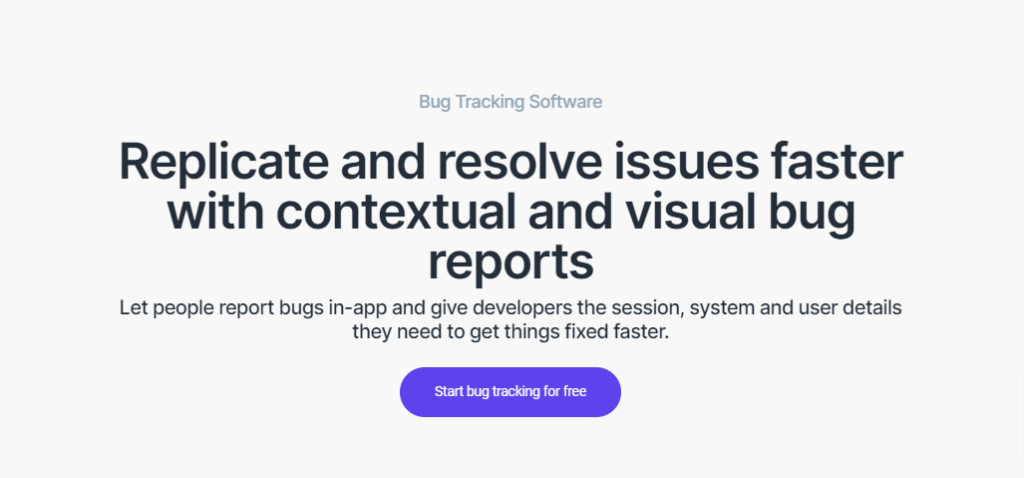 Website feedback Tool
Website feedback is a valuable resource for companies to gain insight into user behavior and make necessary improvements to enhance the overall user experience. Userback provides website feedback tools for teams to efficiently gather and evaluate customer feedback, enabling informed decisions about website design, content, and performance. Through the utilization of these tools, teams are able to pinpoint and address areas for improvement on their websites, leading to potential increases in conversions and customer satisfaction.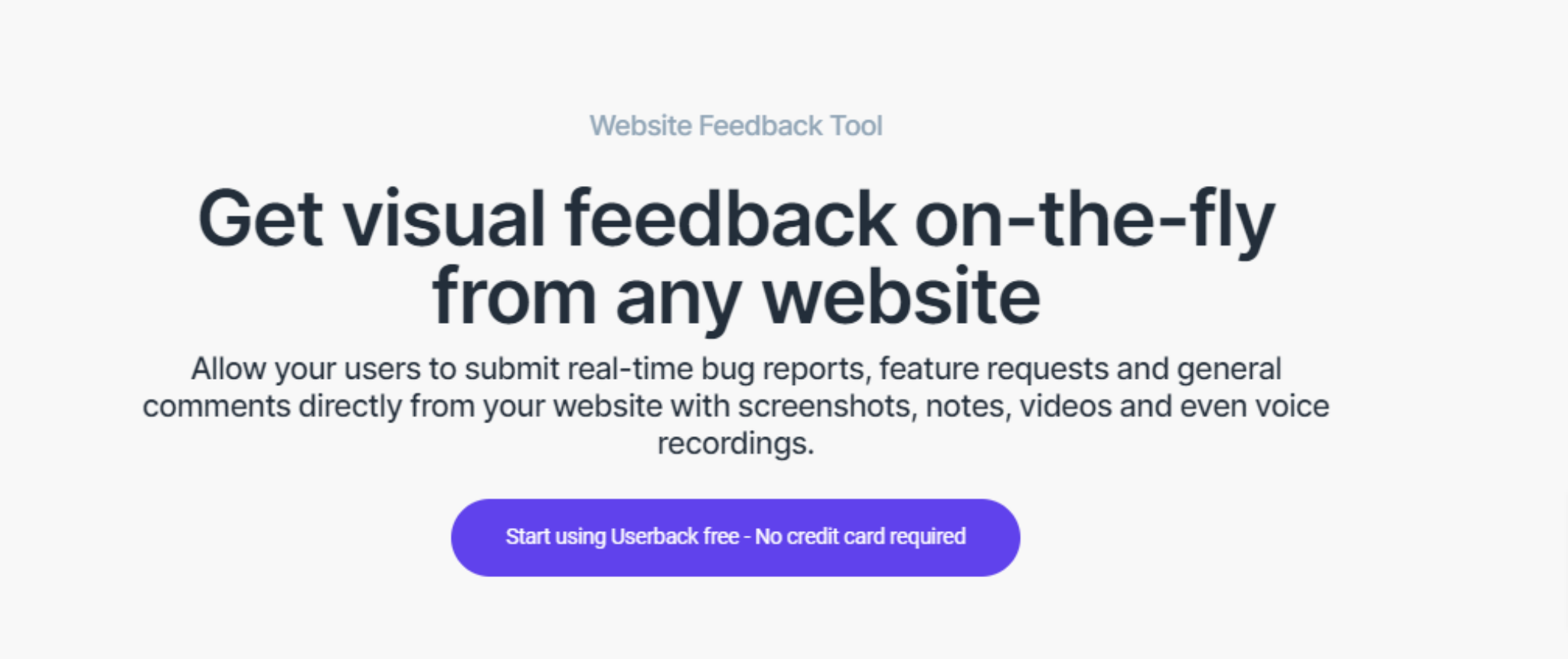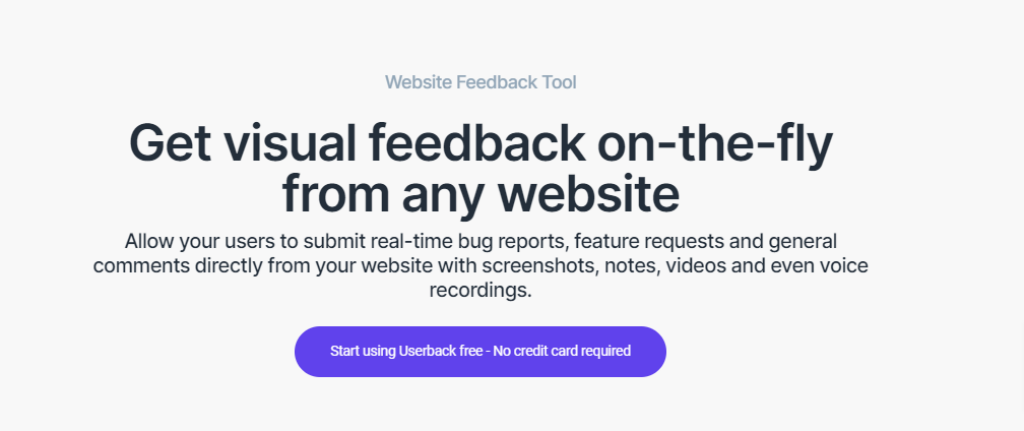 User Insights
The User Insights feature offered by Userback empowers teams with advanced analytics tools to gain a more comprehensive understanding of customer feedback associated with their products. The process enables them to keep track of customer opinions by analyzing keywords in user comments regarding features. In addition, Userback provides analytics tools that allow for comprehensive analysis of customer data. The tools allow teams to track customer interactions with their products, providing valuable insights for informed decision-making in product development.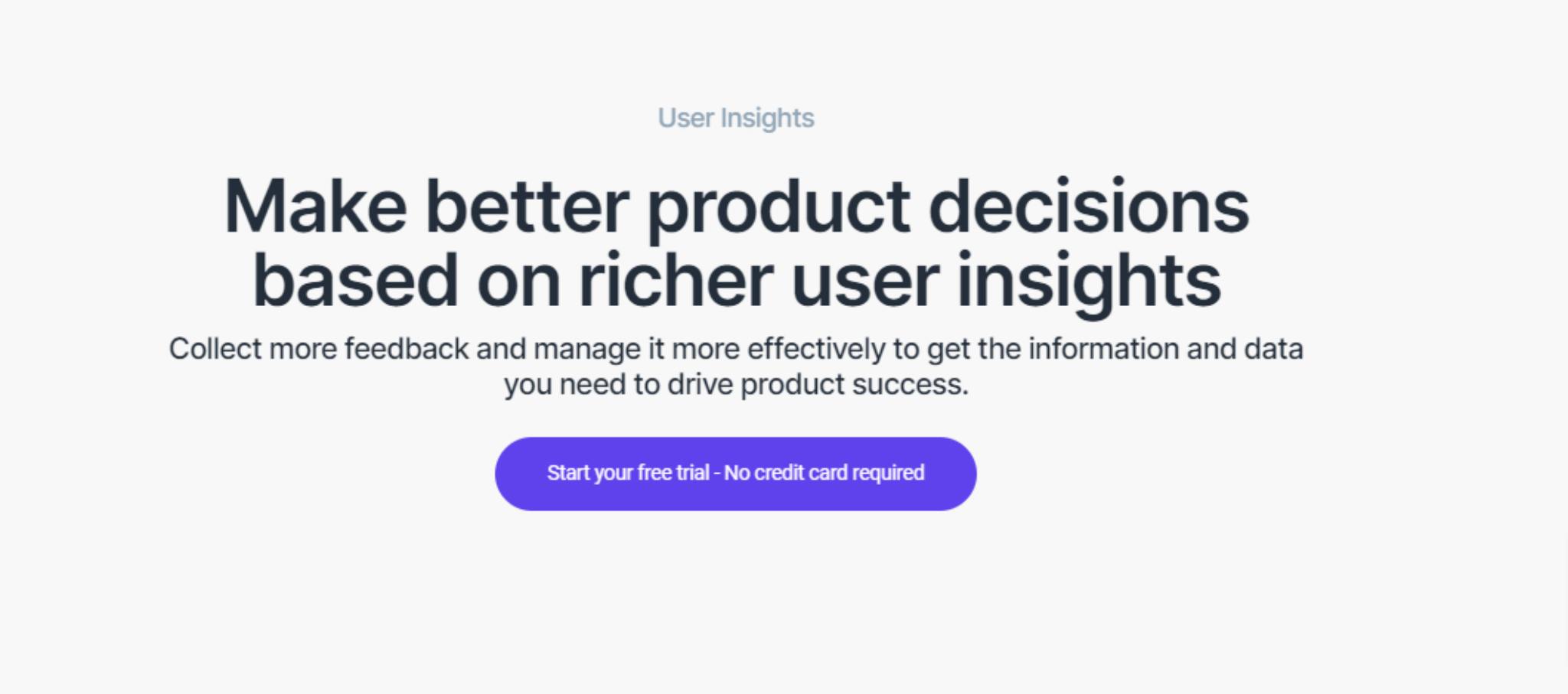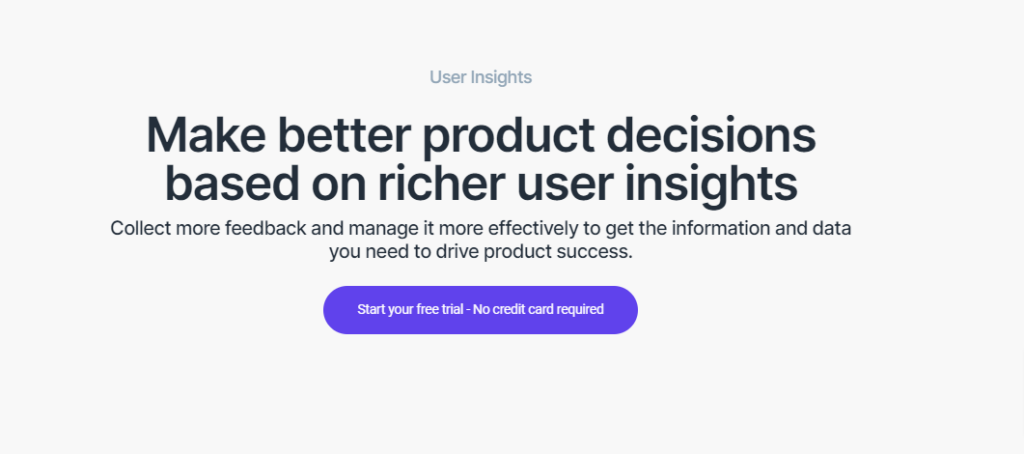 Feedback Portal
The Feedback Portal offers analytical tools that enable teams to acquire comprehensive insights regarding customer feedback on their products. By monitoring customer interactions with their products, teams are able to gather valuable information to make informed decisions about the development of their products.


Integrations
Userback's integrations enable teams to monitor customer sentiment by analyzing user comments related to features using keyword recognition. Userback offers integration with widely used platforms like Slack, Zendesk, Intercom, and JIRA, which provides enhanced customer data insights. Furthermore, the platform provides simple integration with external tools to enhance customer data analysis. This facilitates teams in gaining a deeper insight into customer preferences and requirements.
How Userback differs from other Feedback Tools?
Unique features
User Acceptance Testing (UAT)
User Acceptance Testing (UAT) is a necessary step in the software development process for solutions.
Userback's UAT testing capabilities provide product teams with valuable insights on product performance. By conducting testing and troubleshooting during the product development process, product teams can efficiently detect and address any technical or user experience problems prior to product launch. The UAT tests involve evaluating user interaction with the product, which includes factors such as navigation, usability, and performance. The process enables teams to assess the product's suitability for its intended use and pinpoint any possible areas for enhancement prior to its public release.
To ensure that UAT tests provide meaningful results, Userback allows users to customize test scenarios according to their specific needs – from simple tasks like clicking buttons to complex tasks involving multiple steps or actions.
Software Feature Requests
Userback offers a streamlined method for product teams to gather and evaluate customer feature requests. The user feedback tools available can assist teams in efficiently identifying, tracking, and prioritizing customer feedback related to their product features. By staying informed about customer preferences and needs, companies are able to make better decisions regarding product development.
Userback's feature request tools enable the direct logging of customer comments from user feedback forms. By utilizing this method, product teams can efficiently pinpoint the areas in which their customers desire improvements or additions to their products. After being logged, the comments are stored in an organized manner to facilitate analysis and resolution.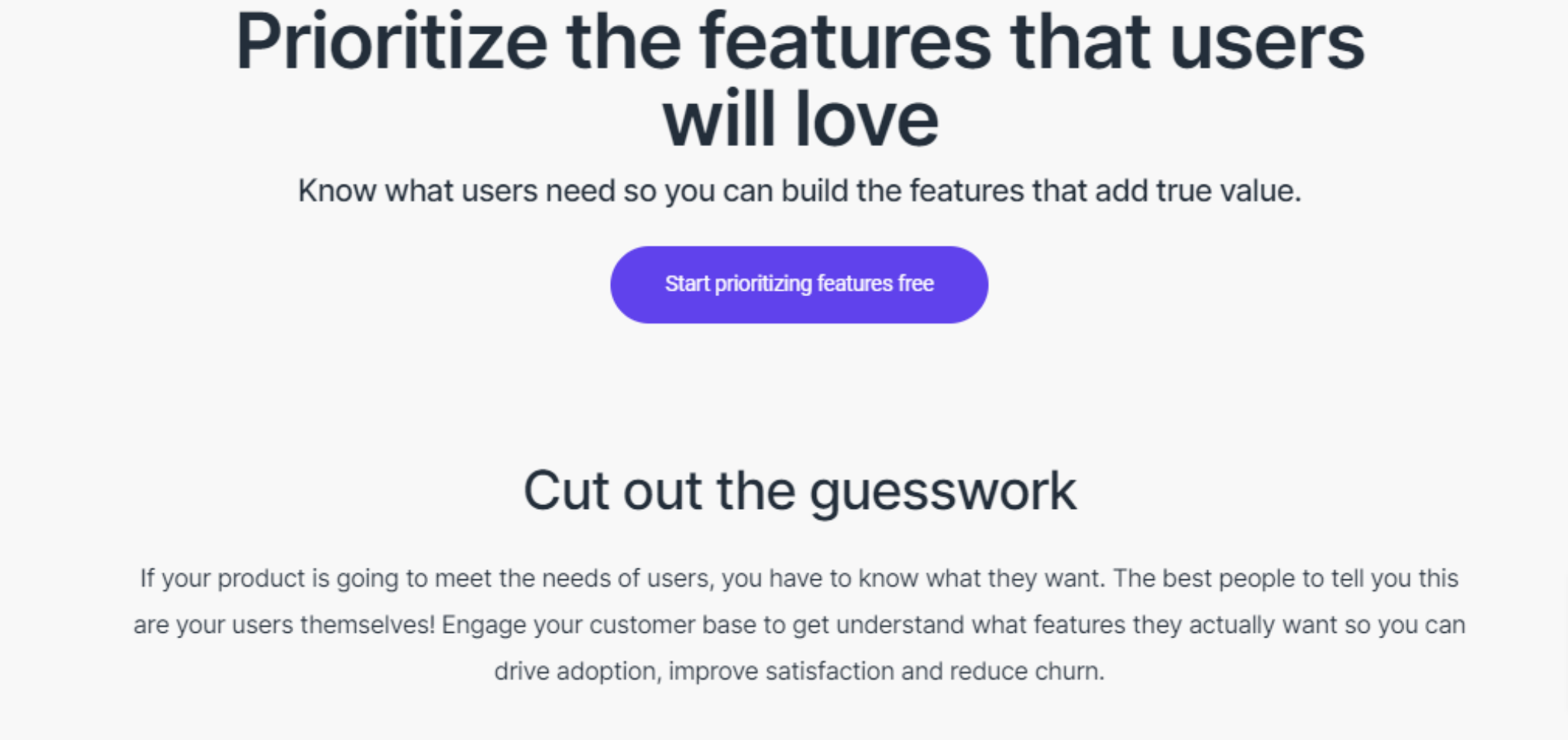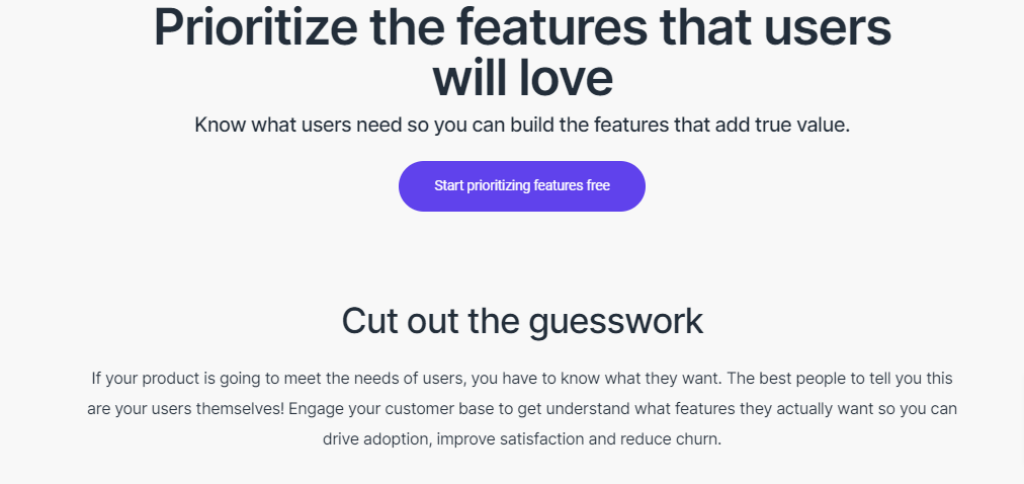 Product Roadmapping
Userback's product roadmapping tools offer a straightforward and effective means for users to plan and oversee their product's development. By using this method, teams can verify they are prioritizing the correct features at appropriate intervals and obtain significant knowledge regarding customer preferences and requirements.
Userback's roadmapping feature enables users to create comprehensive product plans that can be divided into distinct stages, including design, implementation, testing, and launch. This enables teams to monitor the advancement of each stage in real-time and promptly detect any problems or obstructions in the pipeline.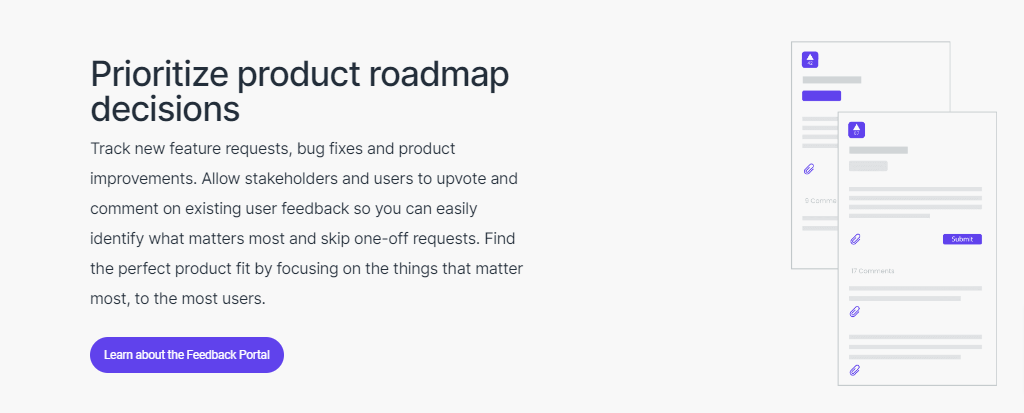 In App Feedback
The In App Feedback feature offered by Userback allows for the collection of valuable customer feedback, enabling the company to make improvements to their product offerings in an efficient manner.
Userback provides tools for managing customer requests, including assigning priority levels, tasks, and progress monitoring. These tools enable teams to identify areas for improvement and keep track of reported feature issues.
Screen Annotation
The Screen Annotation feature is designed to help product teams gather customer feedback easily. With this feature, teams can highlight areas for improvement and request updates from customers visually, without requiring additional resources. Users can also add text and arrows to further clarify feedback.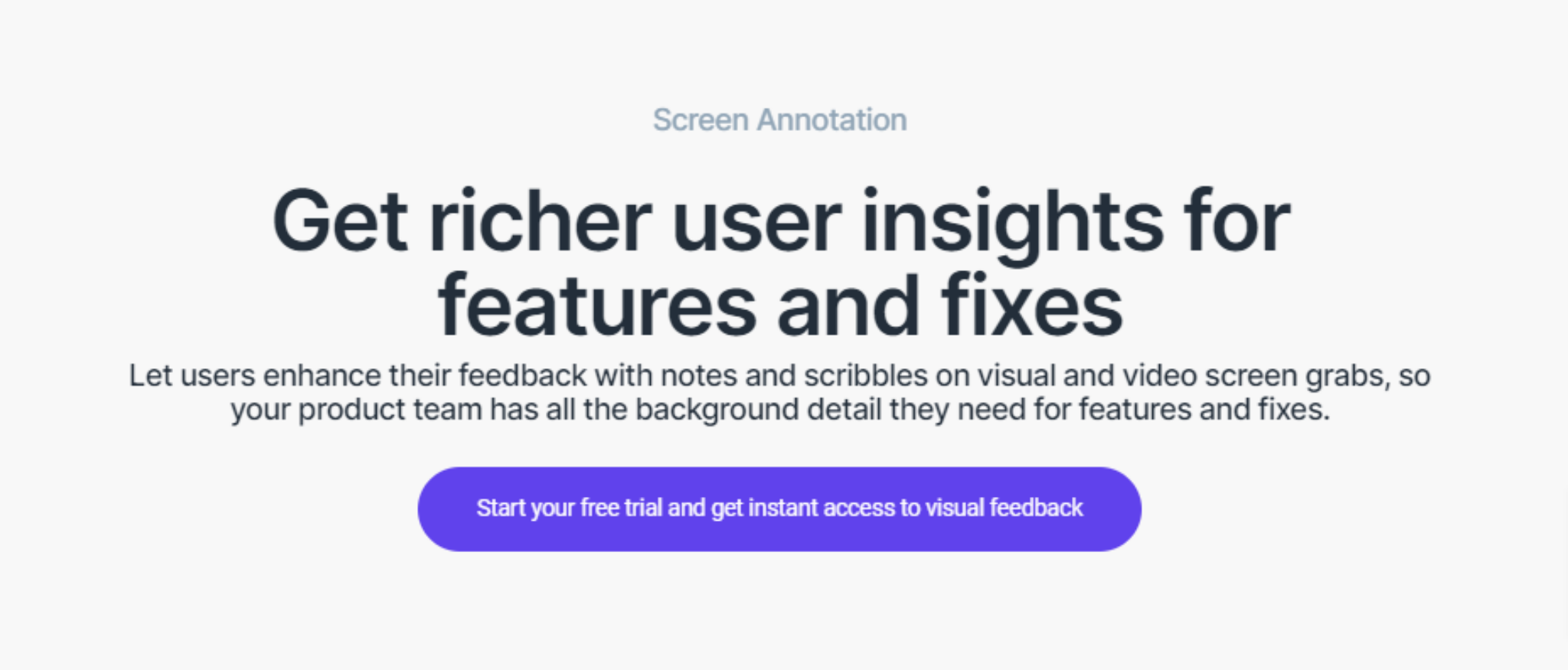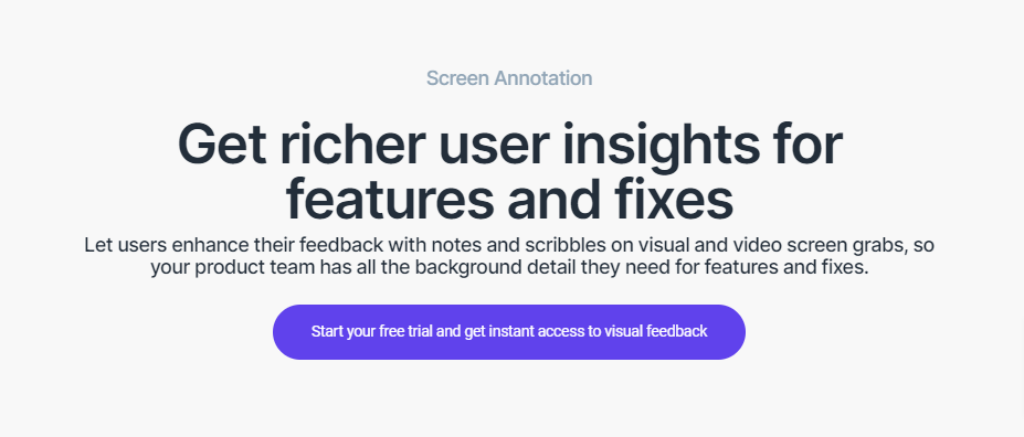 Video Recording
The Video Recording feature allows users to gather feedback from customers, which can be used to enhance their product offerings. This feature simplifies the process of collecting user feedback for teams, requiring minimal resources and effort.
Session Replay
Userback's Session Replay feature allows users to replay customer interactions with their product features. The tool offers teams a simple and effective method for observing customer behavior and obtaining important information on user preferences and requirements.


Who can Benefit from Userback?
Use Cases
Product Managers
Developers
Web Agencies
Pricing Plans
Monthly Pricing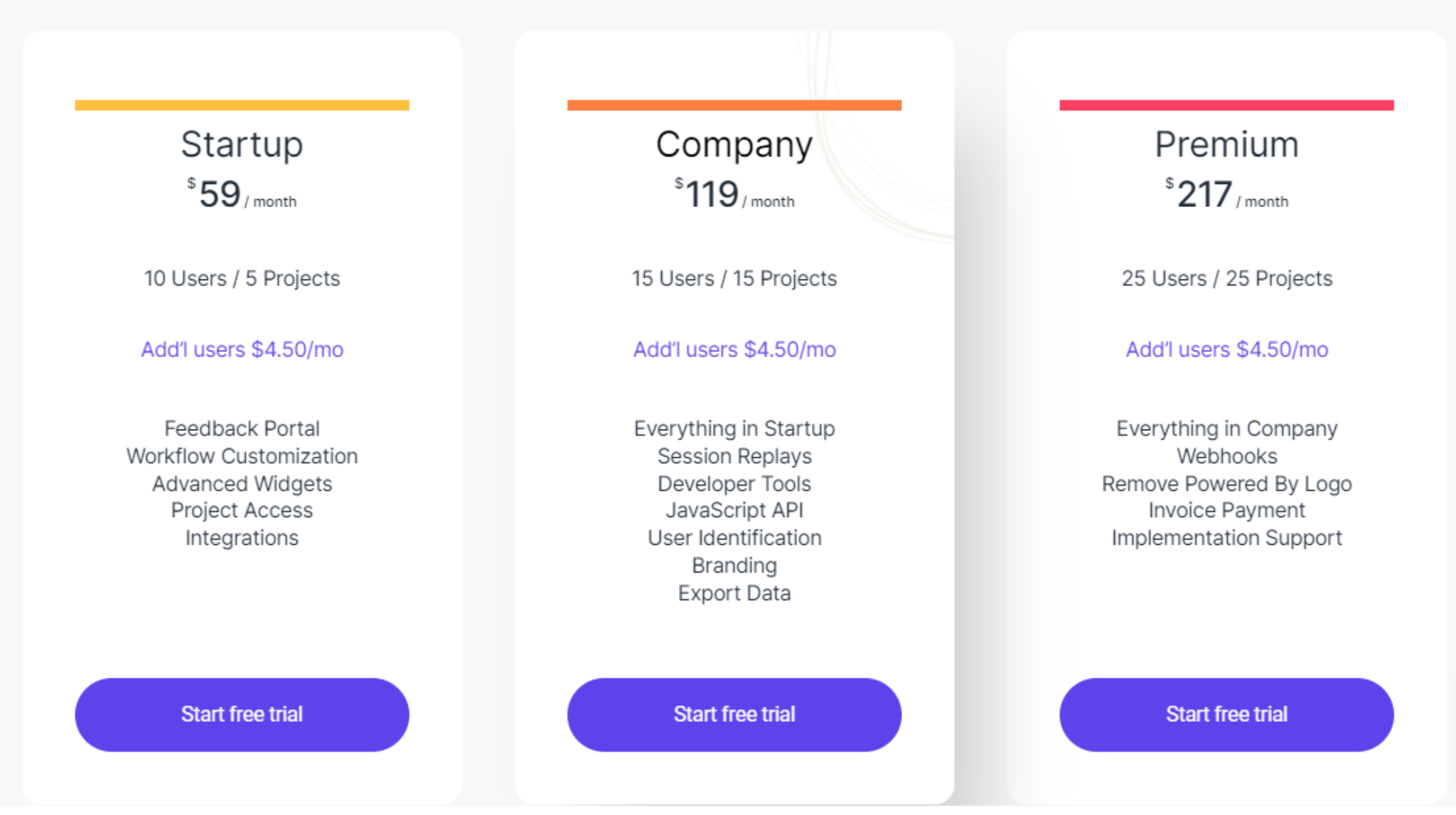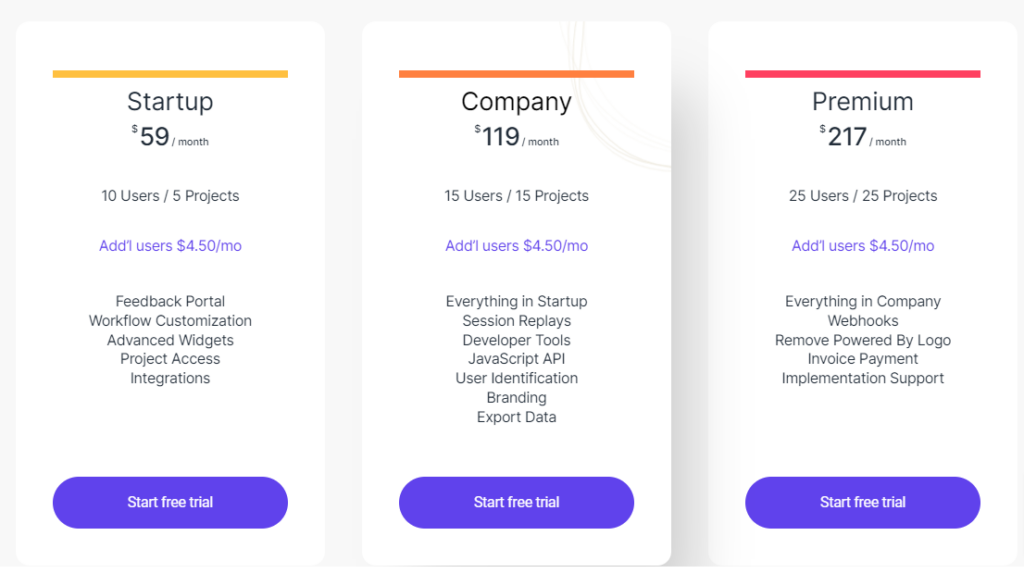 Support
Technical Support, Knowledge Base, Roadmaps.
Alternatives
Similar Apps
Marker.io is a bug tracking software application for the agile team. Without leaving the site, the team or site visitors can find the bugs and report the errors using the feedback button.
Usersnap is one of the popular feedback tools for gathering visual feedbacks from customers. It works with the help of a JavaScript tag on the website.
BugReporting is one of the popular visual feedback tools for gathering feedback from customers.
Final Verdict
Is Userback right for You ?
Userback provides a robust platform that includes user feedback collection tools and analytics, enabling product teams to make informed decisions in improving their offerings. Userback offers integrations and comprehensive support features, making it a worthwhile option to consider.
If your team is seeking an efficient method for gathering valuable user feedback without any extra resources or exertion, consider utilizing Userback's Feedback Portal.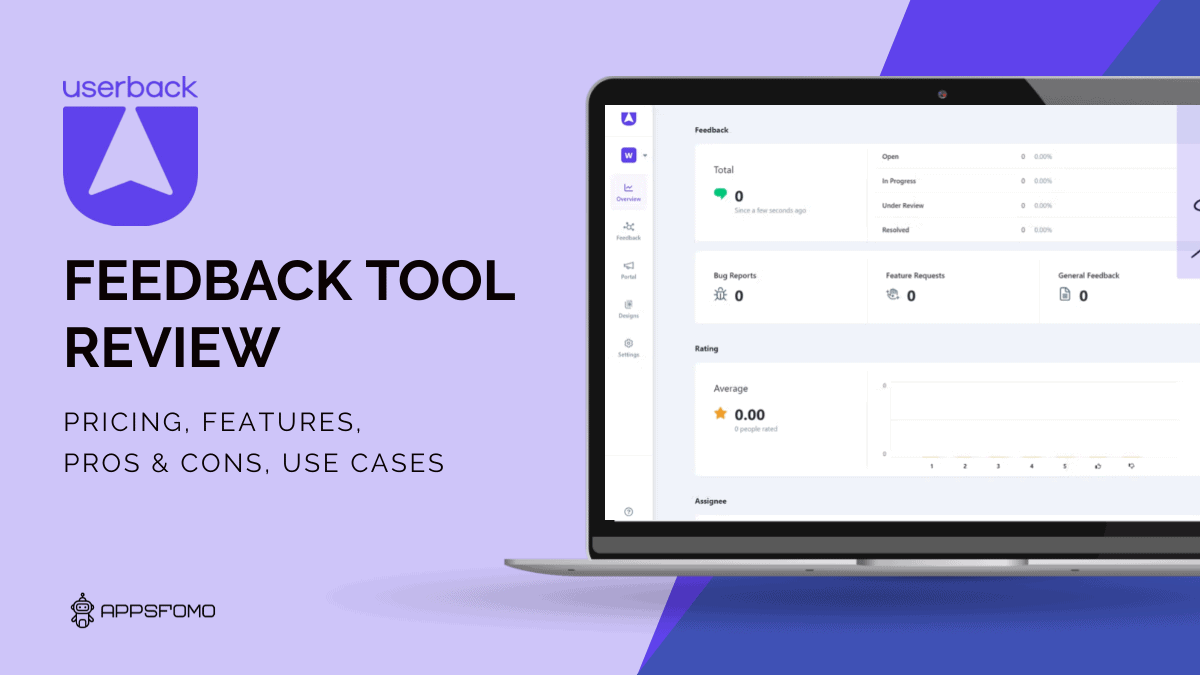 Specification:
Userback: User Feedback Tool for Collecting Customer Insights
| | |
| --- | --- |
| Review Date | April 2023 |
| Company | Userback |
| Country | Australia |
| Initial Release | 2016 |
| Pricing | Montlhy, Yearly |
| Free Version | Available |
| Lifetime Deal | Yes |
| LTD Platform | N/A |
| Money-Back | No |
| Appsfomo Rating | 8.2 |
| Support type | Email, Live Chat, Ticketing |
| Integrations | Chrome, Notion, Wordpress plugin, Zapier |
| Supported Device | Web Based |
| Mobile app | Not Available |
| Affiliate Program | Yes |
PROS:
Easy to integrate with popular platforms for deeper insights into customer data.
Automatically sync user feedback across multiple platforms
Comprehensive support package
The ability to draw and taking screenshots makes users express their issues and bugs smoothly
Video feedback is an excellent option
CONS:
Can be difficult to set up for larger organizations
Sometimes graphics and text are not visible in the screenshots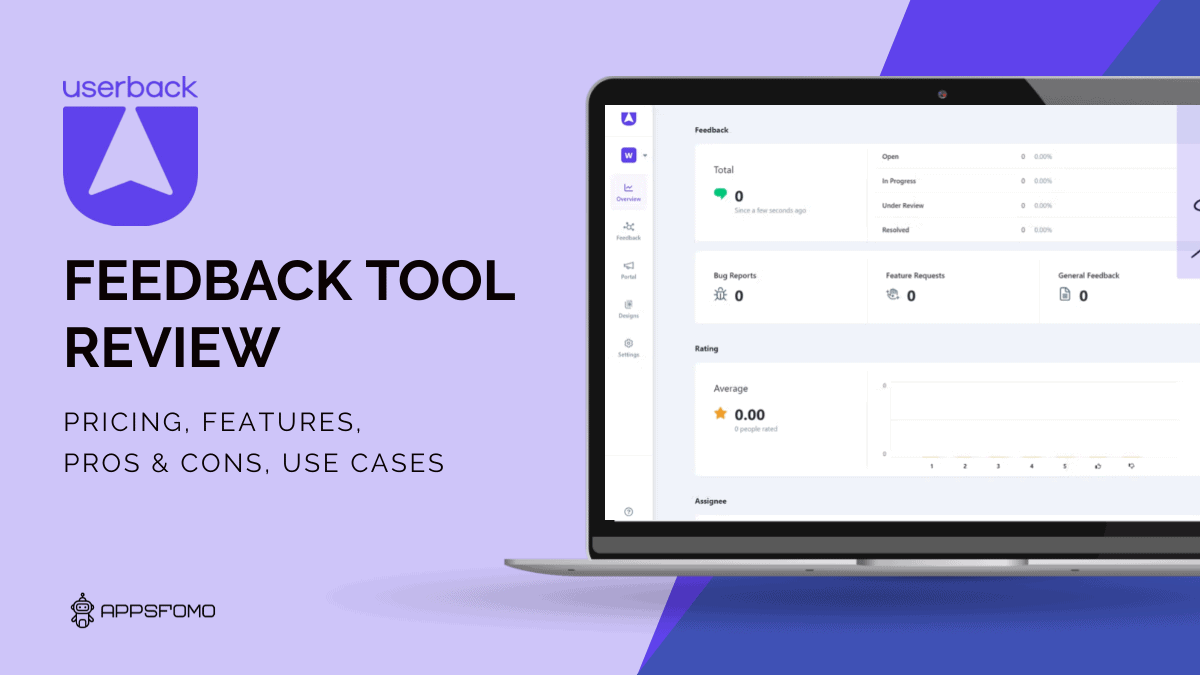 Userback: User Feedback Tool for Collecting Customer Insights