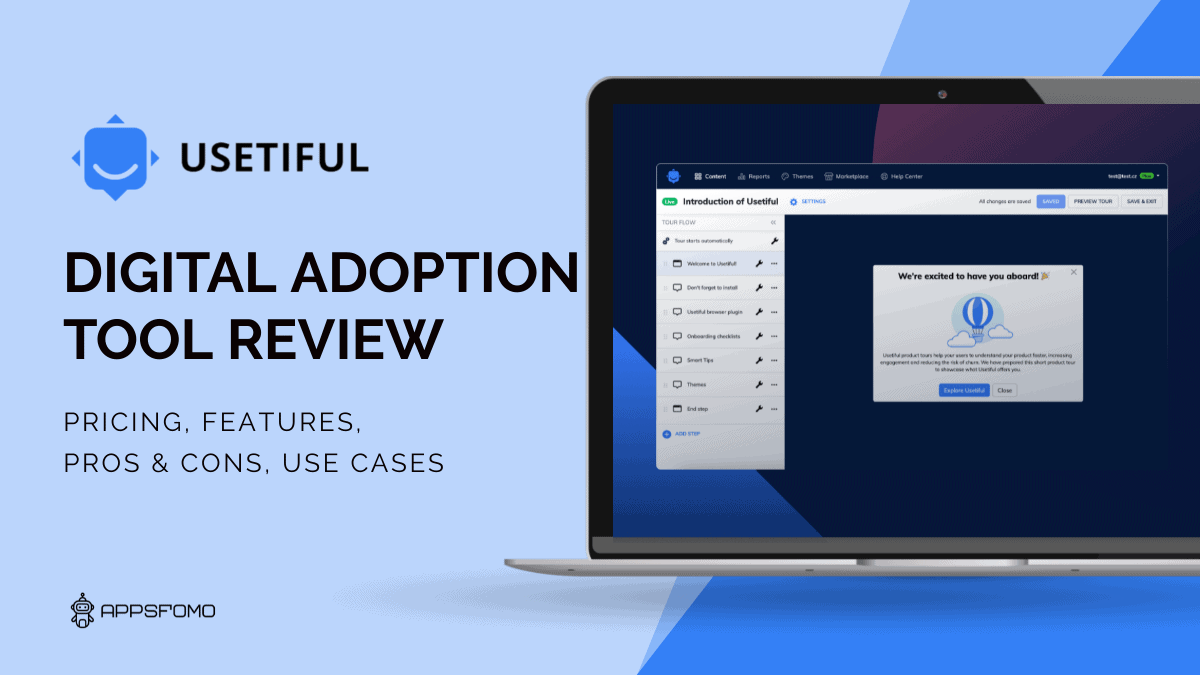 Usetiful: Creating Guided Tours of Your Digital Products Made Easy
Rakshitha V
439
SaaS, Communication
Add to wishlist
Added to wishlist
Removed from wishlist
0
Add to compare
Digital adoption is the process of making a digital product or service available to users, and it's one of the keys to long-term success for any organization. But how do you make adoption easier for your customers?
Usetiful helps you by automating many of the tasks involved in digital adoption – from crafting user onboarding experiences to reducing user churn. So if you're looking for a tool that can help streamline your digital adoption process, Usetiful is definitely the platform for you!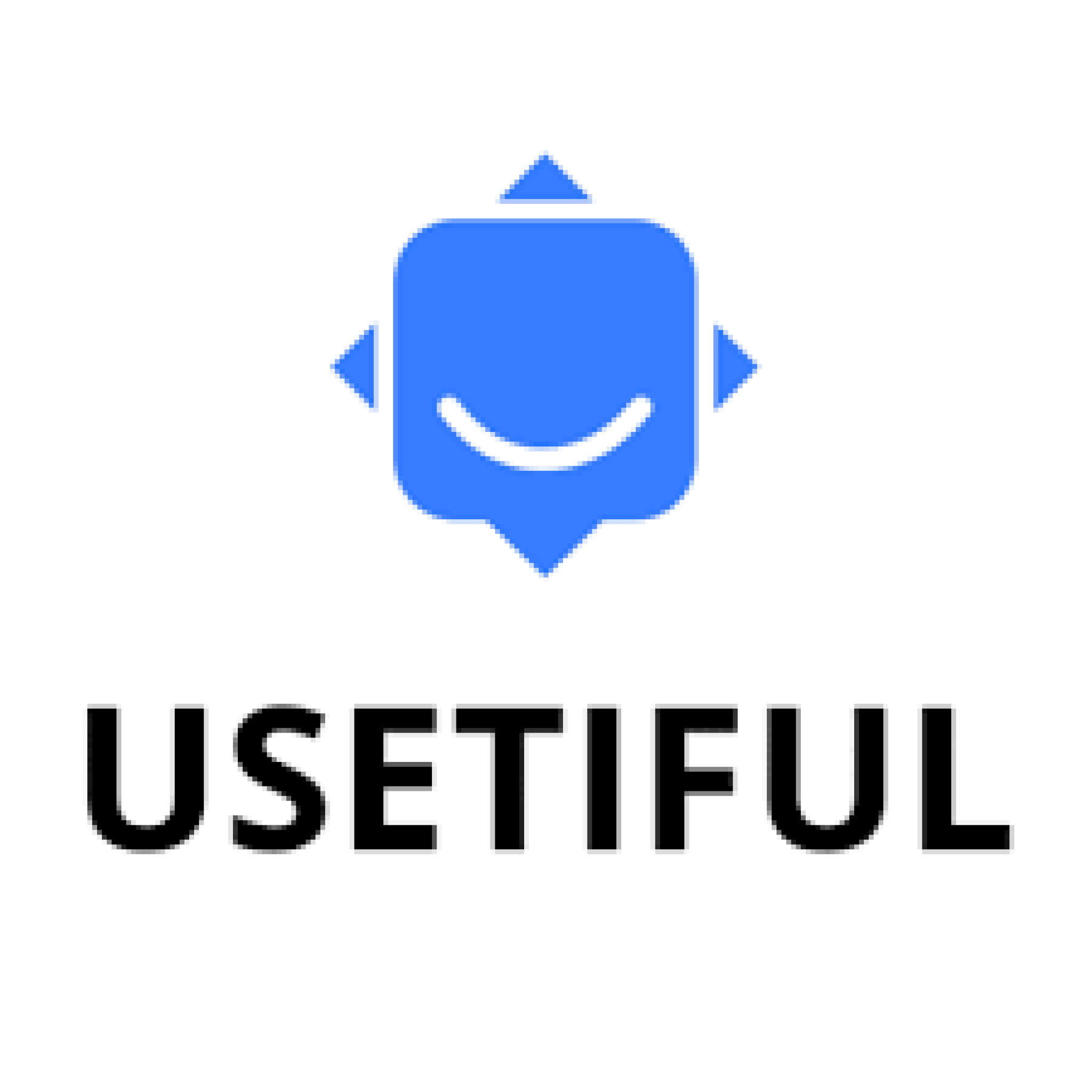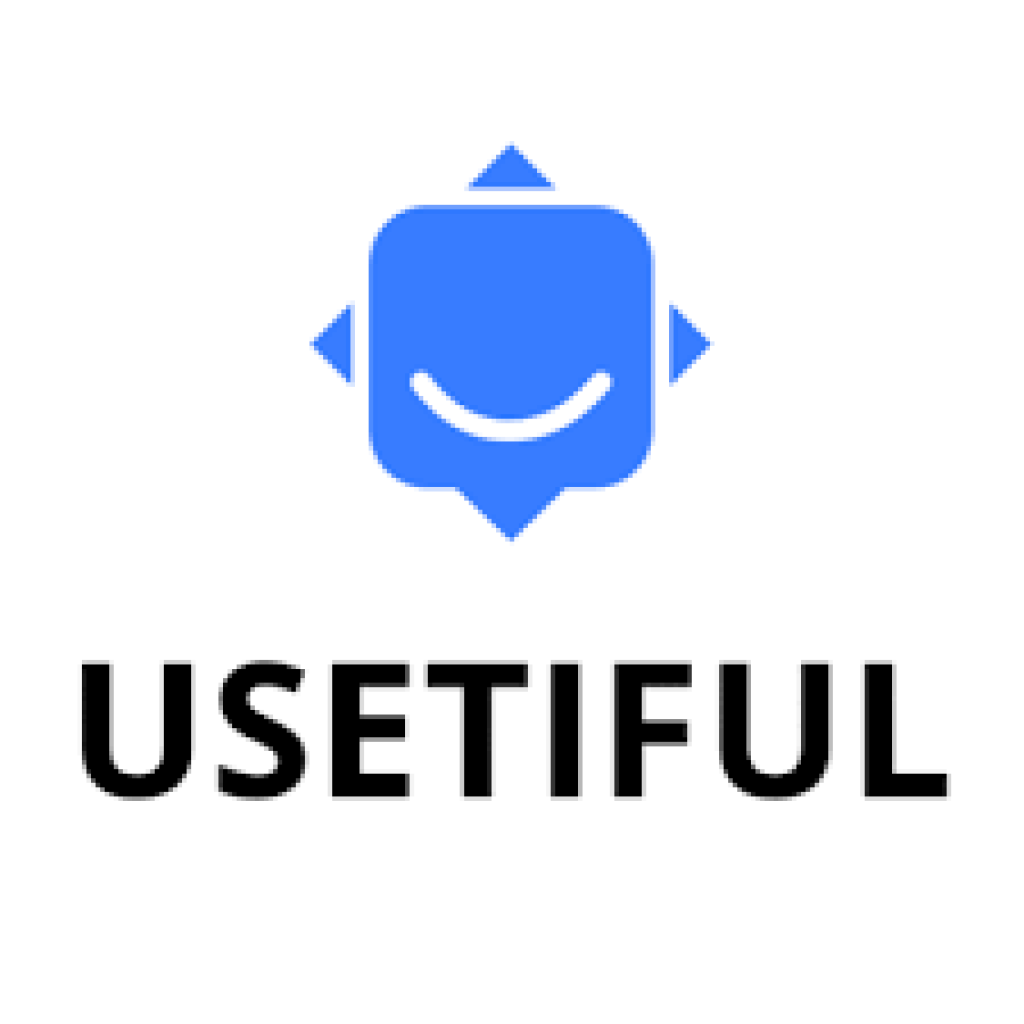 What Is Usetiful?
Usetiful is a tool that makes product tours easy and fun. With just a few clicks, you can create a guided tour of your app, website, or digital solution. It's an effective tool for new users and experienced ones, and can be used to display your app on any digital surface.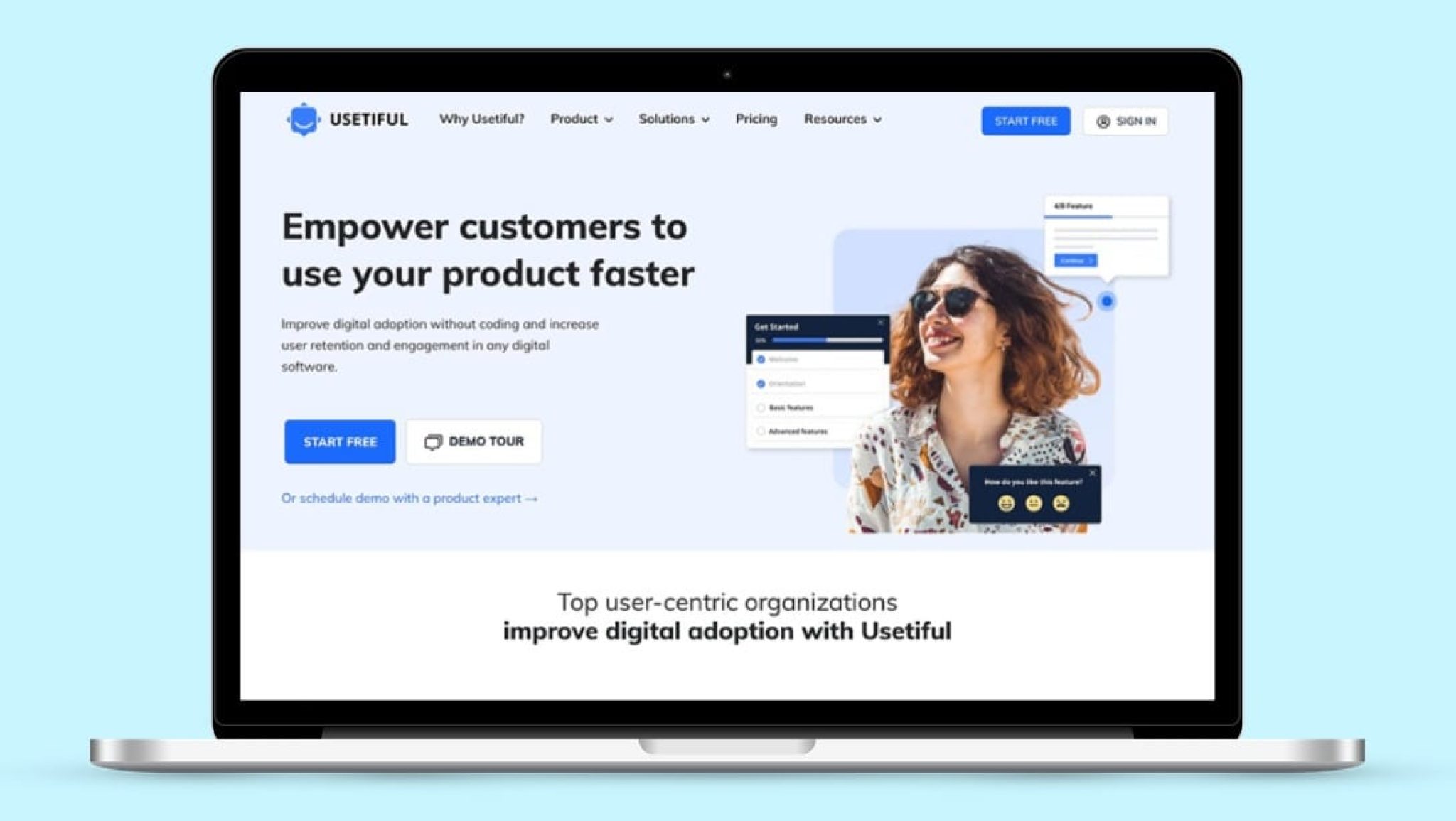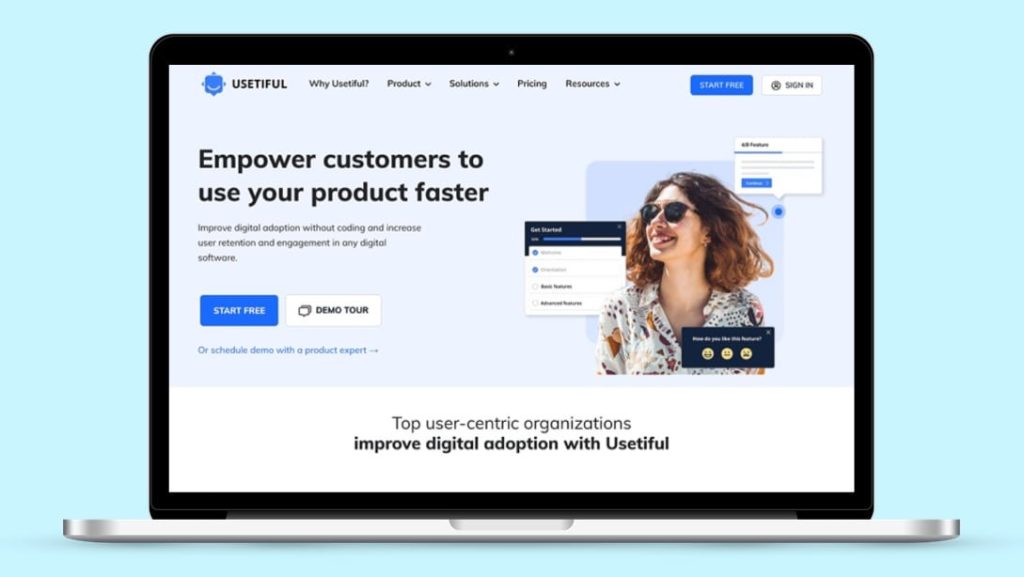 Usetiful empowers product teams to boost digital adoption, improve user retention and increase user engagement on their software by eliminating the need to code. It is easy to use, provides fast results and is scalable across any digital product.
Additionally, we're building a platform that creates truly interactive product adoption experiences, giving every user the freedom to create the perfect tour for their product. So, what are you waiting for? Start creating beautiful product tours today!
How does it work?
Key Elements
Onboard your customers in an easy and fun way
Complex onboarding made simple
Helpful tooltips anywhere needed
24/7 support agent for your customers
Improve customer experience of your app without hassle
Company Details
Usetiful is the product of Dobbytec, founded by Ondrej Dobias in the year 2019.
It is a team of 10 Based in Talinn, Estonia.
Features
Great Digital adoption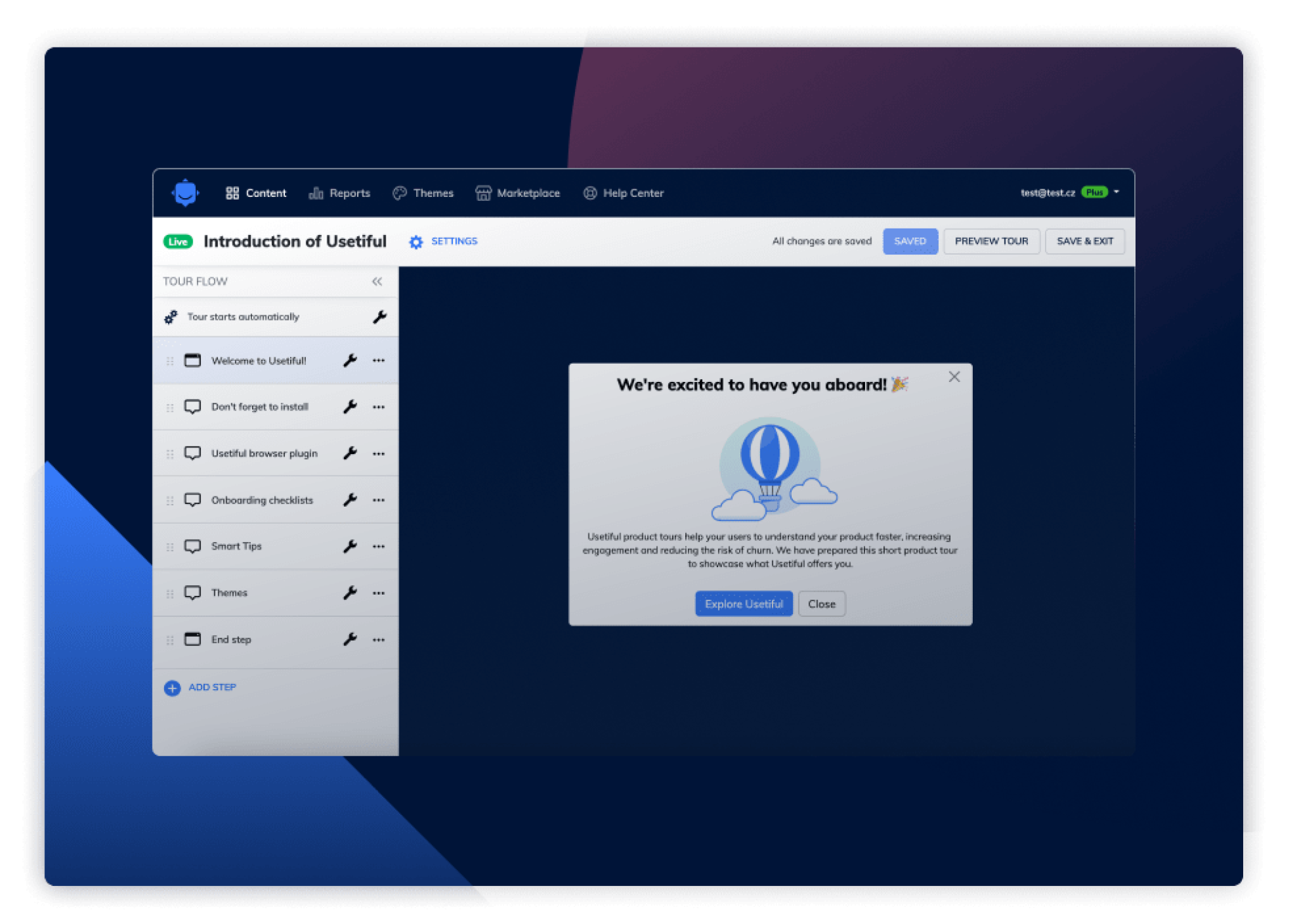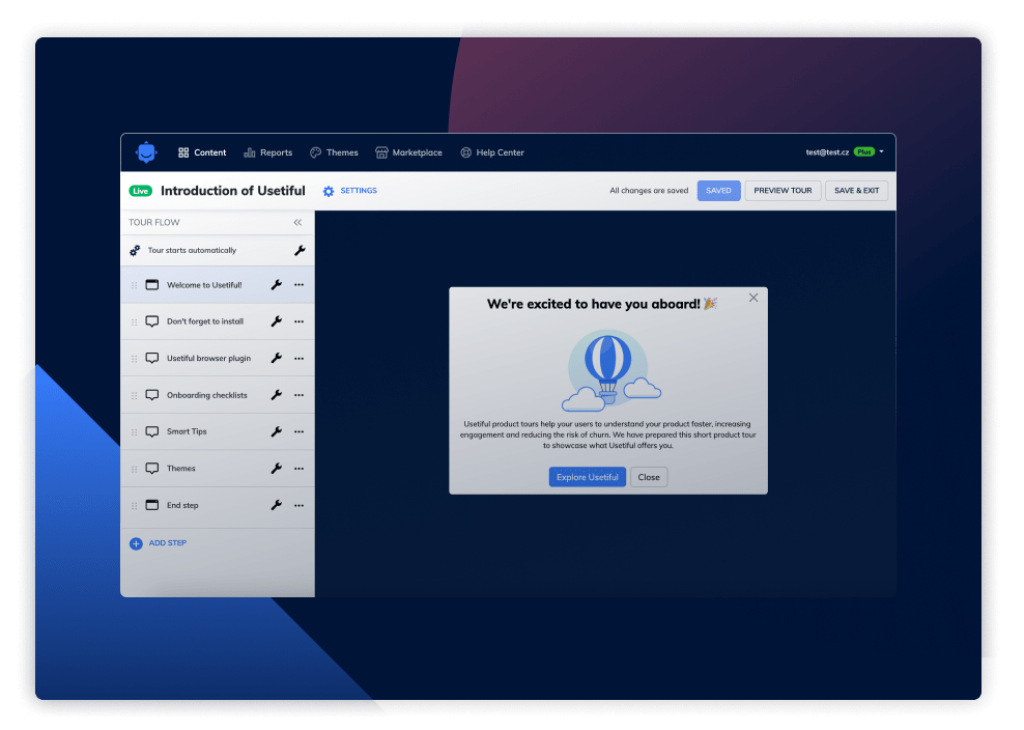 Usetiful is the first visual tool to improve digital adoption without coding. It is designed for both end users and developers, making it easier than ever before to create adaptive and inclusive products that work for everyone.
Usetiful is a digital adoption platform, which helps you to develop products that add value for your customers. Using this software, you can engage users on their mobile devices and improve the user adoption rate of your apps. This platform supports multiple digital marketing strategies such as remarketing ads, in-app messaging and personalized content delivery based on app usage behavior.
Also helps you with onboarding and user conversion. The digital adoption platform uses interactive tools such as checklists, product tours and hotspots to help your users adopt features in your digital products. Usetiful allows web developers to use their existing codebase instead of rewrite it for the new feature. It also supports integration with third party API's and integrations into marketing automation platforms via Zapier so that every button on any website can trigger alerts or events.
Product Tours
Usetiful is the fastest way to create product tours and interactive walkthroughs. It's a no-code visual editor that lets you add pictures, videos, tip balloons, pointers, modals, slideouts and custom triggers and delayers.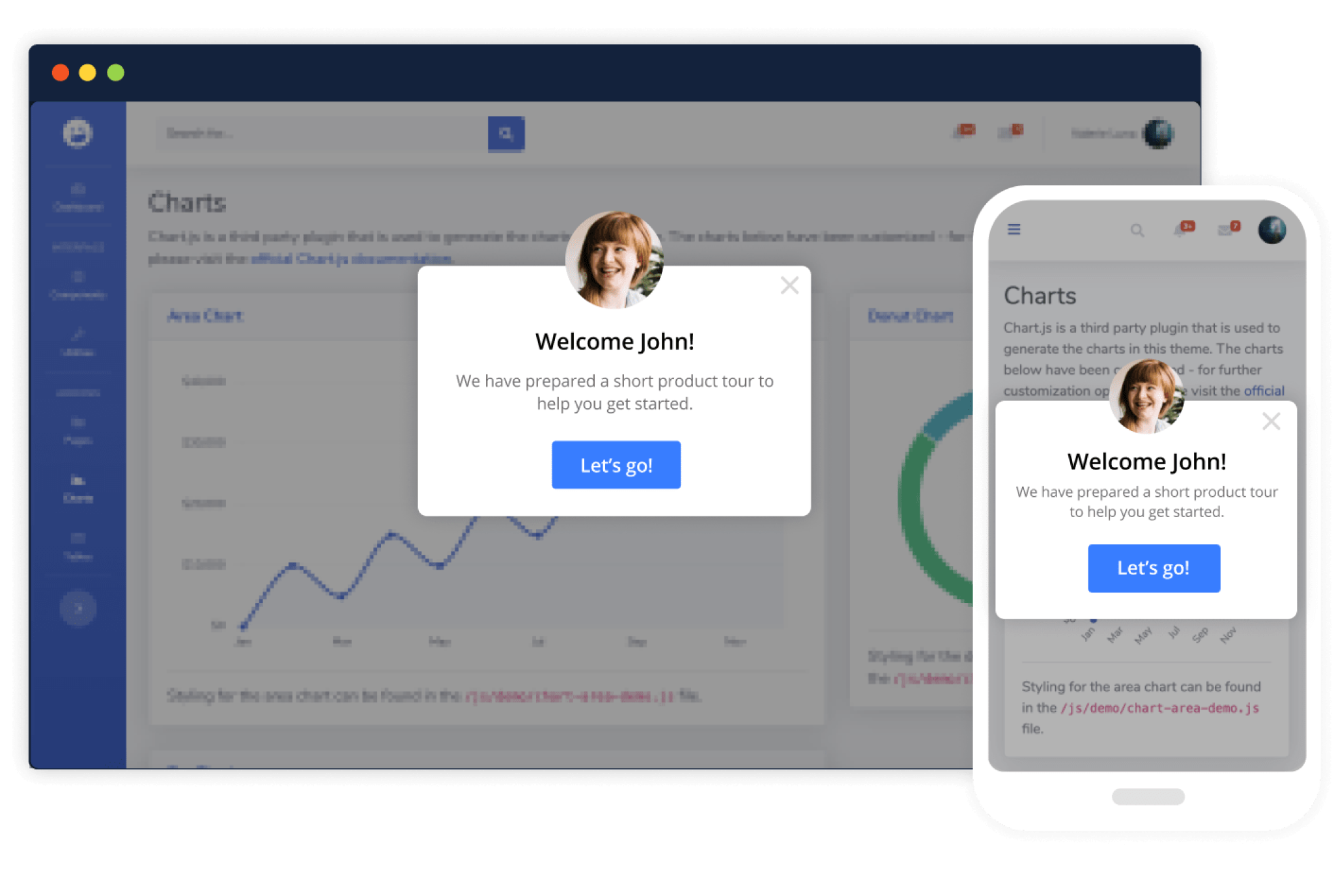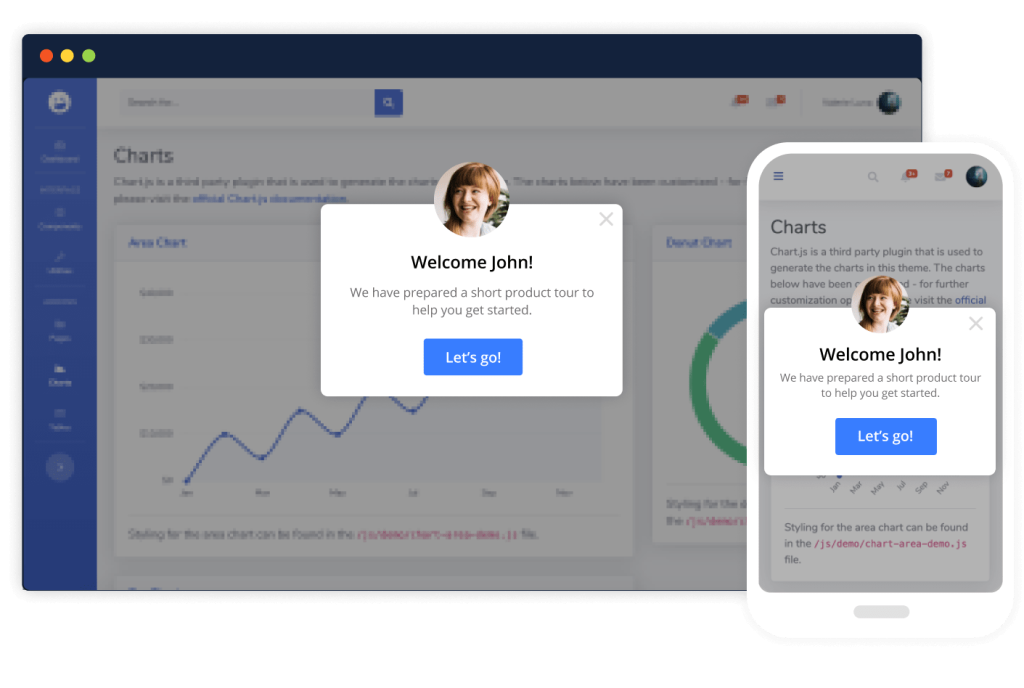 Helping your users understand your product and discover the "aha" experience, product tours give on-screen help. Product tours, like software navigation tools, offer interactive step-by-step instruction and help consumers understand the worth of your item.
By using product tour, you can create interactive product tours, tooltips and hotspots to guide your customers through the product or feature by providing useful information. It also helps to keep users used the app longer resulting in higher retention and more revenue for your business.
User tour is a product tour that helps to guide users through the product or service. It makes them explore it step by step and interact with different elements of an application, website, mobile app before giving access to functionalities.
Onboarding Checklist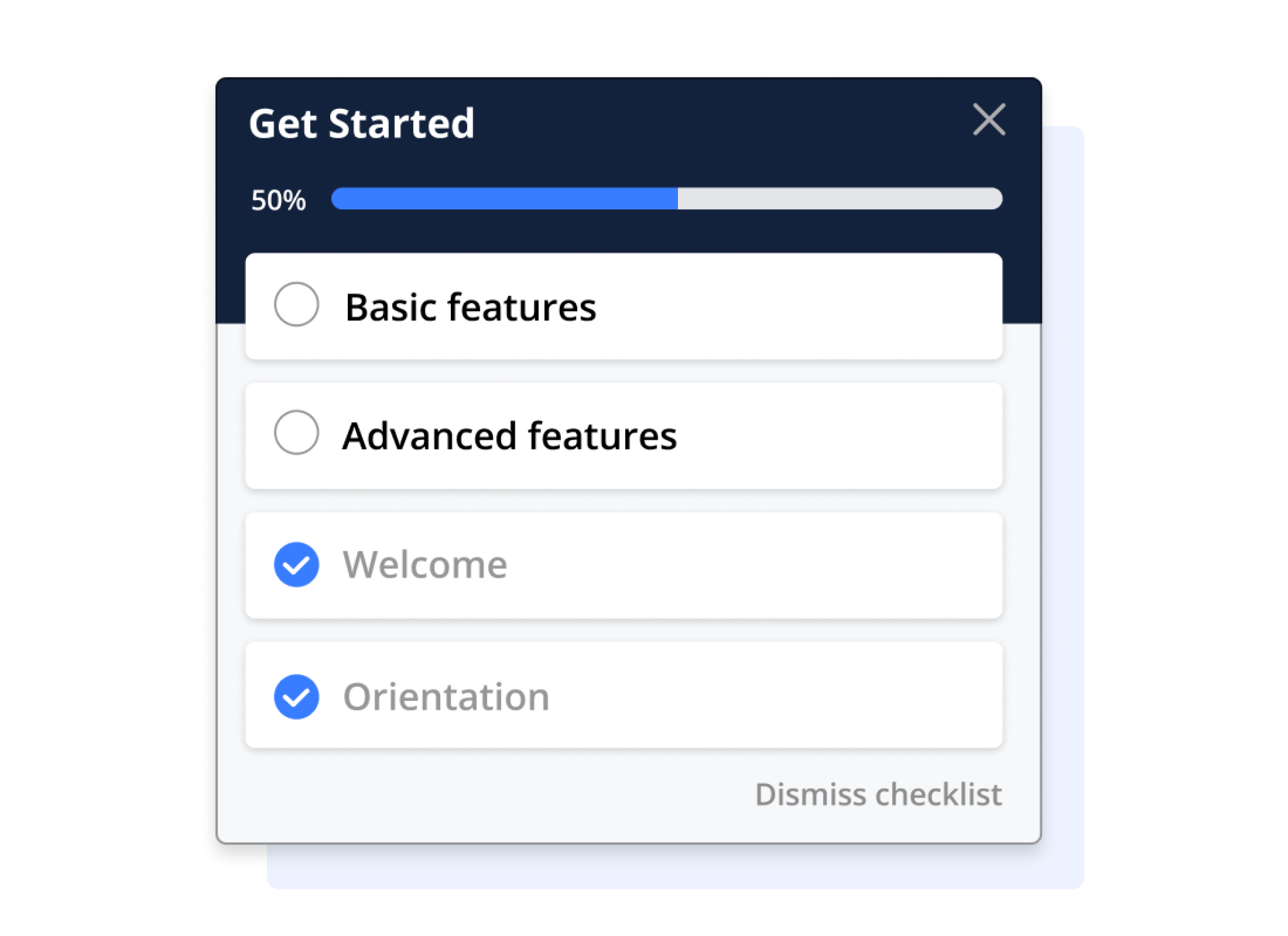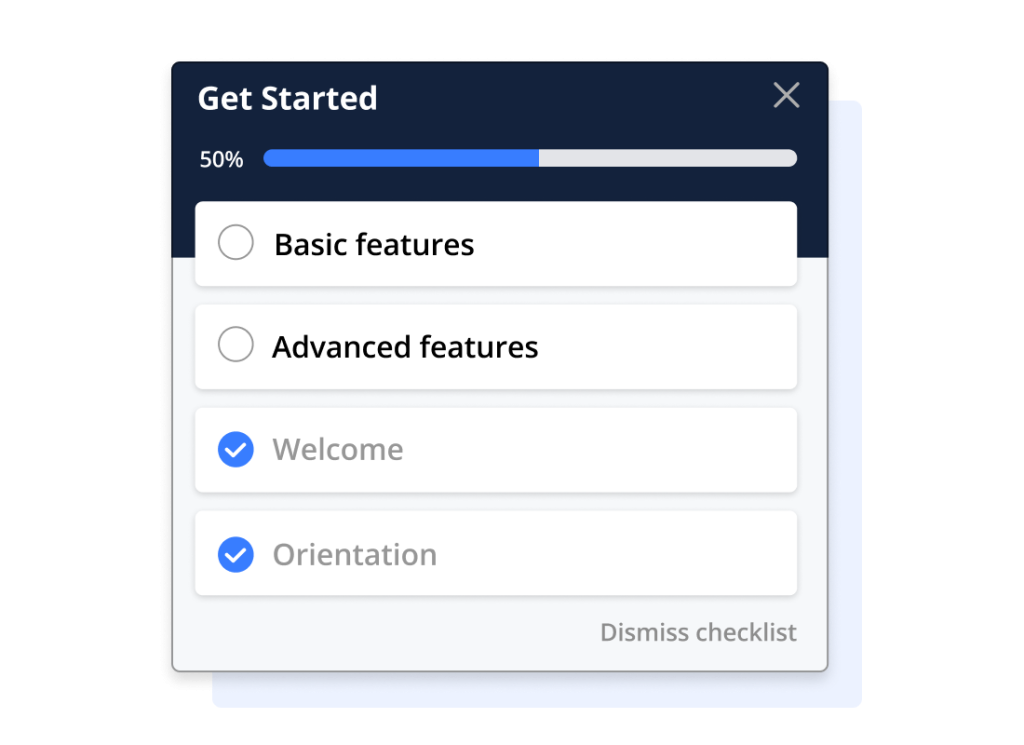 Usetiful's Onboarding Checklist is simple, intuitive and an excellent solution for more complex products. By breaking down challenging, multistep tasks into bite-sized checklists, users are more likely to stay engaged with a product.
For more sophisticated products, the Onboarding Checklist is a great option. Users are more likely to engage with products by breaking down difficult, multistep tasks into bite-sized checklists. Connected experiences may be created that offer users a more detailed and profound understanding of various product tours. Checklists are ideal for introducing consumers to the qualities that will make them stick with a product or app.
Keeping your users engaged and motivated is a great use of checklists. Users are rewarded for their progress after each tour has been completed. Users are more likely to continue working on a task if they are aware of the effort they have already put in, according to science. Users can also continue working by breaking tasks into smaller pieces.
Collect feedback with contextual in-product surveys
Usetiful makes it easy to continuously collect feedback by automatically asking survey questions. Need to get a quick feedback from users on a new feature or continuously monitor customer sentiment during the user onboarding.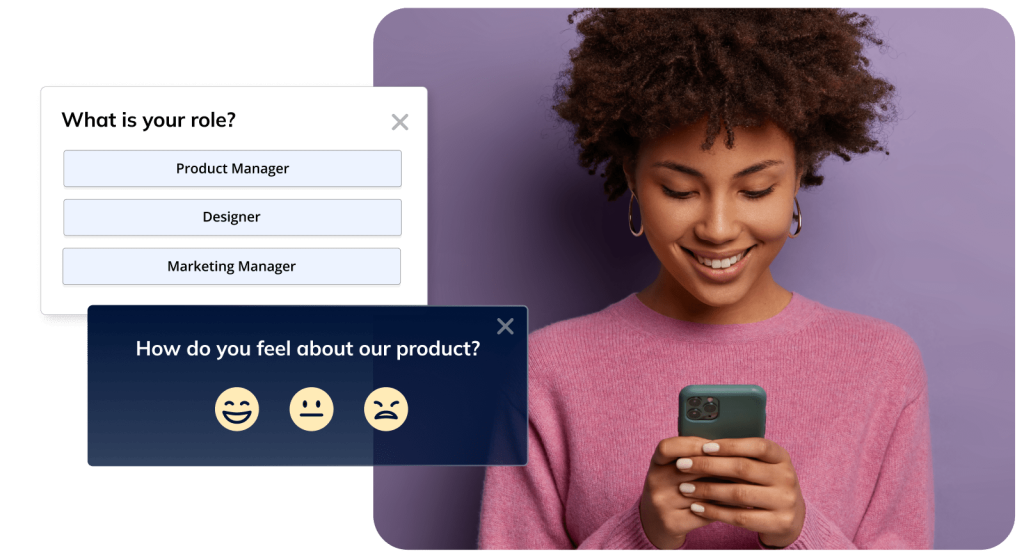 You may present polls to particular user groups at the appropriate time and in the proper touchpoint with the advanced targeting features. As part of the user onboarding process or as a separate campaign, run in-product surveys.
Smart Tips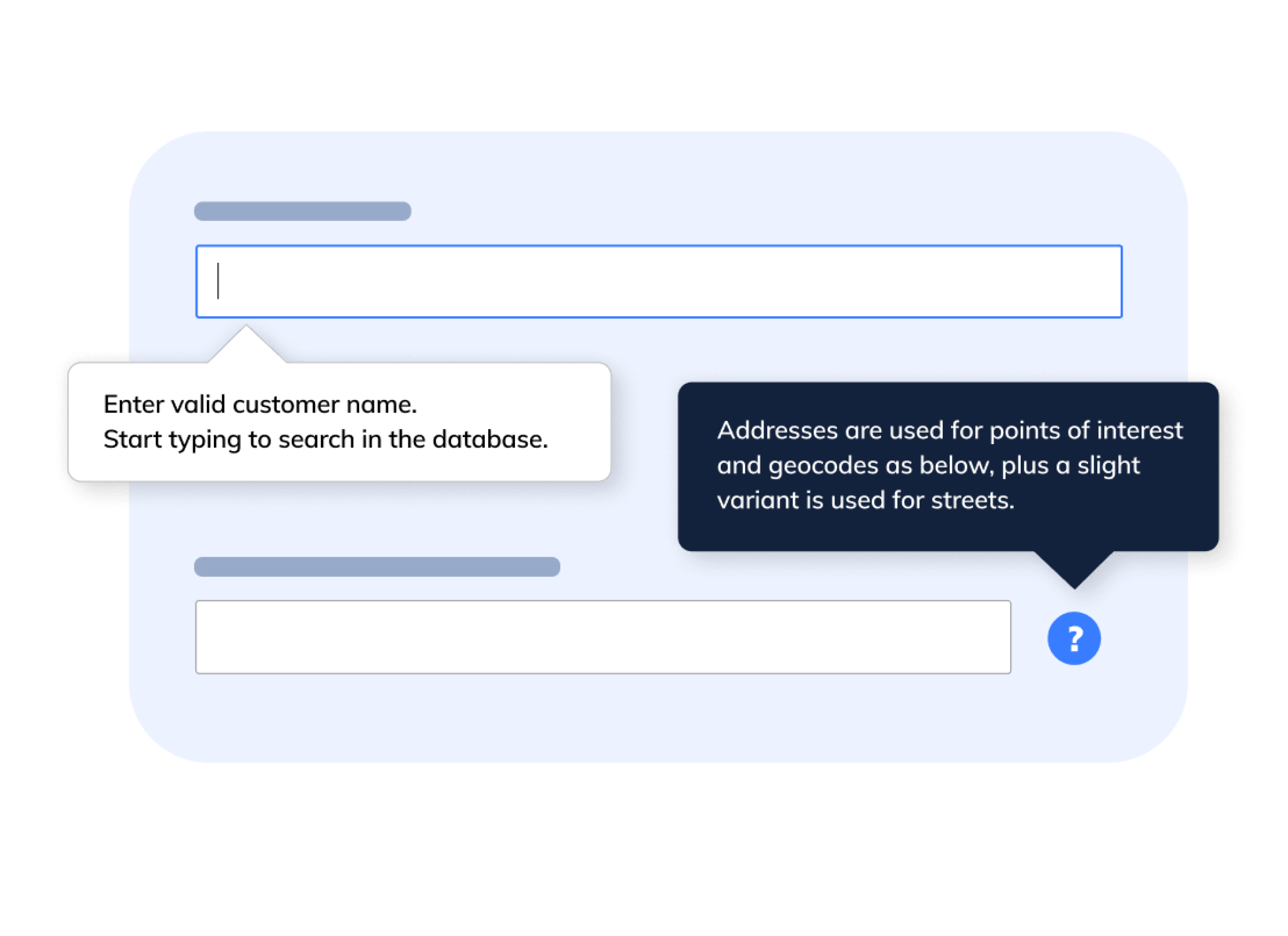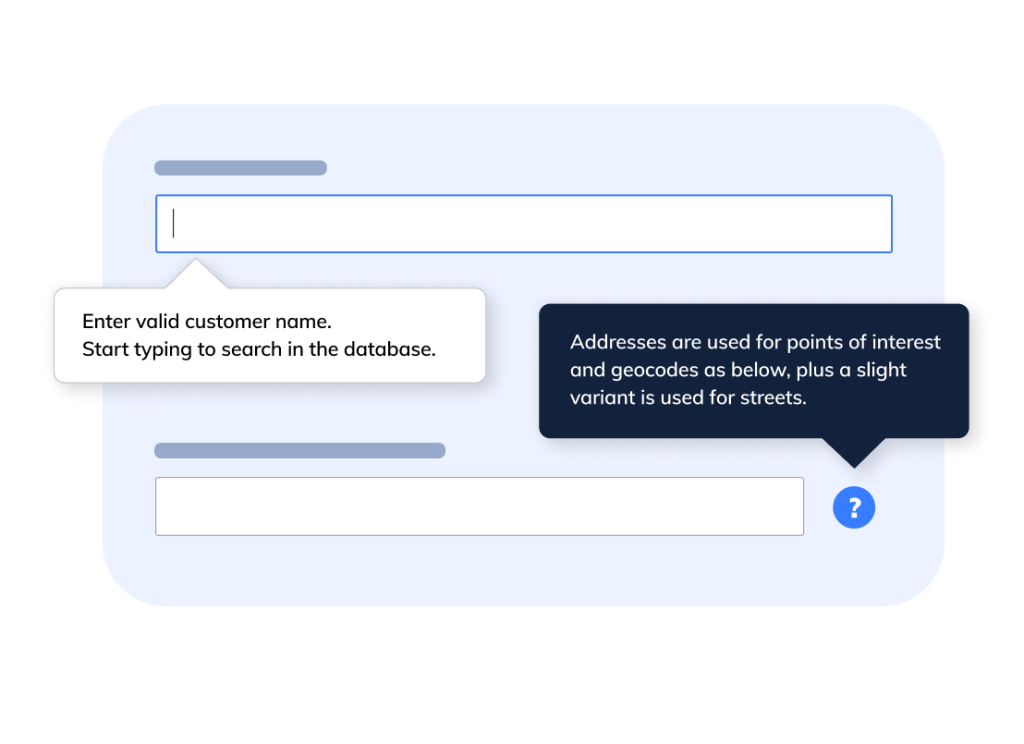 Usetiful is a platform that allows you to create smart tips and checklists. You can easily distribute smart tips in your apps, emails or notifications. Smart tips are helpful ui elements that subtly guide users toward taking specific actions without disrupting their journey which results into better onboarding experience of the customers.
They are Advanced tooltips specially designed to help improve input forms. By adding hints or important information to critical input fields or confusing elements, you can use them to simplify even very complex forms or processes on your site. You may improve the quality of your client's data input by employing this strategy.
Usetiful Support
Their help center has support articles that are well documented.
Support is only via ticketing
Frequently Asked Questions
What happens if I exceed my limit on assists?
During the current subscription period, your users will be unaffected. We will notify you in advance and allow you to choose between upgrading your subscription to a higher level or reorganizing your Usetiful material. We will automatically upgrade your service to the appropriate tier based on the new subscription period if no action is taken.
How assists differ from MAU's?
The number of individuals that visit a website within a given time (typically month) is called monthly active users (MAU). Even if your visitors do not utilize the provider's MAU, you are still billed by those that provide it.
When a user is actively assisted by Usetiful, Assist is counted. It is counted as assist every time a user activates a Usetiful element (such as a product tour or smart tip). As a result, you'll only be charged if users utilize Usetiful.
Why Use Usetiful?
Easy to use, set up, and maintain.
No code, Zero hassle setup
Incredibly Affordable & Easy-to-Use
GDPR Compliant
Simple and Quick
Flexible to Use
Usetiful Pricing Plans
Offers Monthly and Annual Subscription. It has free trial too.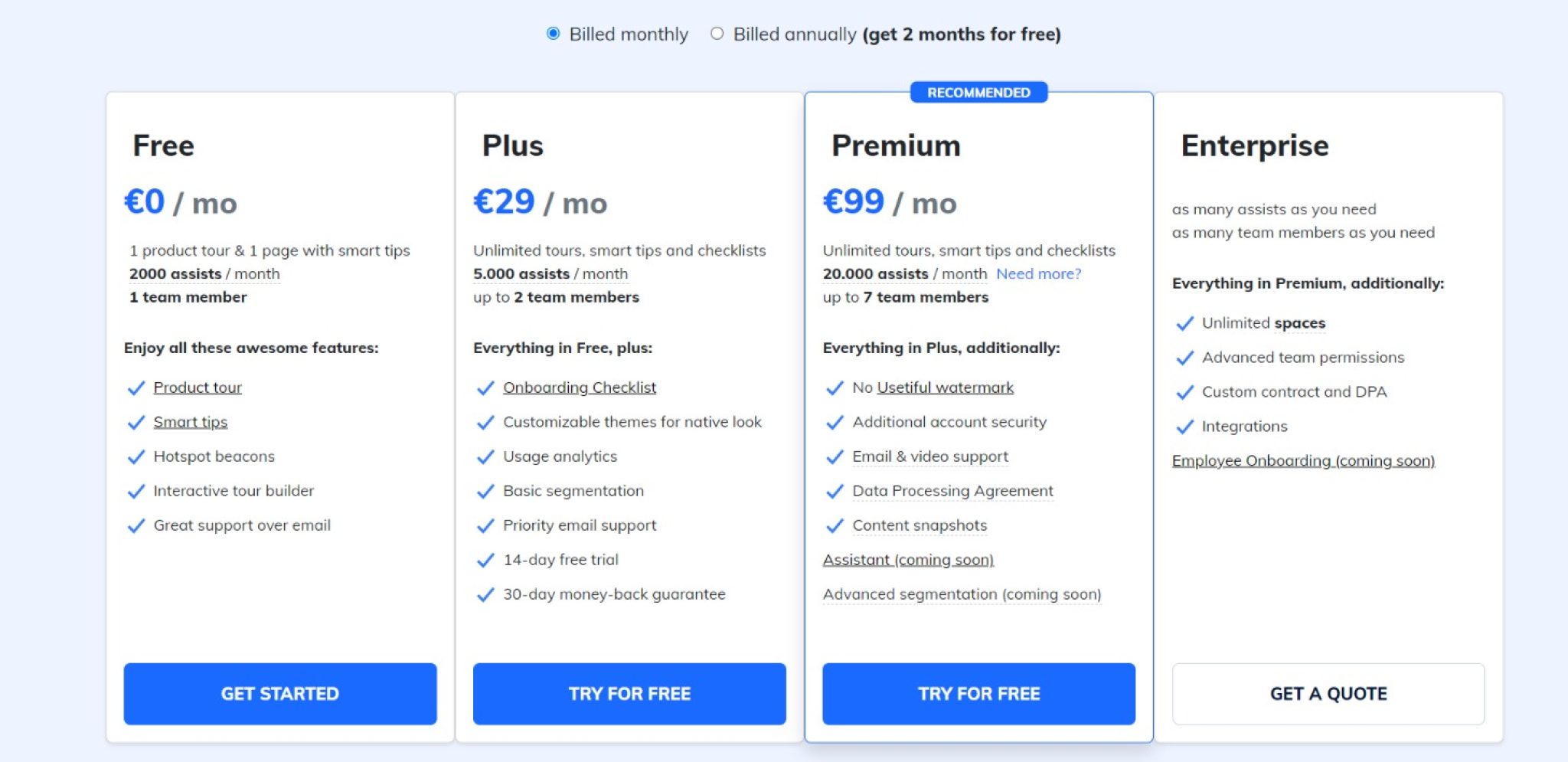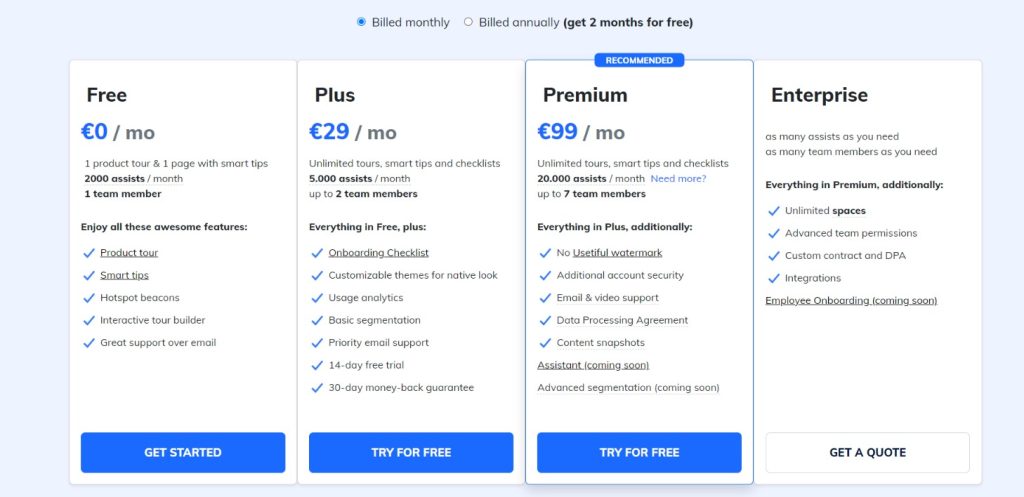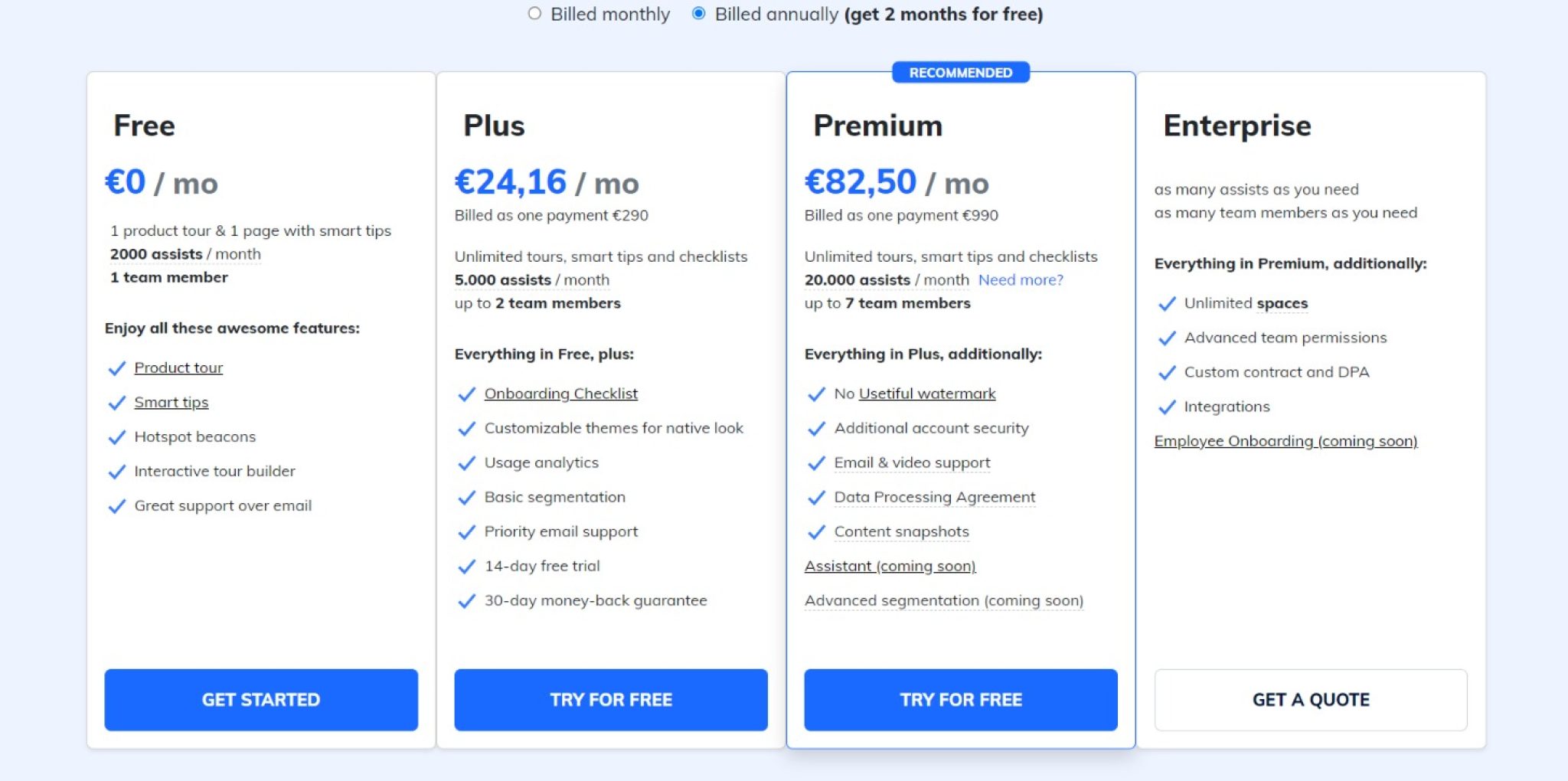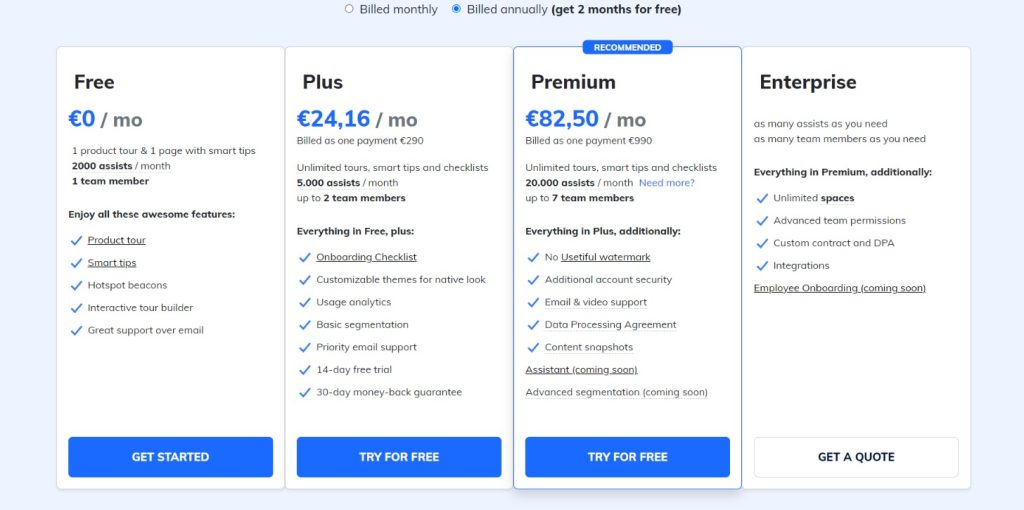 Alternatives to Usetiful
Usetiful is an ultimate Digital adoption tool which, Improves customer experience of your app without hassle.
Lets check some of its alternatives, which you might find useful!
Walkme connects users to workflows. Organizations can use data to take instant action to improve user experiences across your enterprise apps with WalkMe's no-code digital adoption platform.
Without a developer, Appcues makes it simple to track and boost product adoption. With the help of the no-code platform, non-technical groups can monitor and review product usage, produce beautiful in-app onboarding tours, announcements, and polls in minutes.
Social Media Presence
Is Usetiful right for You ?
Usetiful bridges the gap between people and technology. Users may learn any software system on day one with guided tours and smart tips. You can create product tours, checklists, and tooltips without writing a line of code with Usetiful.
Product tours and contextual help increase user retention and engagement in any digital software.
Give a try for this product now!
Video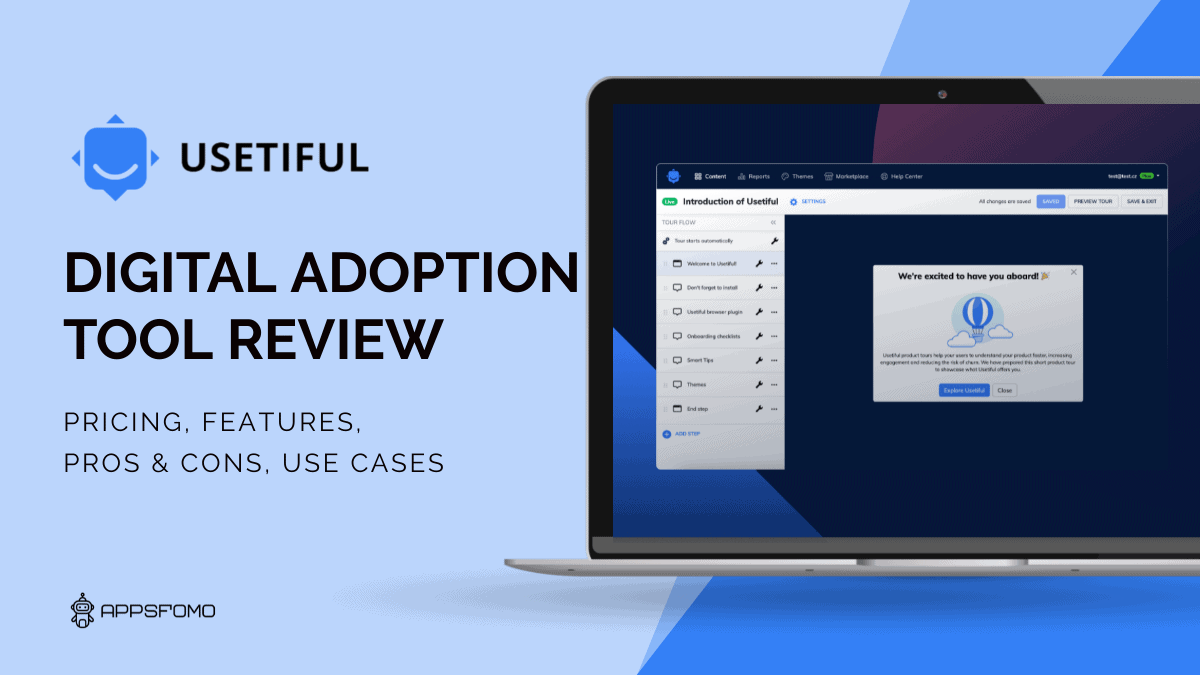 Specification:
Usetiful: Creating Guided Tours of Your Digital Products Made Easy
| | |
| --- | --- |
| Review Date | Sep-22 |
| Company | Dobbytec |
| Country | Estonia |
| Initial Release | 2019 |
| Pricing | Montlhy, Yearly |
| Free Version | Free Tier |
| Lifetime Deal | Yes |
| LTD Platform | Appsumo |
| Money-Back | N/A |
| Appsfomo Rating | 7.8 |
| Support type | Email, Ticketing |
| Integrations | N/A |
| Supported Device | Web Based |
| Mobile app | Not Available |
| Affiliate Program | Yes |
PROS:
Usetiful is easy to setup and customize.
It has User- friendly tour builder to create complex tours.
Very easy to install, works without any real coding experience.
It has freemium plan, pricing strategy is really advantageous.
It's a great tool for companies that have a lot of products.
CONS:
Usage of selectors is difficult.
Support is not helpful sometimes.
Missing some more complex functionalities such as in-depth reports, feature adoption, customer surveys & feedback, extra design features and templates
The tool is based on one account only
Issues in creating multilingual product tour.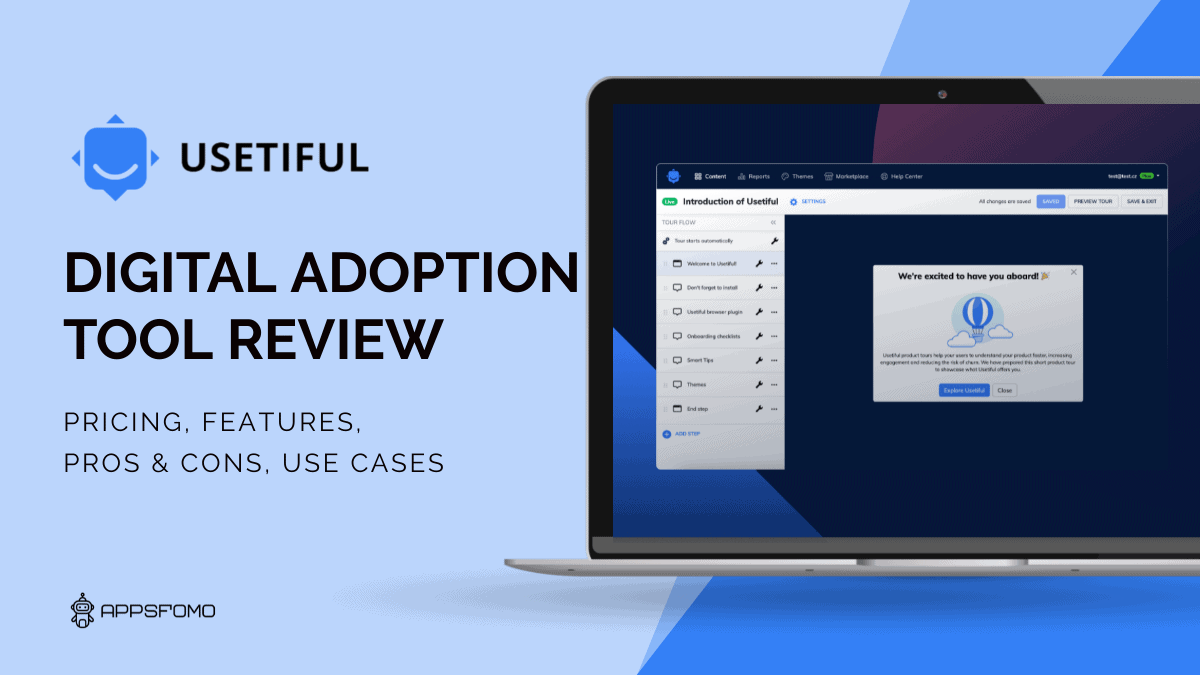 Usetiful: Creating Guided Tours of Your Digital Products Made Easy