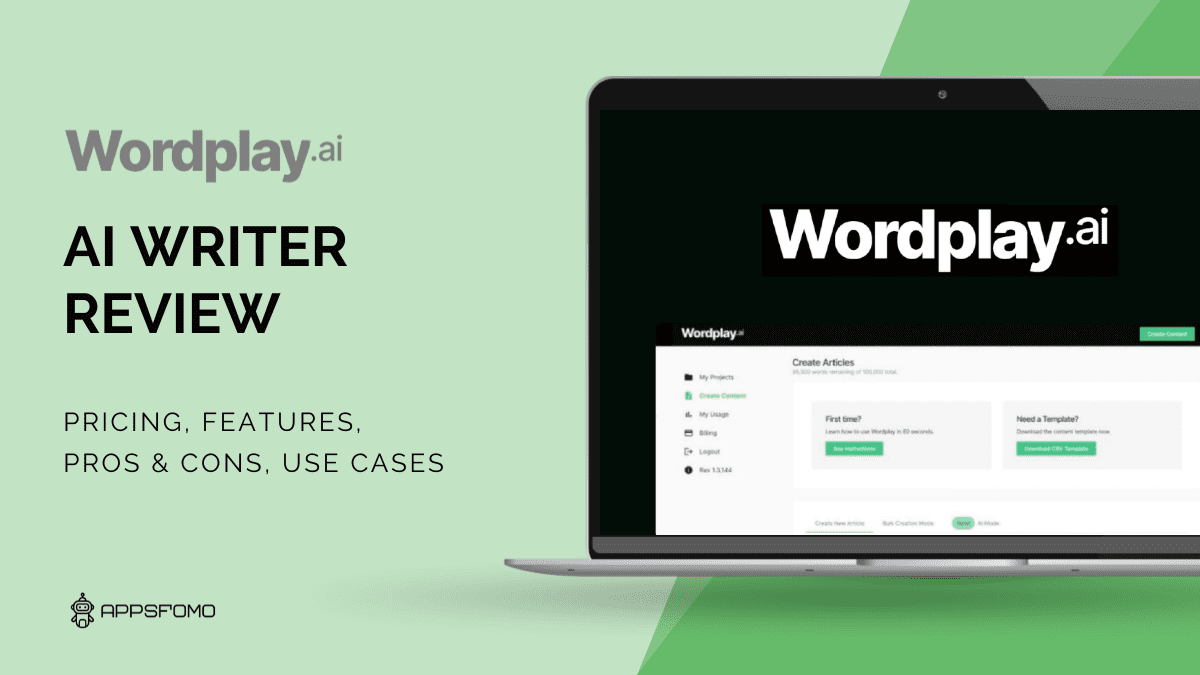 Wordplay: The Plagiarism-Free Writing Tool for SEO Content
Add to wishlist
Added to wishlist
Removed from wishlist
2
Add to compare
Blog writing can be a daunting task, especially if you're not sure where to start. But with Wordplay.ai, writing quality content is a cinch! Wordplay helps you create high-quality blog posts in seconds by using artificial intelligence (AI) to understand your content and generate high-quality content for you.


All you need to do is input a topic, and Wordplay takes care of the rest – creating drafts that are 95% complete in just 15 seconds, saving you hours of hard work. You can also easily schedule and publish content using our WordPress plugin – making content creation a breeze. So what are you waiting for? Start writing quality blog posts using Wordplay AI today!
What Is Wordplay?
Wordplay is a long-form AI writer that helps you generate content quickly and easily. It has a wide range of topics to choose from, making it perfect for businesses of all sizes. You can use Wordplay to write blog posts, articles, or even book chapters. Additionally, it has an automatic grammar checker and spellchecker so you can be sure your text is error-free before you publish it.
Wordplay is the easiest way to craft engaging content. With a single click, you can create 2,000+ words that are optimized in a way that requires minimal edits from you afterward. It combines the best elements of human and artificial intelligence to help you create better content for your business or organization.
Wordplay was created to make your life as a content publisher much easier. Whether you own a business, you run a portfolio of SEO websites, or you are publishing content for clients, Wordplay is here to help!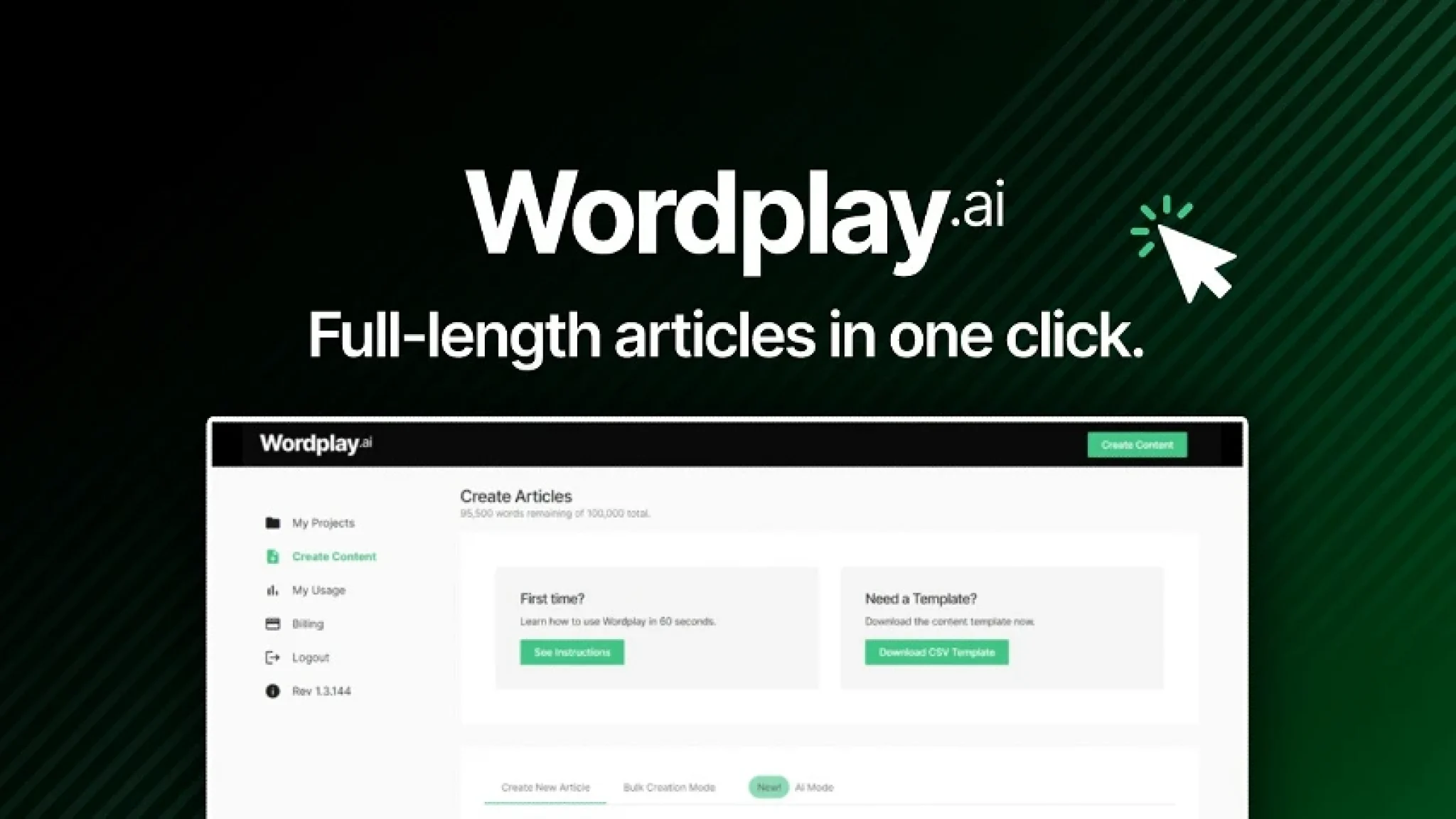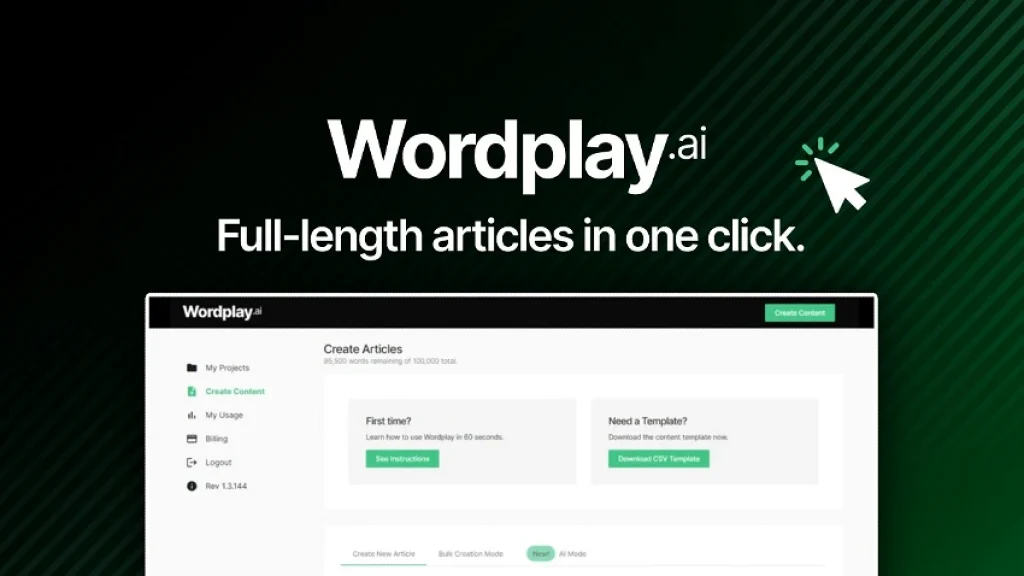 How does it work?
The most important thing to understand in Wordplay is how to write a great article title for the AI to work from. This implies that you must choose your words carefully. Wordplay's output is based entirely on the quality of the input. So, with that in mind, let's talk about some Wordplay-related writing strategies when creating content…
Give specific direction : The AI creates higher quality content and will understand your intent for the article if you give specific direction to the AI in your article titles.
Give context : To comprehend what you're talking about, the AI needs context. Wordplay's risk of the AI writing off topic is reduced by using context to keep it on track.
Broader is better : Wordplay works best when you are talking broader about topics rather than digging into super-specific things. It also has a higher tendency to get off topic when writing about new or recent information in the world that hasn't been around for a while. We are trying to improve this over time, but when Wordplay tries to write about brand new topics, it can go a bit off the rails.
Company Details
Curran Van Waarde is the Founder of this tool. It was founded in the year 2022, their mission was to build the best SEO tool for long-form content.
Their team is working every day to make it as easy as humanly possible to be able to set up pages or posts on your website that rank on Google.
Company headquarters is in Encinitas, California.
Wordplay Modes

Outline Mode
In Outline Mode, you can create content from a title and 3-12 subheadings. This mode is best for controlling exactly which topics are covered in your content.
The more subheadings you put, the longer the content will be. If you fill out all 12 subheadings, you'll typically get an article that is 1,500 – 2,000 words.
Title Mode
In Title Mode, you can create content in bulk from exact article titles. This is best for situations where you have already prepared descriptive article titles based on your research.
The articles in this mode typically turn out to be anywhere from 800 – 1500 words.
Bulk CSV Mode
In Bulk CSV Mode, you can create bulk content from multiple titles & subheadings. It's essentially outline mode, but for bulk usage.
Best for Wordplay experts who have a list of exact titles & subheadings in a CSV file.
Topic Mode
In Topic Mode, all you need to do is give Wordplay a topic and Wordplay will write an entire article based on that topic.
This is for much more broad articles. Wordplay will do the heavy lifting in terms of writing the article title and the entire piece.
You can use this in bulk too, so if you have a list of 10 topics, you can throw them all into keyword mode (line by line) and Wordplay will create articles for all of the topics you put in.
Features
Long-Form High-Quality Content at One Click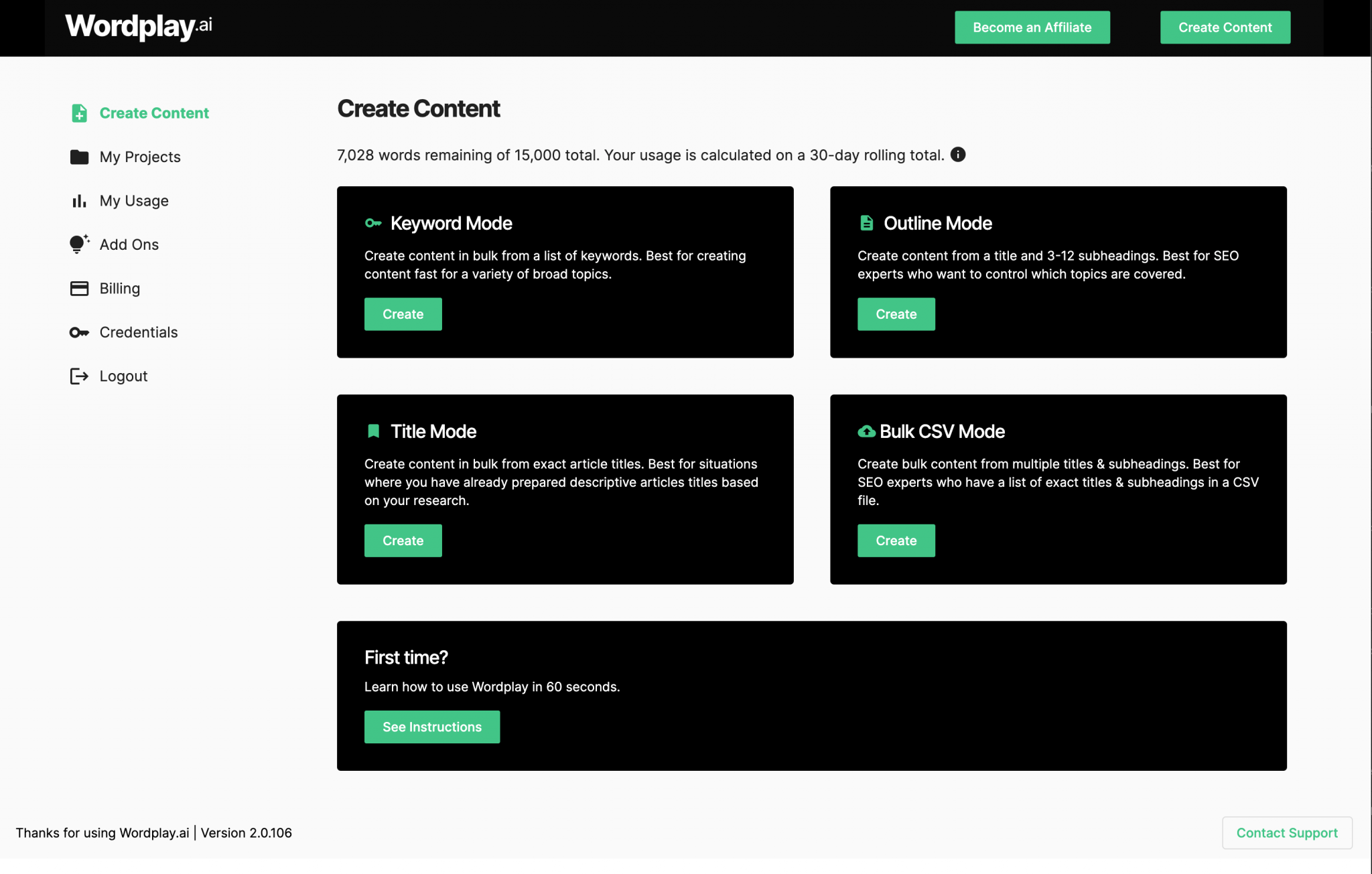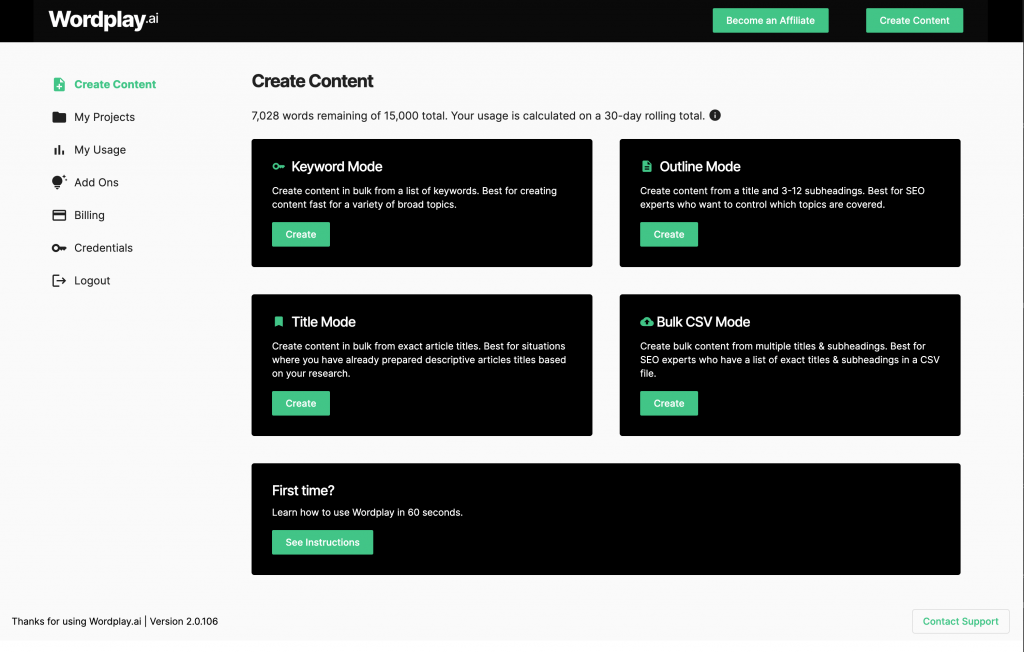 One of the important characteristics of the WordPlay AI Writing tool is its high powered long form content. With the help of this tool, the AI can quickly and easily build entire books and normally streamed articles, drastically reducing the time and resources needed to produce material.
WordPlay allows you to create long-form content in a single click. With this tool, you can easily and quickly produce high-quality content by only having to type a few words or phrases. The most amazing thing about this feature is that it uses the same AI technology as well as human writers to complete the task. This means that it has the ability to write entire blogs, articles, reviews, and more with just one click!
Creator of bulk articles
You can create numerous articles at once using WordPlay. Scaling your content creation process is straightforward with WordPlay's Bulk Creation Mode. It is the finest method for producing new material on a large scale.
Wordplay AI has the ability to create articles in bulk. If you are working on a big project, Wordplay AI can automatically produce content for all of your projects at once.
Generate Content From Your Website
Wordplay is also able to write from within your WordPress site. This means that you don't have to worry about writing in another location, or creating content in another format (for example, an article). You can simply select a piece of text and let the tool do the rest! It will provide high-quality content with no formatting required.
SEO-friendly Content
To determine the value and quality of content, Google employs AI. Thus, using an AI tool yourself is the best method to guarantee that your material is optimized for these computations. Similar to how Google evaluates material, WordPlay's AI content creation creates content using profound learning models. WordPlay creates material that Google's algorithms will typically appreciate and rank, in addition to writing excellent-quality and helpful content.
Wordplay uses a unique algorithm to produce high-quality content. It allows the AI to understand how search engines view your content, and create articles that are optimized for search engines. This means that you'll be able to publish more posts on your site with less effort and time.
Plagiarism Free Content
The WordPlay AI tool is completely plagiarism free. The tool does not reuse any of the sentences it has already written, ensuring that every new article will have 100% original content from start to finish.
Wordplay uses an AI engine to provide plagiarism-free and user-friendly content for you. It also generates long-form content with ease that are engaging, useful, informative and more.
Helpful content built for Google
Wordplay mainly focus on doing one thing really well: generating helpful content that Google loves.
All of the features built in this tool are focused on making your content more accurate, on-topic, and useful which are all factors in Google's ranking algorithm.
They also provide Google-friendly features like FAQs so that you have higher chances of winning featured snippets or showing up in the people also ask section on the search results page.
Thus it makes it dead simple to create high-quality content quickly and optimize it in a way that requires minimal edits from you afterward.
Wordplay Support
As Support their offer Online Form and Email.
Their Response time will be between two business days.
They Provide Public Roadmap, but no Changelog
They provide Demo on detailed working of this tool. And has good Documentation too.
Frequently Asked Questions
What are the requirements for Wordplay.ai?
Wordplay.ai is a browser based word game, so it does not require any special requirements. You can play on your PC or Mac, and even use a tablet if you like!
How do I install Wordplay.ai?
The installation process is simple: just download and run the setup file that you get when you purchase Wordplay.ai from our website (it's an executable file). You'll be asked to select where to install Wordplay, just choose where you want it to go in your computer: either in the "C:Program Files" folder or "C:Users<username>AppDataRoaming". After this, open up Wordplay using the shortcut.
Why Use Wordplay
It is easy to use, even for beginners. The interface is clean and simple to navigate, so you can start writing within minutes of downloading the software.
Helpful for Bloggers, SEO Professionals, Marketing agencies, Small business needs.
Wordplay also allows you to save your work as drafts, which makes it easier to edit your content before publishing.
It's an easy way to create high-quality content without needing extensive knowledge about SEO.
WYSIWYG editor allows you to see how your text looks in different formats before publishing it online.
Wordplay also offers free lifetime updates and unlimited use of its software, so long as you pay monthly or yearly subscriptions.
Word count feature helps you generate content that is around the same length as other similar pieces of writing.
Wordplay Pricing Plans
Get started with starter plan which give 7 days Trial for $7. It offers yearly and monthly paying options. No Free trial.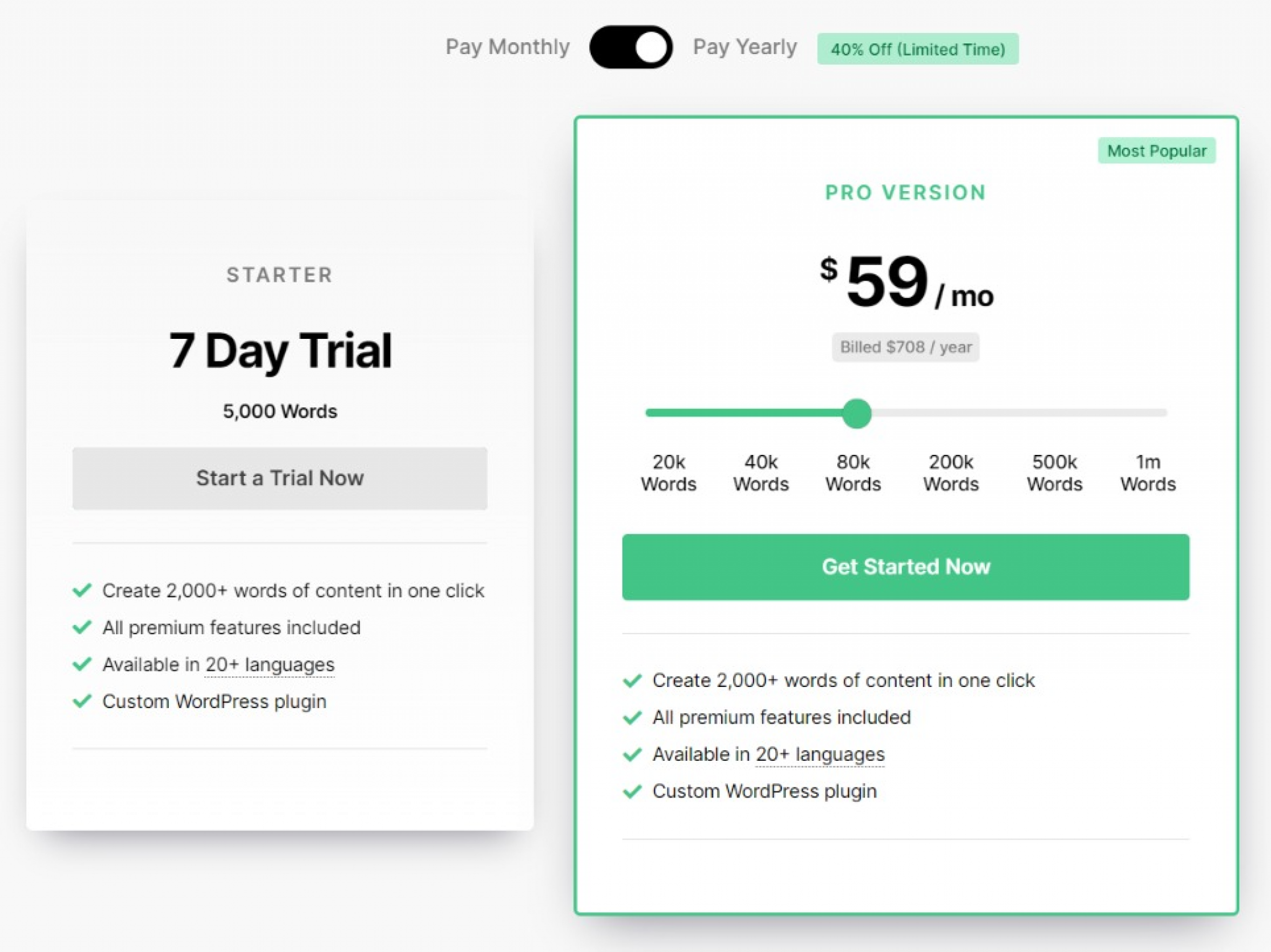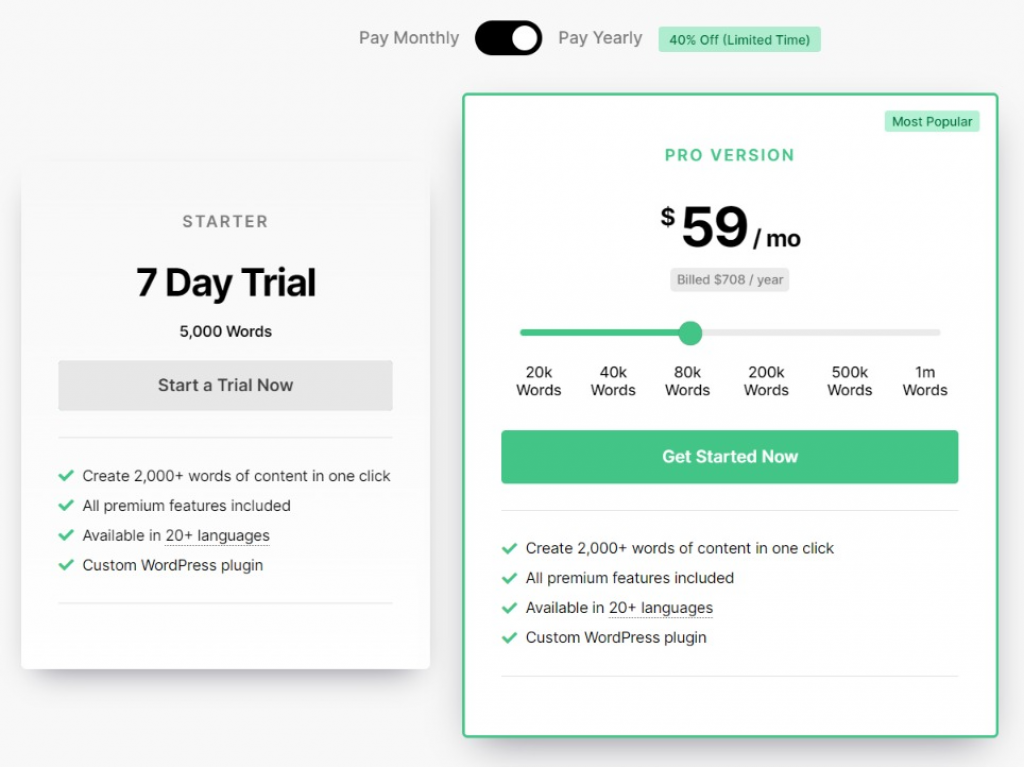 Alternatives to Wordplay
With its impressive AI writing services, it can create high-quality content that is unique and relevant to your audience. For a fraction of the cost, Article Forge employs artificial intelligence to produce entire articles with the same quality as a human.
Scalenut is an AI-powered Content Marketing platform that helps you create better content at scale. It unifies your entire organization on a single, secure platform and provides insights into effective strategies and areas for improvement. Using its unique machine learning modules to help your content get shared across social media, will ensure that you always race ahead of the competition.
Jasper AI is more of a full fledged Long form AI writer to create content for your blog, social media, website, and more! Jasper AI is more of a full fledged Long form AI writer to create content for your blog, social media, website, and more!
Social Media Presence
Is Wordplay right for You ?

If you want to quickly and easily create 1,000+ word blog posts, then Wordplay is the right choice for you.
The AI Mode article creator can help you create even more in bulk, so this is a great deal if you are looking to get more out of your blogging efforts.
If you have multiple blogs that need content creation or would like to use Wordplay as part of an affiliate marketing campaign, then this is an awesome deal.
In fact, I highly recommend signing up with Wordplay because they will give back some bonuses when promoting their service through social media or emails.
Video
Wordplay: The Plagiarism-Free Writing Tool for SEO Content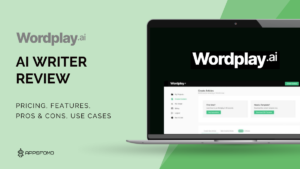 Wordplay is a AI writing tool for long-form content that can potentially rank high on Google, as it SEO optimized and plagiarism free.
Product Brand: Wordplay
Product Currency: USD
Product Price: $35
Product In-Stock: InStock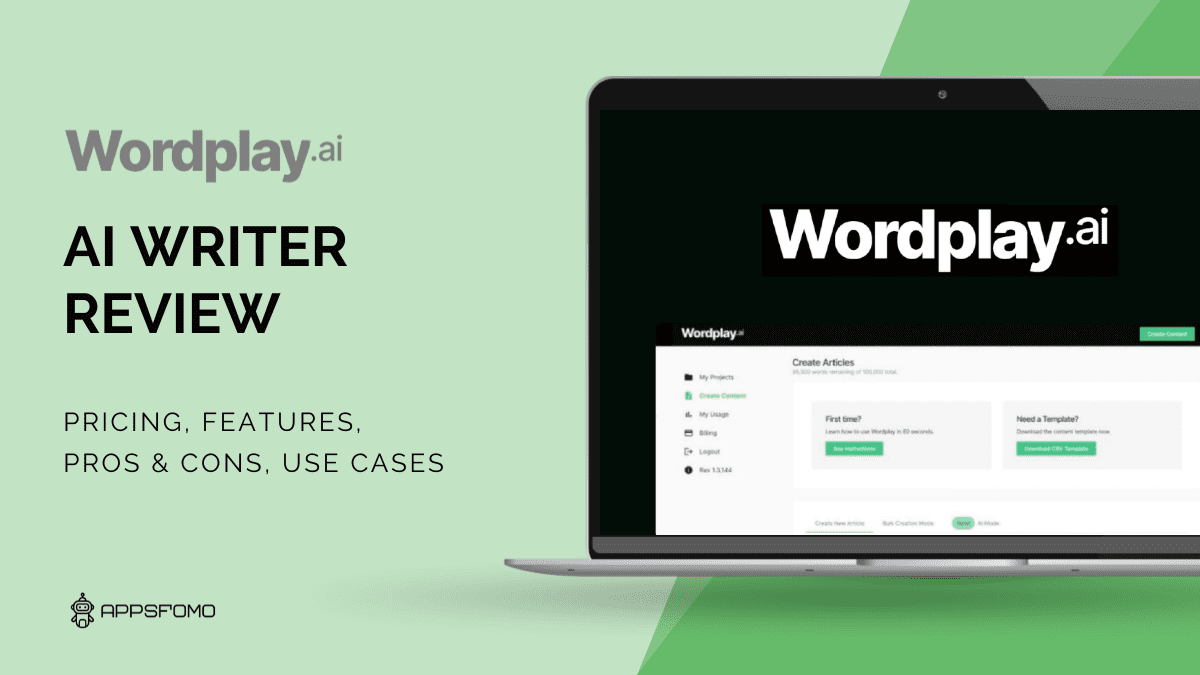 Specification:
Wordplay: The Plagiarism-Free Writing Tool for SEO Content
| | |
| --- | --- |
| Review Date | Nov-22 |
| Company | Wordplay.ai |
| Country | USA |
| Initial Release | 2022 |
| Pricing | Montlhy, Yearly |
| Free Version | Free Trial |
| Lifetime Deal | Yes |
| LTD Platform | Appsumo |
| Money-Back | 7 days |
| Appsfomo Rating | 7.3 |
| Support type | Email, Ticketing |
| Integrations | Chrome, Google, Wordpress |
| Supported Device | Linux, Web Based, Windows |
| Mobile app | Not Available |
| Affiliate Program | Yes |
PROS:
Simple User Interface
Adding subheadings which should be covered in the article
Exporting content in Text or HTML form
The articles can be put directly on websites with WordPress plugin
CONS:
Expensive than other tools
No voice tone options
Word Limits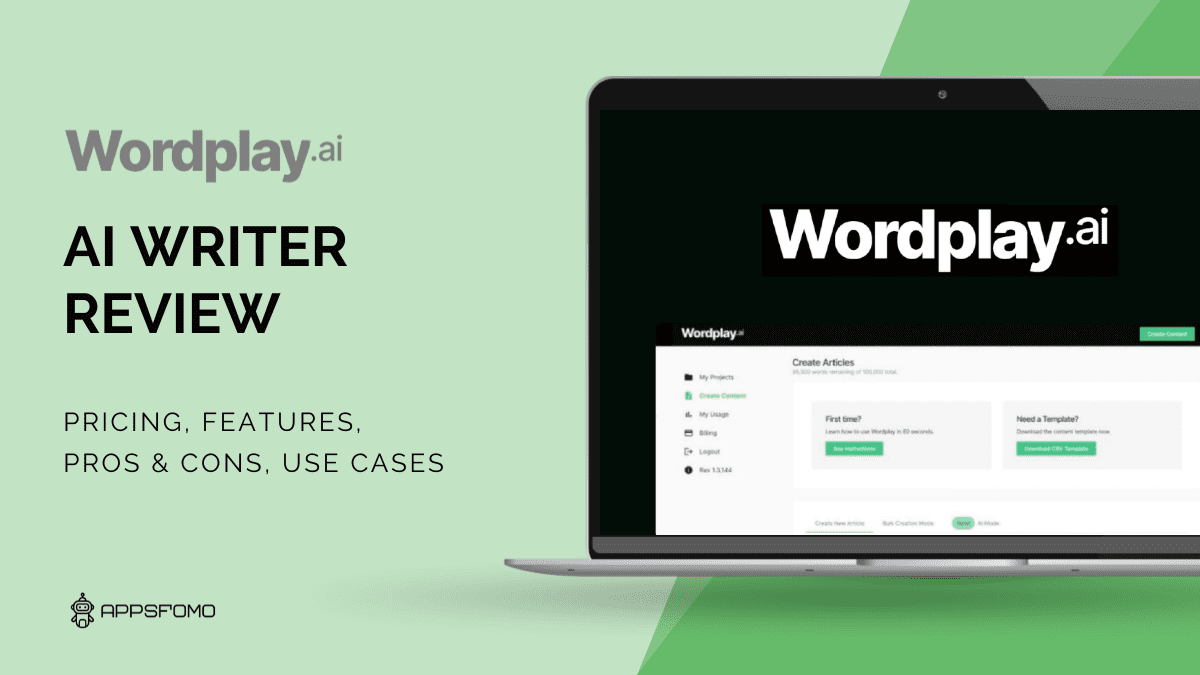 Wordplay: The Plagiarism-Free Writing Tool for SEO Content