Astra Theme: A Versatile and Lightweight WordPress Theme
Add to wishlist
Added to wishlist
Removed from wishlist
1
Add to compare
| | |
| --- | --- |
| Review Date | 29-06-2020 |
| Author | Sujay Pawar |
| Company Name | Brainstorm Force |
| Marketplace | Own Site |
| Free Verison | Available on WP.org |
| Initial Release | 2009 |
| Active Installations | 1M + |
| WP.org Ratings | 5 |
| Niche | Modern |
| Free Templates | 50+ |
| Premuim Templates | |
| Unique Theme Features | Light weight |
| eCommerce Support | |
| Supported Page Builders | |
| One Click Demo | Yes |
| Multilang Support | |
| Pricing Options | |
| Money Back Guarantee | |
| Site Usage | Unlimited Sites |
| Support System | Email,Support Ticket,Live Chat |
| Competitor | Generatepress,Genesis,OceanWP |
| Affiliate Program | Yes |
Astra is fast, fully customizable & beautiful WordPress theme suitable for blog, personal portfolio, business website and WooCommerce storefront.
You will get:
Customized and Lightweight Framework
SEO Friendly
Mobile Responsive
Simple UI and amazing features
Premium templates with custom layouts.
Astra Review Appsfomo Review
Fast, Lightweight, and Highly Customizable WordPress Theme
PROS
Customized and Lightweight Framework
SEO Friendly
Mobile Responsive
Simple UI and amazing features
Premium templates with custom layouts.
CONS
Advanced customized options require a PRO version.
The blog and comment sections are basic in style.
Free version offers limited features.
Are you tired of heavy and sluggish WordPress themes? Look no further because we have the perfect solution for you – Astra Theme. Astra is a versatile and lightweight WordPress theme that offers a wide range of features to enhance your website's performance and design.
Astra is the way to go if you want a fast and customizable theme for your WordPress website. Join us as we delve into the world of Astra Theme and discover why it is the perfect choice for your website.
What is Astra Theme?
Overview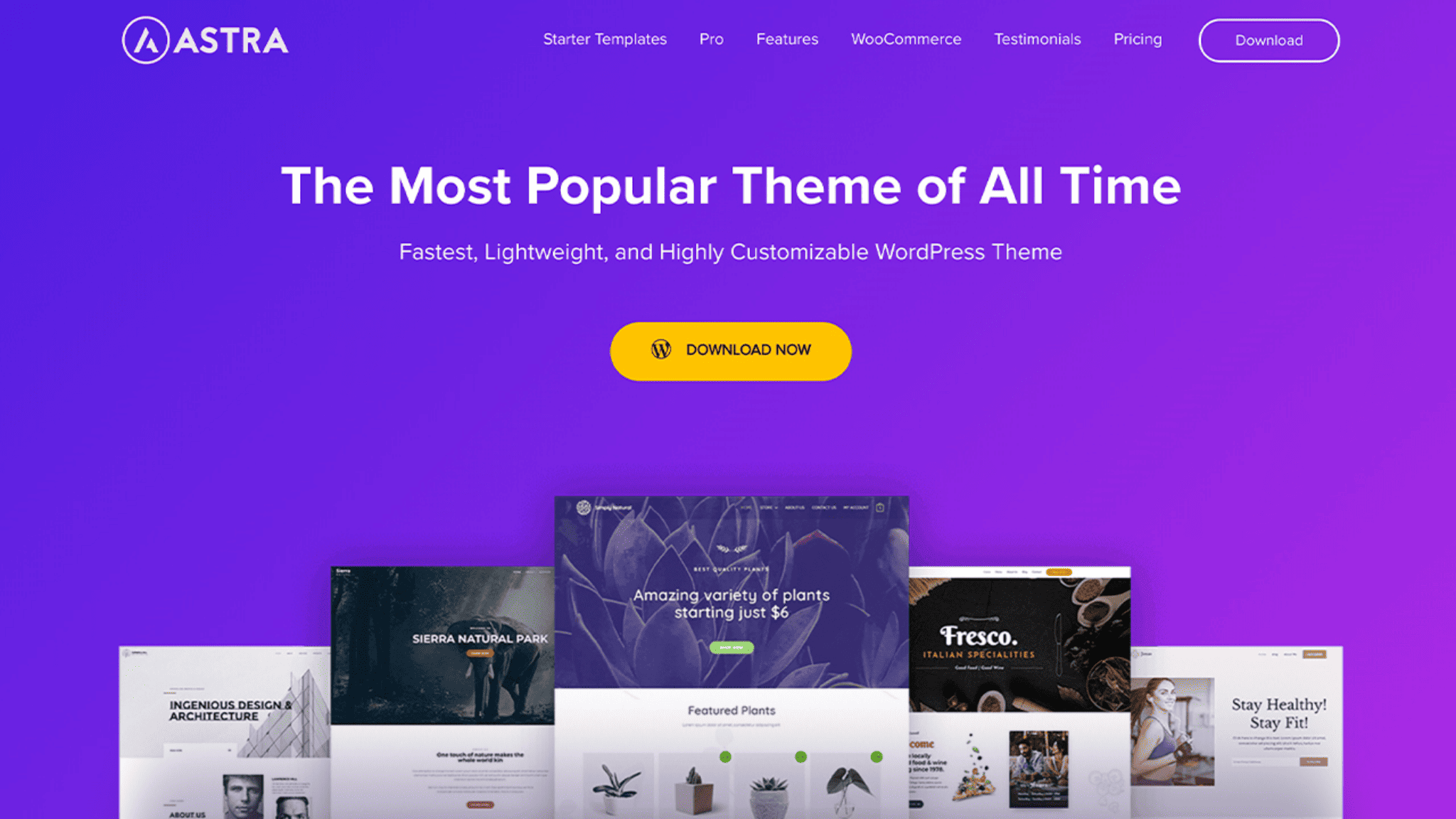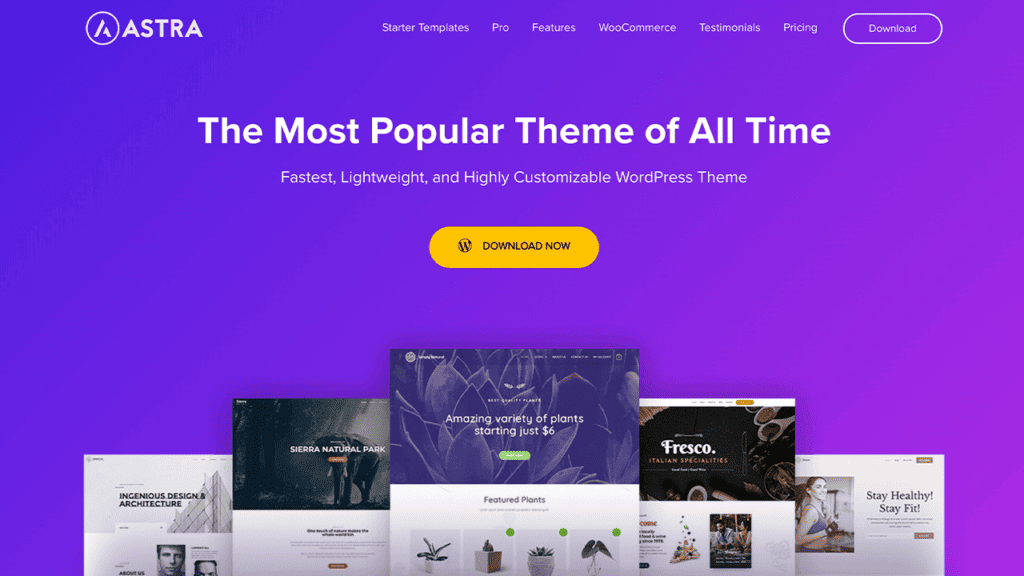 Astra is a fast, fully customizable & beautiful WordPress theme suitable for blogs, personal portfolios, business websites, and WooCommerce storefronts.
Astra, with over 1 million active installations and the highest number of five-star ratings, is renowned as the swiftest and most widely-used WordPress theme. It provides a solid groundwork for websites and offers an extensive range of customizable features, making it suitable for building and modifying various types of websites.
Astra Theme by Brainstorm Force.
Astra is a totally free WordPress Theme developed by Brainstorm Force in 2009. It is unbelievably lightweight and loads in much less than half a second, extremely simple to tailor as well as has actually grown to an energetic mount base of more than 300,000 in less than 1 year with an ordinary 5-star rating.
Brainstorm Force is an Indian-based internet development business. They are a team of expert WordPress designers that have created, other than Astra, various other plugins.
Some of their widely known plugins are the Ultimate Attachments for Beaver Contractor and Elementor. They expand the ability of the stated web page home builders by including brand-new customized widgets, blocks, elements, or themes.
Online Presence
Astra Theme Design
How does it work?
1. Built with Page Builder Compatibility
Astra has been built from the start with page home builder compatibility in mind. The majority of its Beginner Sites were constructed utilizing either Elementor or Beaver Builder.
2. Powerful Starter Sites
Astra comes with a companion plugin called Astra Starter Sites.
As soon as the theme is installed and also turned on, you will have access to over a hundred pre-built site design templates, a lot of which are free. What makes them so great is that they are not single-page templates but they are entirely useful sites with all the essential web pages, functions as well as plugins packed into one package.
3. Extensive Customization Features and Options
In addition to the starter sites, the substantial personalization functions and alternatives Astra supplies in both the exceptional and also free versions have garnered a great deal of appreciation that also drew in a lot of customers.
In the Pro version, the extended customizer choices cover virtually every component on your internet site. You can alter the background color, set customized typography, transform the site's format, etc. of nearly every part of your site.
Key Features
Basic features of the Astra theme
Starter Templates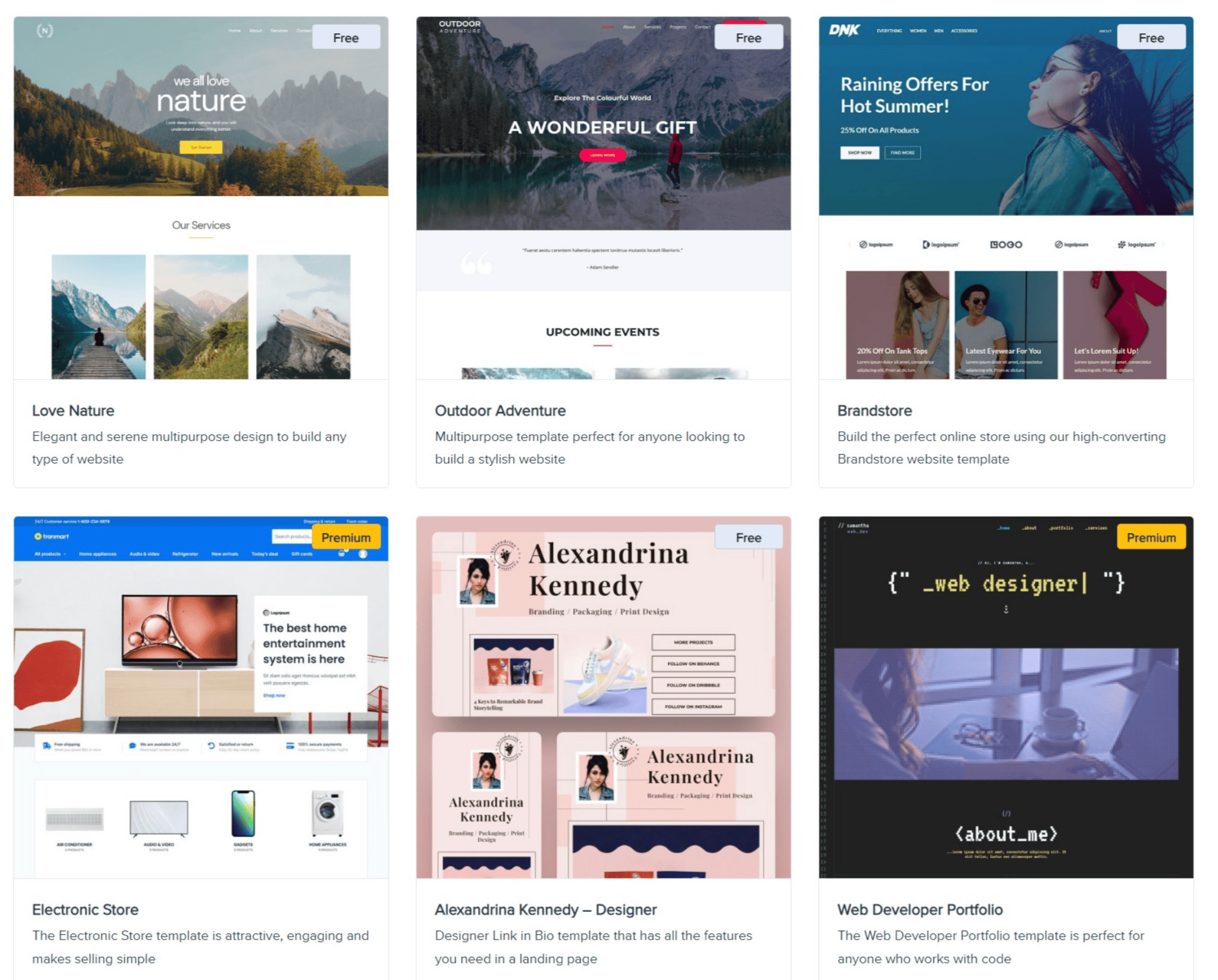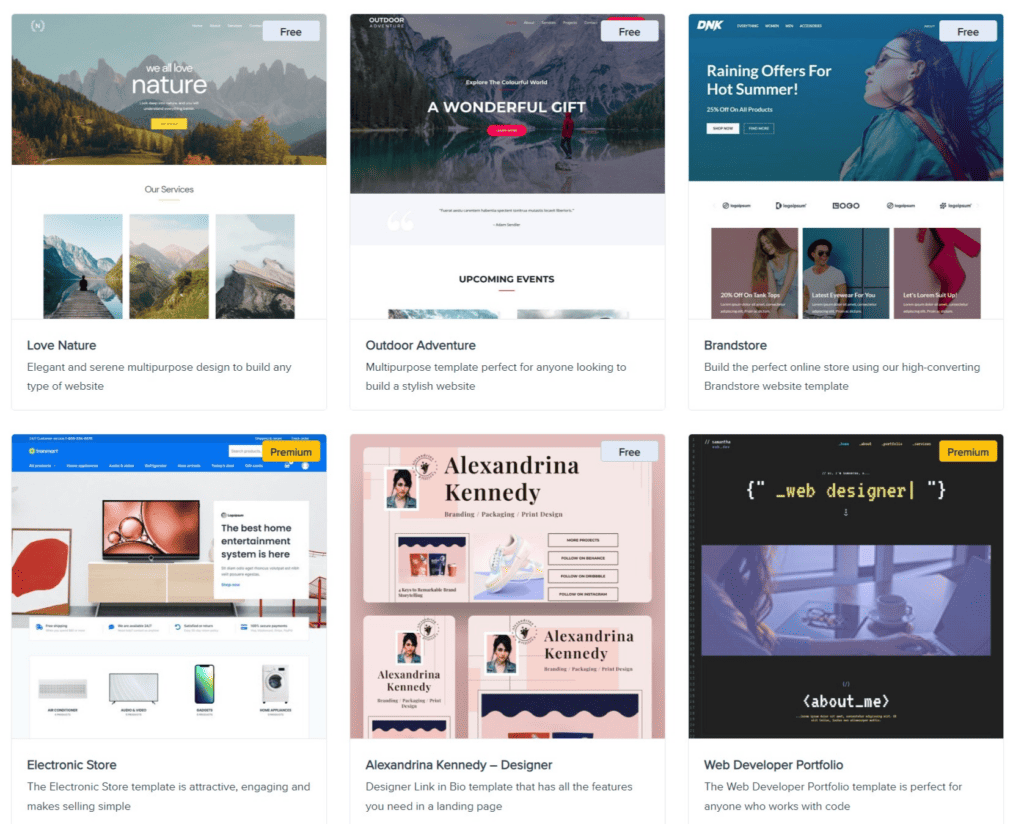 Astra Theme's starter templates provide a 240+ diverse range of options for different industries and website types, allowing users to effortlessly create professional websites. These easily customizable templates ensure a seamless user experience on all devices with fully responsive and optimized layouts.
Explore a vast collection of website templates that have been created by skilled designers. These templates are not only easy to customize but also responsive and optimized for conversions.
Performance-Focused
Astra Theme prioritizes performance, making it the perfect option for optimizing your WordPress website. Its lightweight design, requiring fewer resources than other themes, ensures fast loading times. Astra Theme's use of Vanilla JavaScript, rather than jQuery, streamlines performance even further.
With optimized code and the ability to store Google Fonts on your own server, Astra Theme enhances both speed and the Core Web Vitals (CWV – CLS) score. Delve into the world of Astra Theme, and discover its performance-driven approach to web design.
Global Designs Options
With its extensive range of global design options, the Astra Theme empowers you to customize your website to perfection. Utilizing its global color palette, you can effortlessly create a dynamic color scheme that harmonizes with your brand identity and apply it uniformly throughout your entire website. Astra also offers robust mobile header designs, providing the flexibility to set breakpoints, display flyouts, incorporate a hamburger menu, and much more, thereby ensuring an optimal user experience across various devices.
Furthermore, Astra allows you to conveniently clone or delete specific header and footer elements, granting you complete control over the layout and structure of your website. Discover the versatility and limitless customization possibilities offered by Astra's global design options and create a truly unique and professional online presence.
Typography Presets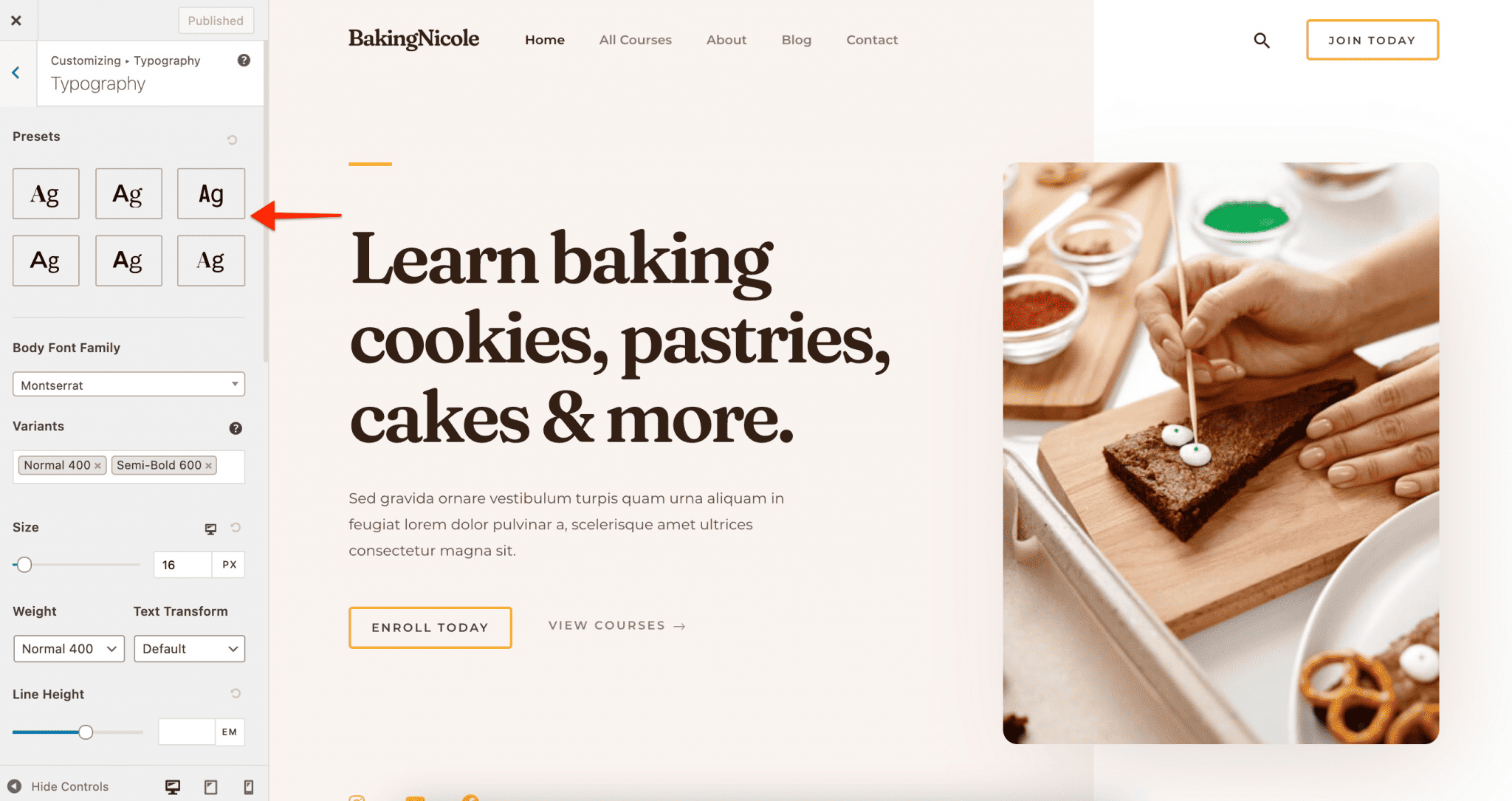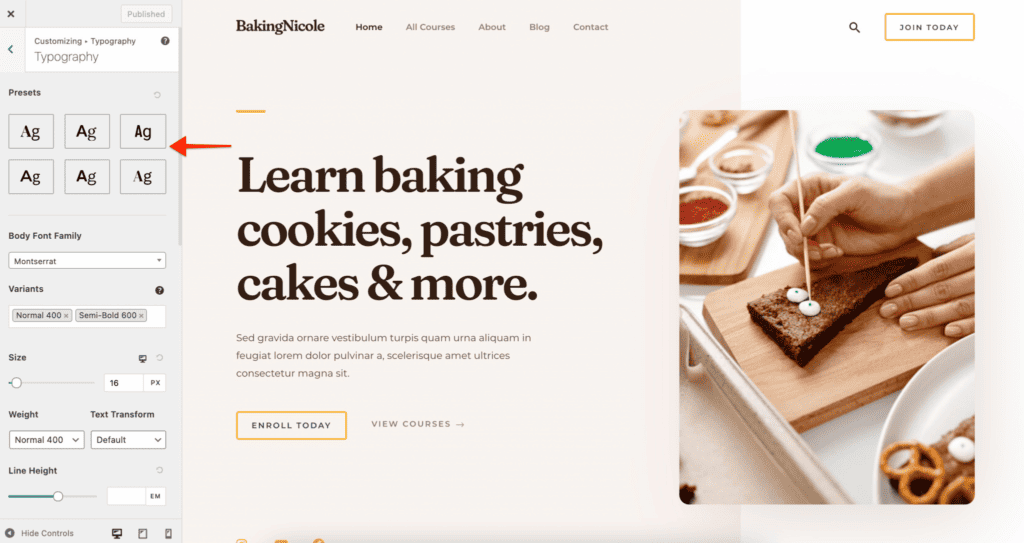 Astra's typography presets provide a wide range of font options for both text and headings on your WordPress website. With the paragraph margin option, you can easily manage the spacing between paragraphs, ensuring a visually appealing layout.
Whether you choose to use custom fonts or select from over 700 Google fonts, Astra ensures that your typography is responsive across devices. Furthermore, Astra supports text transforms for heading tags, giving you the flexibility to maintain a consistent text format.
Colors & Background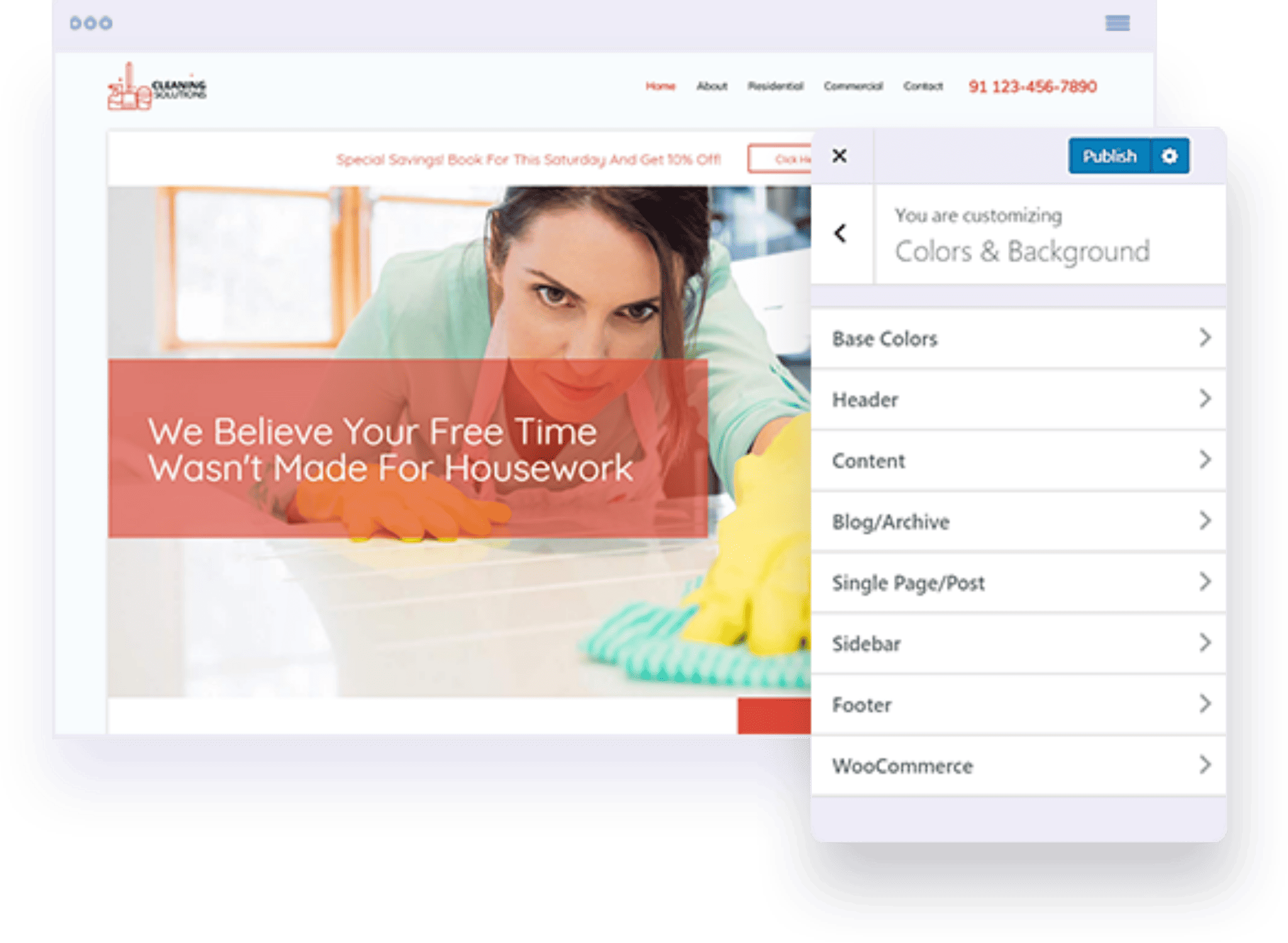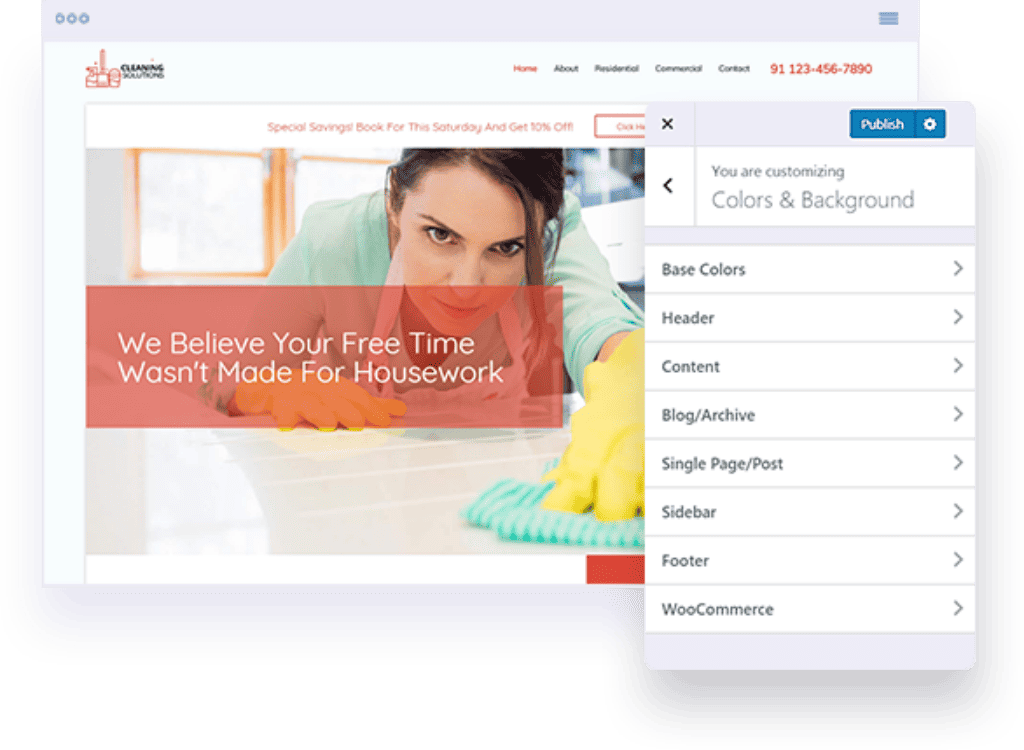 Astra Theme offers a comprehensive range of customization options for colors and background settings. From the primary header to the sticky header, content, blog/archive pages, single pages, sidebar, footer, and even transparent header, Astra allows you to effortlessly manage and modify the colors and background of various elements on your WordPress website.
With its user-friendly Customizer, you can create a cohesive and visually appealing design that aligns perfectly with your brand. Take full control of your website's appearance and make it stand out from the crowd with Astra's powerful colors and background customization features. Elevate your online presence and create a professional-looking website that leaves a lasting impression on your visitors.
Site Layouts
Astra's Site Layouts offer you a wide range of options to customize the appearance of your website. From boxed layouts to full-width displays, padded layouts, and fluid layouts, Astra has everything you need to create a visually appealing and user-friendly website.
With the spacing control and default container, you can easily manage margins, paddings, and specialized layouts. Whether you want to showcase your primary content, create a full-width design, or add specific margins, Astra is the perfect theme for your customization needs.
Powerful Design Options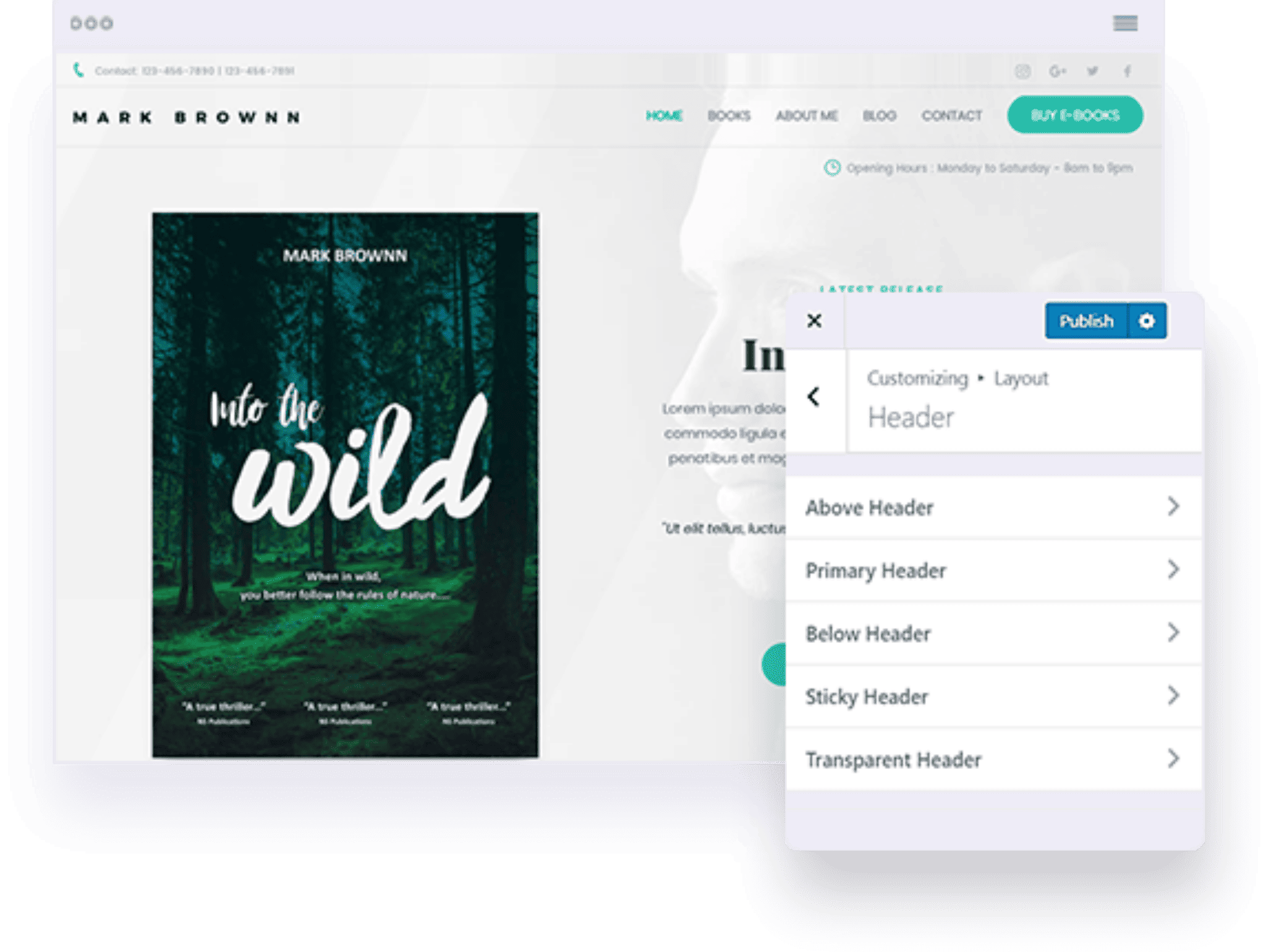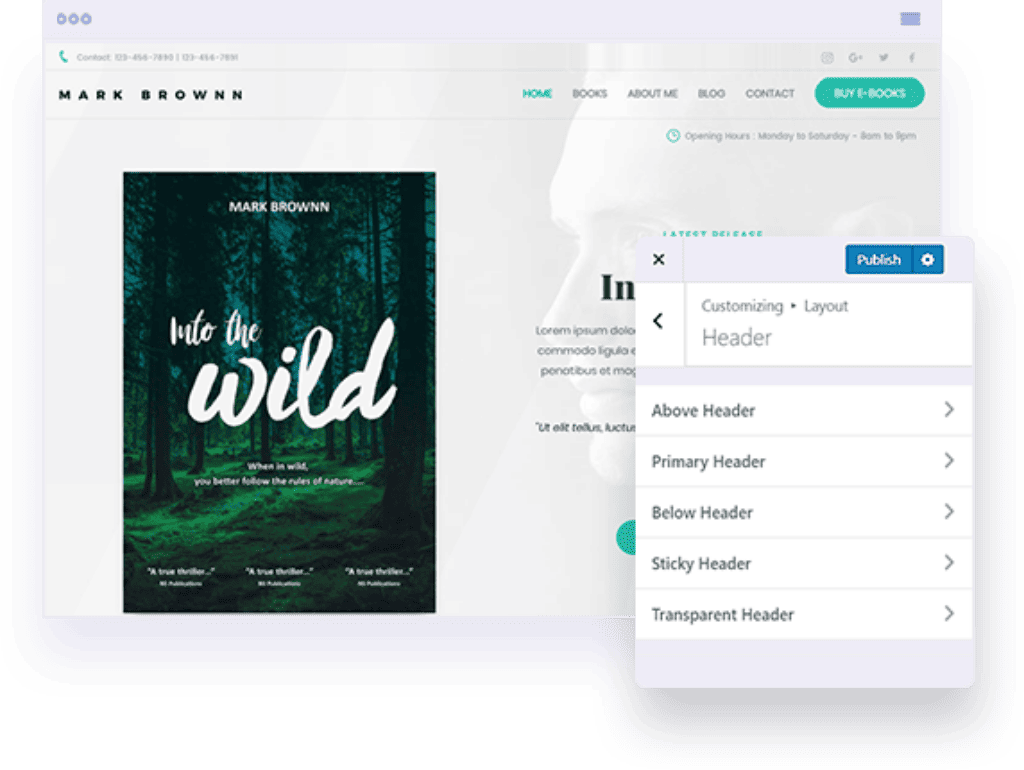 Astra Theme offers a versatile set of design options that enhance the visual appeal of your WordPress website. With its extensive collection of starter templates and compatibility with popular page builders like Elementor, Astra Theme allows you to create stunning layouts without any coding knowledge.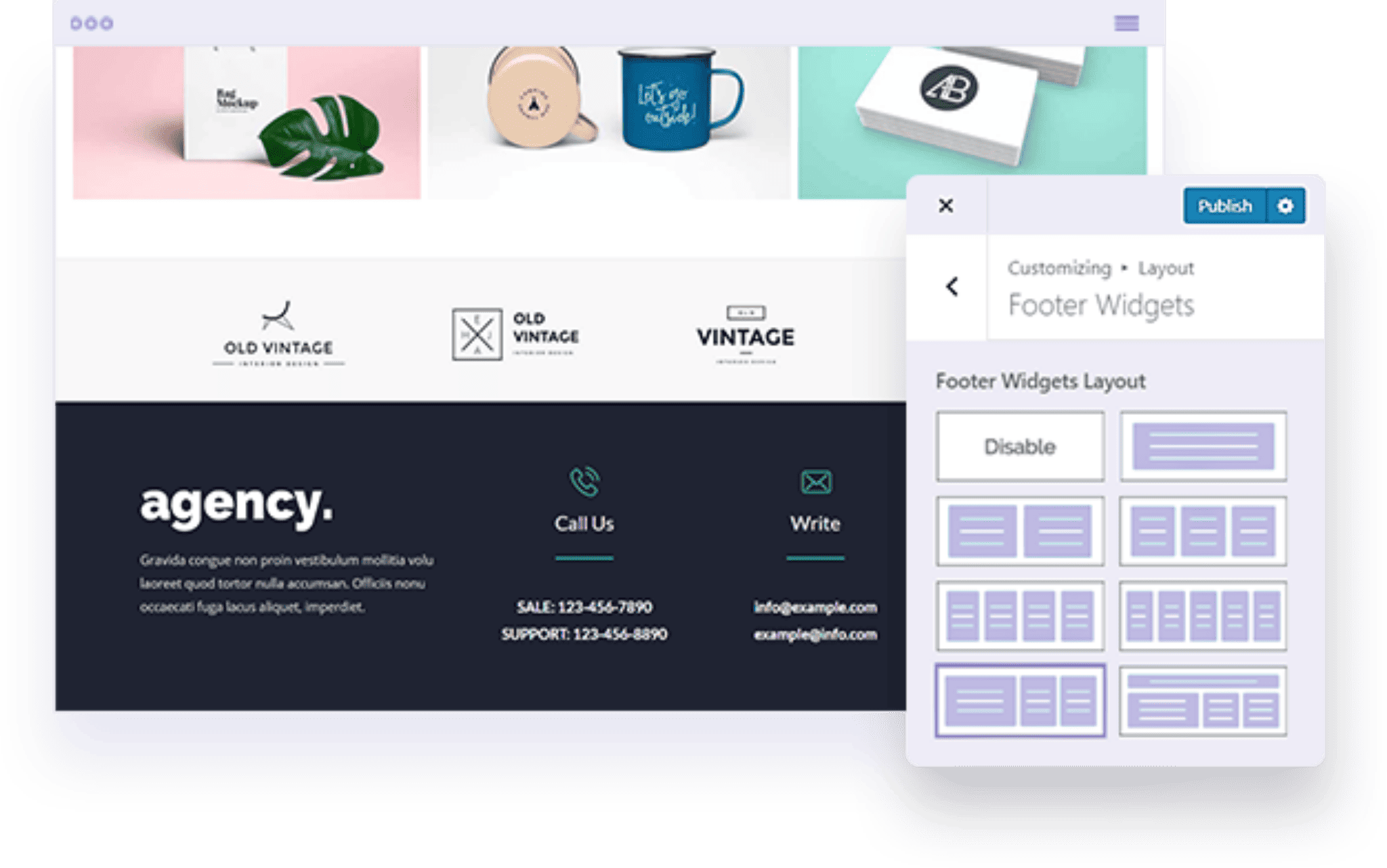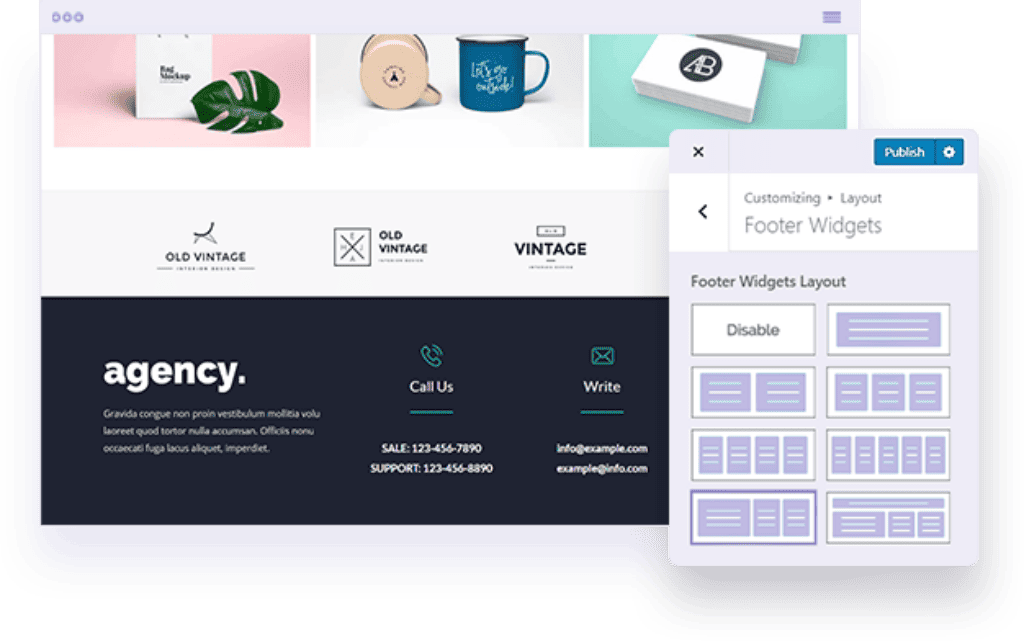 The transparent and sticky header features, along with customizable colors and typography, provide a sleek and modern look to your website. Whether you're building an e-commerce store with WooCommerce or a portfolio website, Astra Theme has customization options to suit your needs. With its lightweight nature and SEO-friendly design, Astra Theme is the perfect choice for any type of website.
Blog Layouts
Astra Theme's blog layouts provide you with flexibility and customization options for your blog page. Whether you prefer a grid layout, a list layout, or a masonry layout, Astra has got you covered. You can highlight your first post, add a stylish date box for each post element, and control the structure and width of your blog content.
With the options for post pagination, infinite loading, and related posts, Astra helps you optimize the layout and improve the overall user experience of your blog.
Enhanced Custom Layouts
Astra Theme's Enhanced Custom Layouts provide unmatched flexibility for customizing your website. Create a unique header and footer, inject custom code with ease, and design a custom 404 page. Display custom layouts across your entire website or choose specific pages. The possibilities are endless with Astra Theme's Enhanced Custom Layouts.
Why choose Astra Theme?
Unique features
WooCommerce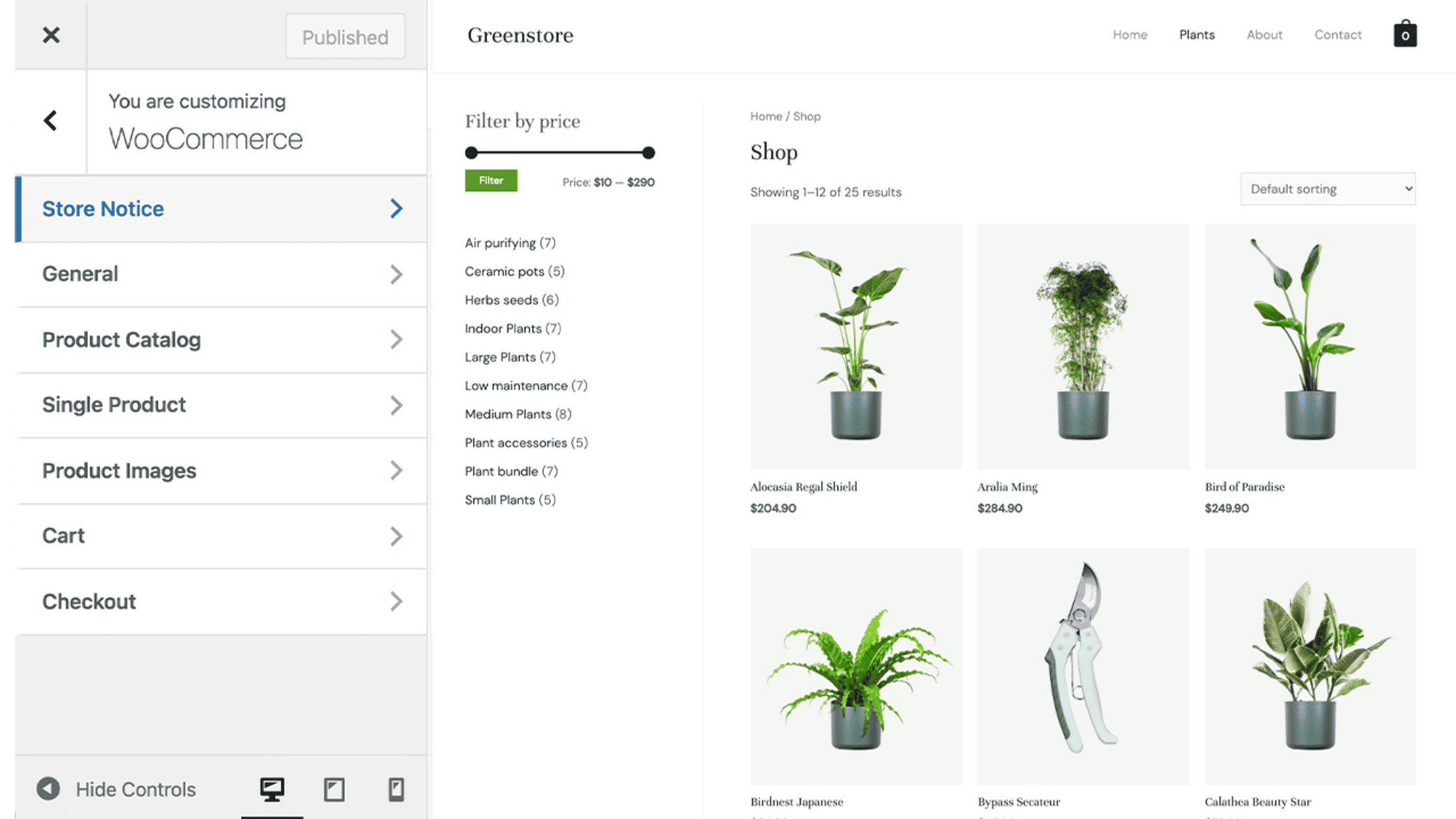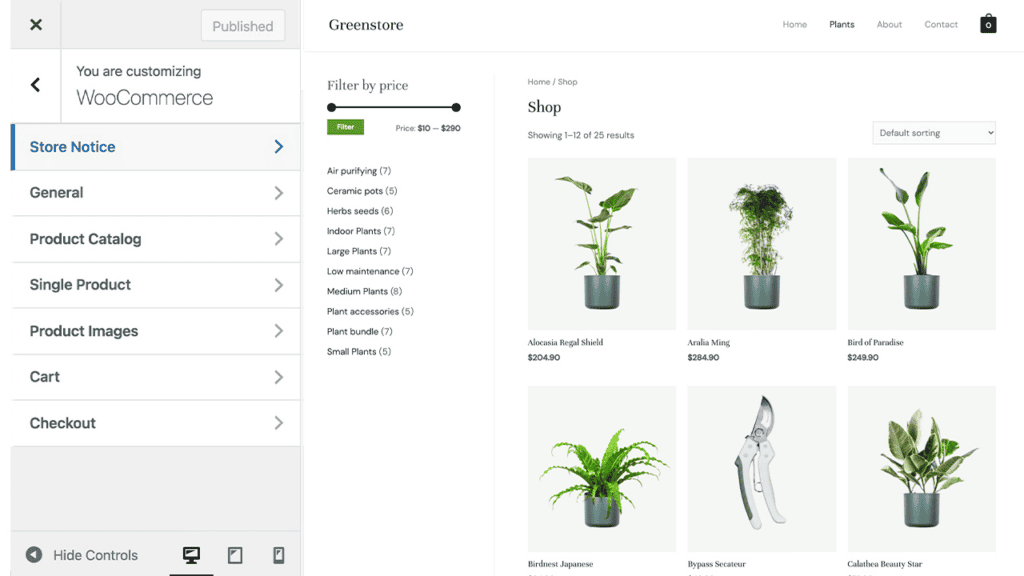 With its seamless integration with WooCommerce, Astra Theme is the perfect solution for creating and customizing your online store. Offering a wide range of layout options and customization settings tailored for WooCommerce, you can easily design and optimize your store to match your brand.
The lightweight code ensures fast loading times, resulting in an exceptional user experience. Astra Theme is the ideal choice for anyone looking to build a successful online store without compromising on speed or functionality.
Astra Widgets
Astra Widgets within the Astra Theme offer a variety of features and functionalities to enhance your WordPress website. Take advantage of the address widget to effortlessly showcase your business location, omitting the need for complex coding.
With the info list widget, create engaging and informative lists with eye-catching icons, enriching your page content. Furthermore, simplify the integration of social media presence into your website using the social icons widget. Astra Widgets empower users with customization options and improved functionality, making it an ideal choice for WordPress websites.
Integrations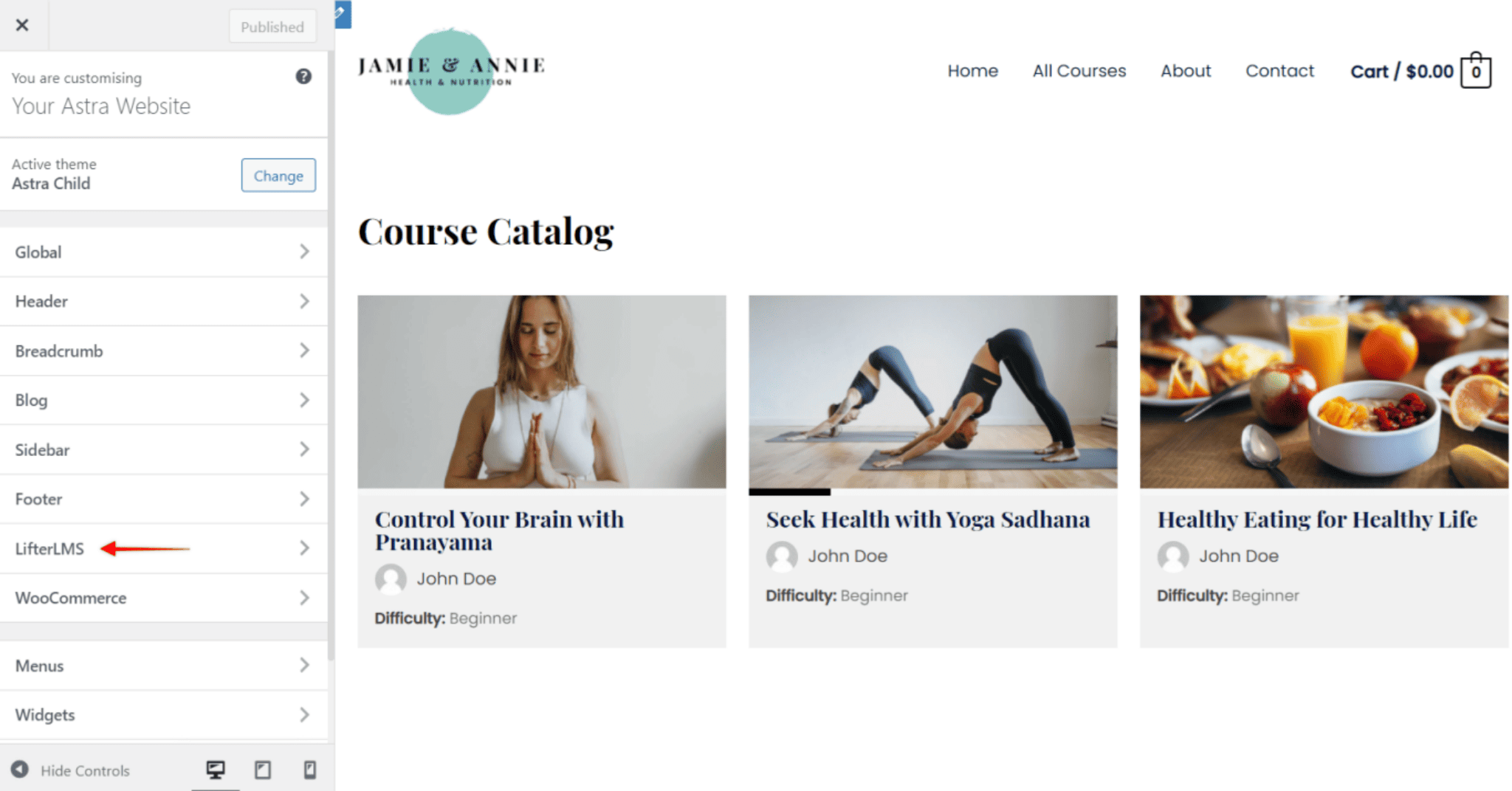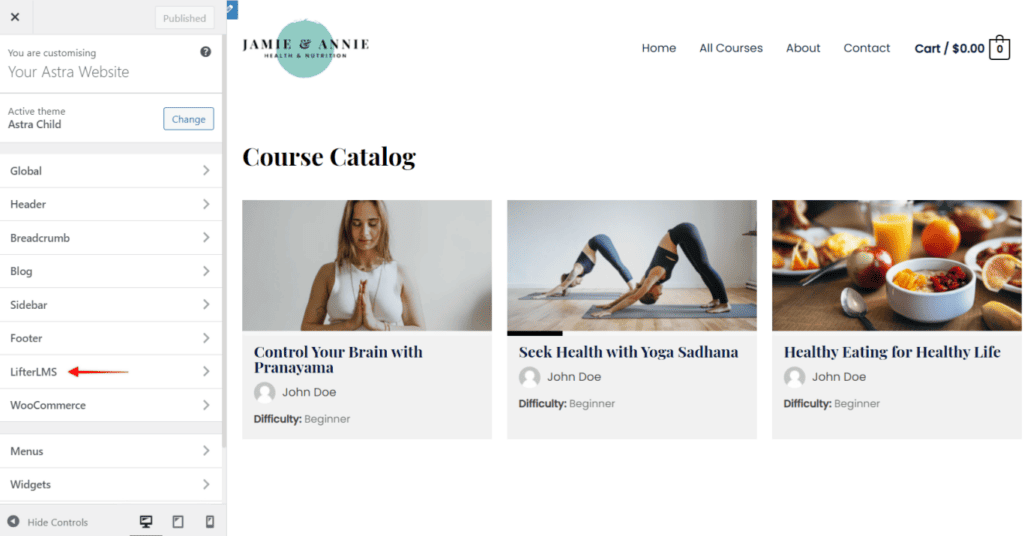 Astra Theme seamlessly integrates with various plugins and tools, enhancing the functionality and performance of your WordPress website. It supports popular plugins like LifterLMS and LearnDash, allowing you to build attractive and distraction-free online courses. With Astra's inbuilt schema markups and adherence to coding standards, your website becomes SEO-friendly.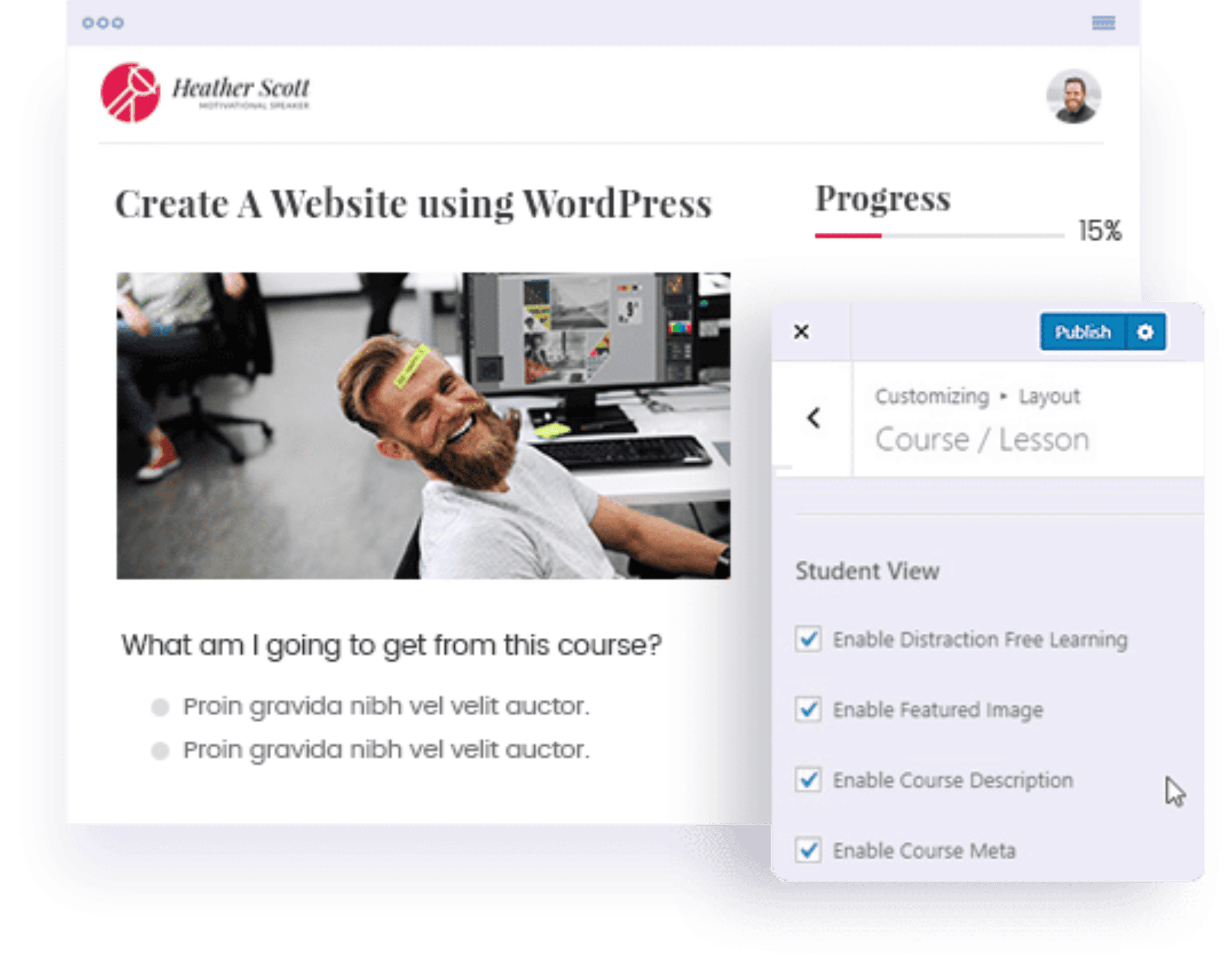 You can also integrate Astra with popular page builders, such as Elementor, to design stunning and customizable layouts. Astra's compatibility with WooCommerce enables you to effortlessly create and customize an online store with payment gateways, shipping options, and product display settings. Achieve the perfect balance of aesthetics and functionality with Astra Theme.
Theme for Elementor
Astra Theme is a lightweight and versatile WordPress theme that seamlessly integrates with the popular page builder plugin, Elementor. With a wide range of customization options and pre-designed templates, Astra Theme allows users to create professional-looking websites without extensive coding knowledge.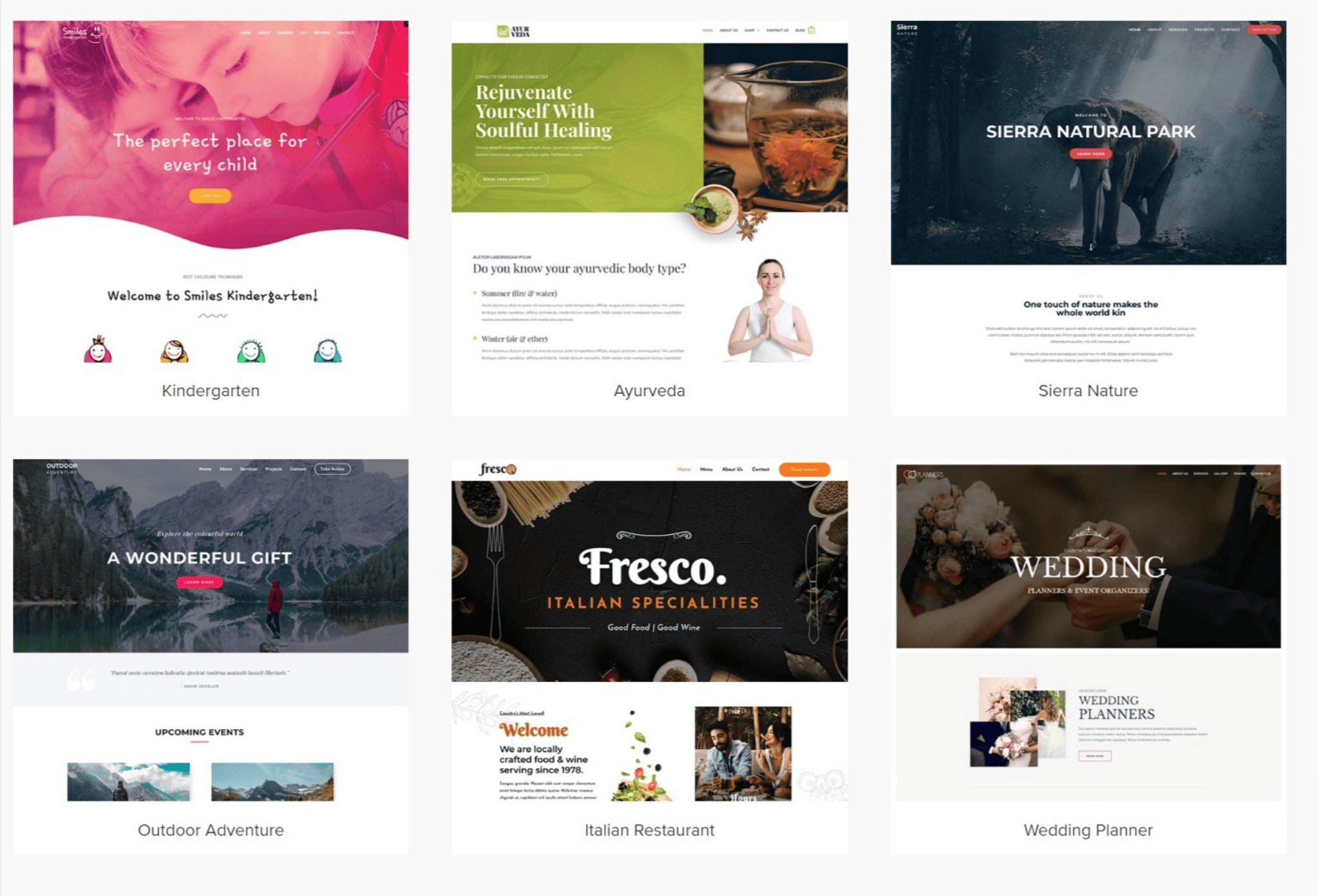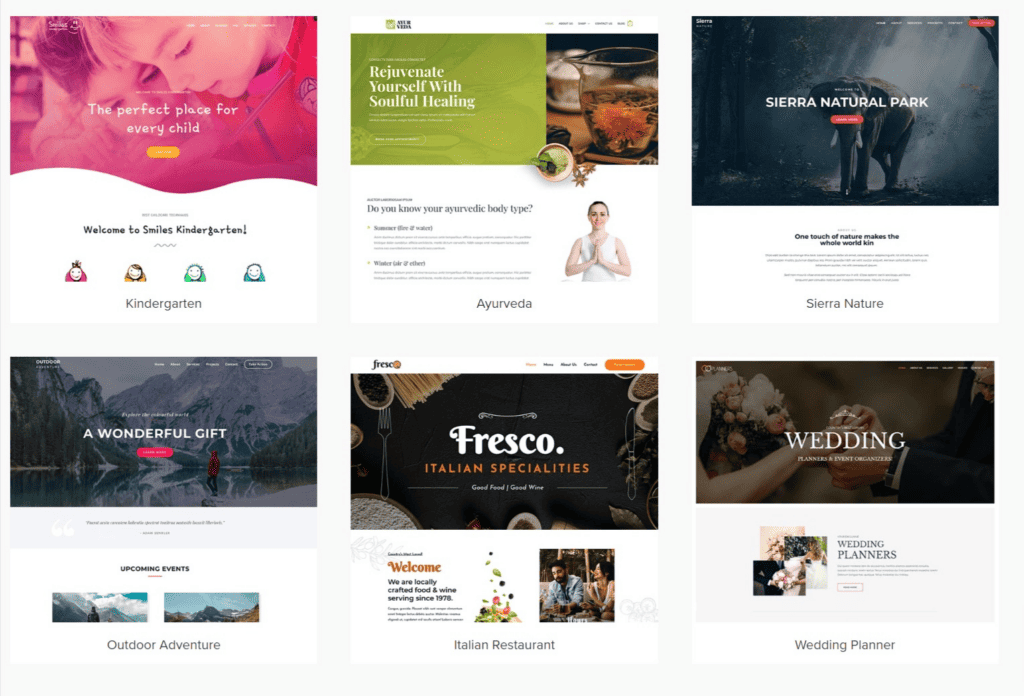 The advanced header and footer options provide flexibility in creating unique layouts and designs. Specialized widgets and integrations enhance the functionality of Elementor, making it easier to add dynamic content. Whether you're building an e-commerce site, a blog, or any other type of website, Astra Theme is the perfect choice to create a stunning and user-friendly WordPress website.
Pricing of Astra Theme
Subscription and Lifetime Pricing
The Astra theme is available for Free. To grab more features you need to upgrade to the Pro version.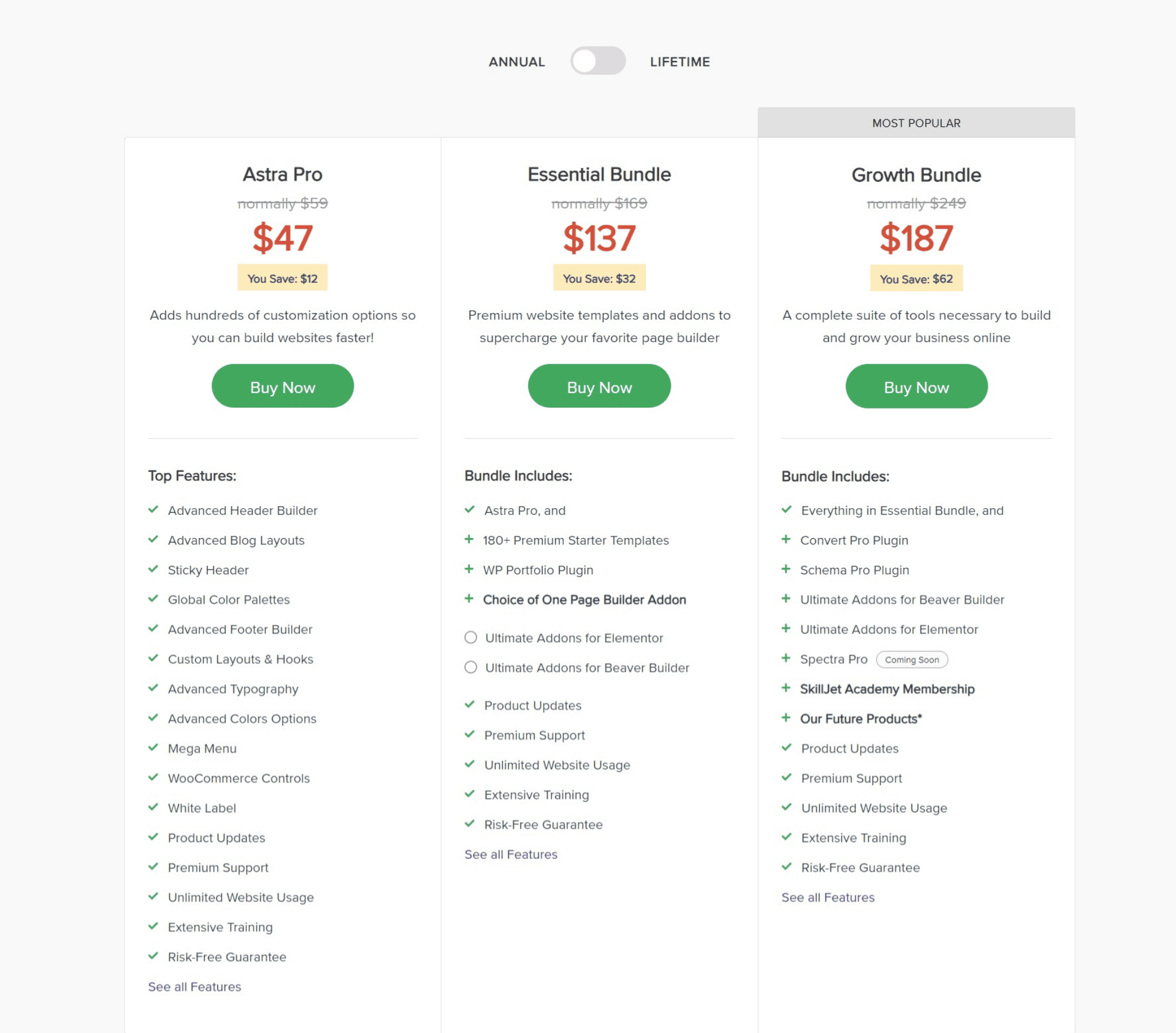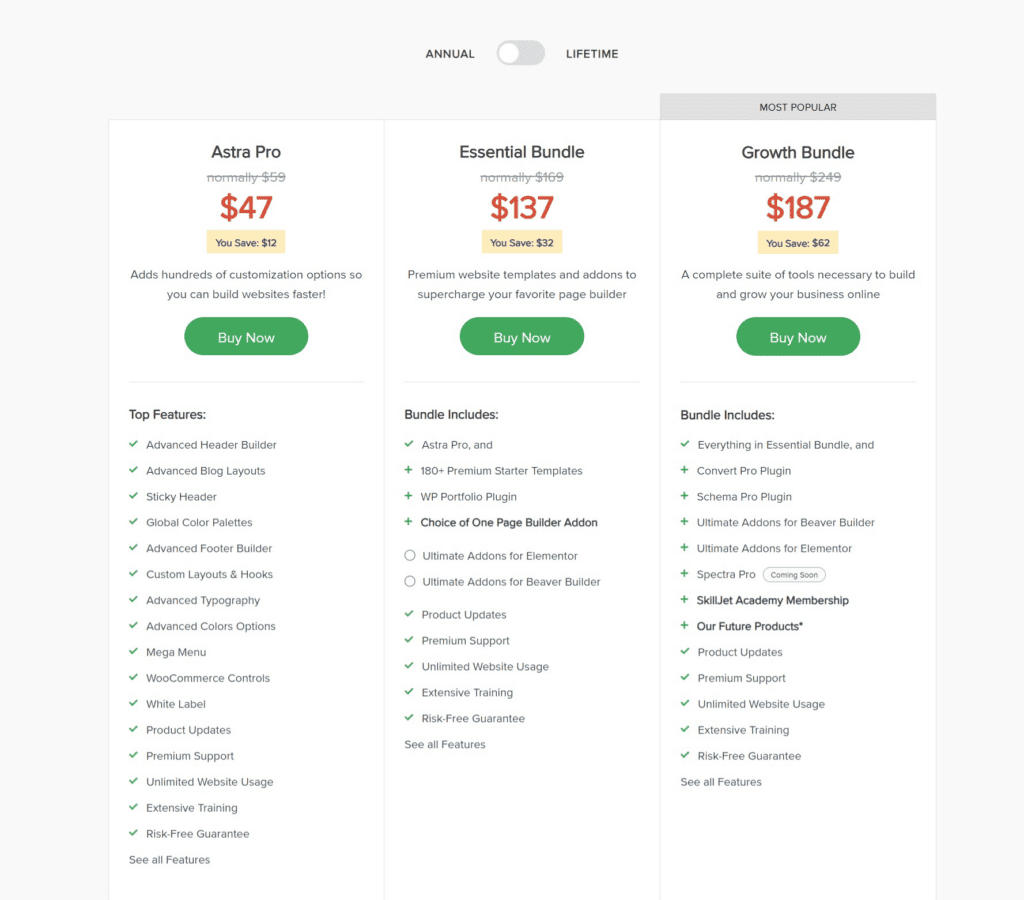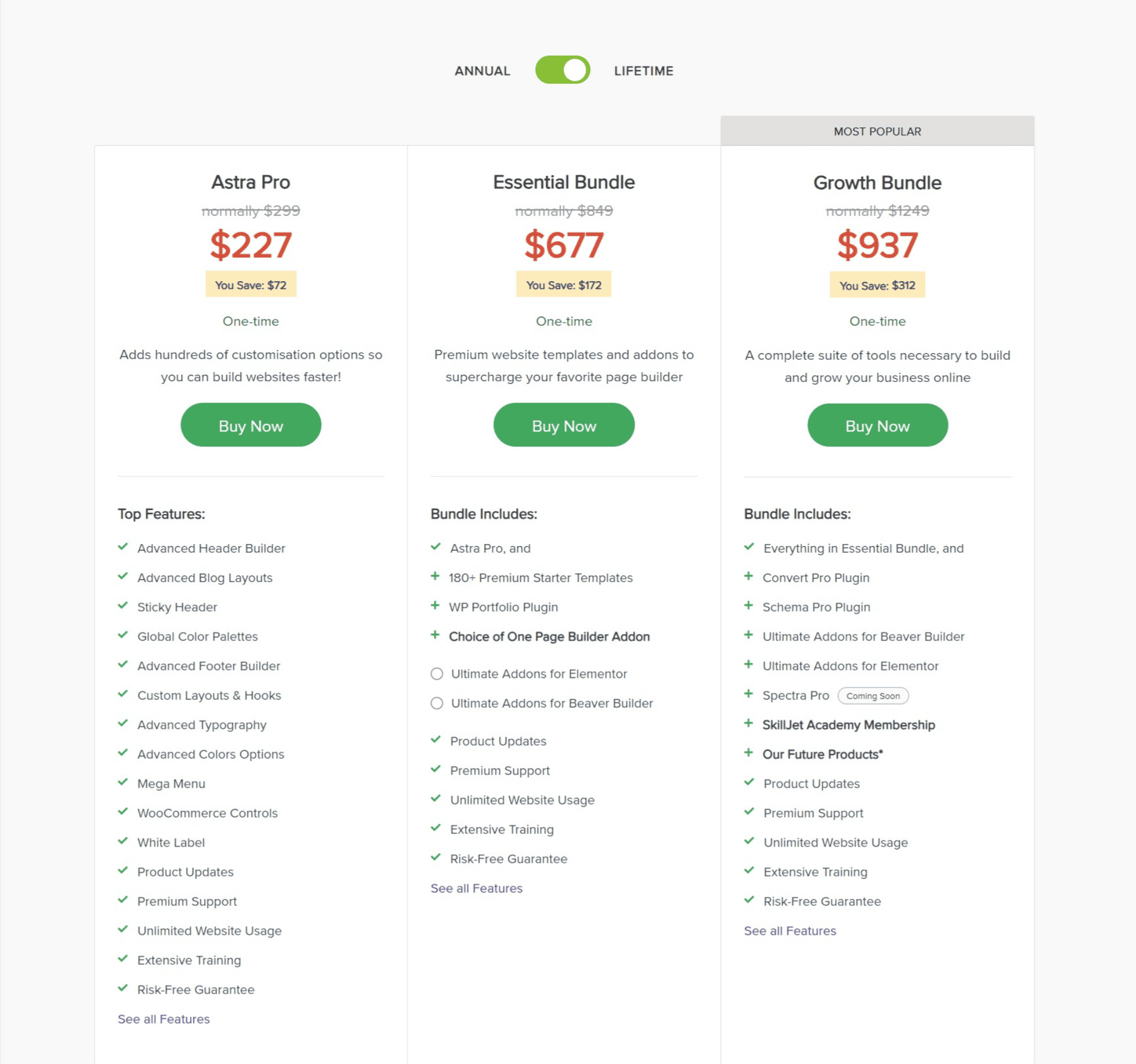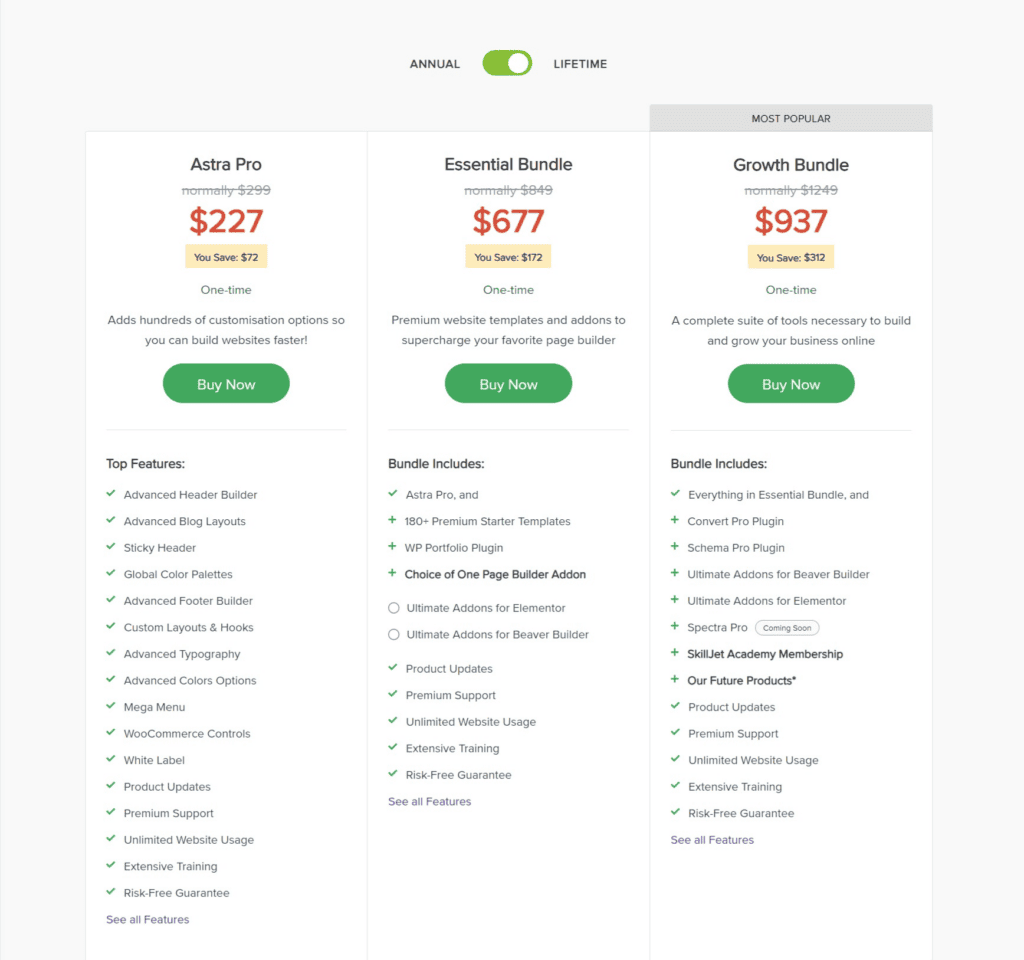 Support
Technical Support, Knowledge Base, Roadmaps, Changelogs
They offer Live chat, Email, and Ticketing as support
Provides well-documented Knowledge base
Blog, Changelog, and FAQ's
Video tutorials, Facebook Group, and 24/7 premium support
Alternatives
Similar Plugins
Kadence Theme is a popular WordPress theme that allows users to create fast-loading, accessible websites easily.
OceanWP is the perfect theme for your project. Lightweight and highly extendable, it will enable you to create almost any type of website such a blog, portfolio, business website and WooCommerce storefront with a beautiful & professional design.
GeneratePress is a lightweight WordPress theme that focuses on speed, stability, and accessibility. Start your website off in the right direction whether you're a hobbyist, freelancer, or agency.
Is Astra Theme Really Worth the Hype?
conclusion
In conclusion, Astra Theme is a versatile and lightweight WordPress theme that offers an array of features to enhance your website's design and performance. From the WordPress Customizer for real-time changes to the extensive library of starter templates, Astra Theme provides you with the tools you need to create a stunning website. With its performance-focused approach and powerful design options, Astra Theme allows you to customize every aspect of your site, from typography presets to blog layouts.
If you're looking for alternatives, Kadence Theme, Divi Theme, and GeneratePress are also worth considering. Upgrade your website today with Astra Theme and experience the difference it can make. Explore more about Astra Theme and its unique features by visiting our website now!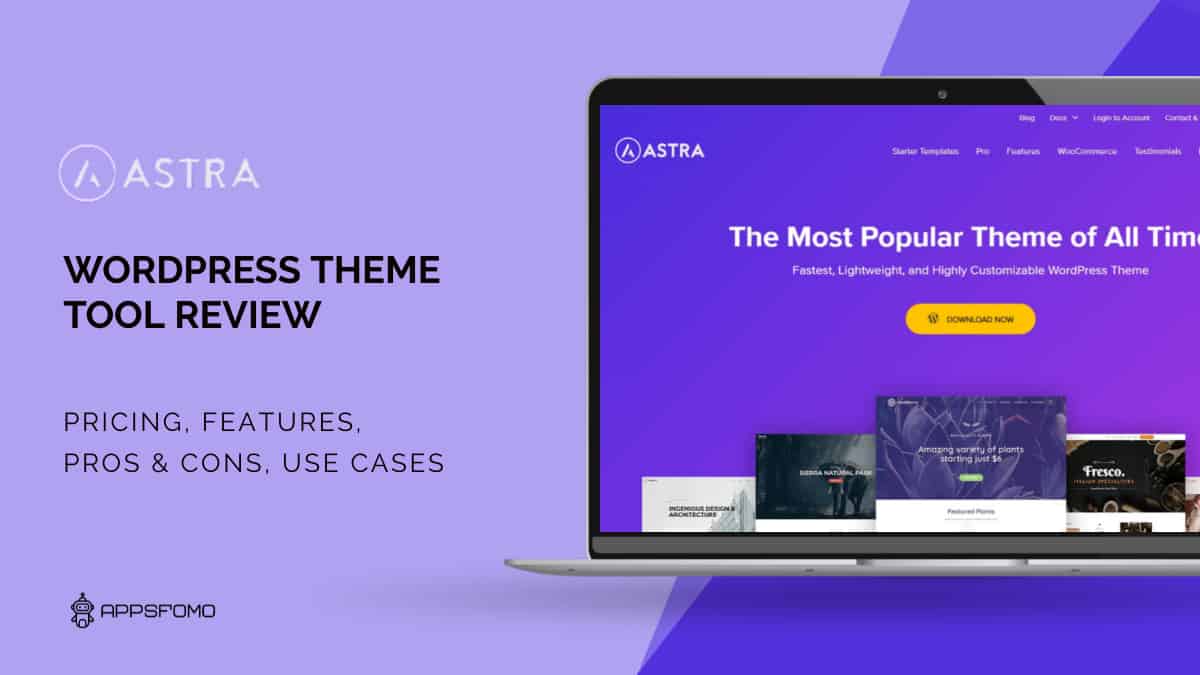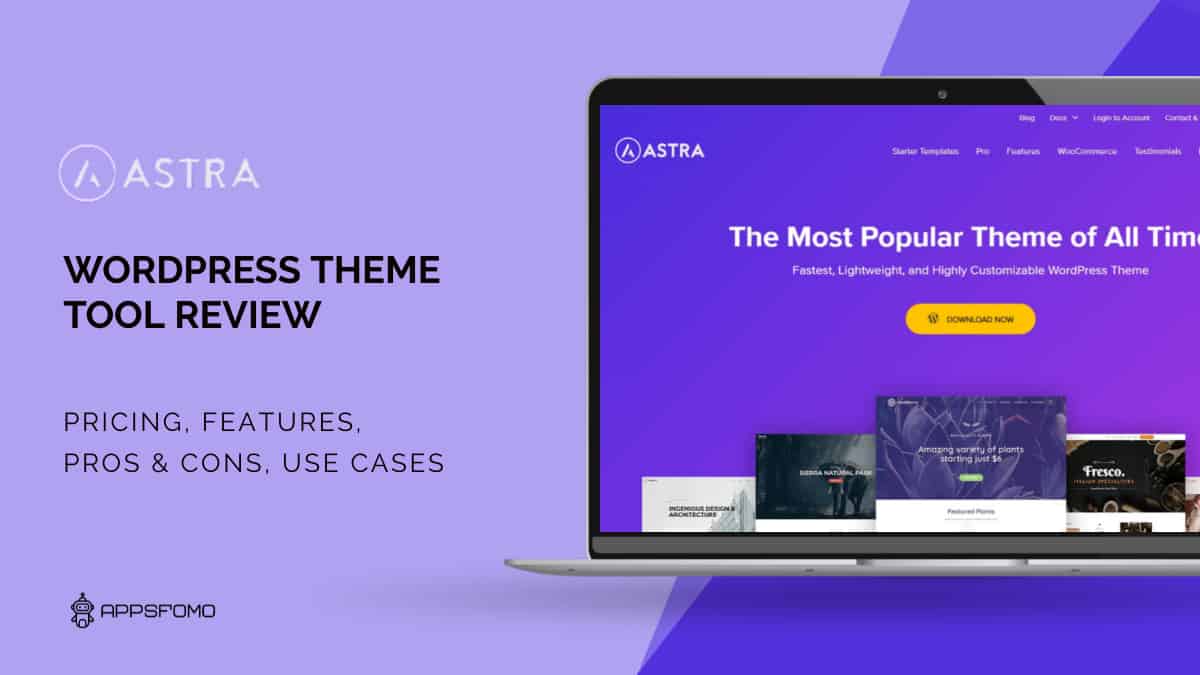 Astra Theme: A Versatile and Lightweight WordPress Theme