WPvivid: The Best Free WordPress Backup and Migration Plugin
WPvivid WordPress Plugin is Free to use , its has good amount of features.  This Plugin easy your jon of taking backup also helps your schedule your backups and it will run for every day week or hours as you set up the Backup Scheduler.
You will get:
Easy to use
Database has the largest support
Temporary and junk files are all cleaned up
Appsfomo Rating
Appsfomo Rating
PROS
Easy to use
Database has the largest support
Temporary and junk files are all cleaned up
CONS
Shared hosting might deal with cloud restore issues
More options for cloud storage
Are you tired of worrying about losing important data on your WordPress website? WPvivid Backup Plugin has got your back! WPvivid is the best WordPress backup and migration plugin that helps you secure your website data efficiently. In this blog, we will dive into the details of this amazing plugin and how it can help you protect and migrate your WordPress site with ease. We will cover product features, unique features, pros and cons, pricing information, as well as alternative/competitor software.
So, whether you run a small business or manage multiple websites, WPvivid has everything you need to make sure that your online presence stays safe and secure.
What Is WPvivid?
Overview
WPvivid is a WordPress backup and migration plugin that comes with advanced features. It allows users to schedule backups and easily restore their website with just one click. WPvivid also offers hassle-free migration options, even across different hosting providers. The plugin supports multiple cloud storage options like Google Drive, Dropbox, and Amazon S3. One of the best things about WPvivid is its user-friendly interface and excellent customer support.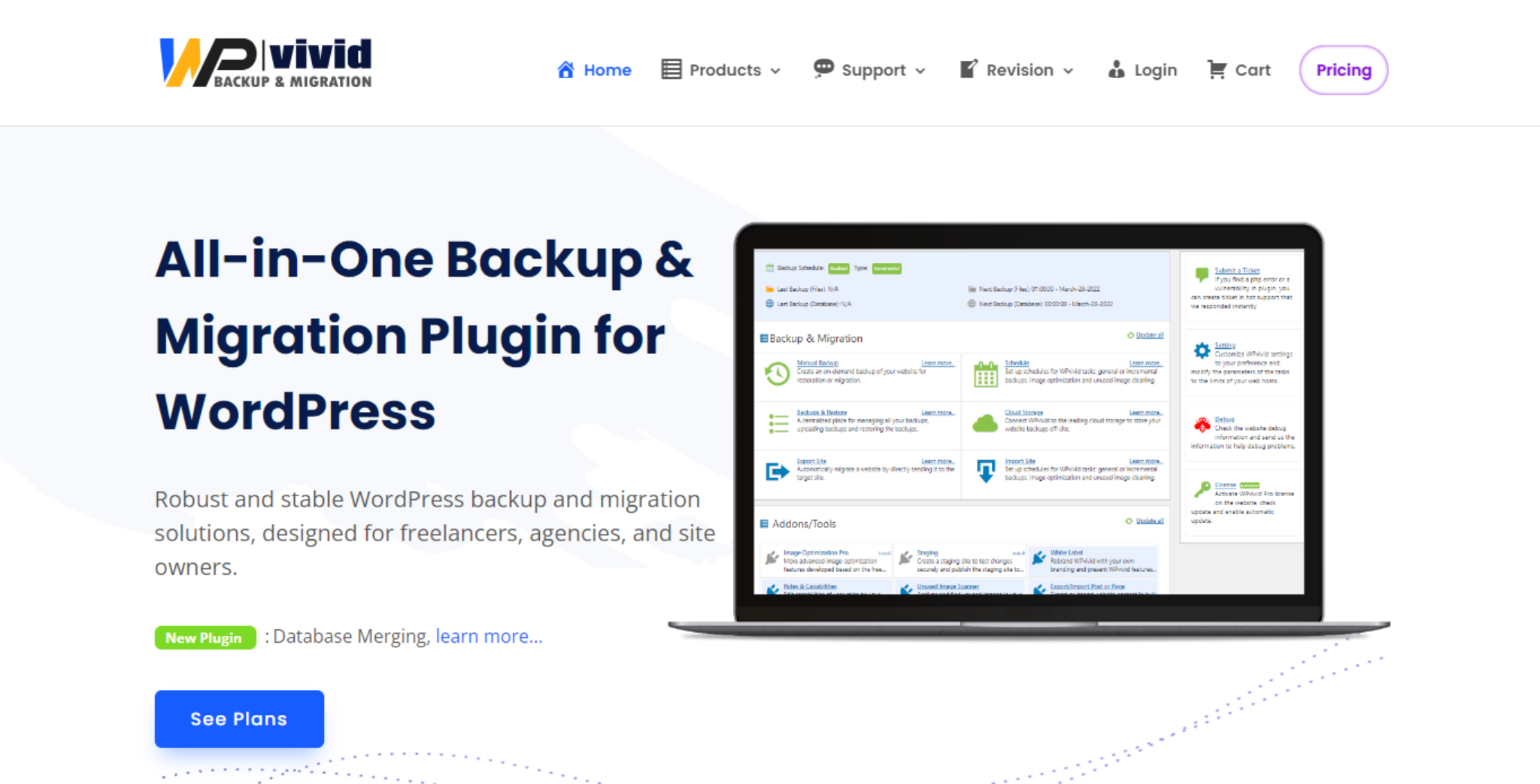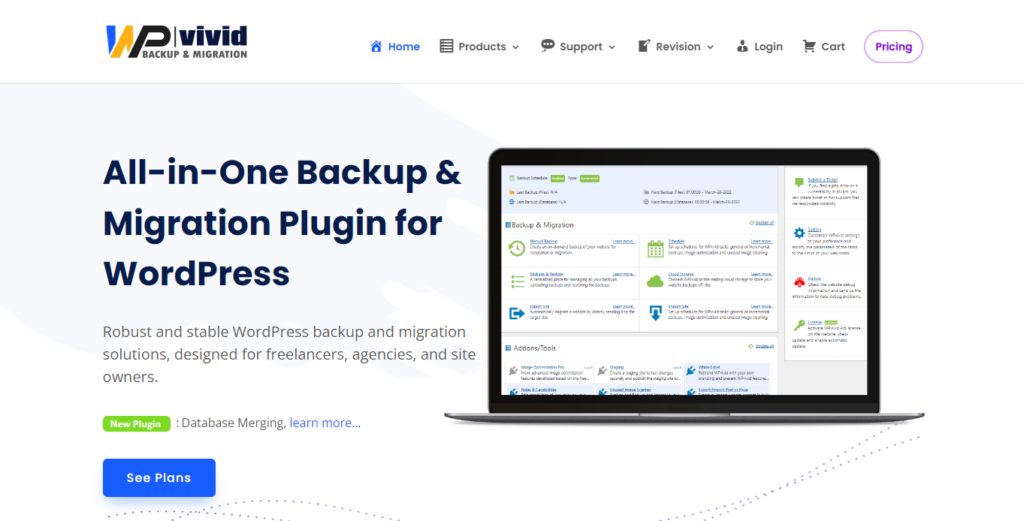 If you're looking for a comprehensive backup and migration solution for your WordPress site, then WPvivid might just be the perfect fit for you.
Online Presence
WPvivid has a good presence online. They have an active FAQs that features tips and tutorials on using their plugin, as well as updates on new features and bug fixes.
Additionally, they have social media pages on Facebook and Twitter:
How to Use WPvivid Backup Plugin?
Getting started
Using the WPvivid backup plugin is a simple and easy process. Firstly, you have to install and activate the plugin on your WordPress site. Next, choose the backup type from full, partial or custom backups, depending on your needs. You can select various storage options for storing your backups files such as Dropbox, Google Drive, or Amazon S3.
data backup and migration using wpvivid
Here are the steps you can follow to backup and migration of your data using WPvivid Backup.
Installing WPvivid Backup Plugin
You can download WPvivid Backup Plugin directly from the WordPress repository or from the WPvivid website. Once you have the plugin file, simply upload it to your website using the WordPress dashboard.
To create a backup using WPvivid, you must first install and activate the plugin. Once the plugin is activated, you can create backups by clicking on the "Backup Now" button. You also have the option to schedule automatic backups at specific times to ensure that your website's data is always up-to-date.
Locate the "Restore" tab within the WPvivid plugin. From there, select the backup file you wish to restore from the available backups.

Once you have chosen your desired backup file, you can then choose which restore options best fit your needs. These options may include restoring only files or both files and databases. After selecting your preferred options, click "Start Restore" and wait for the process to complete.
Sample contenTo begin the migration process, simply choose the "Migration" tab within the WPvivid plugin. From there, enter your new website's information and select the backup you wish to transfer. Once you have confirmed all the details, click "Start Migration."
Key Features
Why should you use WPvivid?
WPvivid is a WordPress backup and migration plugin that offers various features to help users manage their websites with ease. This plugin offers customizable backups, database backup encryption, staging sites with a "push to live" feature, and white labeling options. Users can tailor the backups according to their preferences and ensure that their data is secure through encryption.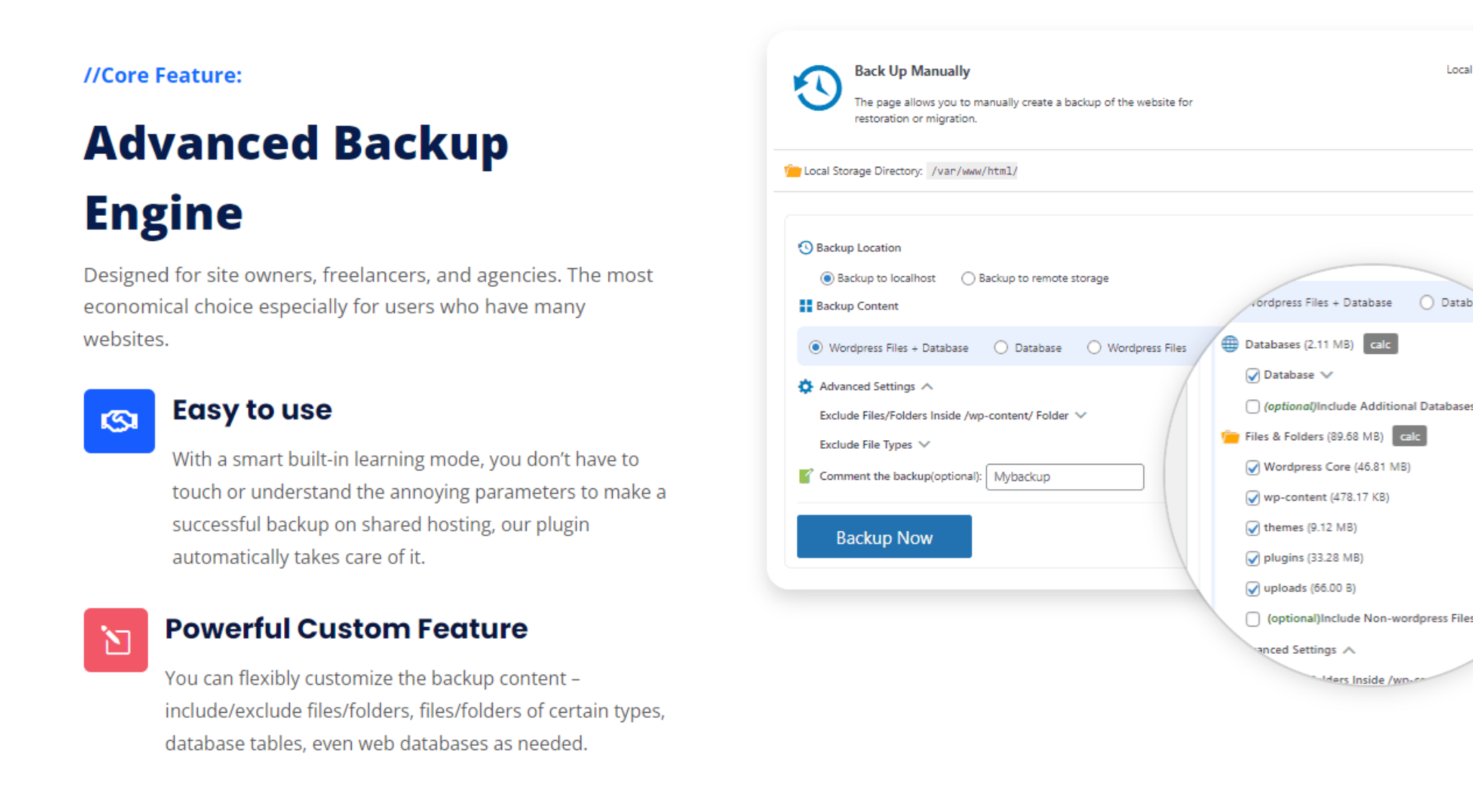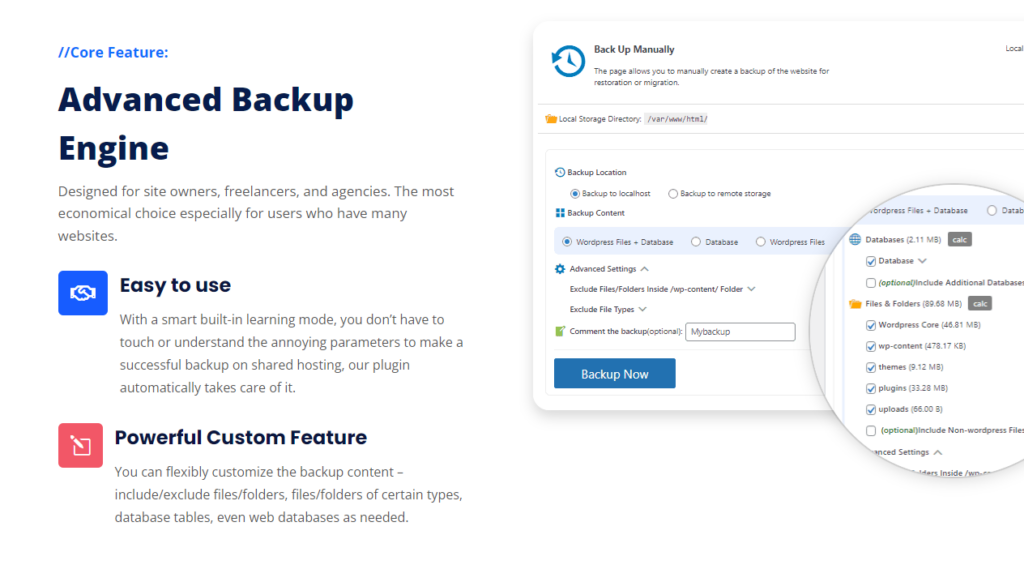 Backup: Include/Exclude Rules
With this feature, users have control over what they want to include or exclude in their backups, such as specific files, folders or database tables. This ensures that users can save time and storage space by backing up only the necessary items on their website.
Additionally, WPvivid allows for customization of backup settings so that users can tailor them to their specific needs and requirements.
Schedule (Incremental /General)
One of WPvivid's most useful features is the ability to schedule backups, with both incremental and general backup options available. Incremental backups are particularly advantageous as they only back up changes made since the last backup, which saves both time and storage space. WPvivid's scheduling feature also allows users to choose the frequency of their backups, with scheduling options ranging from daily to monthly.
Export/Import Site (Migration)
Using WPvivid, users can easily migrate their entire WordPress site to a new hosting provider or domain name without any hassle. The plugin offers both manual and automated backup and migration options, giving users flexibility in how they handle their website data. Additionally, WPvivid offers one-click restore functionality in case of emergencies or data loss.
Cloud Storage Support
This feature ensures that your backups are safe and easily accessible from anywhere with an internet connection. With WPvivid's cloud storage support, you can rest assured that your website data is secure and protected at all times. This feature also makes it easy to transfer your website from one server to another without having to worry about losing any of your important data.
Auto-Backup Before Update/Rollback
Auto-Backup Before Update/Rollback automatically backs up your website before any updates or rollbacks are made. This ensures that you have a safe restore point in case anything goes wrong during the update process. The backups created by WPvivid are stored securely on your server or your preferred cloud storage service
How WPvivid stands out from other Backup & Migration Plugin?
Unique Features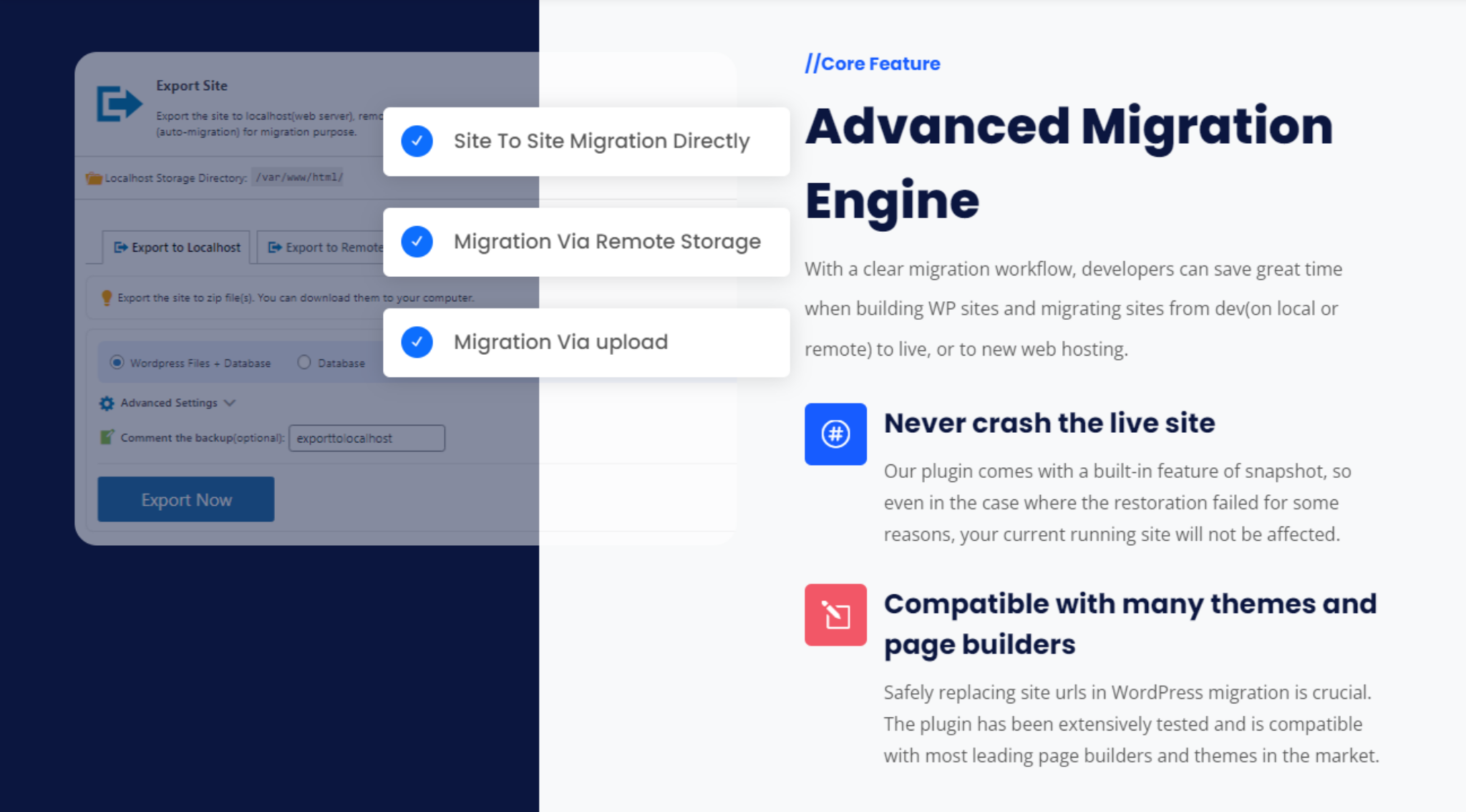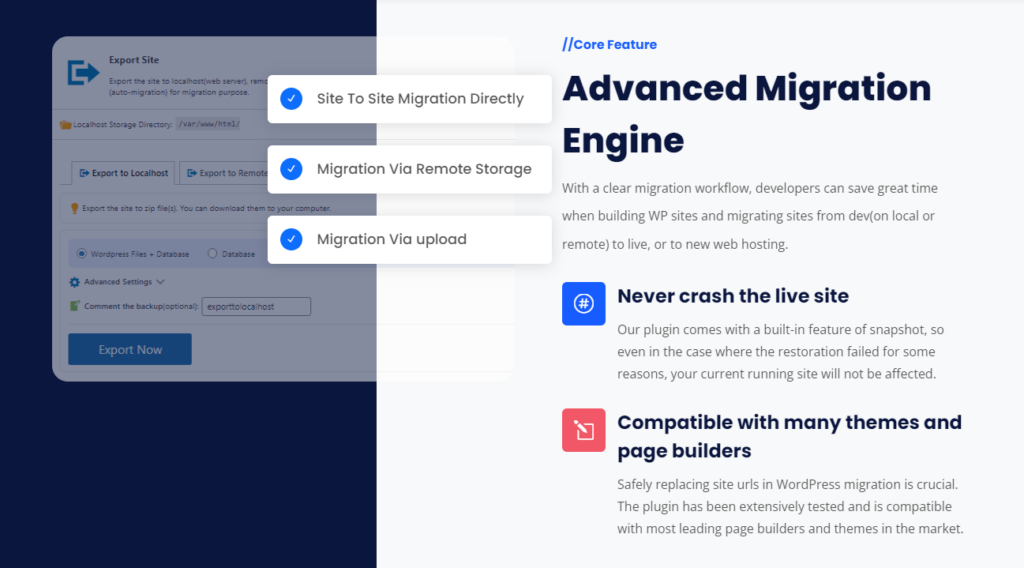 Flexible Backup Retention Rules: Users can easily manage their backups by customizing how long the backups are stored.
White Label: This feature allows agency owners, freelancers, and other professionals to customize the plugin with their own branding. WPvivid users can add their own logo, company name, and support links to the plugin.
Multi-Email Notification: This feature allows users to send backup notifications to multiple email addresses, which can be particularly useful for businesses or teams who need several people to stay informed about website backups.
WordPress Multisite Support: This feature allows website owners to manage multiple sites from a single dashboard, making it an ideal choice for those with multiple websites.
Roles & Capabilities: With this feature, site administrators can restrict access to certain plugin functions based on user roles. This provides greater control over who can perform critical functions such as backing up or migrating a site.




For what is WPvivid Plugin Useful?
Use cases of the plugin
Backup
Migration
Clone
Scheduled Backups
One-click Restore
Support
Knowledgebase and Contact support
Alternatives
Similar Plugins
These are a few alternative backup plugins that you can use to backup your data. Each plugin offers different features and capabilities but all of them are designed to help you backup and migration of your data.
UpdraftPlus allows users to schedule automatic backups of their website data and files, and also supports migration to different servers or domains with just a few clicks.
Duplicator Pro offers advanced features such as scheduled backups, cloud storage integration, and multisite support. Its drag-and-drop interface makes it easy to migrate your WordPress site.
Disclaimer text….
Jetpack Backups is a popular backup solution for WordPress websites. It offers automated backups and easy restoration in case of any mishap, as well as additional features like website security, site stats, and more.
Disclaimer text….
Final Verdict
Is WPvivid worth?
In conclusion, WPvivid is the perfect solution for anyone who wants an user-friendly backup and migration plugin for their WordPress site. It offers a range of features that make it easy to create and manage backups, migrate sites, and restore data. Its unique features such as flexible backup retention rules, roles & capabilities, white label, multi-email notification and WordPress multisite support make it stand out from its competitors. While there are some cons to using WPvivid, the benefits far outweigh them.
If you're looking for a reliable backup and migration plugin for your WordPress site, sign up for WPvivid today!
Video
How to use WPvivid?
Checkout this video to know about WPvivid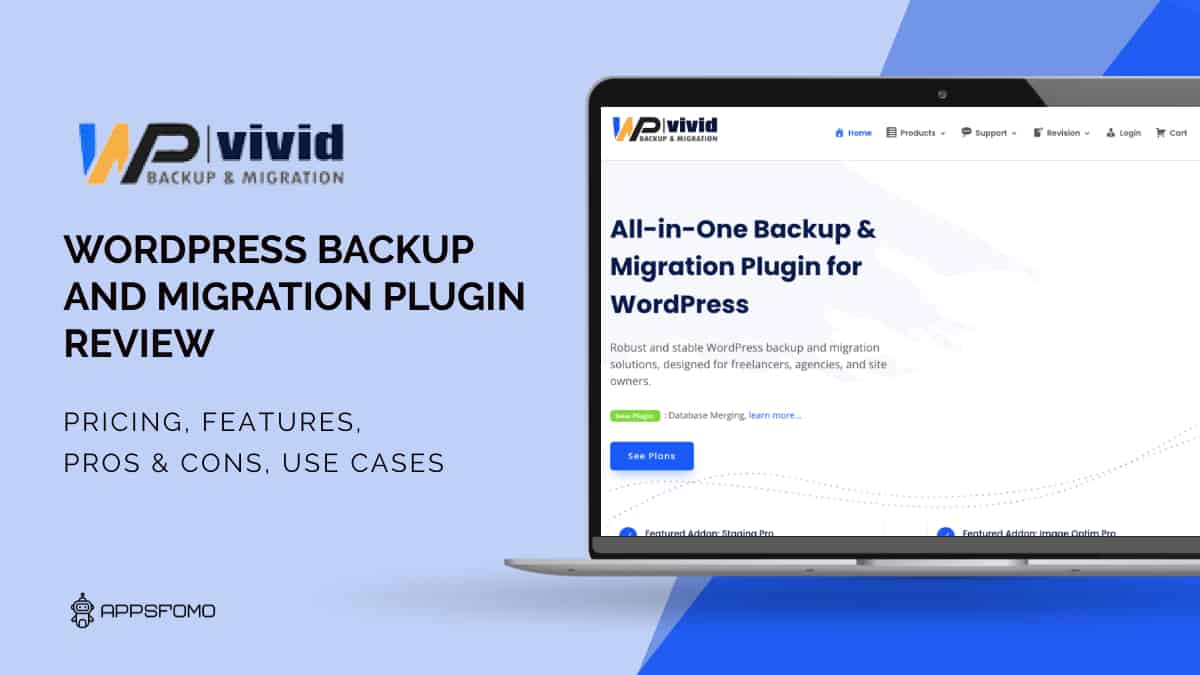 WPvivid: The Best Free WordPress Backup and Migration Plugin