WPvivid WordPress Plugin is Free to use , its has good amount of features.  This Plugin easy your jon of taking backup also helps your schedule your backups and it will run for every day week or hours as you set up the Backup Scheduler.
Expert Score
WPvivid WordPress Plugin helps in making the backup & restore process easy you can real through the article to understand how this plugin can save your time.

Overview of WPvivid
Everyone these days want things to be done for us, either based on the AI automation, from Alexa reminding us, to the notification of the meeting everything is online and help us be productive than wasting time-keeping an assistant, to remind us, with help of having WPvivid plugin installed help you backup up your site in no time, and if you want to take the backup on daily bases or weekly bases, you can schedule it, and the plugin will take care of your website backups.
How is this WPvivid Plugin used?
How to use the plugin is the most important because once you know the steps, you do not have to repeat it on daily bases, to start using this plugin we should have a look at its features, how is this going to benefit us on daily bases, and how can it reduce our time and stress for taking a backup without knowing the steps we can not proceed,
So let's go through each of the steps one by one :
Installing the FREE plugin
The FREE version is always available, to try, test, and help us understand more about the plugin.
The FREE version is available to download and install from the WordPress Repository itself.
From Dashboard > Plugin.
in the search box type in the WPvivid.
Click on "Install".
After some time you will get an "Activate" button click on it to "Activate" the plugin.
Once you activate you can see the plugin on the left side of the panel.
Installing the Pro plugin
With the FREE plugin, we have limited features available to use after you try the free version and you want some more features to make this fully useful then you can switch to the PRO version to get the complete WPvivid back up for your use.
Pro procedure is quite different from installing the FREE version, Nothing to Worry will guide you Step By Step :
Downloading the zip file to the local system
Download the Zip file from their official website wpvivid.com.
Go to your account "My Account" under the Download tab.

Installing the WPvivid Plugin file into WordPress.
WordPress dashboard>Plugins > Click on the Upload button on the top left corner of the screen.
Browse to the zip folder that you just downloaded, and upload the zip folder.
Activating your purchase License Key
inside your WPvivid plugin, click on the License Key Tab.
Enter your license key to activate the Pro WPvivid plugin.
You can find your License Key and Manage it from here :
Visit their official website WPvivid.com
My Account > License section.
Here, you can see your License key, Copy the License Key and paste it into the Under License key tab.
This Section is for the users who are using the WPvivid Pro Plugin.
After you switch to the PRO plan, you will have access to all the new upgrades and new features of the WPvivid Plugin.
To upgrade to the new version you can check for updates.
Check for Update: To check for new updates

WordPress > WPvivid Plugin > License > Check for Update button .
Click on the button to check if you have any new versions that help the plugin work more effectively.
After you check for the update, you will see the "Update now" button.
Else click on "Update Pro & install all addons with one click"
Installing WPvivid Plugin (One-Click Install).

Once you click on "Update Pro & install all addons with one click", Go to the installer page, you will have a list of plugins/Addons available
you can install whatever you want for your site, To access the installer page from left the admin menu > WPvivid Plugin > Installer.
After you select, click on "Install Now"
Staging Site: You can create a test site to see if your changes or the upgrade to the new version is working fine. If not you can report to their forms, or create a ticket, and say you are facing the issue and they will help you resolve it, so that you can proceed with the version or upgrade.
So this is all about the installation process
Let's have looked at WPvivid Plugin Features.
Features :
Taking Backup.
Auto Migration
Backup Scheduled.
Offsite-to-remote storage.
One-click restore.
Unused images cleaner ( beta version).
Cloud Storage.
Taking Backup is Easy
The name itself implies All you have to do is click on the Backup button you can take the backup with the Database file and the sites file or vice versa.
Auto Migration
Migrate your WordPress site from Dev server to Production server, from local to the online server with just one single click. isn't that a time-consuming task? With WPvivid it's just a single click.
Backup Scheduled.
Set a schedule for your WordPress site to take the backup automatically at your convenience, like for every 12 hours, or every week, or daily, and choose where you want to store your backup files.
Offsite-to-Remote Storage
With the help of cloud storage support, you can share our send your backup to the leading cloud storage areas like Dropbox, Google Drive, Amazon S3, Microsoft One Drive, DigitalOcean Spaces, FTP & SFTP.
Unused images cleaner ( beta version).
Auto Unused images cleaner WPvivid comes with a beta version of the plugin that cleans up unused images from your WordPress site.
One-Click Restore
One-click Restore Don't worry about your site if you have taken the backup of your site with WPvivid. Just one click and you can restore your site in a few seconds.
Cloud Storage
The cloud storage support provided by WPvivid Plugin are, Google Drive, Dropbox, Amazon S3, Digital Ocean Spaces, FTP & SFTP
The PRO version also supports, Pcloud, Wasabi, and much more.
It is a WIN-WIN usage if this plugin especially with the PRO plugin
Learn how to backup and Restore
Backup
The basic and first tab in the plugin after installation is "Backup".
Click on the "Backup tab".
Back-up Manually:
Manual backup is the most flexible way to set the destination storage area, to select what we want to back up, Mean to say is, Having Manual options to set up the backup or any plugin makes it easier to work along.
Let's get into the steps to Backup Manually :
1. Select or rename the storage directory which means the destination area where you want to store your backed up files.

2. Choose what you want to take the backup for whether, Database and file, Only database files, or only WordPress Files by clicking on the radio button.

3. You can select where to send your backup to your localhost or to the cloud storage option which is available based on whether you have a FREE or PRO version.

4. Before clicking on the "Backup Now" button click the "Checkbox" button so that the backups do not get automatically deleted, Checking the box is important to lock your files to get deleted automatically.

5. Now once you are done with settings you can click on the "Backup Now" button.
Note
With these 4 steps above and one-click on "Backup Now" saves your time and takes your backup with no stress no hassle. ( Options applicable only for Manual backing up process).
Backup Schedule section
Yes, I know a small sort of relief, when we have some timer set and the plugin does it work without any manual check every time and gives us a break from manual operation.
The backup schedule is nothing but, you can set when the backup of your site can be taken, it is more helpful when we are on the development site, where we can backup weekly work so that we something goes wrong in the current site or plugin. We can switch back to the previous version of our site.
This scheduler shows you the last backup time and the next backup time. you can see the logs for more info.
List of Backups
Every time you take a backup it is showcased under the "Backups" Tab.
With your backup files, you will have a row option available, where you can see Restore, Delete, you can also bulk delete your backups, the storage, and the download option , when you click on download, it is going to download the files locally into your system.
Upload Tab
Uploading the name itself implies, upload options help you upload your backup files from your destination folder or file to the WPvivid Plugin.
That's all about how to take a Backup or upload a backup.
Learn How to Restore.
Restoring has always been tough work, Assuming you know how to take backup.
Let's try to restore the backup files:
Go to the plugin WPvivid > Backup/restore, click on the Backups tab, you can see the list of the backups that you have taken.
Click on the "Restore" option.
Once you click on the "Restore".
You can see the below screen. Again click on the "Restore" button. if your backup consists of Database files and the Wp files it is going to restore everything with just one click.
Once your restoring process is done, A popup will appear on the screen click on "OK".
Upload the backup file.
This feature helps you upload the backup files which are stored in your local system or any cloud storage area.
To upload a file go to WPvivid > Back up & restore
Click on the Upload tab, select the backup file you want to restore.
Once you have selected the file click on the "Upload" button.
Once your backup file is uploaded you can see the list of your backup files present under the Backup tab.
Click on the "Restore" button to restore the backup file you just uploaded.
Once the restoring process is completed you will see a popup message click on "Ok".
Pro's and Con's
Positive
A solitary plugin with numerous attributes.
Easy to use.
Back-up assistance for huge data sources and files.
Multiple cloud storage space alternatives.
Step-by-step back-up for large sites.
Safeguards backup data by file encryption
Negatives
More Cloud Storage area
Restoring process from cloud might take loner then usual.
Pricing of WPvivid Plugin
WPvivid has Both Free and Pro versions, They also have 30 days money back policy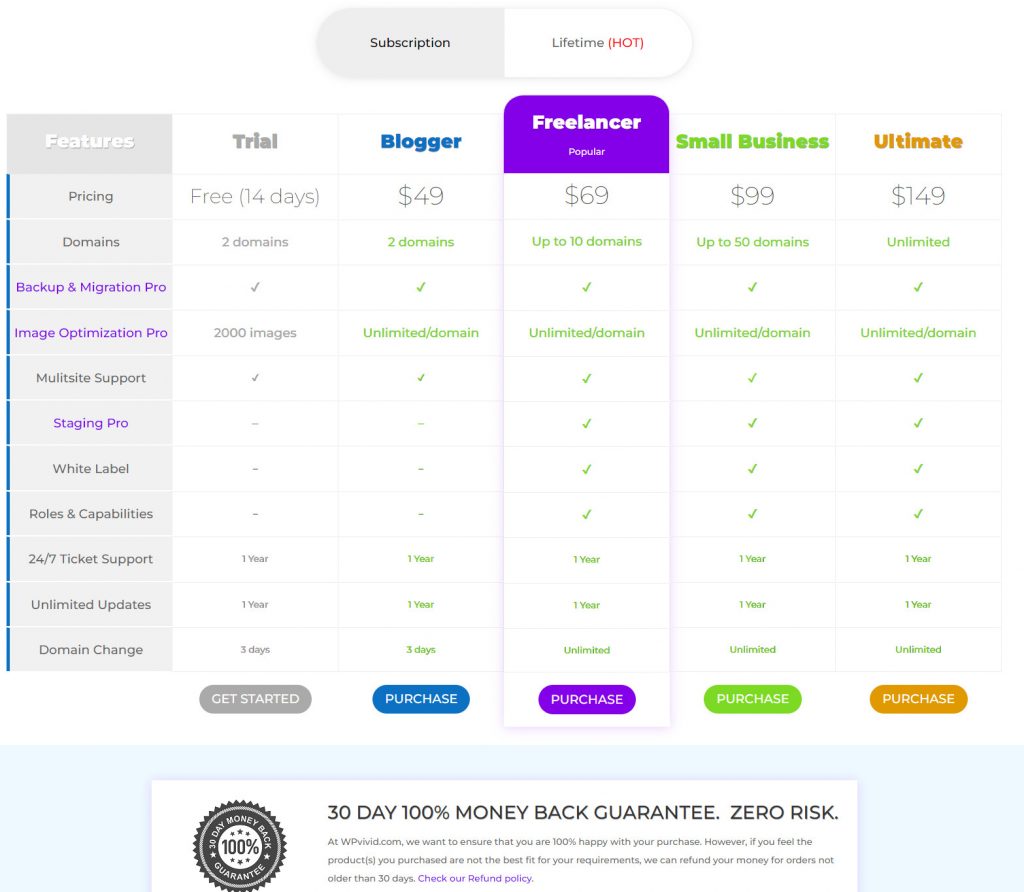 Similar Plugins
Buy Now
All-in-One WP Migration
All-in-One WP Migration : Migrating website from local host to main server or one server to other server made easy

Final Verdict
As a reviewer of this product, I would suggest trying its FREE version, getting used to it and if you are planning to get more benefits from this plugin then you can switch to the PRO version anyhow they have 30 days Money back guarantee.
This is the time-consuming plugin that can come in handy for us to d all the backup and restore without hassle.