Fluent Forms: The Fastest WordPress Form Builder
Fluent Forms, a powerful and user-friendly WordPress form builder plugin, offers a wide range of form fields, templates, and customization options. With its intuitive drag-and-drop interface, anyone can create complex forms without coding knowledge.
You will get:
User-Friendly Interface
Conditional Logic
Multi-Step Forms
Advanced Styling Options
Appsfomo Rating
Fluent Forms, a powerful and user-friendly WordPress form builder plugin, offers a wide range of form fields, templates, and customization options. With its intuitive drag-and-drop interface, anyone can create complex forms without coding knowledge.
PROS
User-Friendly Interface
Conditional Logic
Multi-Step Forms
Advanced Styling Options
CONS
Pricing Structure
Occasional Updates
Limited Free Version
Are you tired of WordPress form builders that are slow, clunky, and difficult to use? Look no further than Fluent Forms. With its drag-and-drop form builder, multi-column layout options, and mobile-responsive design, Fluent Forms is the fastest WordPress form builder on the market today.
In this blog post, we will take a deep dive into what makes Fluent Forms so special, exploring its many features and benefits. From advanced conditional logic to real-time email notifications and payment integration capabilities – it's all covered here. We'll also examine why Fluent Forms has become so popular among WordPress users and showcase some of its most useful use cases. Not convinced yet? We'll even outline some alternatives to help you make an informed decision.
What is Fluent Forms?
Overview
Fluent Forms is a cutting-edge WordPress form builder that sets itself apart from the competition with its lightning-fast performance and user-friendly interface. Designed to streamline the process of creating complex forms, Fluent Forms offers a robust selection of form fields, templates, and customization options that can be easily implemented with its intuitive drag-and-drop functionality.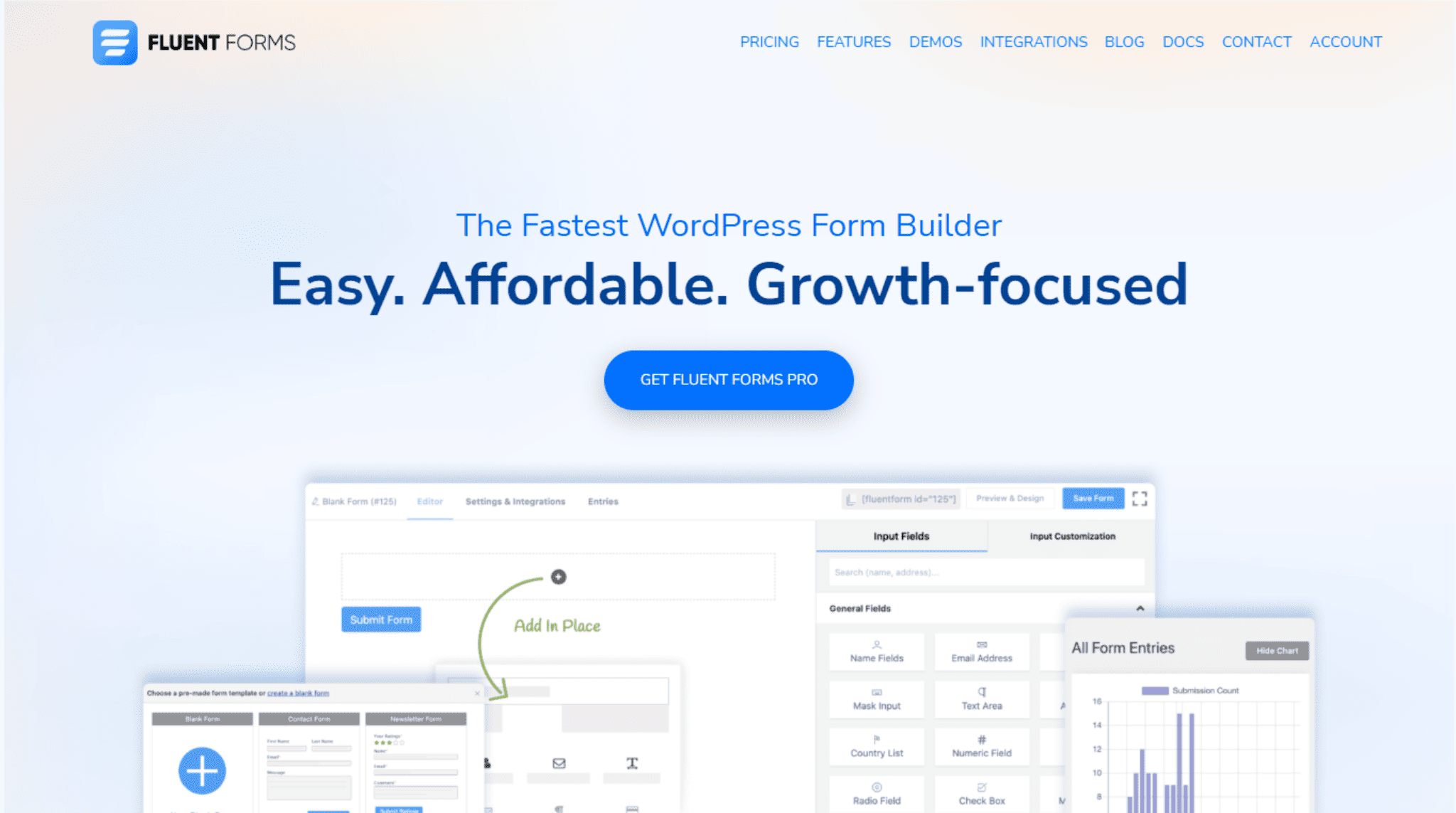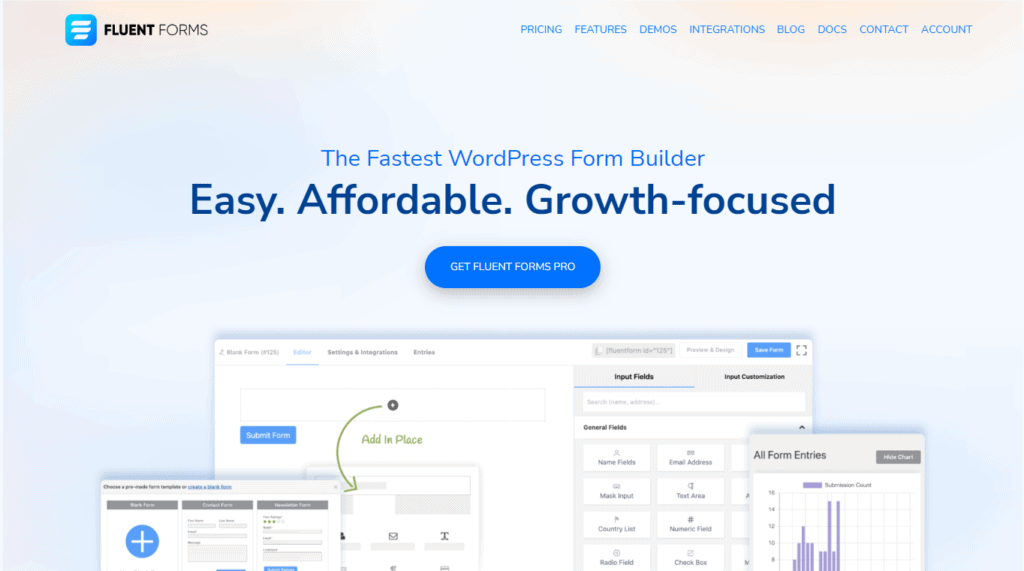 Fluent Forms is a powerful WordPress plugin that allows you to easily build user-friendly forms. With drag-and-drop functionality and a wide range of input fields, you can customize your forms to suit your needs. The plugin also offers advanced features like conditional logic, spam protection, email notifications, and form management through the Fluent Forms dashboard.
Company Details
Fluent Forms is developed by WPManageNinja, a reputable WordPress plugin company known for creating innovative and user-friendly solutions. With years of experience in the industry, WPManageNinja has established itself as a trusted name among WordPress users. The company is dedicated to providing top-notch customer support, regularly updating its products, and listening to user feedback to continuously improve Fluent Forms.
Online Presence
Fluent Forms Review: A Look at the Features
Basic Features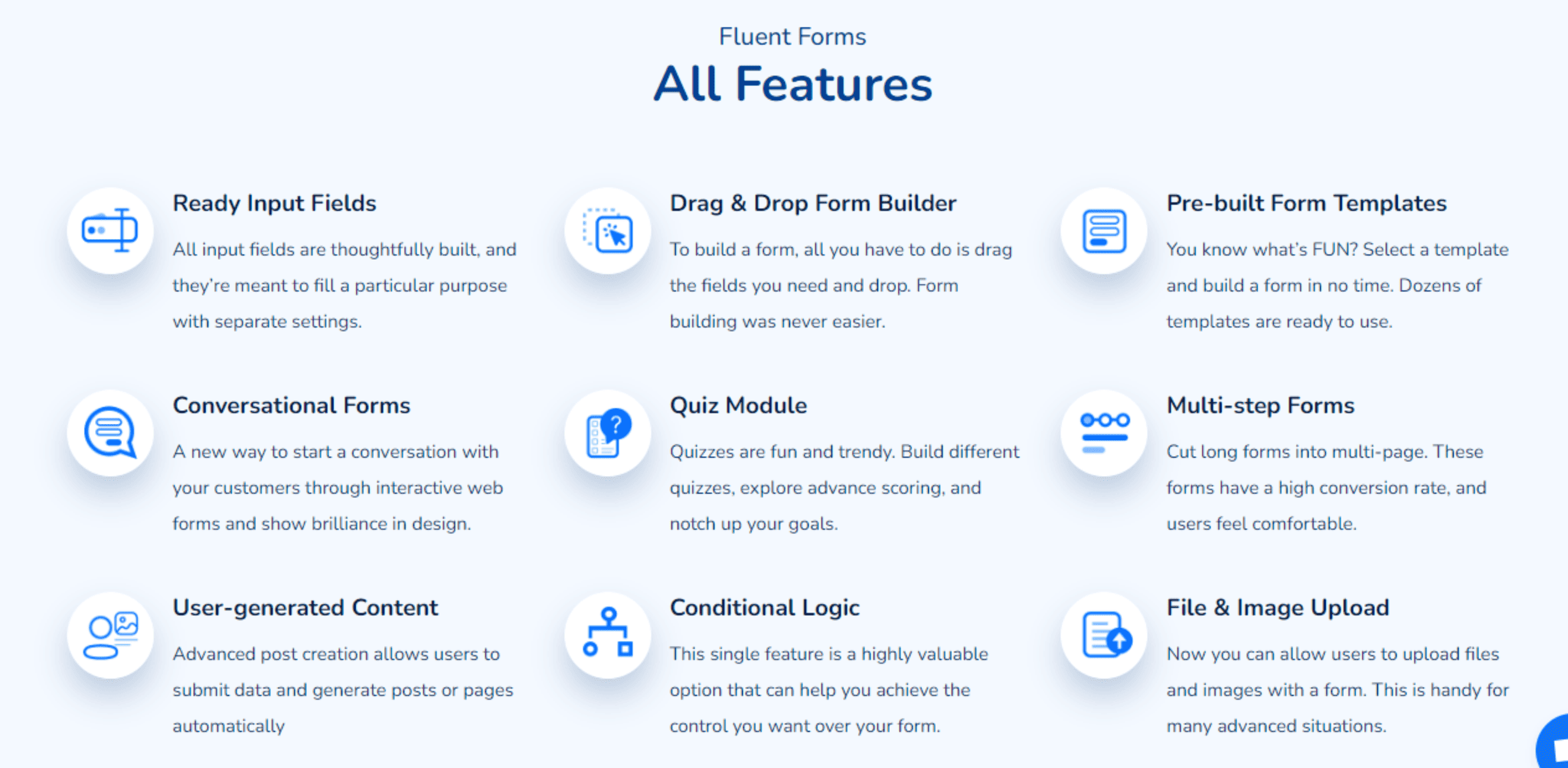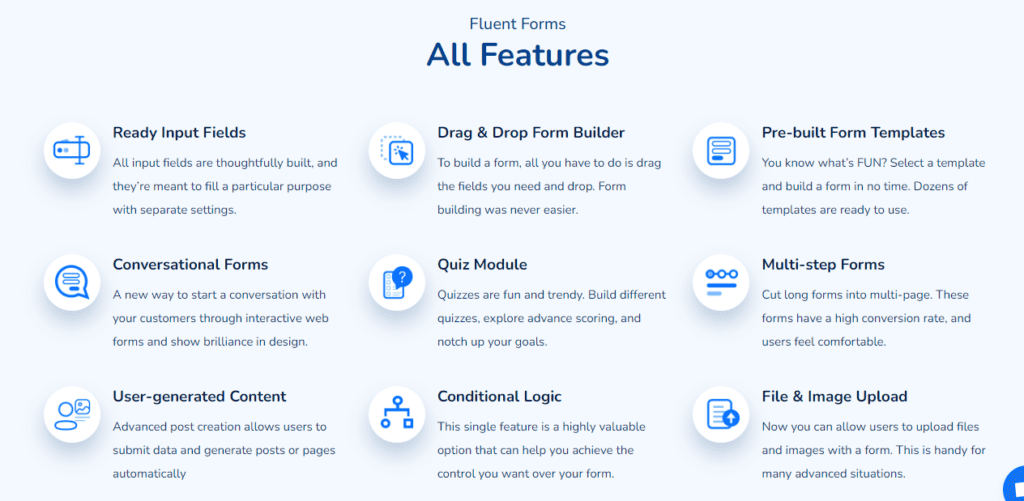 Drag & Drop Form Builder
With Fluent Forms' drag-and-drop form builder, creating forms has never been easier. You can simply drag and drop fields onto your form, rearrange them as needed, and customize them to suit your preferences. This intuitive interface makes it effortless to design forms that match your brand's aesthetic and capture the information you need.
With this intuitive tool, you can easily add and arrange various input fields to create the perfect form for your needs. Whether you want a simple contact form or a complex survey, Fluent Forms has got you covered.
Multi-Column Form Layout
Fluent Forms offers the flexibility to create visually appealing forms with its multi-column form layout feature. With just a few clicks, you can divide your form into multiple columns, allowing you to organize your fields in a more structured manner. Whether you want a two-column or three-column layout, Fluent Forms makes it easy to create professional-looking forms that impress your users.
Mobile-friendly Responsive Forms
Fluent Forms recognizes the importance of mobile responsiveness in today's digital world. That's why all forms created with Fluent Forms are designed to be mobile-friendly, ensuring a seamless user experience across different devices. Whether your users are accessing your forms on their smartphones, tablets, or desktops, rest assured that they will have no trouble navigating and submitting their information.
Advanced Conditional Logics
With Fluent Forms, you have the power to create dynamic and personalized forms using advanced conditional logic. This feature allows you to show or hide certain form fields based on specific criteria or user responses. By customizing the form fields based on your users' actions or answers, you can create a more interactive and personalized form experience. Whether you want to display additional fields based on certain selections or hide irrelevant options, Fluent Forms has the flexibility to cater to your specific needs.
Real-Time Email Notification
One of the key features of Fluent Forms is its ability to provide real-time email notifications. This means that whenever a user submits a form, you will instantly receive an email notification with all the relevant information. This feature ensures that you never miss an important submission and allows you to promptly respond to your users' inquiries or requests. With Fluent Forms, you can stay connected and informed, making it easier than ever to manage and process form submissions efficiently.
Reusable Form Templates
Fluent Forms also offers a wide range of reusable form templates that you can easily customize to fit your specific needs. These templates are designed to save you time and effort, allowing you to quickly create professional-looking forms without starting from scratch. Whether you need a contact form, a registration form, or a survey form, Fluent Forms has got you covered with its collection of pre-designed templates. Simply choose a template, make any necessary adjustments, and you're ready to go. With Fluent Forms' reusable form templates, creating stunning forms has never been easier.
Smart Subscription Management
Fluent Forms takes subscription management to the next level with its smart features. With this feature, you can easily manage and track all your subscriptions in one place. Whether you have a newsletter, membership, or any other type of subscription service, Fluent Forms has got you covered.
The smart subscription management feature allows you to automate various tasks such as sending welcome emails to new subscribers, managing subscription renewals, and even handling cancellations. You no longer have to spend hours manually managing subscriptions and keeping track of payment statuses.
Pre-Built Form Templates
Fluent Forms understands that time is of the essence, which is why we offer a range of pre-built form templates. These templates are designed to cater to various industries and use cases, saving you the hassle of starting from scratch.
Whether you need a contact form, an event registration form, or even an order form for your e-commerce store, Fluent Forms has you covered. Our templates are professionally designed and customizable, allowing you to add your branding elements and tailor them to meet your specific needs.
Pro Integrations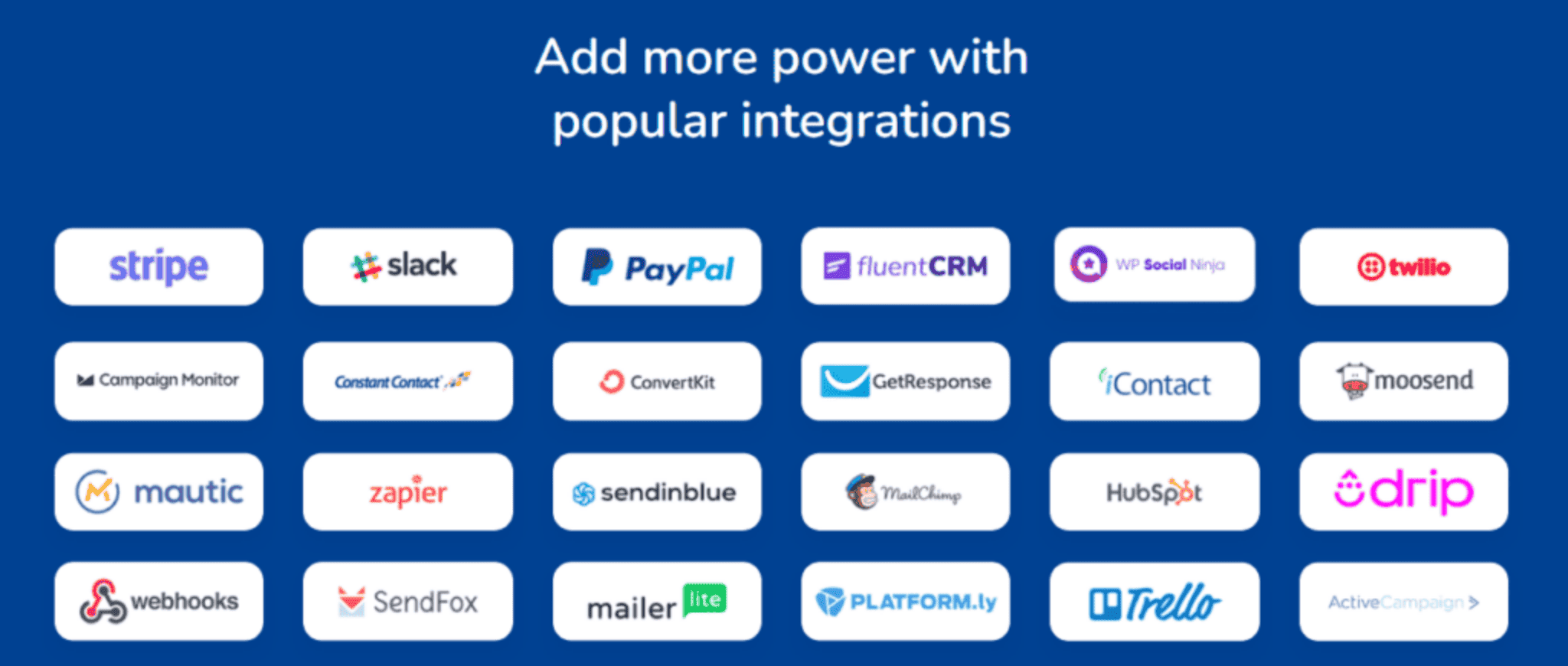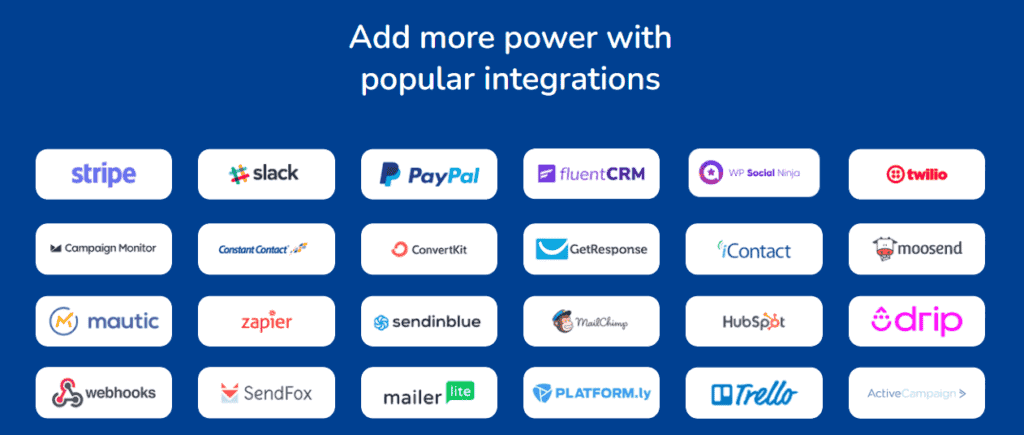 Fluent Forms takes your form capabilities to the next level with its seamless integration options. With Pro Integrations, you can connect your forms with popular tools and platforms, streamlining your workflow and enhancing productivity.
Whether you want to sync form submissions with your CRM software, automate email notifications using an email marketing service, or integrate with payment gateways for smooth transactions, Fluent Forms has got you covered. Our extensive list of integrations ensures that you can seamlessly connect your forms with the tools you already use.
One-Click Migrator
Easily transfer your forms and data from other form builder plugins with the one-click migrator, saving time and effort. Compatible with popular form builder plugins like Gravity Forms and Contact Form 7, this feature ensures a seamless transition to Fluent Forms.
With our one-click migrator, transitioning from your current form plugin to Fluent Forms is a breeze. Say goodbye to the hassle of manually recreating forms and data. Simplify your migration process and start enjoying the benefits of Fluent Forms in no time.
Why Fluent Forms is So Popular?
Why Choose Fluent Forms?
Fluent Forms is popular due to its user-friendly interface and ease of use
It offers a wide range of features, including conditional logic multi-step forms, and integrations with other tools.
Its drag-and-drop form builder allows for customization without coding experience.
The affordable pricing plans make it accessible for businesses of all sizes.
Use-cases
Who can use Fluent Forms
Contact forms: Generate leads and improve customer communication with user-friendly contact forms.
Surveys and polls: Collect feedback and insights from your customers and audience.
Registration forms: Simplify the registration process for events, webinars, andmemberships.
Payment forms: Accept payments securely and hassle-free with Fluent Forms'payment integration options.
Lead generation forms: Capture leads and build your email list with custom leadgeneration forms.
Pricing Plans
Subscriptions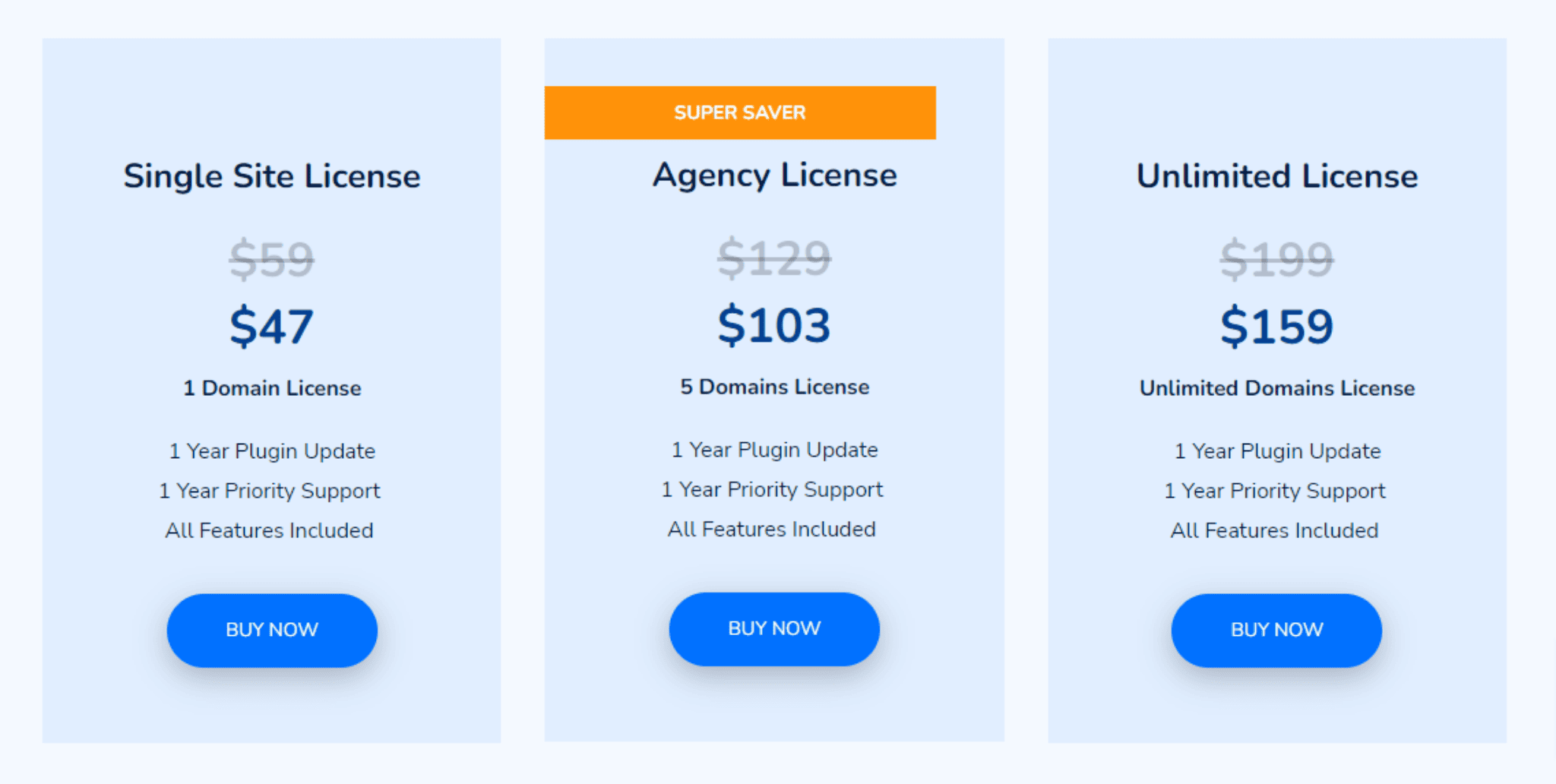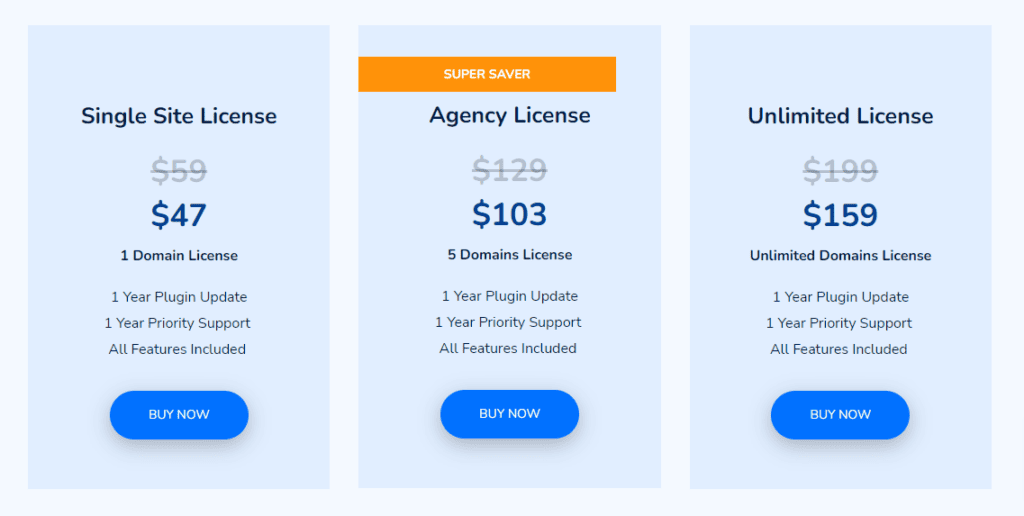 Support
Technical Support, Knowledge Base
Alternatives
Similar Plugins
WPForms is a highly efficient and user-friendly form builder designed specifically for WordPress websites. With its intuitive drag-and-drop interface, creating custom forms becomes a breeze, even without any coding knowledge.
Ninja Forms is a WordPress form builder that offers drag-and-drop form building, flexible design options, and integration with popular email marketing services.
Disclaimer text….
Jetpack is a comprehensive WordPress plugin that offers a multitude of features to enhance your website's performance and security.
Disclaimer text….
Final Verdict
Is Fluent Forms Right for You?
Overall, Fluent Forms is a highly recommended form builder for WordPress websites. Its range of features such as conditional logic, multi-page forms, and seamless payment integration make it a versatile tool for any business or organization. The fast loading speed ensures a smooth and enjoyable experience for website visitors. Additionally, Fluent Forms offers a variety of pre-built templates and integrates seamlessly with popular payment gateways for easy transaction processing. With its extensive documentation and video tutorials, you can quickly learn how to make the most out of this powerful form builder. Don't miss out on the opportunity to try Fluent Forms for yourself and experience the fastest and easiest way to build forms on WordPress.
Review Video
Watch it to learn more!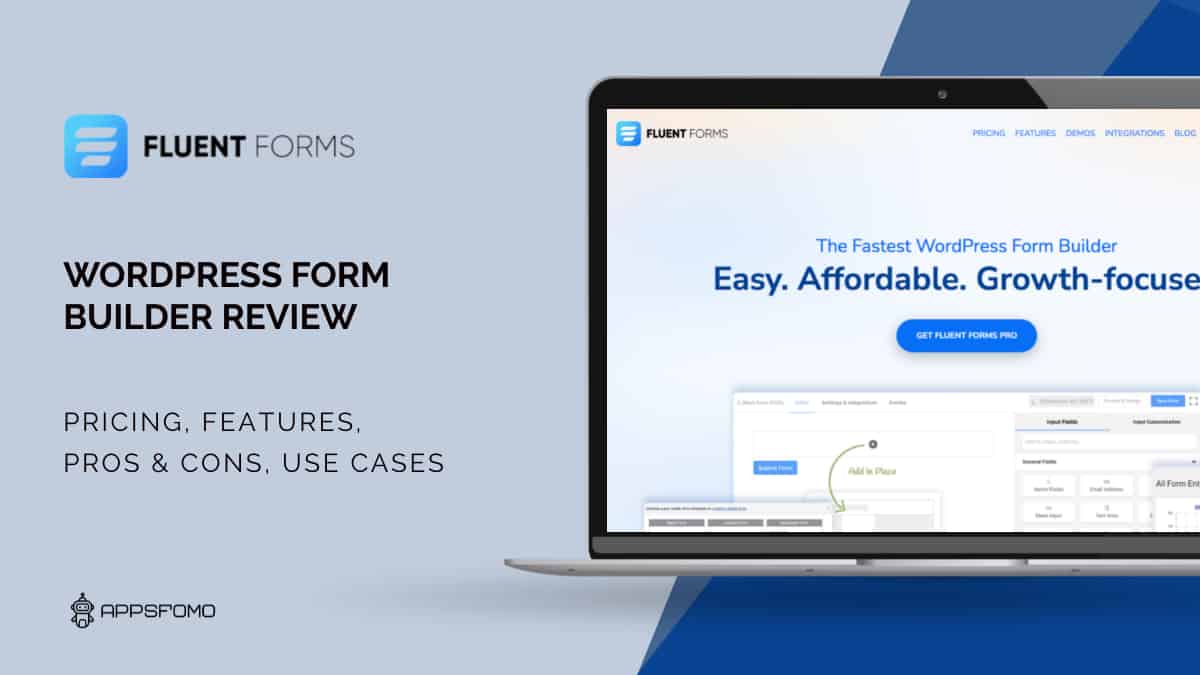 Fluent Forms: The Fastest WordPress Form Builder