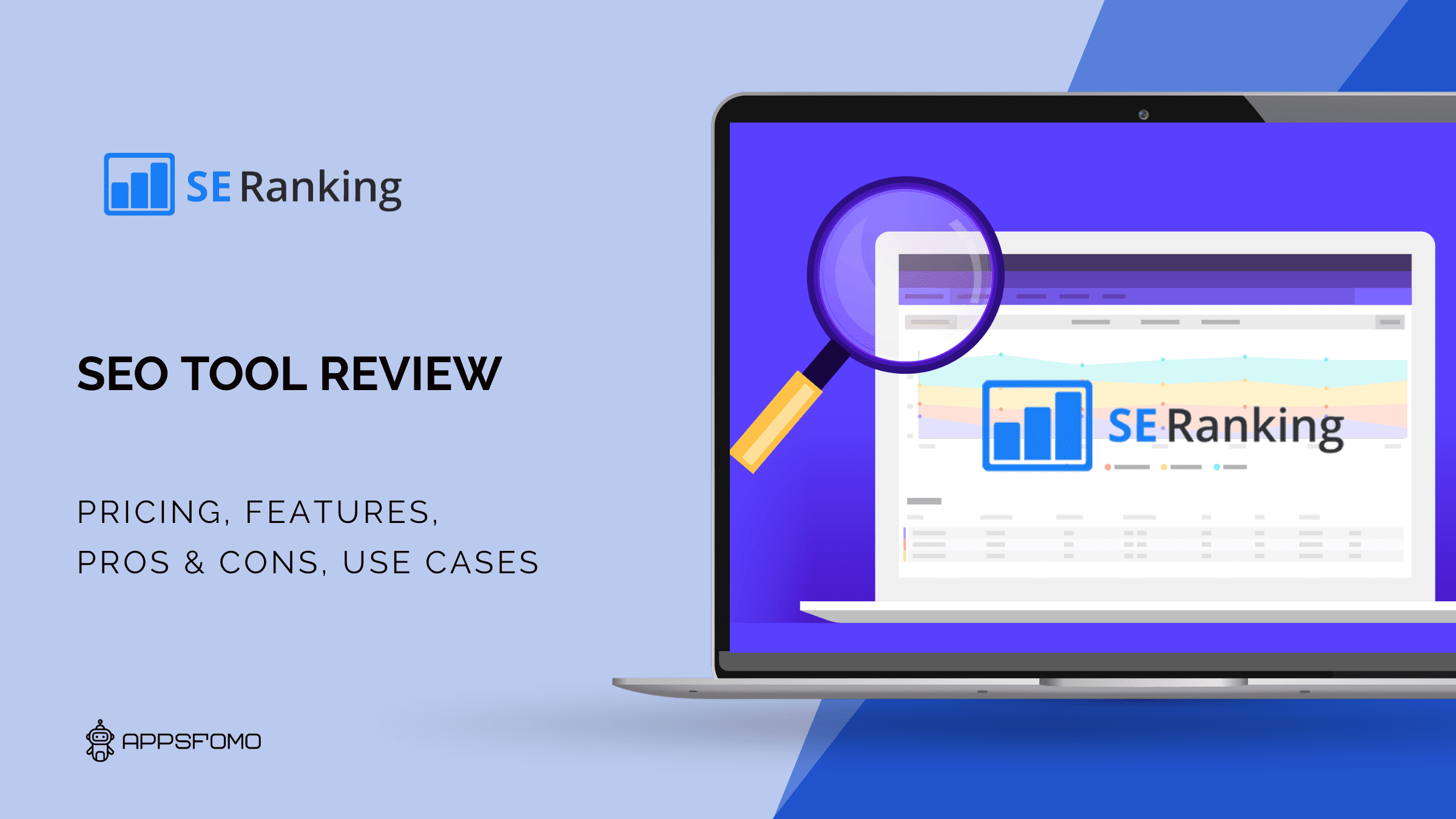 SE Ranking: Content Marketing Platform with Competitive Pricing
Add to wishlist
Added to wishlist
Removed from wishlist
0
Add to compare
Are you tired of juggling multiple SEO and digital marketing tools? Look no further than SE Ranking. Maintaining an effective online presence requires more than just high-quality content. Businesses of all sizes must be able to optimize their content for search engines and analyze their competitors' strategies to stay ahead. SE Ranking is an all-in-one platform that offers a comprehensive solution for content marketing, SEO, and competitor analysis.
In this blog post, we will delve deeper into the main features of SE Ranking and how they can benefit your business. We will also take a look at their pricing plans and review the pros and cons of the platform. So why wait? Let's get started with SE Ranking today!
What Is SE Ranking?
Overview
SE Ranking is an all-included SEO software that offers all SEO tools needed to successfully complete online marketing projects. SE Ranking is perfect for small business owners, SEO pros, and agencies.
SE Ranking is an all-in-one platform that offers a comprehensive solution for content marketing, SEO, and competitor analysis. With affordable pricing plans, businesses can leverage SE Ranking's range of tools to improve website rankings, identify opportunities for growth, and measure the success of their digital marketing efforts. Whether you're a small business owner or part of a larger agency, SE Ranking provides the necessary features for optimizing your online presence and staying ahead of the competition.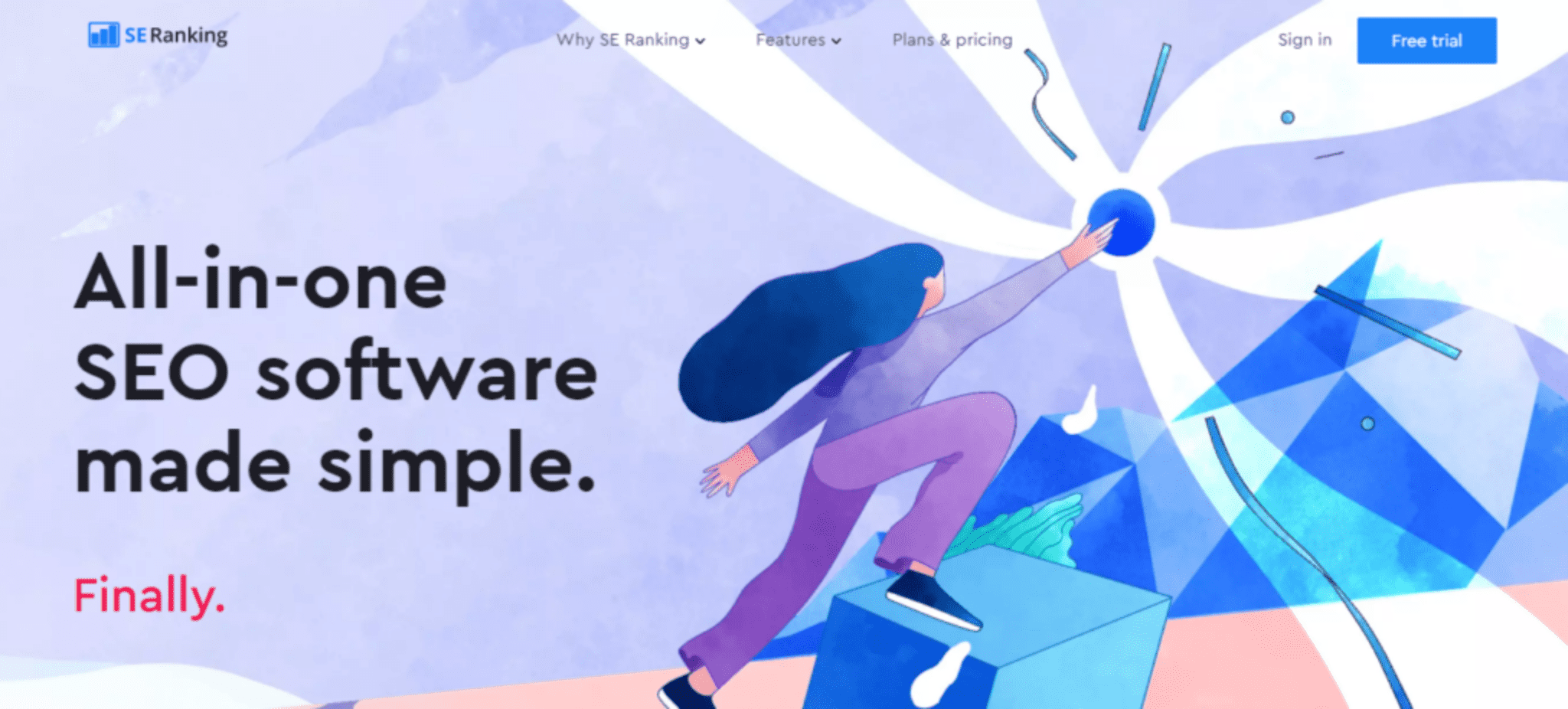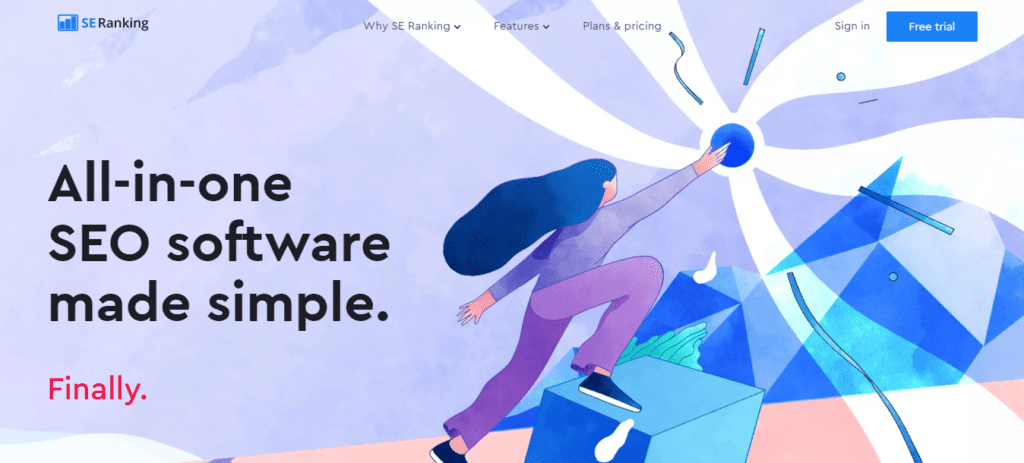 Company Details
Their Mission was to develop SEO software that allows anyone to independently optimize and promote a website on the web, regardless of the level of expertise.
Now it is the SEO software of choice for 700 000+ SEO specialists, digital agencies, and business owners.
The company was founded in 2013, Valery Kurilov is the CEO of SE Ranking. Headquarters are located in London, Great Britain
Online Presence
How to Get Started
Follow the steps
Let us see how, to begin with SE Ranking
Adding a new project to your account
Press the "Create Project" button in the top right-hand corner of the screen or right above the Dashboard. Then you will then be redirected to the Project settings menu.
Adding keywords to a project
You can add keywords in 4 ways
-Adding keywords manually
-Importing keywords from Google Analytics
-Importing keywords from CSV and XLS
-Adding keywords using keyword suggestions
Adding search engines and locations to a project
You can check your keyword rankings in different search engines:
Google, Google Mobile, Google Maps, Yahoo!, Bing, and YouTube
Adding competitors to a project
You can add up to 5 competitor sites to a project and track their rankings for the same keywords you added to your project. Competitor keyword rankings are tracked alongside yours at no extra cost.

Integrating Google Search Console and Google Analytics
To analyze project dynamics based on data pertaining to website rankings, traffic from search engines and all search queries that lead to your website, connect your SE Ranking account to Google Analytics and Google Search Console.
You can use it as a checklist for your website in order to cover all optimization aspects and leave no stone unturned. 
During the analysis, your site will be evaluated against a list of search engine ranking factors. As a result, you'll get a report with actionable recommendations on how to improve your website.
Start monitoring your backlinks, their main parameters, and the parameters of the pages they direct to:
Google index status
Destination URL (the exact page the link directs to)
Anchor text
Others
Exploring other SE Ranking features
After you've completed the first setup steps in SE Ranking, start working with other tools that will help you with other SEO tasks.
Key Features of SE Ranking
Important functionalities
Comprehensive site audit
Maintaining a functional and optimized website is crucial for online success. SE Ranking's comprehensive site audit tool simplifies the arduous process of identifying technical issues that may be hindering your SEO strategy. With this feature, you can obtain crucial metrics such as page speed, broken links, and other on-page optimization factors in one simple dashboard.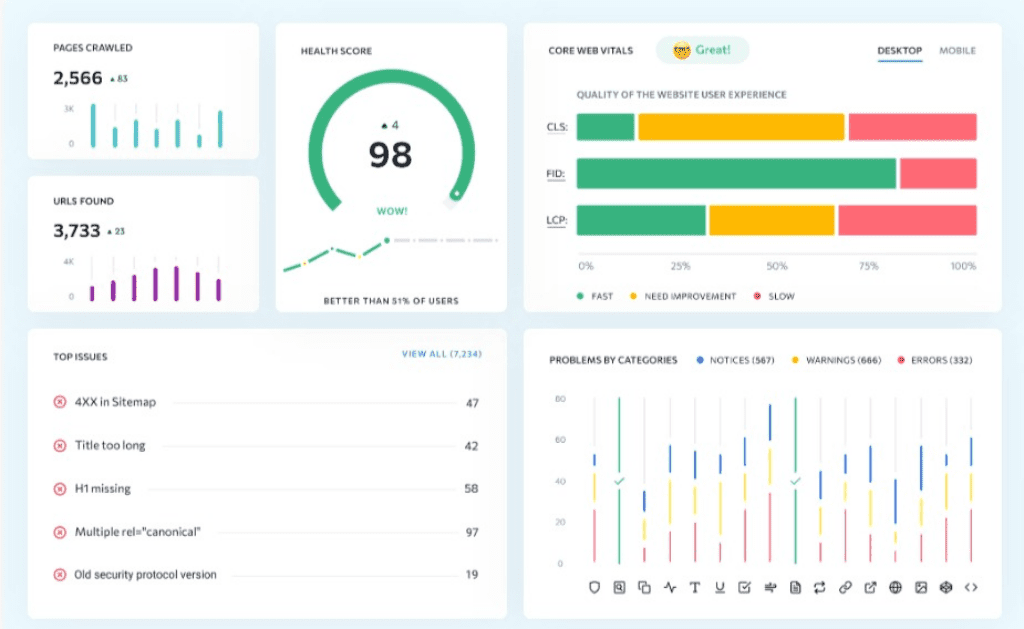 The site audit report provides full issue descriptions along with a how-to-fix guide, so you can efficiently address any problems identified. Additionally, SE Ranking's powerful page crawler allows you to analyze up to 1000 pages in just two minutes and filter results by category for easy analysis. With SE Ranking's site audit, you can measure progress over time and compare website audit results to share reports with colleagues and clients.
Keywords and competitor analysis
Identifying and analyzing keywords is crucial to any successful SEO strategy. With SE Ranking's Keyword Rank Tracker, you can track keyword positions for both your site and your competitors' sites with pinpoint accuracy across multiple search engines. This allows you to identify top-performing keywords and pages, as well as potential cannibalization issues.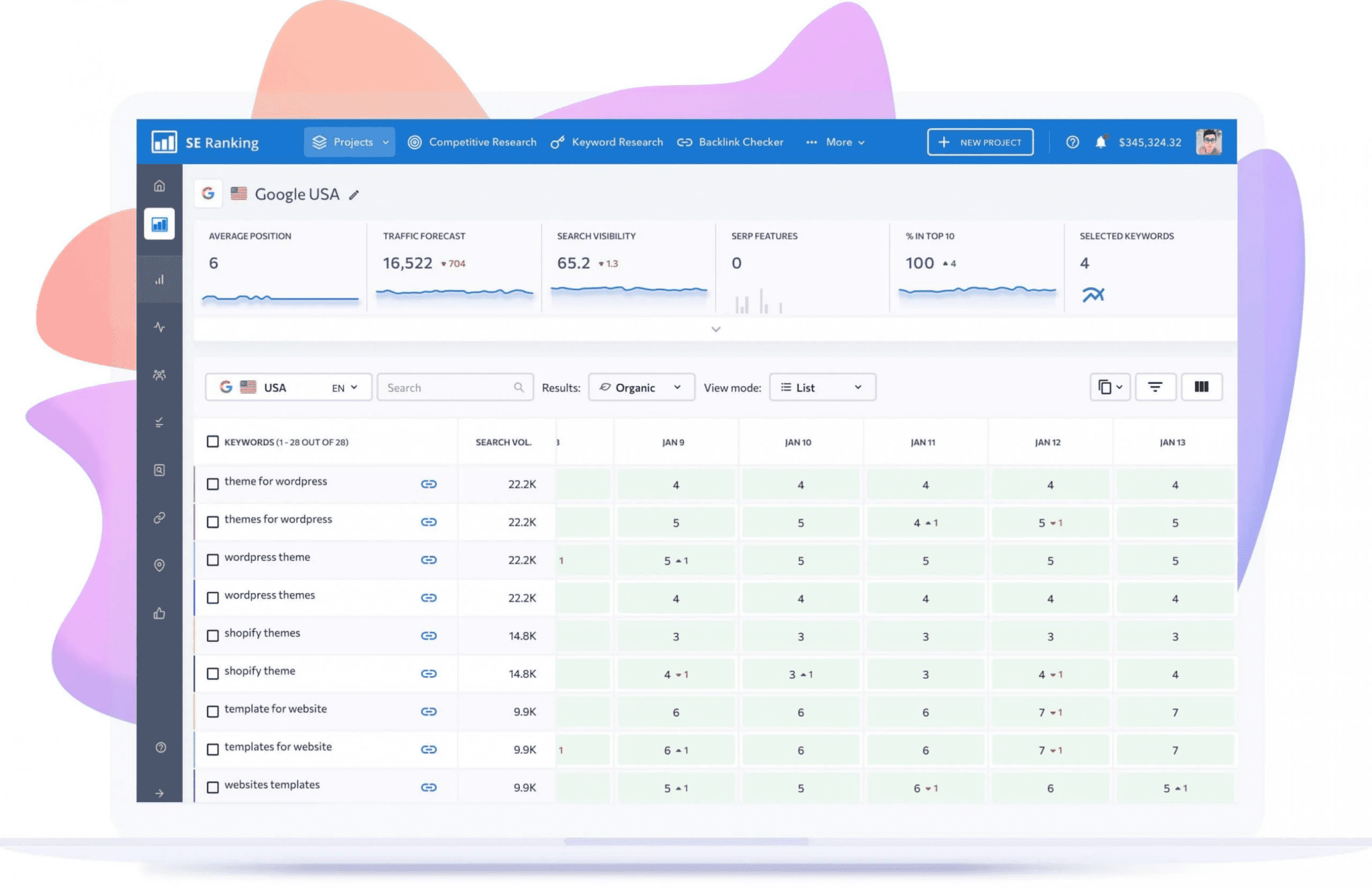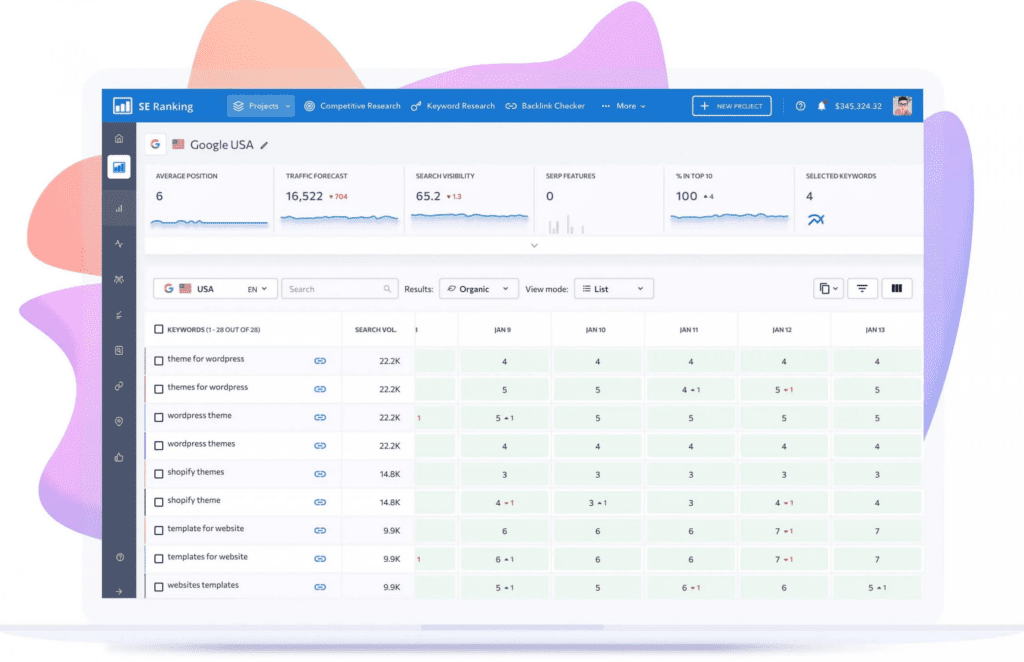 By monitoring ranking drops and staying up-to-date on algorithm updates, you can finetune your SEO strategies and ensure a steady flow of traffic to your site. SE Ranking's powerful keyword analysis tools give you the insights you need to stay ahead of the competition.
Website ranking
Tracking your website's ranking in search engine results pages is crucial for optimizing your SEO efforts. With SE Ranking's comprehensive website ranking tool, you can easily monitor changes in your website's ranking on specific keywords or phrases over time. The platform also provides valuable insights into your website's SEO performance, including backlinks, traffic, and on-page optimization.
SE Ranking's user-friendly interface and detailed reports make it easy to stay ahead of the competition and improve your search engine visibility. Plus, the competitor analysis tools enable you to identify areas for improvement by comparing your website's performance against that of your competitors. With SE Ranking, you'll have all the information you need to make data-driven decisions and drive more organic traffic to your website.
Keyword suggestion and grouping
Optimizing keywords is essential in any SEO or PPC campaign. With SE Ranking's bulk keyword generator, you can get a list of keyword suggestions to improve your website's ranking and enhance your digital marketing efforts.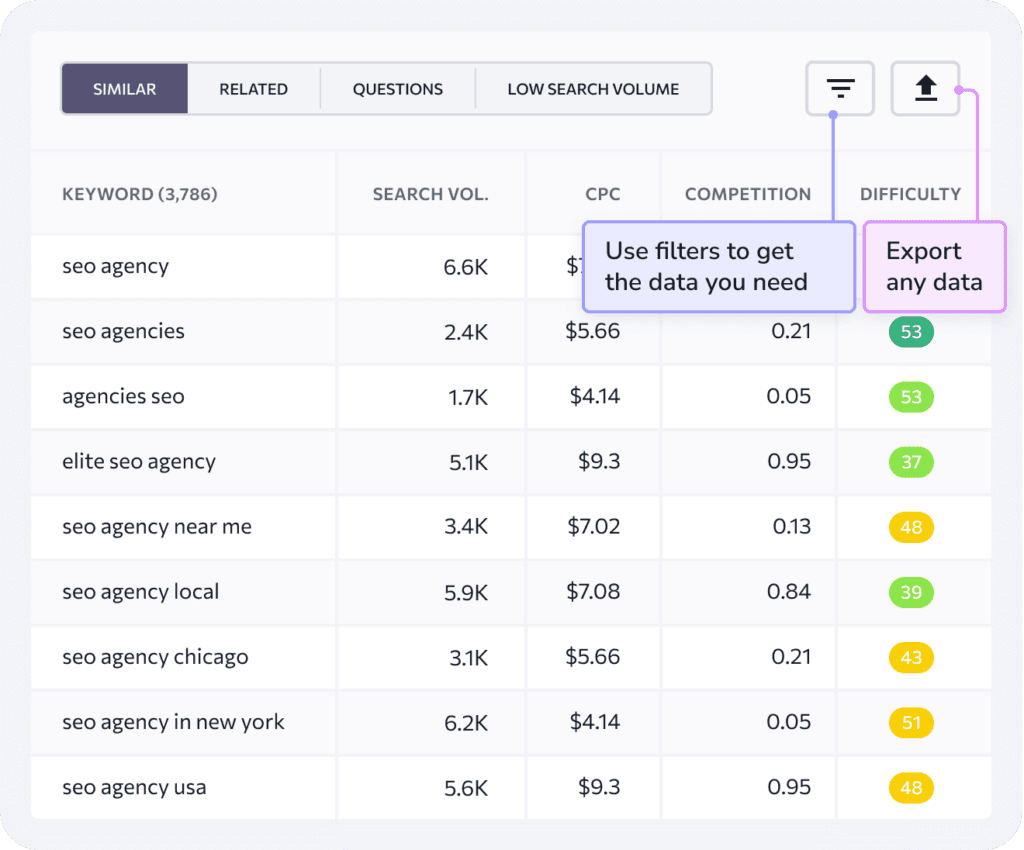 Analyzing core parameters and picking the right keywords can be time-consuming, but SE Ranking's keyword suggestion and grouping tool helps streamline the process. You can perform bulk keyword analysis and identify relevant and high-traffic keywords that align with your target audience. By leveraging this feature, you can stay ahead of the competition and achieve greater visibility in search engine results pages.
Backlink monitoring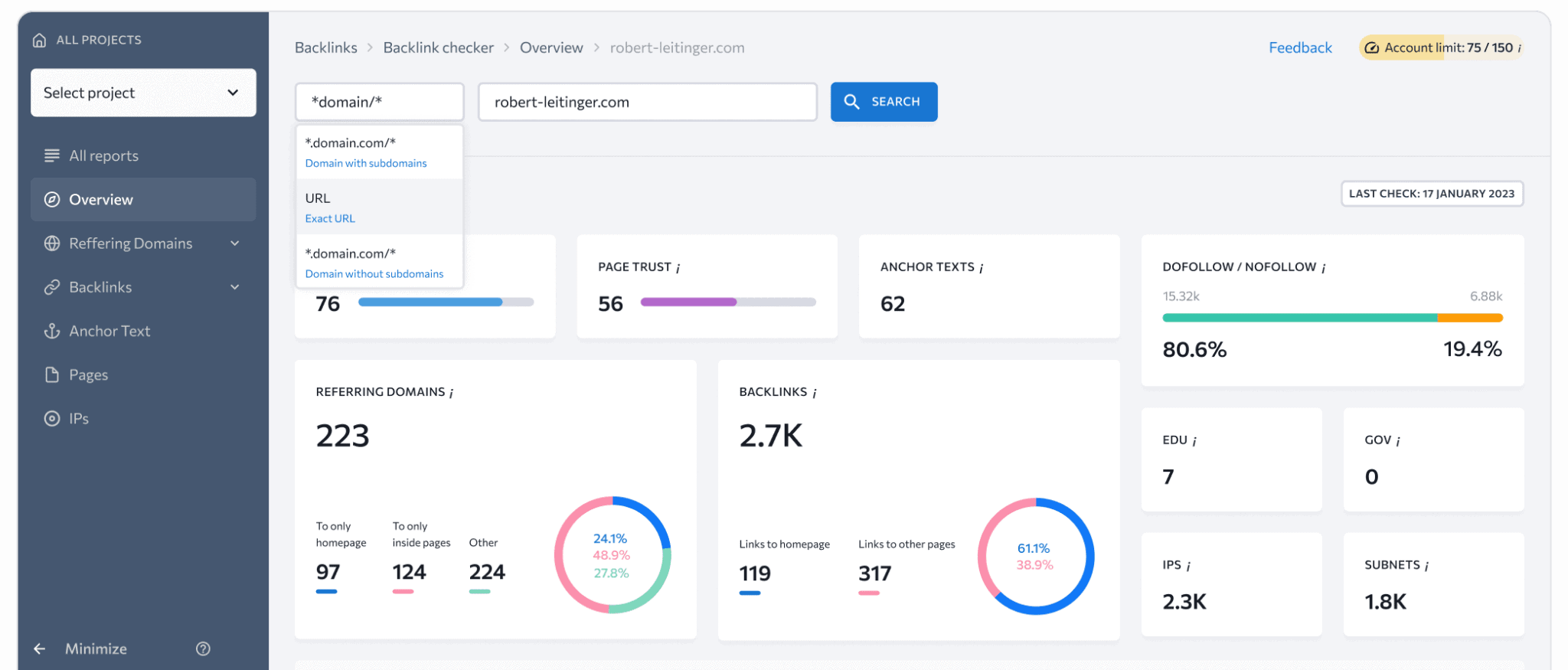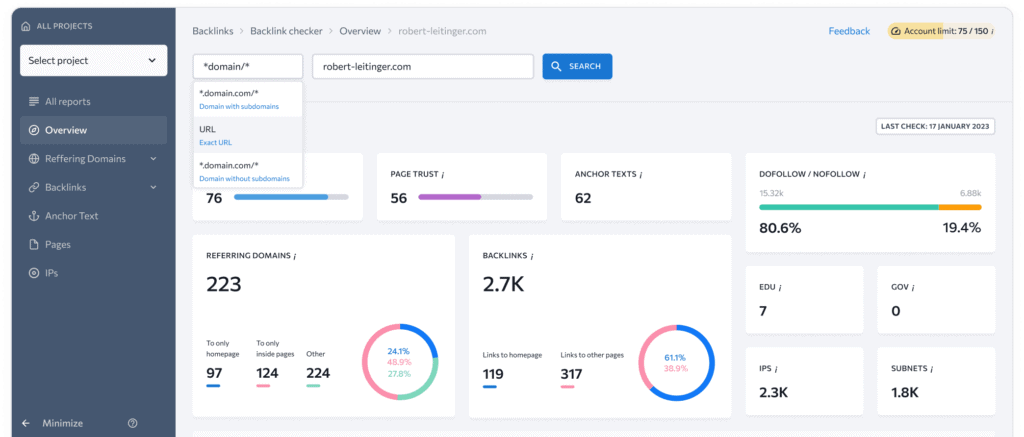 Maintaining a strong backlink profile is crucial for SEO success, and that's where SE Ranking's backlink monitoring feature comes in. This tool keeps an eye on your valuable backlinks, ensuring that they remain intact and continue to help your website rank higher in search engine results pages.
You can add backlinks manually or import them from Google Search Console or SE Ranking's Backlink Checker. The system runs regular parameter checks on your added backlinks and notifies you via email if any changes occur, ensuring that you don't lose track of even a single one. With this easy-to-use feature, you can rest assured that your SEO efforts are paying off.
Marketing Plan
SE Ranking's Marketing Plan is a comprehensive strategy designed for everyone, from SEO newbies to experienced gurus. The marketing plan is more than just a checklist – it provides a structured approach to optimizing your website. It includes an easy take-off guide, perfect for agencies and webmasters assessing sites for prospective clients. This guide can also be used as a marketing plan template.
Competitive Research
In today's competitive world, businesses need to stay on top of their game by continually innovating and improving their strategies. This is where SE Ranking's competitive research feature comes into play. By analyzing your competitors' websites, you can gain valuable insights into their organic and paid promotion strategies.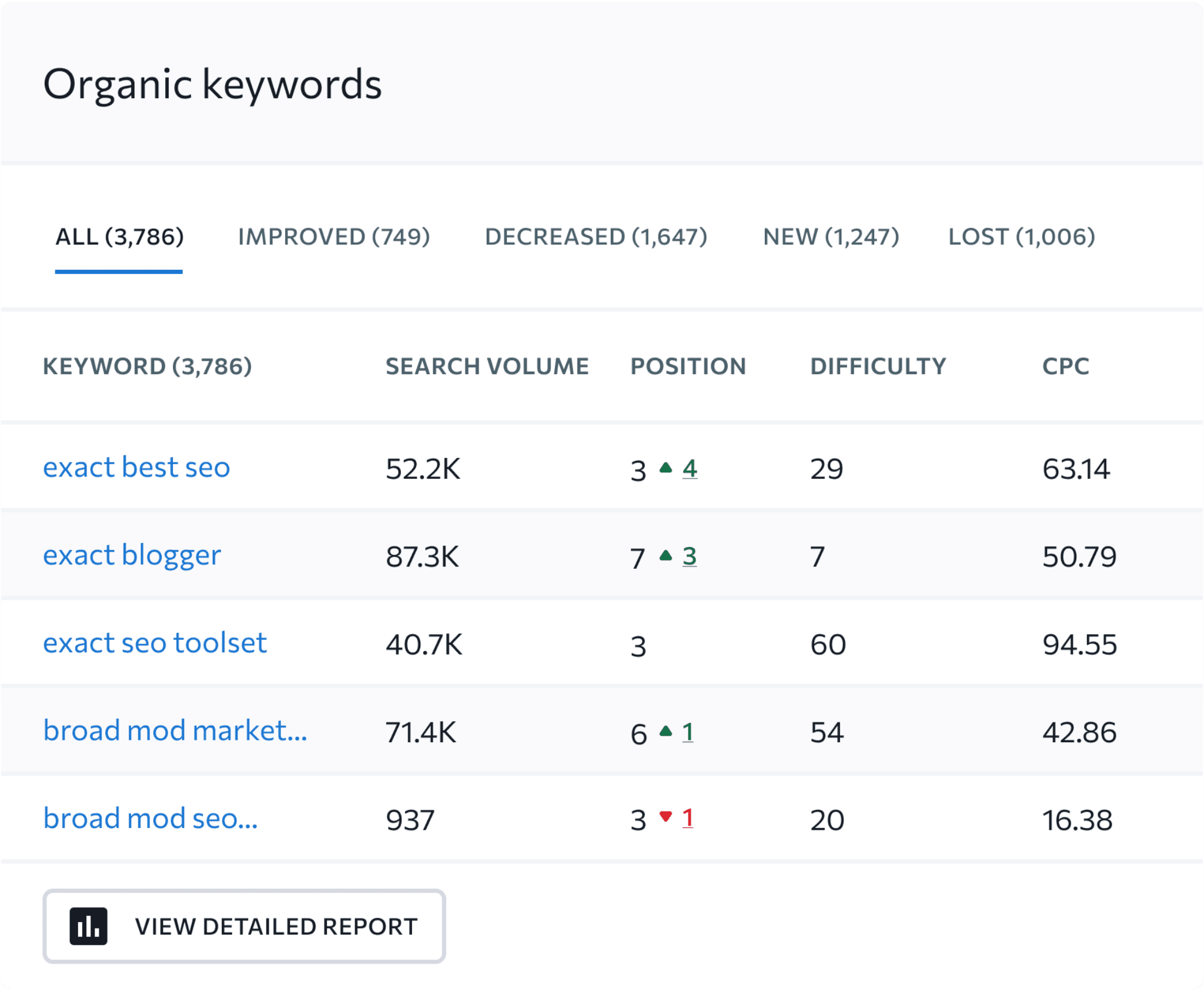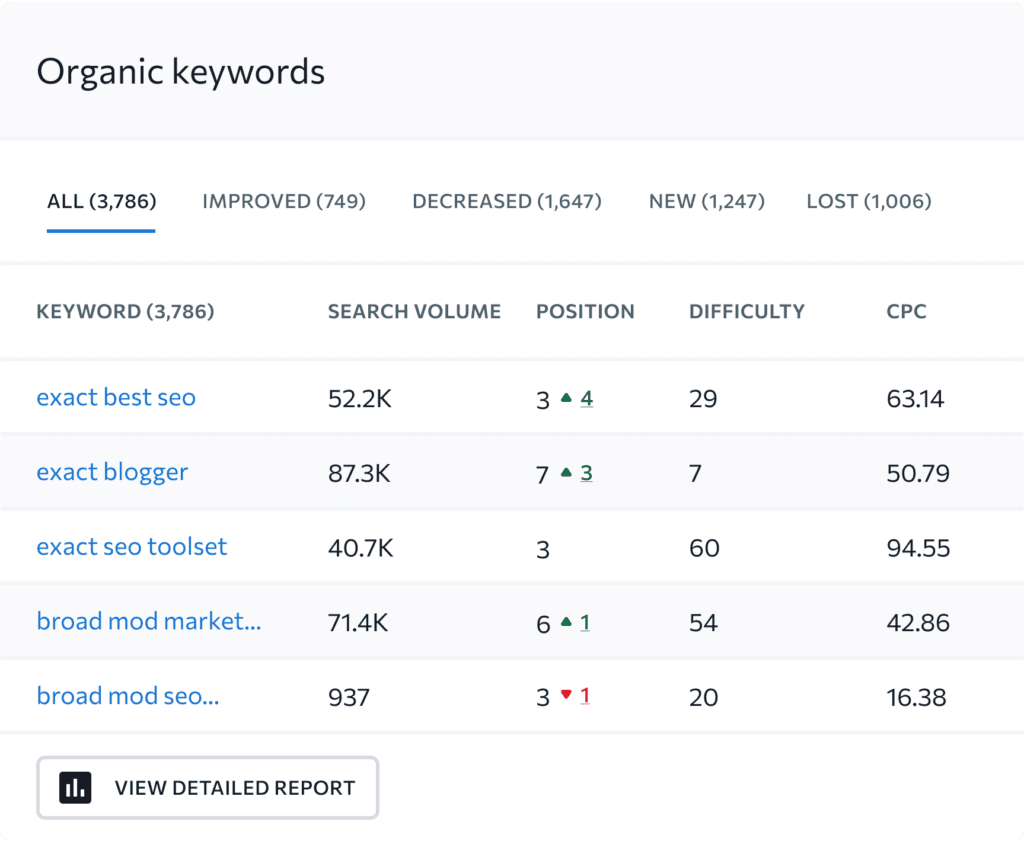 With just a domain name or URL, SE Ranking gives you a 360-degree view of your competitors' online presence, including their search queries and keywords. You can then use this information to refine your own marketing plan and gain a competitive edge in your industry.
Lead Generator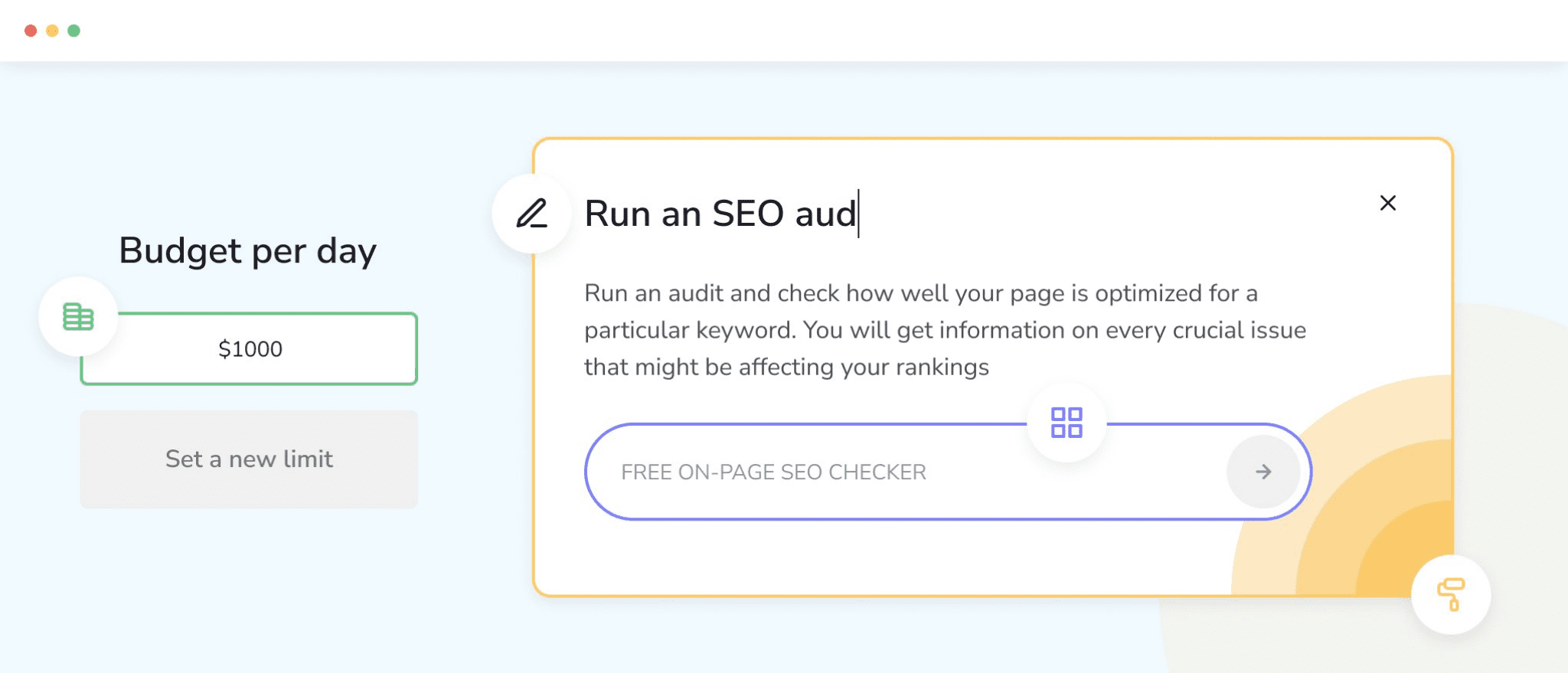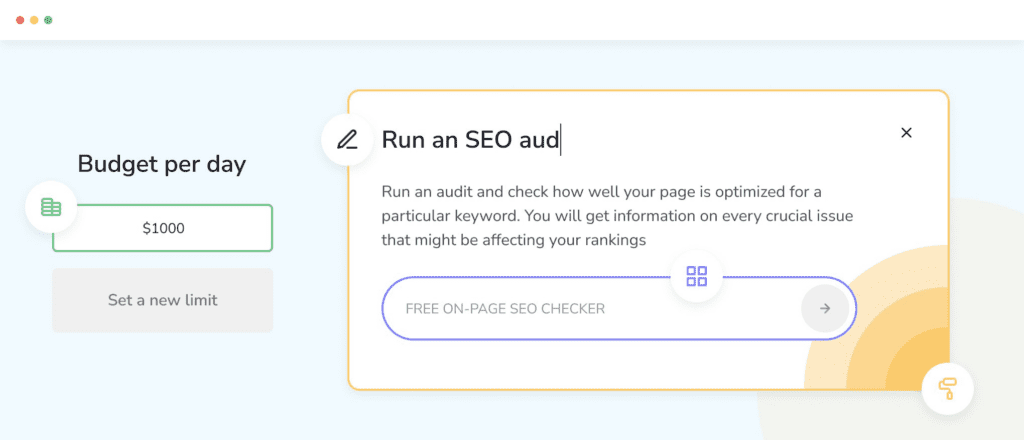 Generating leads is a critical aspect of content marketing, but it can be challenging to know where to start. That's where SE Ranking's Lead Generator tool comes in. With this feature, you can create custom forms and pop-ups to capture visitor information and turn them into leads. The Lead Generator integrates with popular email marketing tools like Mailchimp and GetResponse, making it easier than ever to manage your leads and reach out to them with targeted campaigns.
SE Ranking also offers lead scoring and segmentation features that help you prioritize the most promising leads and tailor your messaging accordingly. With these powerful tools at your disposal, you can take your content marketing efforts to the next level and drive more results for your business.
SEO Reporting Tools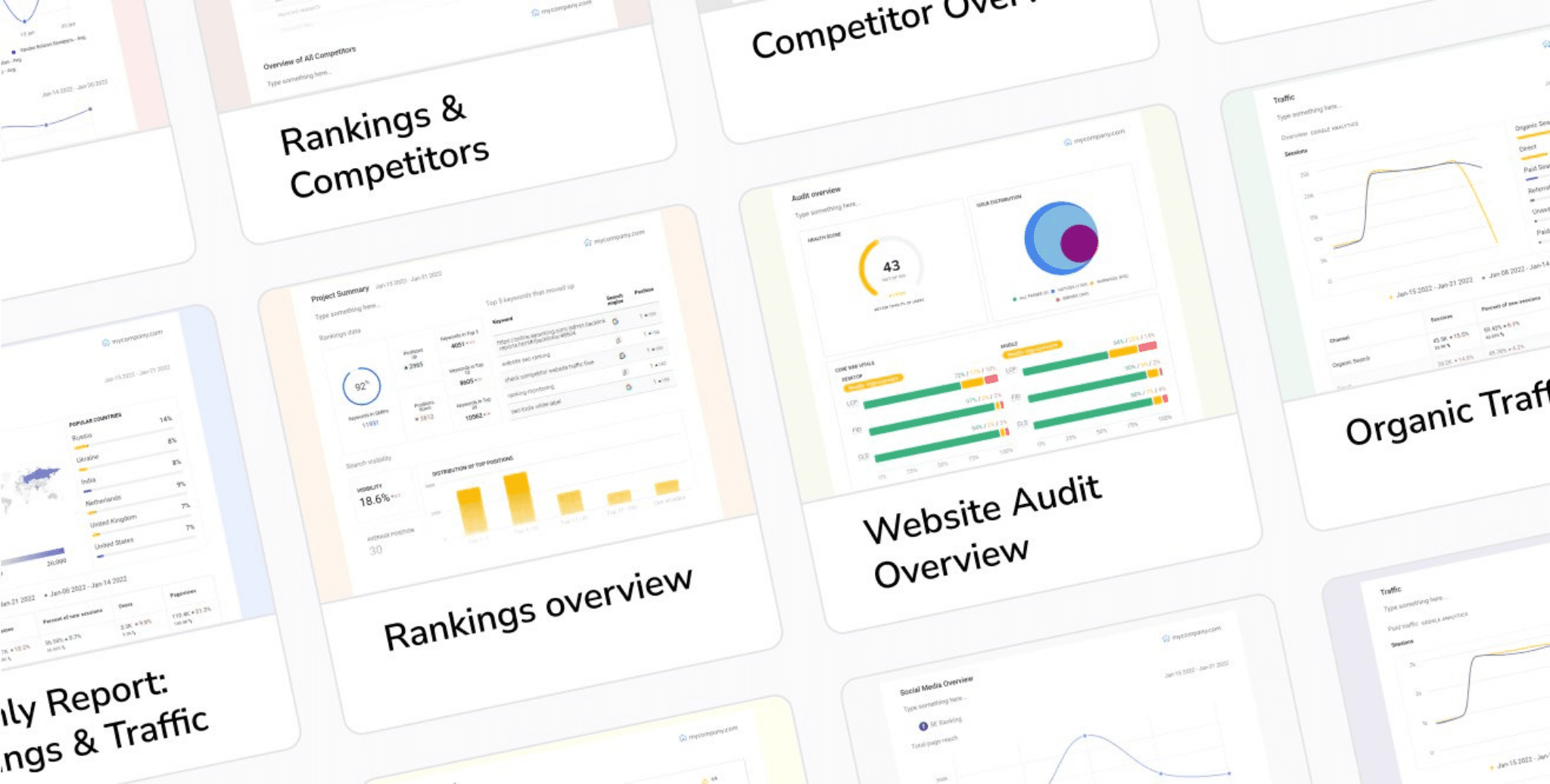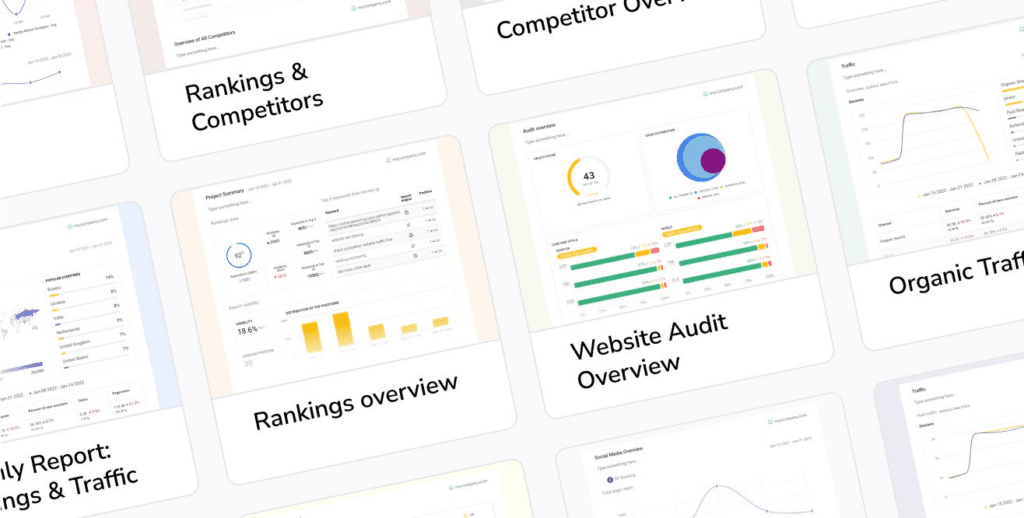 SE Ranking offers a wide range of SEO reporting tools to help you track the performance of your website on search engines. These reporting tools allow you to monitor keyword positions, backlinks, and website traffic in real time. You can also obtain detailed reports on your website's on-page optimization, identifying areas that require improvement.
With SE Ranking's keyword suggestion tool, you can find new keywords to target in your content marketing efforts. The competitor analysis tools enable you to compare your website's performance against that of your competitors. The platform's comprehensive reporting capabilities provide powerful insights to help you refine and optimize your content marketing strategy for greater success.
Page Changes Monitoring
In the ever-evolving digital landscape, keeping track of changes on your website is crucial to maintaining your SEO performance. This is where SE Ranking's Page Changes Monitoring comes in handy. With this feature, you can stay on top of any modifications made to your site and gauge their impact on your rankings.
You can also set up alerts to notify you of any changes to critical elements such as title tags or meta descriptions. Moreover, this feature enables you to compare current page content with previous versions, identifying areas of improvement and ensuring that your website remains optimized for search engines. Overall, Page Changes Monitoring is an excellent tool for any website owner looking to maintain a competitive edge in SEO.
White Label
SE Ranking's White Label feature is a game-changer for digital agencies and businesses looking to offer SEO services under their own brand. With the White Label feature, you can fully customize the platform with your own branding elements such as colors, fonts, and logos. This means that clients will see your agency's logo when accessing reports and analytics, providing a more professional and coherent experience for them.
Moreover, this feature allows agencies to provide a more personalized approach to clients by creating tailored solutions that are unique to their business needs. By offering branded reports and dashboards under your agency's name, you can boost client confidence and loyalty while also increasing the perceived value of your services. Overall, White Label is an essential tool in building trust and credibility with your clients while expanding your business footprint.
Social media tool
Managing social media accounts can be a daunting task, especially if you're juggling multiple platforms. That's where SE Ranking's social media tool comes in handy. With this feature, you can streamline your social media strategy by scheduling posts, analyzing engagement, and tracking performance all in one place.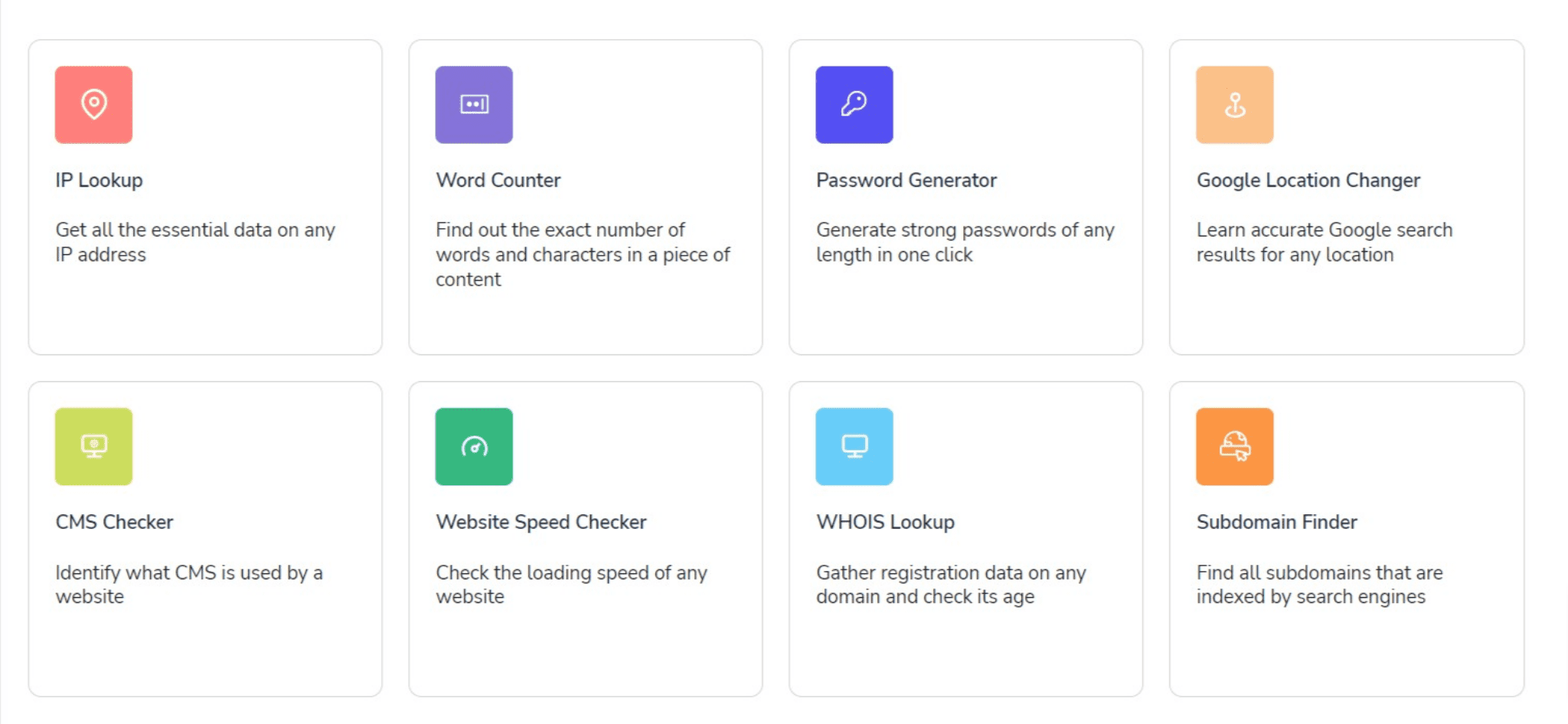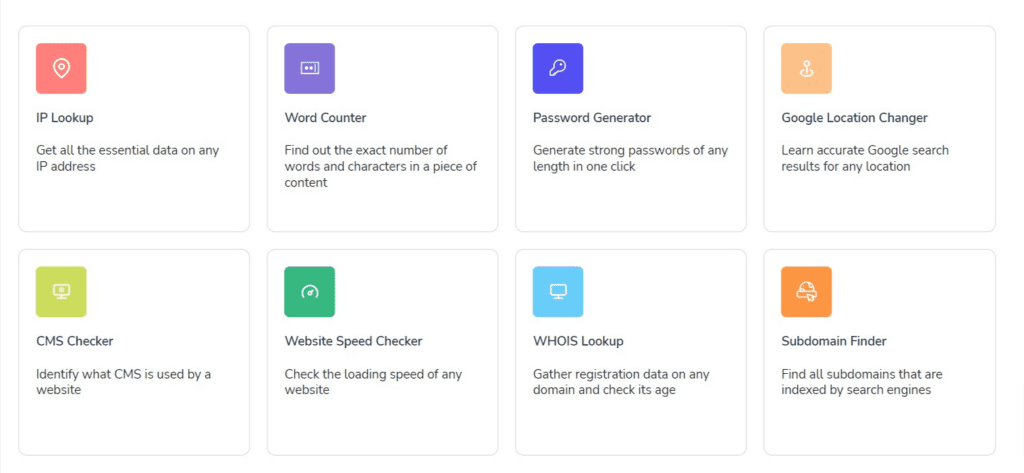 Whom is SEO Ranking useful for?
Use Cases
Enterprises
SMB's
Agencies
Entrepreneurs
Pricing Plans
Annual Pricing


Support
Technical Support, Knowledge Base, Roadmaps, Changelogs
Alternatives
Similar Apps
Serpstat offers search engine optimization (SEO) analysis, keyword research, analytics, rank tracking, backlink analysis and more.
Improve your ranking and your traffic now.
Simple, fast, and powerful SEO plugin for WordPress. Now with AI.
Semrush is an all-in-one tool suite for improving online visibility and discovering marketing insights.
Final Verdict
Is SE Ranking right for You?
Setting up your online presence can be overwhelming, but SE Ranking makes it easy to get started. With a free trial, you can explore the platform's features such as keyword research, content optimization, and competitor analysis.
Once you've set up your website and social media accounts, SE Ranking's tools will help you create and publish high-quality content that resonates with your target audience. Regular reports will allow you to monitor your progress and adjust your strategy accordingly. In no time, you'll be on your way to improving your online presence through content marketing with SE Ranking's user-friendly platform and excellent customer support.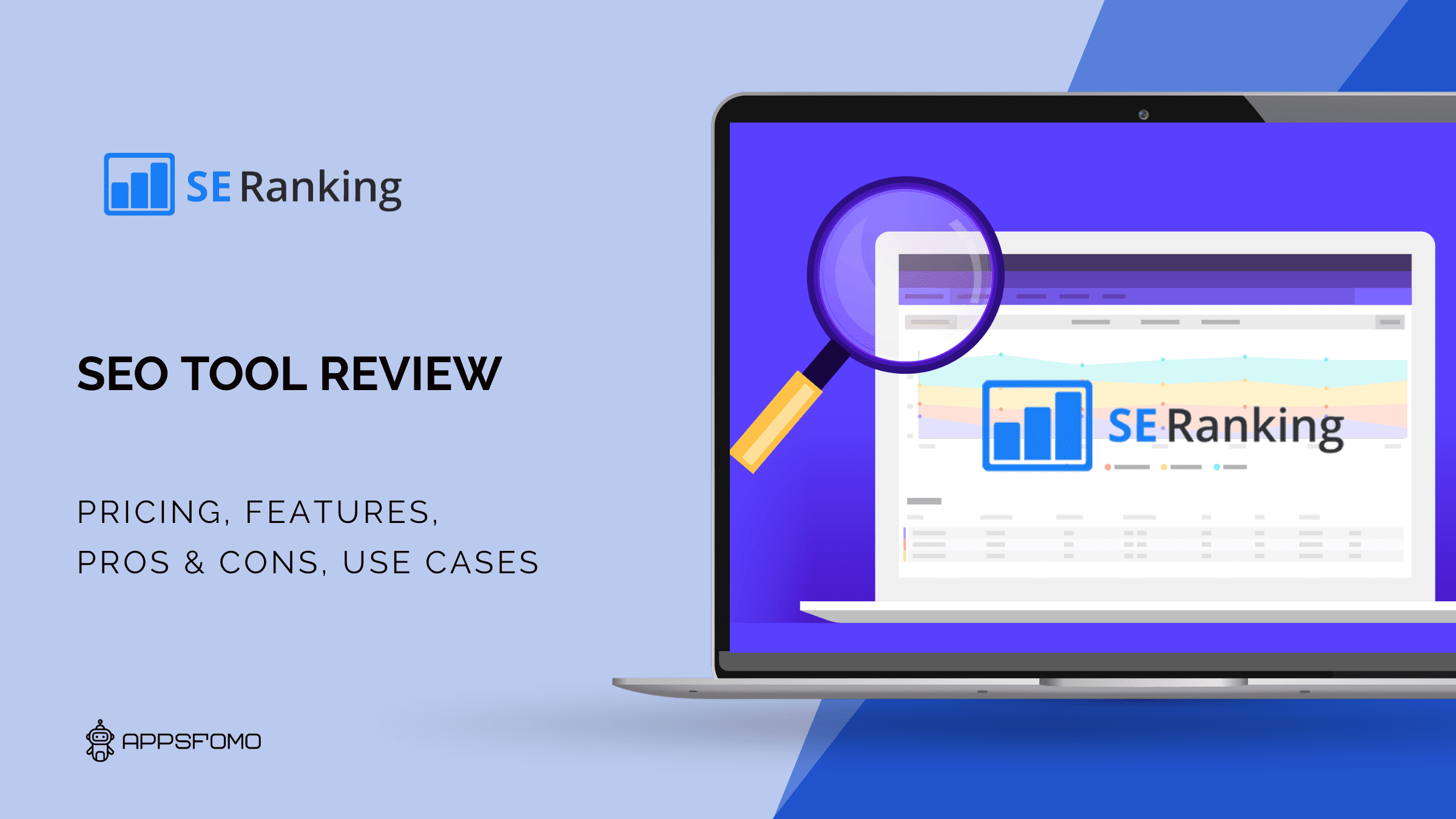 Specification:
SE Ranking: Content Marketing Platform with Competitive Pricing
| | |
| --- | --- |
| Review Date | 04-2023 |
| Company | SE Ranking |
| Country | Britain |
| Initial Release | 2013 |
| Pricing | Annually, Monthly |
| Free Version | Available |
| Lifetime Deal | No |
| Money-Back | No |
| Support type | Email, Live Chat, Ticketing |
| Integrations | Yes |
| Supported Device | Browser |
| Mobile app | Not Available |
| Affiliate Program | Yes |
PROS:
SE Ranking is a comprehensive and user-friendly SEO tool.
Affordable SEO tools compared to other well-known alternatives.
Easy to set up and just keeps reminding you to keep on track and improve your SEO.
Integration with GSC and Analytics helps to find interesting statistical insights.
CONS:
The inaccuracy of rankings at times.
There is no historical data on keywords/domains in the Essential Plan.
Should offer more flexibility and customization options for generating and scheduling reports.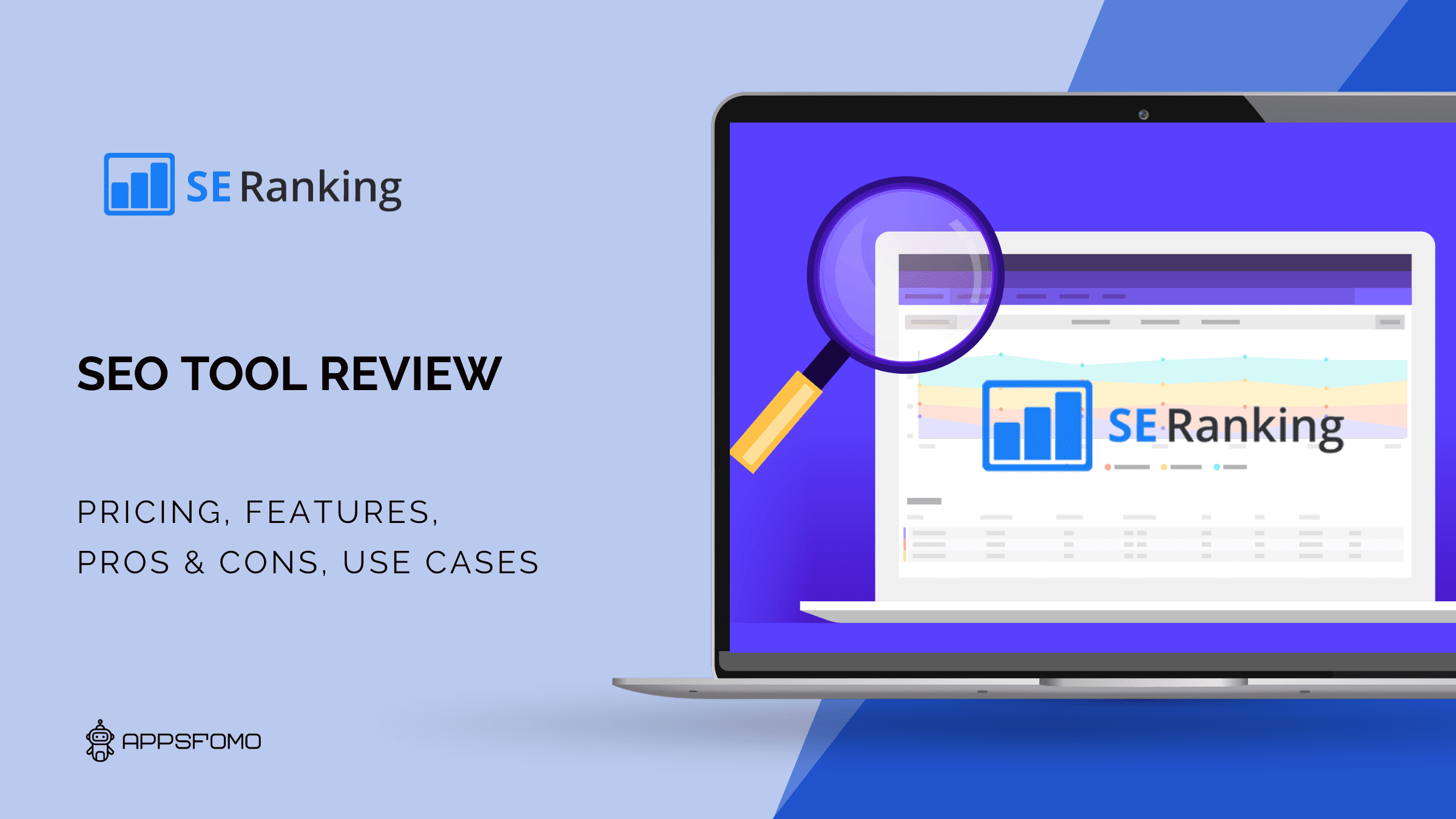 SE Ranking: Content Marketing Platform with Competitive Pricing