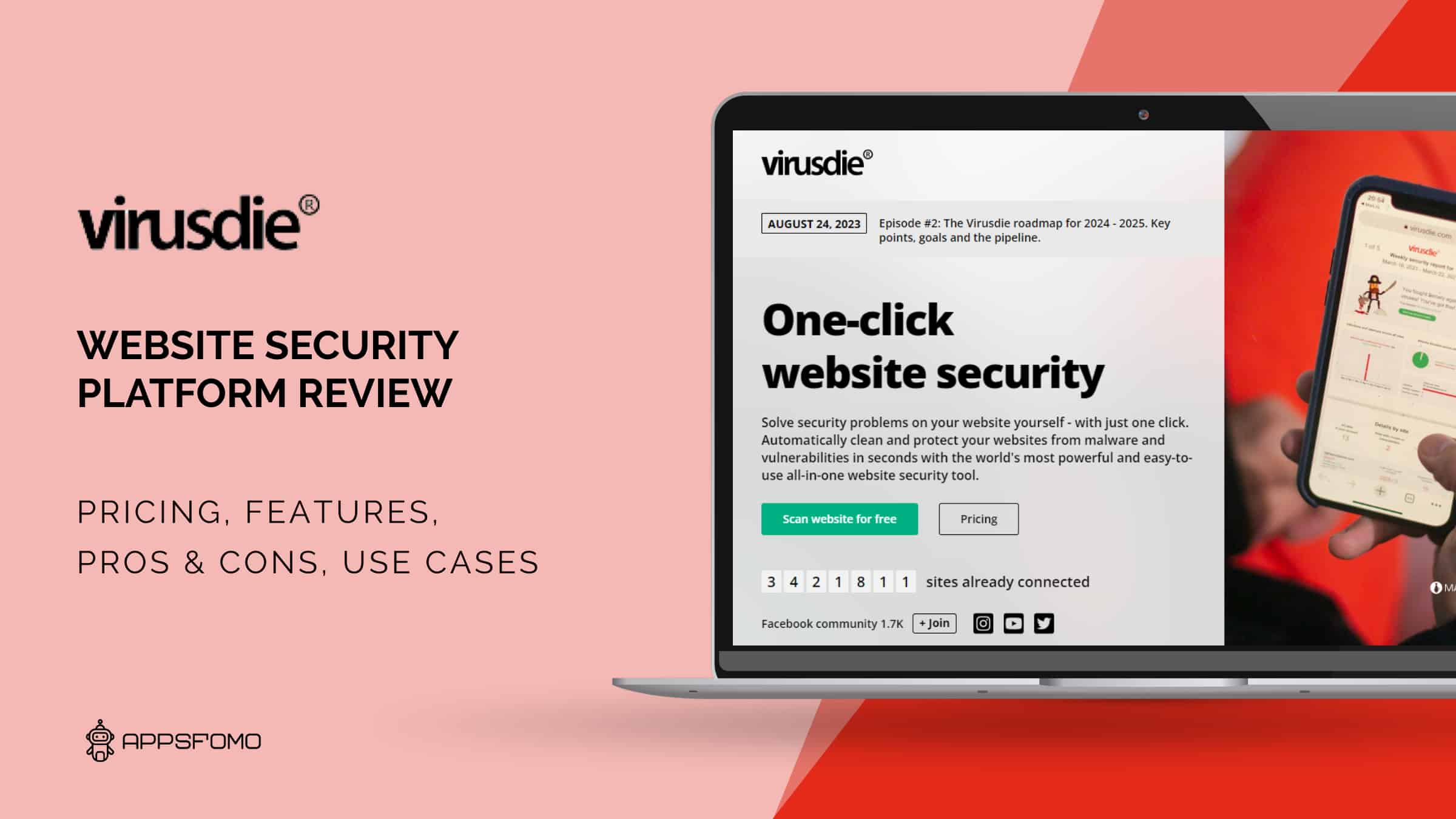 Recommended
Virusdie: All-in-One Service for Website Security, Firewall and More
Add to wishlist
Added to wishlist
Removed from wishlist
0
Add to compare
If you run a website, then you know that security is paramount. The last thing you want is for your site to be compromised by viruses or malware. Fortunately, there are many tools available to help keep your site safe. One such tool is Virusdie.
Virusdie is an all-in-one service for website security that offers firewall services, malware and virus protection, website health monitoring, regular security scanning, and much more. If you're looking for a comprehensive solution for website security that's easy to use and effective at keeping your site safe, then Virusdie may be just what you need. Read on to learn more about this powerful tool and how it can help you protect your online assets.
What Is Virusdie?
Overview
Virusdie is a cutting-edge all-in-one service for website security that aims to provide a comprehensive solution for protecting your website from online threats. With its powerful features, Virusdie offers everything you need to keep your site safe and secure.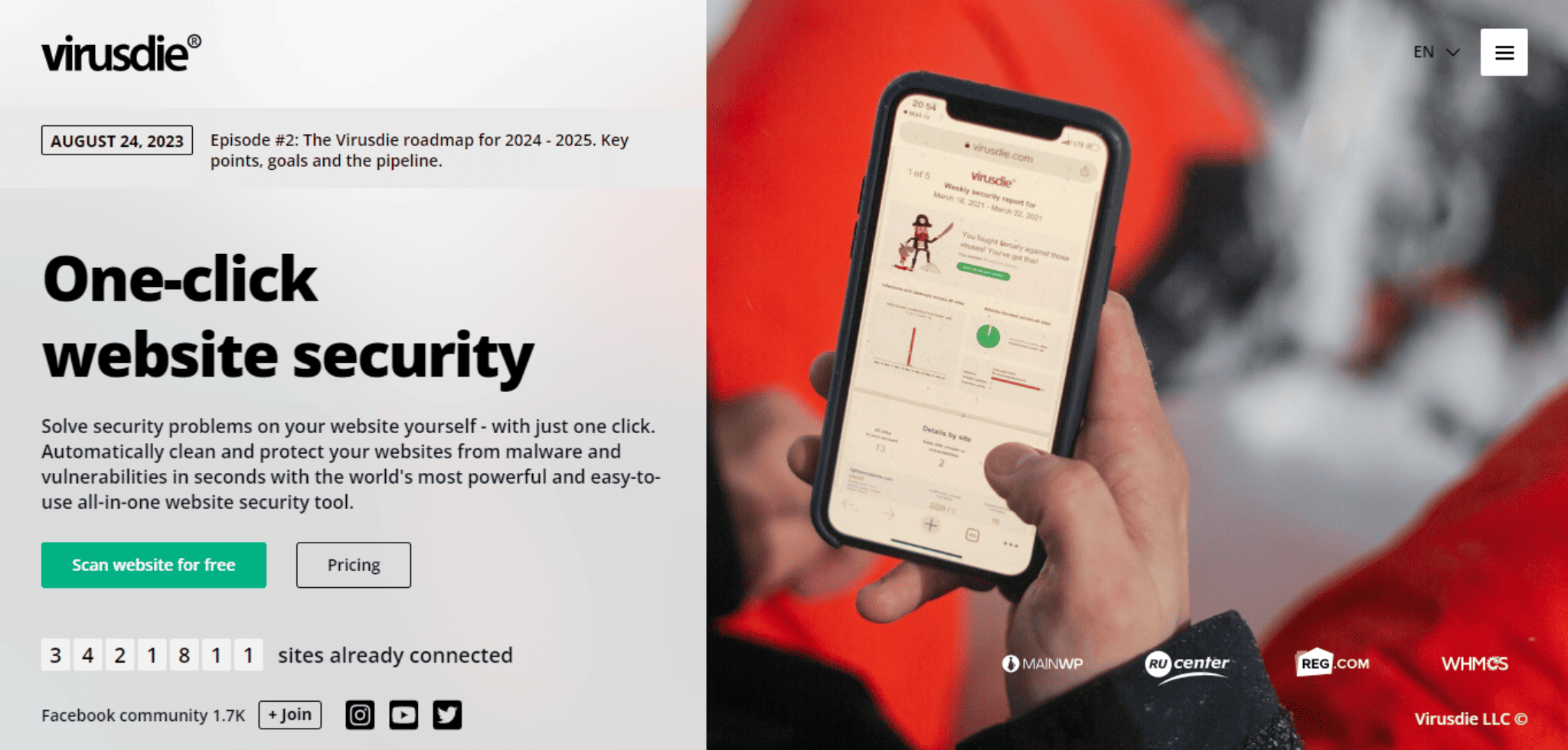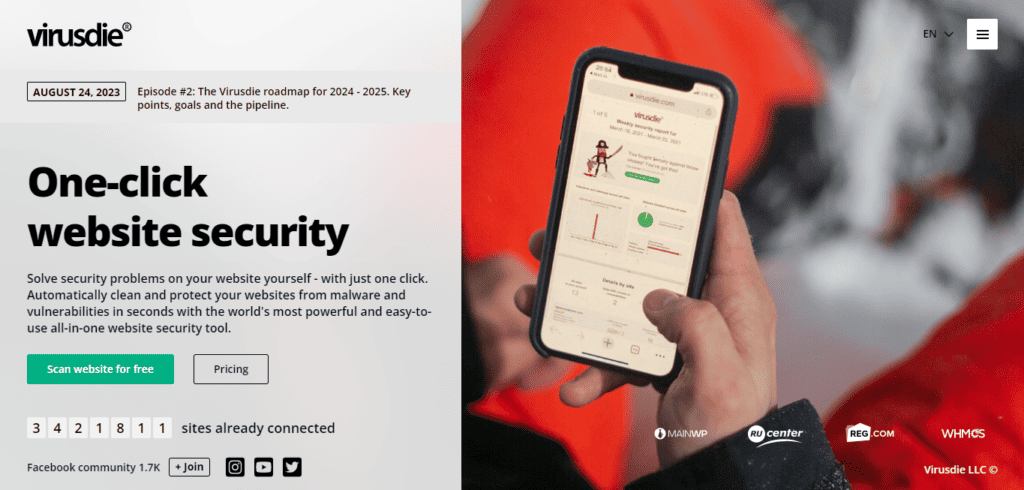 In addition to firewall services, Virusdie also provides malware and virus protection, website health monitoring, regular security scanning, and much more. This all-in-one service ensures that your website remains resilient against potential threats.
Company Details
Ilia Malyshev, the founder of Virusdie, had a clear vision in mind when he started the company: to provide website owners with an all-in-one solution to protect their online assets from digital threats. Since its inception in 2011, Virusdie has garnered a reputation for its cutting-edge technology and dedication to staying ahead of the curve. The company has constantly evolved its services to keep up with ever-changing cyber threats, ensuring that its users are always one step ahead
Online Presence
Why choose Virusdie?
Virusdie Key features
Virusdie offers an all-in-one website security solution, combining powerful malware detection and removal with firewall services for enhanced protection. With continuous website health monitoring and automated backup and restore capabilities, Virusdie ensures the safety and integrity of your website.
Malware and Virus Protection
Malware and virus protection is a crucial aspect of website security. It provides protection against various types of malware and viruses, with real-time monitoring for immediate threat detection.


Virusdie's primary focus is to provide impeccable malware and virus protection for websites. With the increasing number of cyber threats, it has become more crucial than ever to safeguard your online assets from malicious attacks.
Powerful Malware Detection
Utilizing advanced algorithms, Virusdie offers powerful malware detection capabilities. It scans website files, code, and databases to identify any malicious code that might be present. In addition, it detects hidden backdoors and vulnerabilities, ensuring comprehensive protection.
By preventing malware-related issues and attacks, Virusdie helps website owners maintain the security and integrity of their online assets.
Firewall Services
Firewall services provided by Virusdie offer robust protection for websites. By monitoring and filtering incoming and outgoing traffic, it effectively blocks malicious requests and suspicious IP addresses.


Additionally, it protects against common web application vulnerabilities, enhancing overall website security and preventing unauthorized access. With Virusdie's firewall services, website owners can ensure their sites are safeguarded against potential attacks and maintain a secure online presence.
Website Health Monitoring

Constantly monitoring website performance and availability is crucial for optimal user experience. Our website health monitoring feature tracks metrics and analytics, alerting you to any abnormalities or downtime. By identifying potential performance issues and bottlenecks, you can take proactive measures to maintain website health.
Website Backup
Automated scheduled backups of website data and files are essential for ensuring the security of your website. With Virusdie, you can have peace of mind knowing that your website is protected through regular backups.
These backups are securely stored, allowing for easy restoration in case of data loss or attacks. By implementing website backup solutions, you can ensure uninterrupted operations and quick recovery, ultimately enhancing your website's uptime.
Security Reports and Alerts


Regular security reports provide detailed insights and analysis, helping you stay informed about potential security threats and vulnerabilities. These reports also highlight areas that require attention or improvement, enabling proactive security management and planning. With timely notifications, you can quickly respond to security incidents and mitigate risks. Stay one step ahead with Virusdie's security reports and alerts.
Regular Security Scanning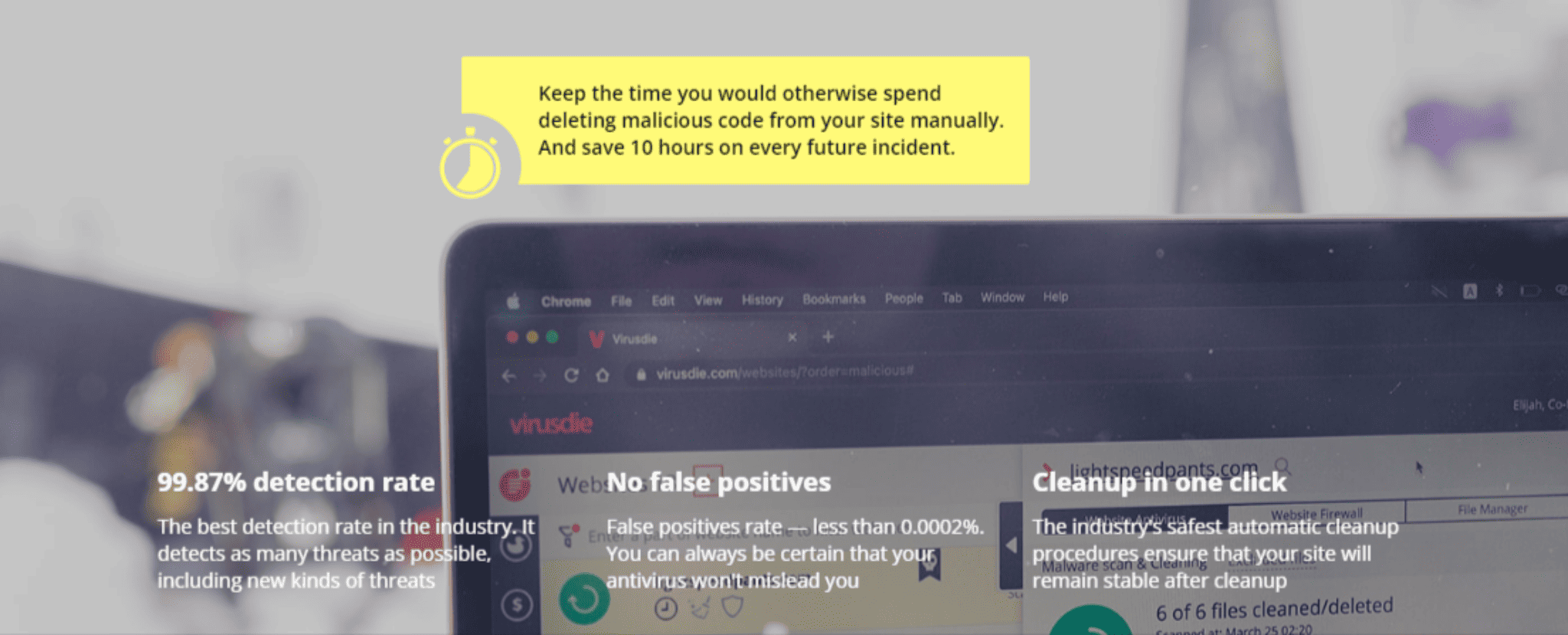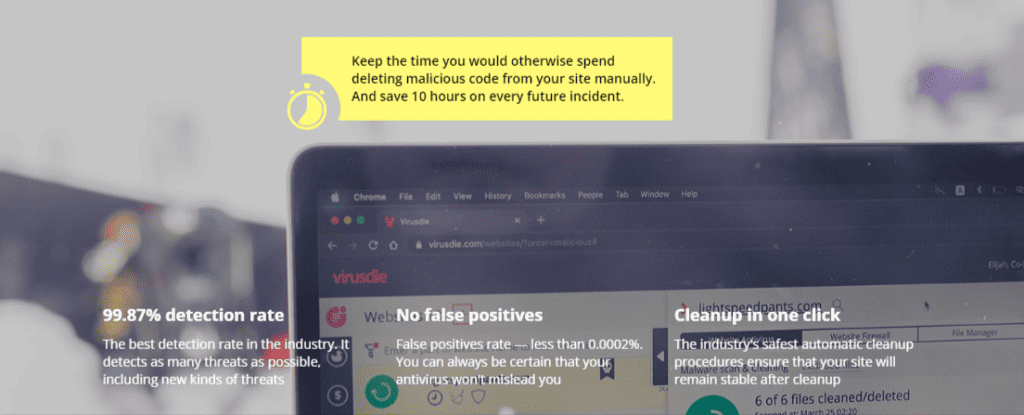 Regular security scanning is an essential practice to ensure the safety and integrity of your website. By conducting regular scans, Virusdie helps in identifying potential vulnerabilities and weaknesses that may expose your site to attacks. With its advanced scanner, it checks for malware and provides recommendations to strengthen your website's security.
How to protect WordPress site using Virusdie?
protect WordPress site using Virusdie
Virusdie employs a multi-layered approach to protect against online threats.
Install the Virusdie Plugin
Install the Virusdie on your WordPress site and let it take care of your website's security. Virusdie provides real-time protection against online threats by actively scanning your site for malware, viruses, and other potential vulnerabilities.
Activate the Plugin and Configure
Once you have installed the Virusdie plugin on your WordPress site, it's time to activate it and configure the security settings. This step is crucial in ensuring that your website remains protected against online threats.
Running regular scans using Virusdie is essential to detect and remove any malware that may have infected your WordPress site. Virusdie scans your site's files and database, looking for any signs of malicious code or potential vulnerabilities.
Enable the Web Application Firewall
To further enhance the protection of your WordPress site, make sure to enable the web application firewall provided by Virusdie. This additional layer of security acts as a strong shield against potential attackers, effectively filtering out malicious traffic and blocking suspicious IP addresses.
Stay Updated with the Latest Version
Keeping your Virusdie plugin up to date is crucial in maintaining the highest level of security for your WordPress site. Developers frequently release updates to address any vulnerabilities or improve the overall performance of the plugin.
How does Virusdie Protect Against Online Threats?


Monitoring and Detecting Threats
Constantly monitoring the website for suspicious activities, Virusdie utilizes machine learning algorithms to accurately detect potential threats and security breaches. With real-time notifications and alerts, immediate action can be taken to address any issues.
Mitigating and Removing Security Vulnerabilities
To ensure the security of your website, it is crucial to identify and fix any vulnerabilities in your website's source code. By doing so, you can protect your website from malware, hackers, and other malicious attacks. Regularly scanning your website for vulnerabilities and taking necessary actions is also important.
Maintaining the Integrity of Online Assets
To maintain the integrity of your online assets, it is crucial to prioritize the security and protection of your website. Safeguard your website's data and files by implementing robust security measures to prevent theft or loss. Regularly backing up your website will provide an additional layer of protection against potential data loss.
Pricing
Subscription Plans


Support
Technical Support, Knowledge Base, Changelogs
They also have a Blog Desk
Alternatives
Similar Apps
Sucuri is a well-known alternative to Virusdie, offering comprehensive website security solutions. It offers comprehensive website security services to protect against malware and various threats.
Wordfence is a popular security plugin for WordPress websites. It offers features such as malware scanning, firewall protection, and login security. The plugin blocks suspicious traffic and provides real-time alerts.
Disclaimer text….
SiteLock is a trusted name in website security, offering advanced solutions to protect your website from malware and cyber threats. In addition, SiteLock monitors DNS changes and offers vulnerability patching.
Disclaimer text….
Final Verdict
Is Virusdie worth it for You?
In conclusion, Virusdie is an effective and reliable plugin that offers a range of features to enhance the security of your WordPress website. From malware scanning to firewall protection and login security, Virusdie provides comprehensive protection against emerging threats. With its real-time alerts and regular security rule updates, Virusdie stays ahead in the fight against cyber threats.
With a large user base and an active online community, you can trust Virusdie to keep your website secure and stand out with its all-in-one service and user-friendly interface. To safeguard your WordPress site and enjoy peace of mind, give Virusdie a try today.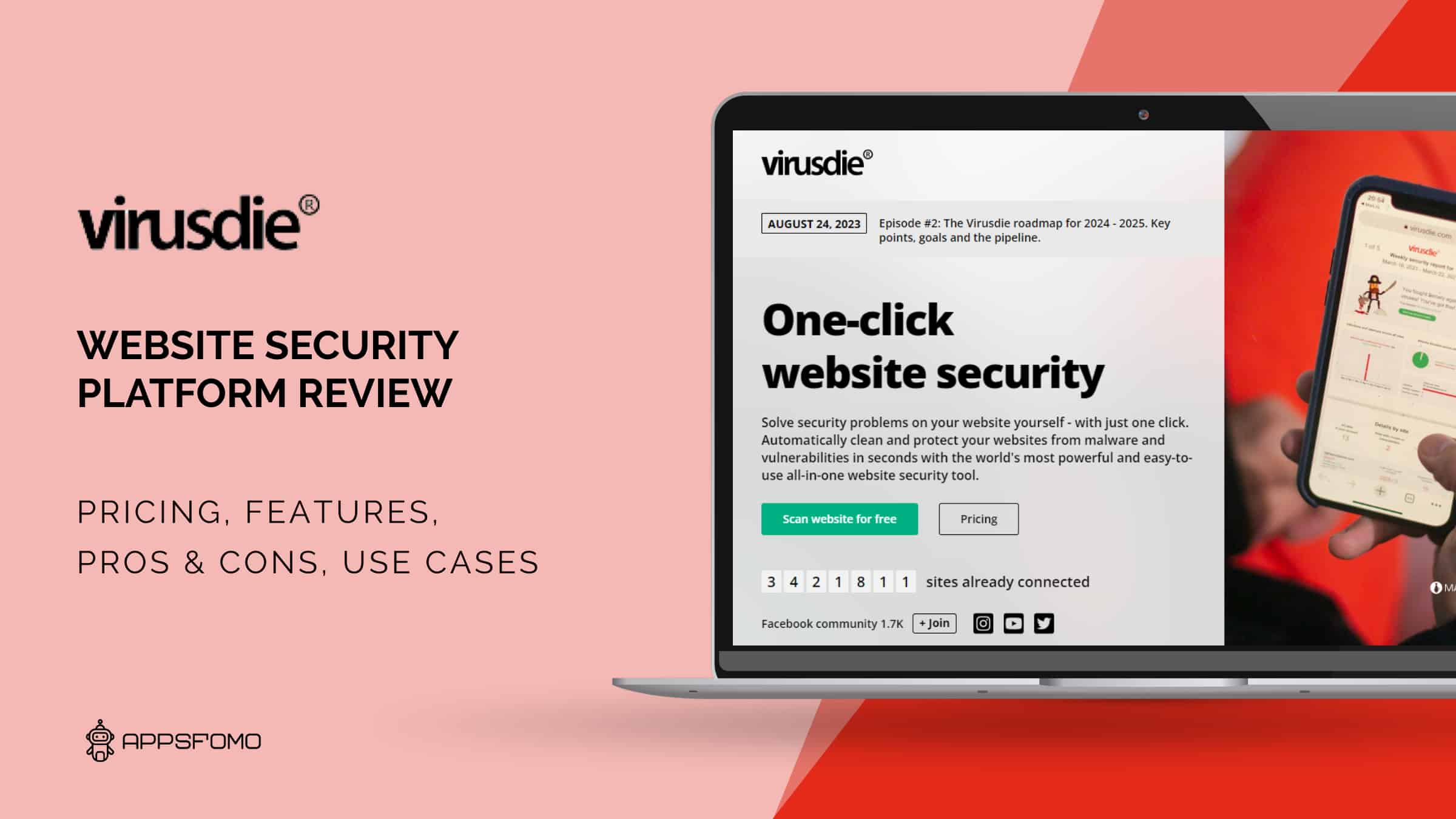 Specification:
Virusdie: All-in-One Service for Website Security, Firewall and More
| | |
| --- | --- |
| Review Date | August 2023 |
| Initial Release | 2011 |
| Type | Web Security |
| Affiliate Program | Yes |
| Money Back Guarantee | |
| Appsfomo Ratings | |
| Founder/CEO | Ilia Malyshev |
| Competitor | iThemes Security, Wordfence, Security Ninja, sucuri |
| Payment Options | Master Card, Paypal, Visa Card, American Express |
| Marketplace | Own Site |
| Support | e-mail |
| Team Size | 10+ |
| Country | Europe |
PROS:
Comprehensive Protection
Real-time Monitoring
Automated Scans
Customizable Firewall
Website Health Insights
CONS:
Potential False Positives
Dependency on Updates
Possible Impact on Performance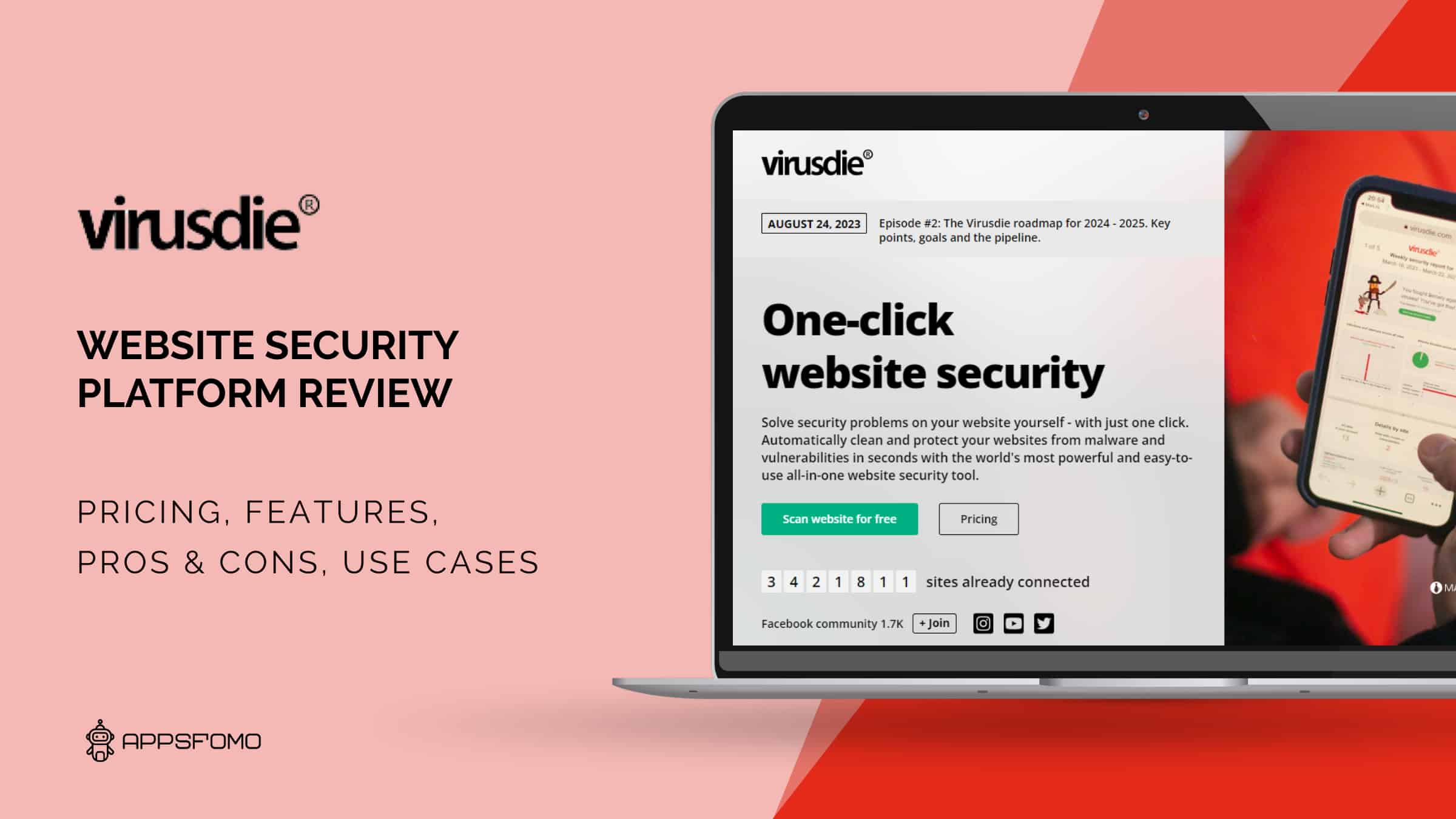 Virusdie: All-in-One Service for Website Security, Firewall and More