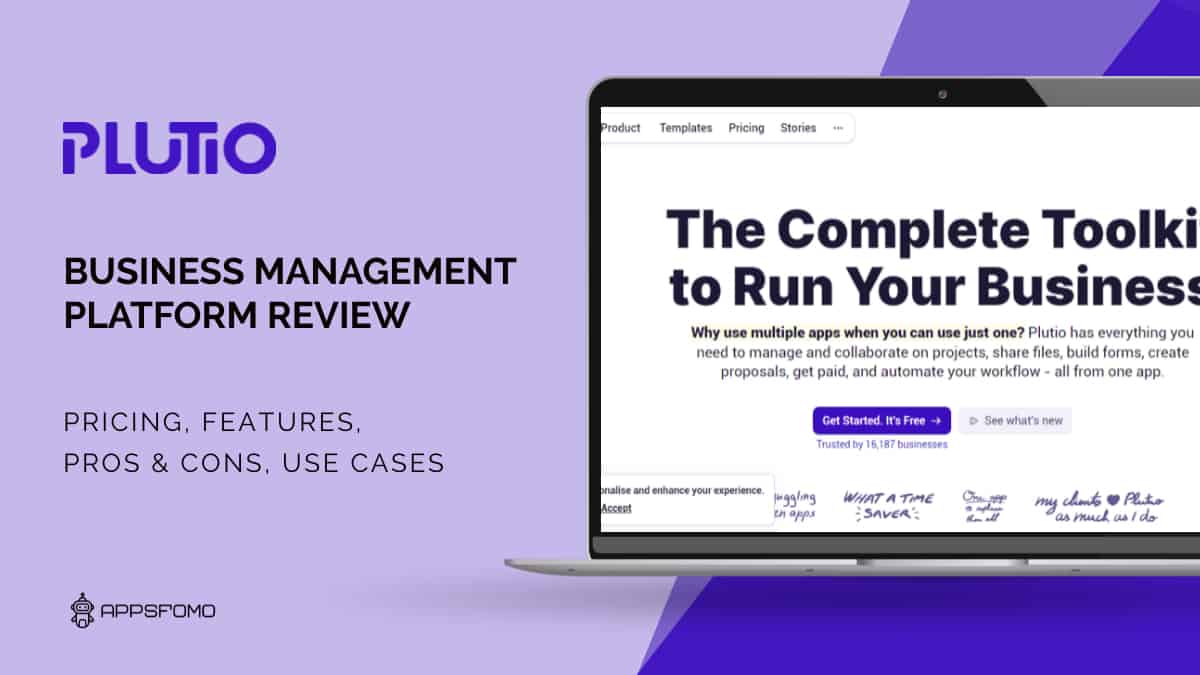 Plutio : The Ultimate Business Management App
Add to wishlist
Added to wishlist
Removed from wishlist
0
Add to compare
In today's fast-paced world, businesses need an efficient and reliable tool to manage their operations. That's where Plutio comes in.
Plutio is the ultimate business management app that streamlines your workflow, boosts productivity, and simplifies complex tasks. With its intuitive interface and comprehensive features, Plutio offers a seamless experience for managing projects, communicating with clients, and handling finances.
In this blog, we provide a comprehensive overview of Plutio – from its concept to its founders' vision. We also delve into the features that make it stand out from competitors and explore how it simplifies your workflow. Whether you're a freelancer or run a small business, Plutio is the solution you've been looking for to take your business to new heights.
Plutio was designed to streamline business processes and simplify project management and client communication. It provides a centralized platform for all business operations, aiming to save time and improve efficiency for small businesses.
All-in-one service management platform made for consultants and also local businesses. From jobs and also tasks to time monitoring as well as invoicing, everything you need in one user-friendly platform. Plutio enables users to have all their projects and their tasks, files, and conversations in one place to let users focus on getting their work done.
Plutio lets Users tasks sorted into groups and set them as progress stages, millstones you can effortlessly drag and drop to re-order or priorities the task .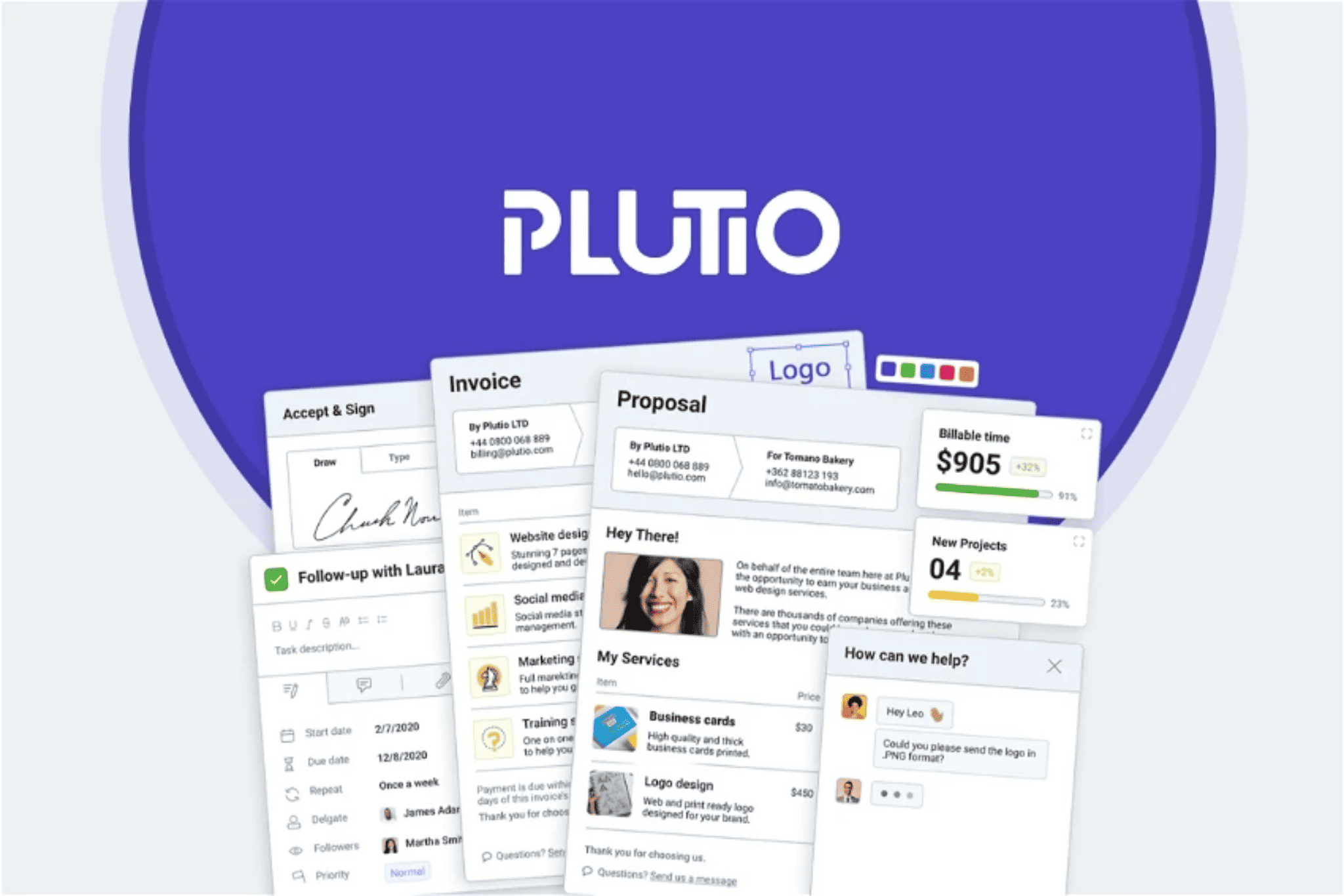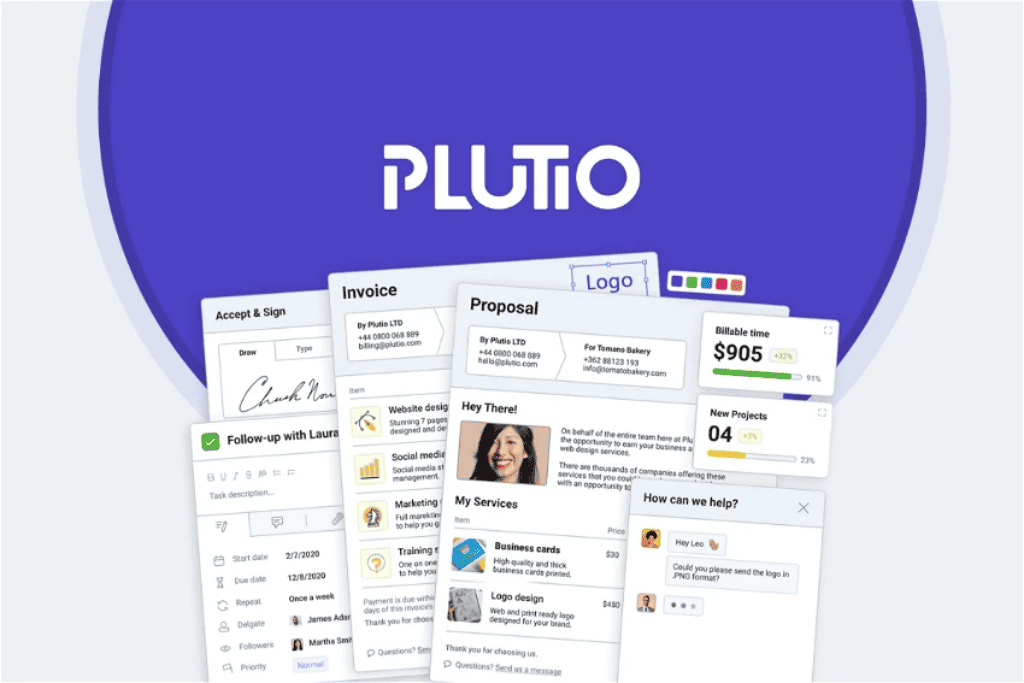 Company Details
The founders of Plutio, Leo Bassam and Dan Siepen, envisioned a powerful all-in-one solution for small businesses. Their vision is to empower businesses with efficient and user-friendly software while continuously improving and enhancing Plutio.
Founded in 2015 and headquartered in London.
Online Presence
Getting Started with Plutio
How Does Plutio Work?
Account Details
In the "My Account" section, you can customize your localization details and preferences. This is useful if you work with clients or manage a team in a different time zone or hemisphere.
You can set your preferences in the "My Account" tab, and they will only apply to your account.
Workspace Details
Here you can edit the workspace name, domain, branding assets, and contact details from here. The default localization preferences like language, timezone, and date format are set from the "workspace details" tab.
If you need multiple workspaces, you can manage and switch between them easily from your Plutio account by clicking the "+" button in the main menu.
Invoicing Details
Set up your customer payment terms and methods here. Customize your default payment timeline, accepted payment methods (Stripe/Paypal/Bank Account), invoice numbering settings, taxes, discounts, and terms.
You can also connect a chat widget for customer inquiries without leaving the invoice. Ensure this area is properly set up to receive timely payments for your work.
Custom Fields
Custom fields in Plutio provide additional details to tasks, projects, and people profiles. You can create custom fields for tags, priorities, estimates, and more. There are four types of custom fields: input, multi-select, dropdown, and date/time.
Permissions
Permissions are based on 4 different user roles; owner, co-owner, client, and contributor.
Owner: Each workspace typically has only one owner, usually the creator of the workspace.
Co-owner: Co-owners have the same level of access as the owner and can also invite other co-owners.
Client: The client role is designed to limit access to only assigned or related items.
Contributor: The Contributor role is customizable to meet your specific requirements. You can create multiple custom roles with different permission levels. For instance, one role could grant access to all projects by default, while another role could provide access only to specific projects for contractors.
Managing Business with Plutio
Key Features
Project Management Capabilities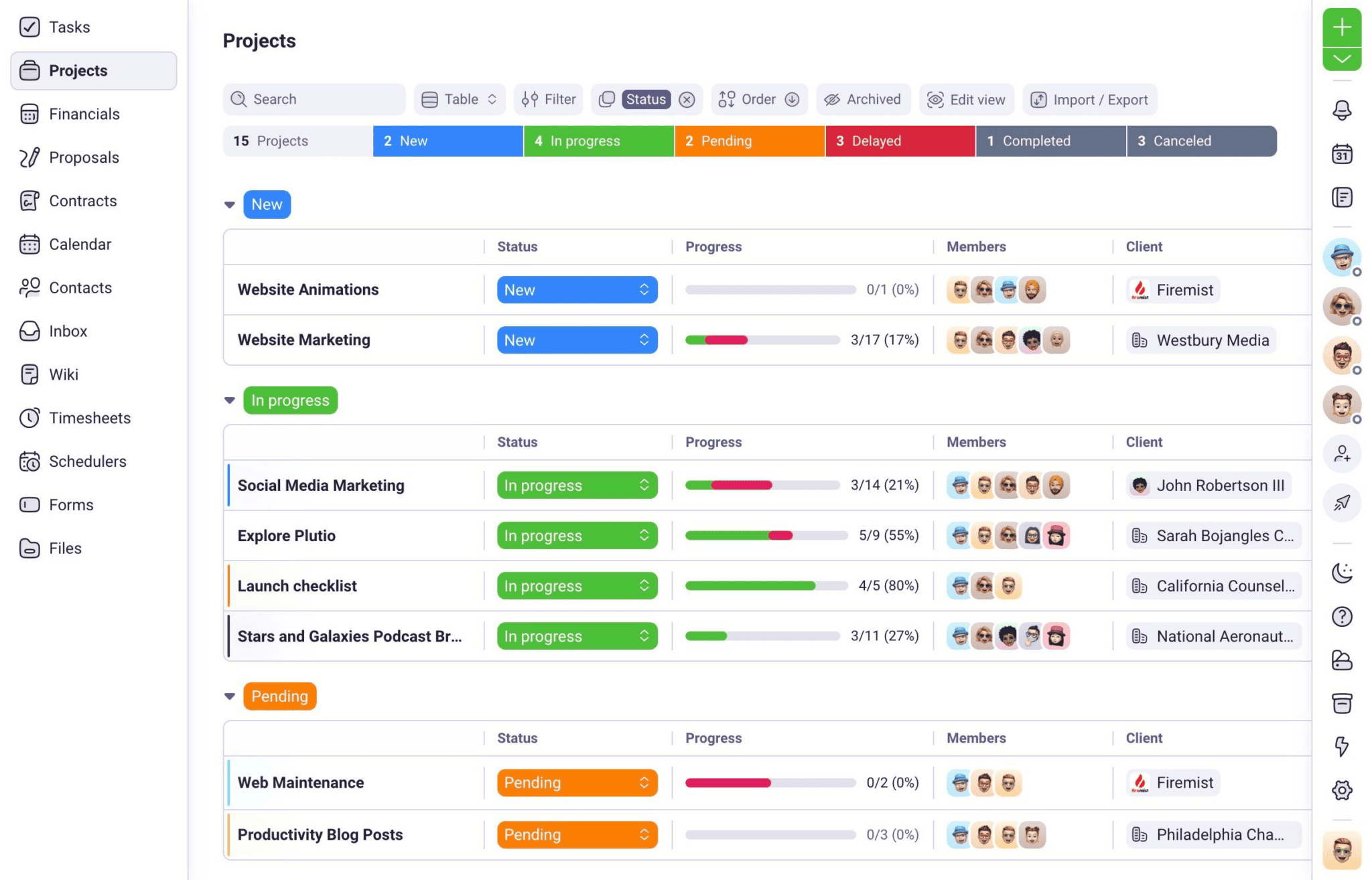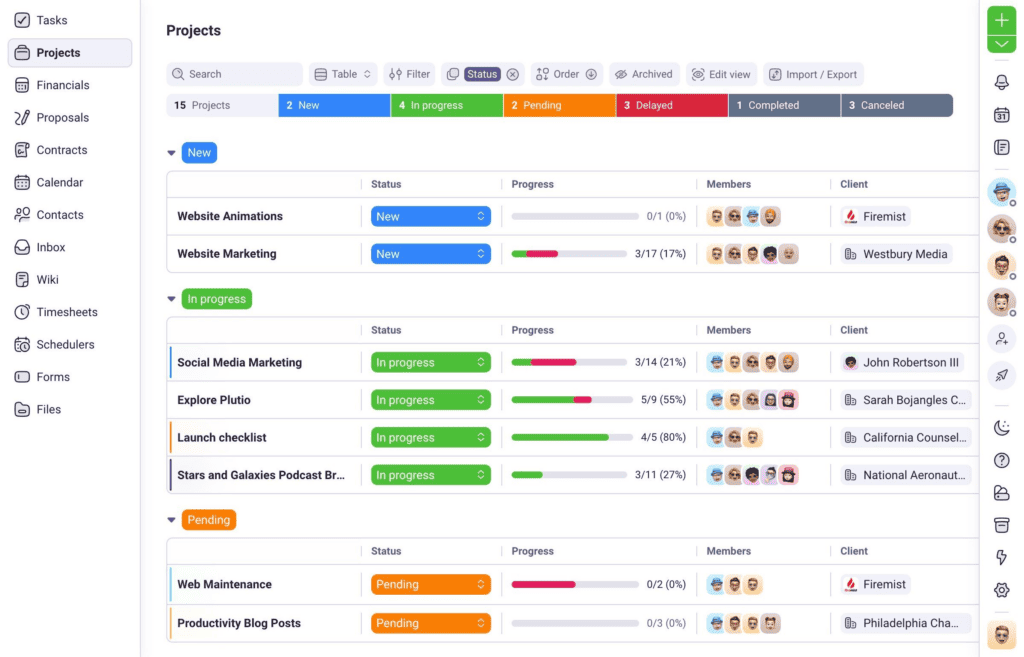 Plutio offers a range of project management tools, including project timelines, task assignments, and a project dashboard for efficient collaboration.
A single platform for all your project communications with all the necessary tools for organizing and collaborating on projects already integrated, you no longer have to switch between different applications to locate information.
Communication Tools for Clients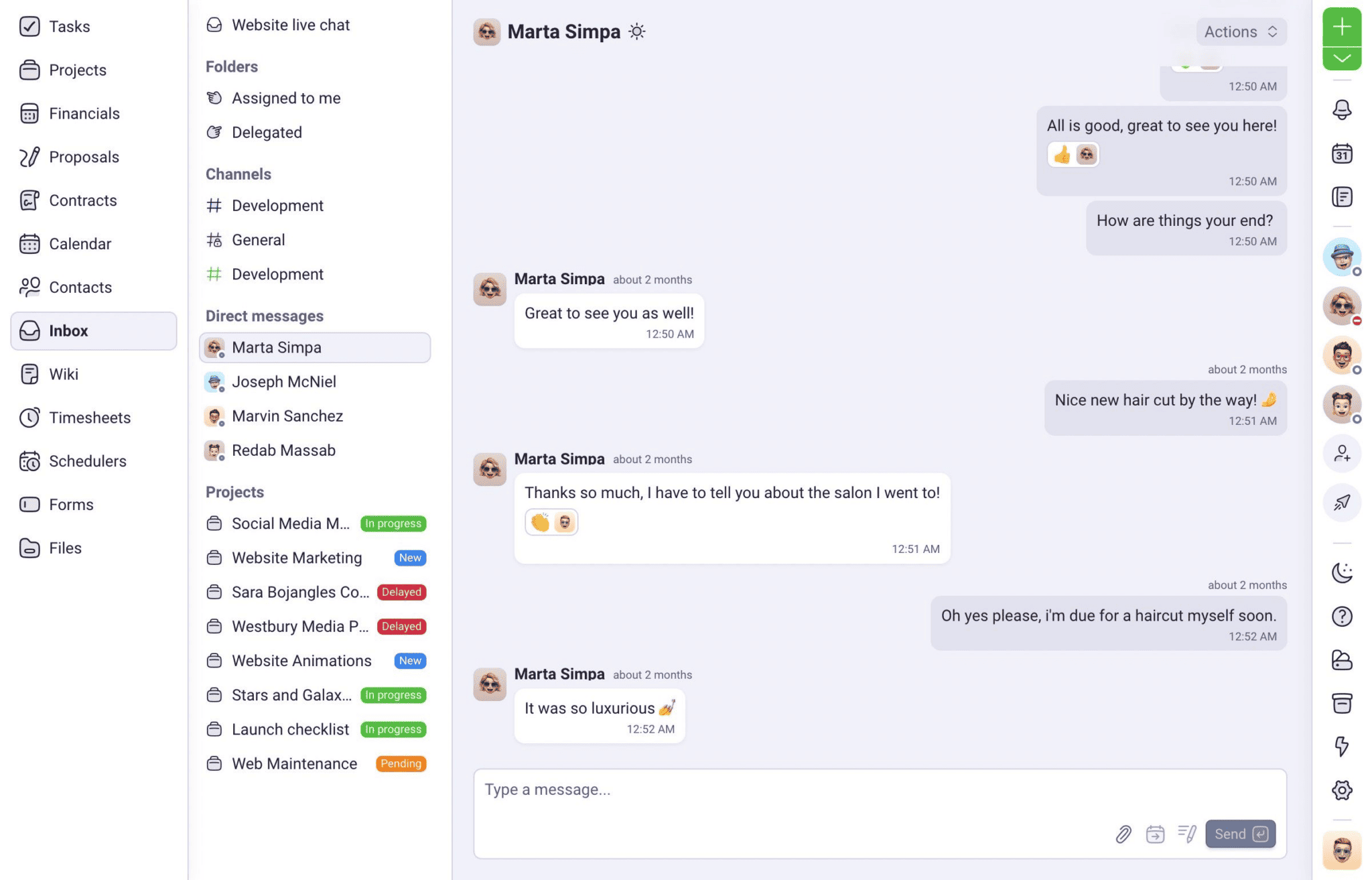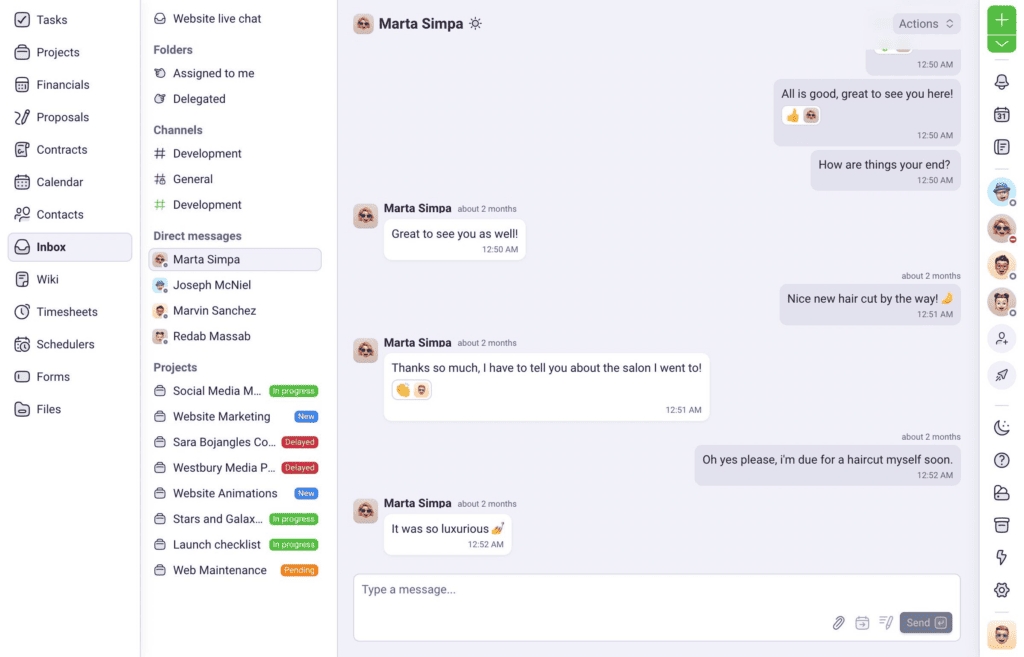 Plutio provides a variety of communication tools for seamless client collaboration. Clients can access a dedicated client portal and use real-time chat functionality for instant communication.
With an inbox that is packed with features, a live chat option, and a discussion board that comes built-in, you have the ability to communicate with all project stakeholders using real-time messaging and integrated emails.
File Sharing Features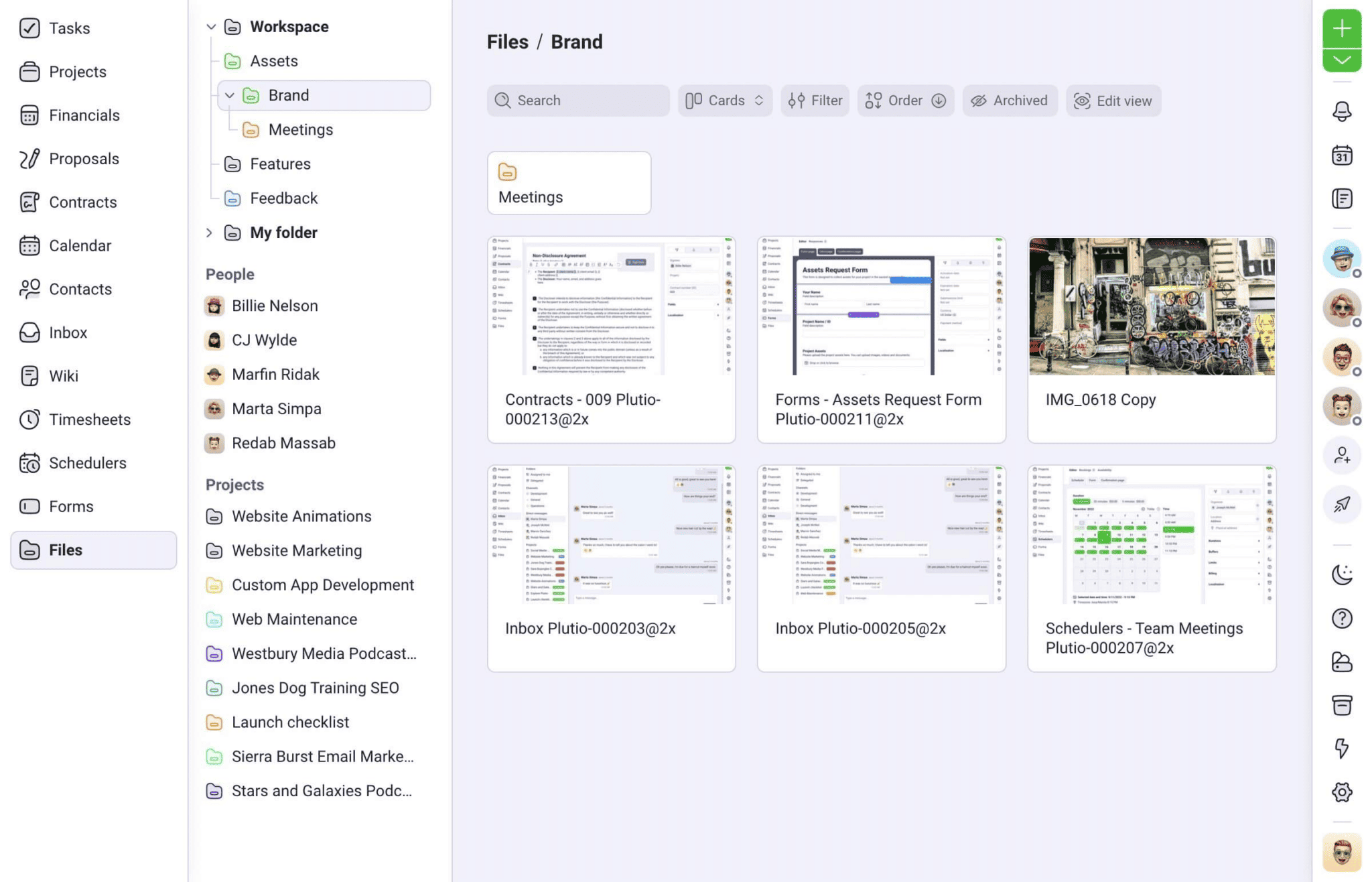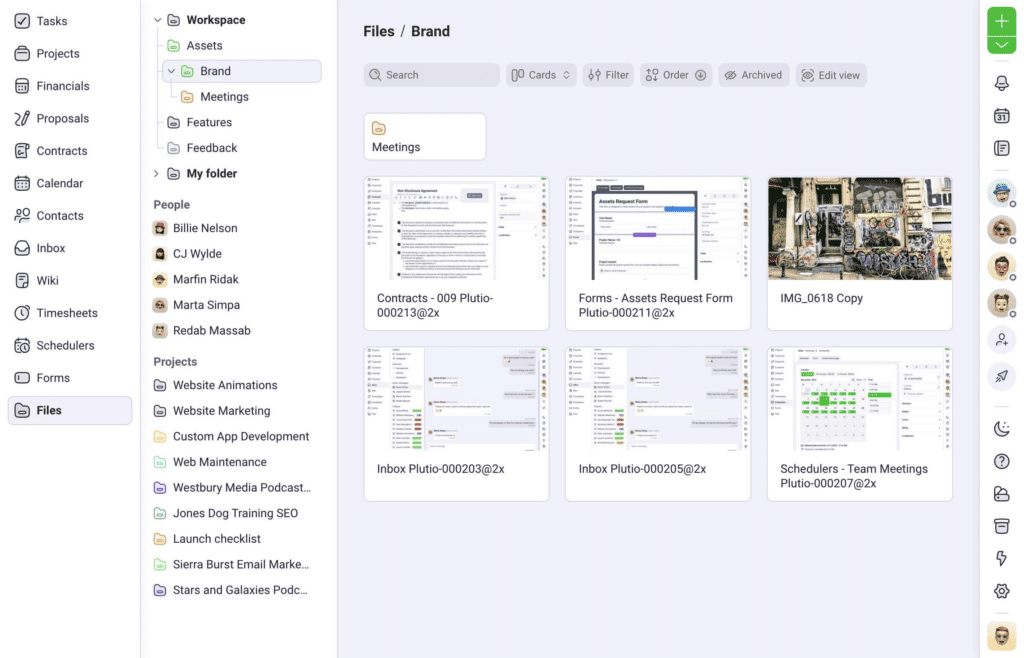 Plutio offers robust file-sharing capabilities, allowing easy sharing and organization of files within project folders. It supports a wide range of file types and sizes, ensuring secure collaboration.
Proposal Creation Tools
Create professional and personalized proposals using Plutio's app. Save time with pre-designed templates and turn prospects into repeat customers with fully responsive proposals.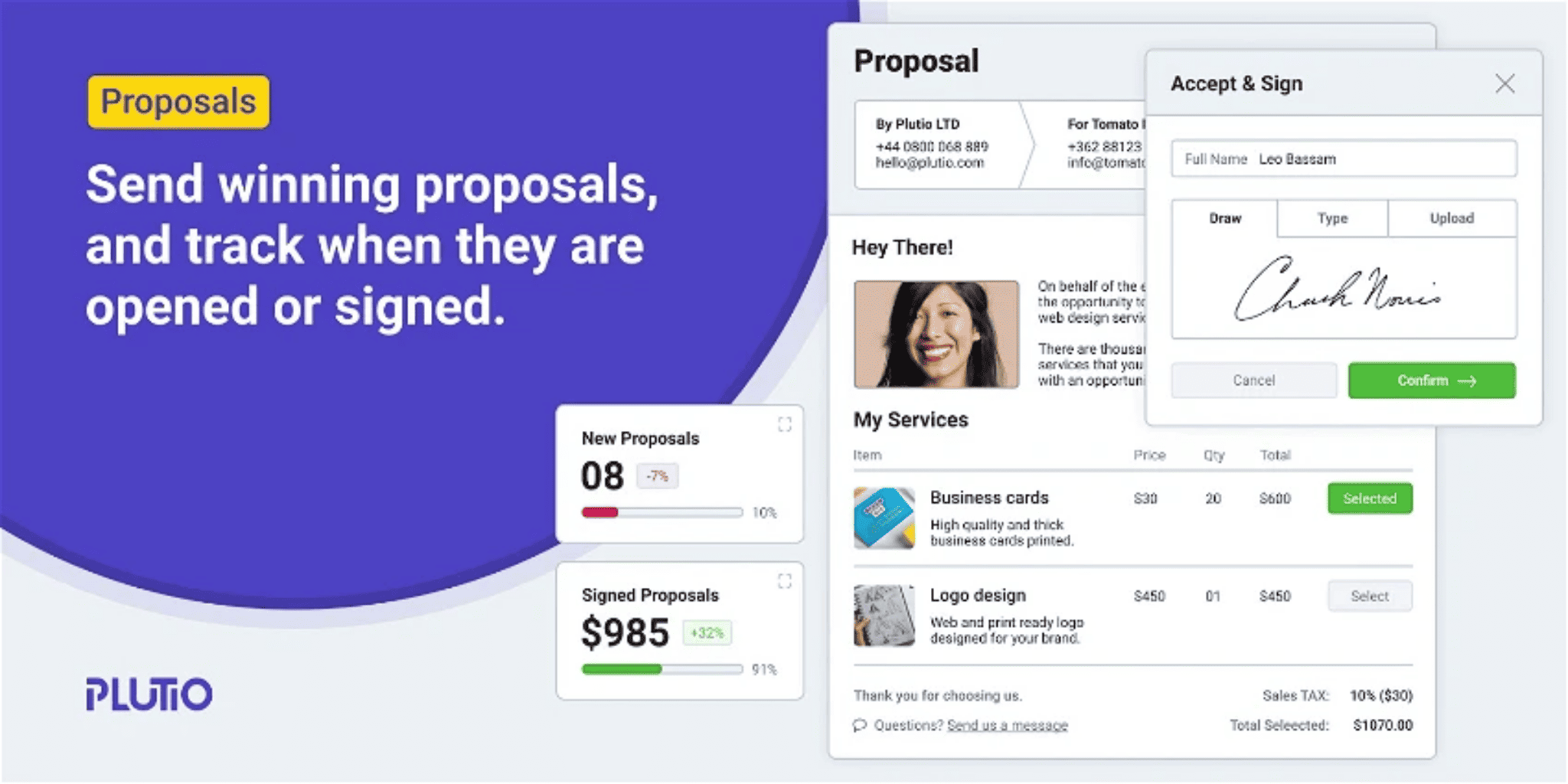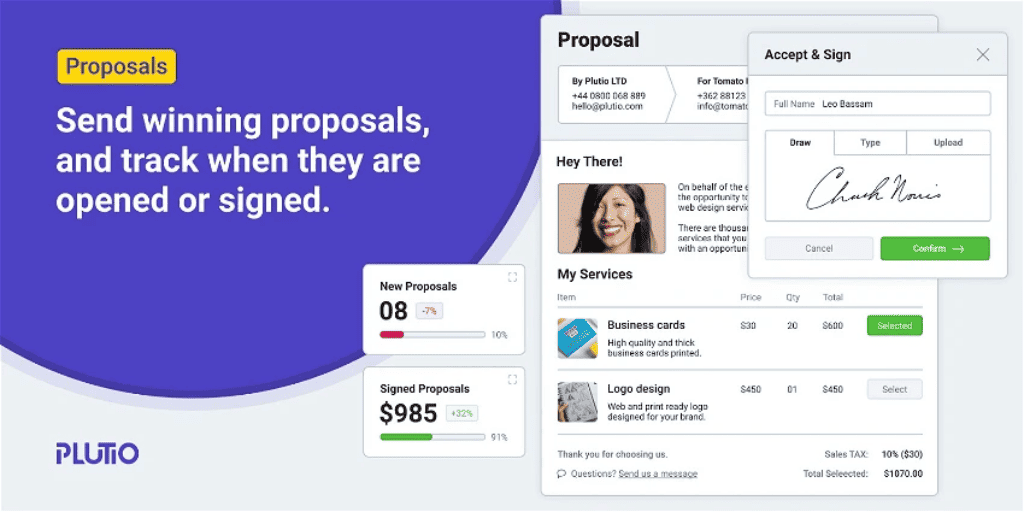 Create proposals in minutes with a simple-to-use drag-and-drop editor. Send 'em to clients to sign electronically and track when they're opened, signed, and paid.
Invoicing and Payment Solutions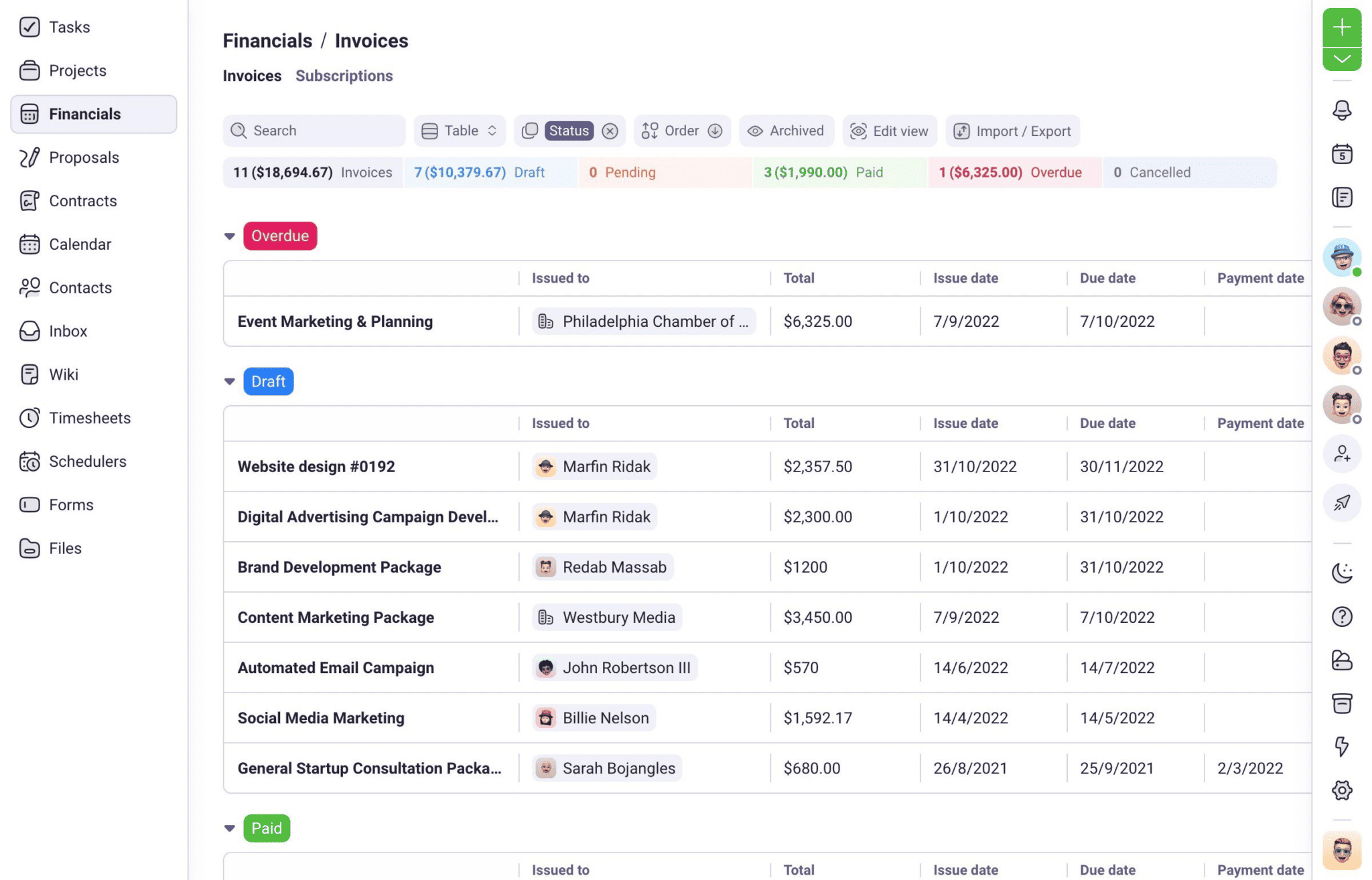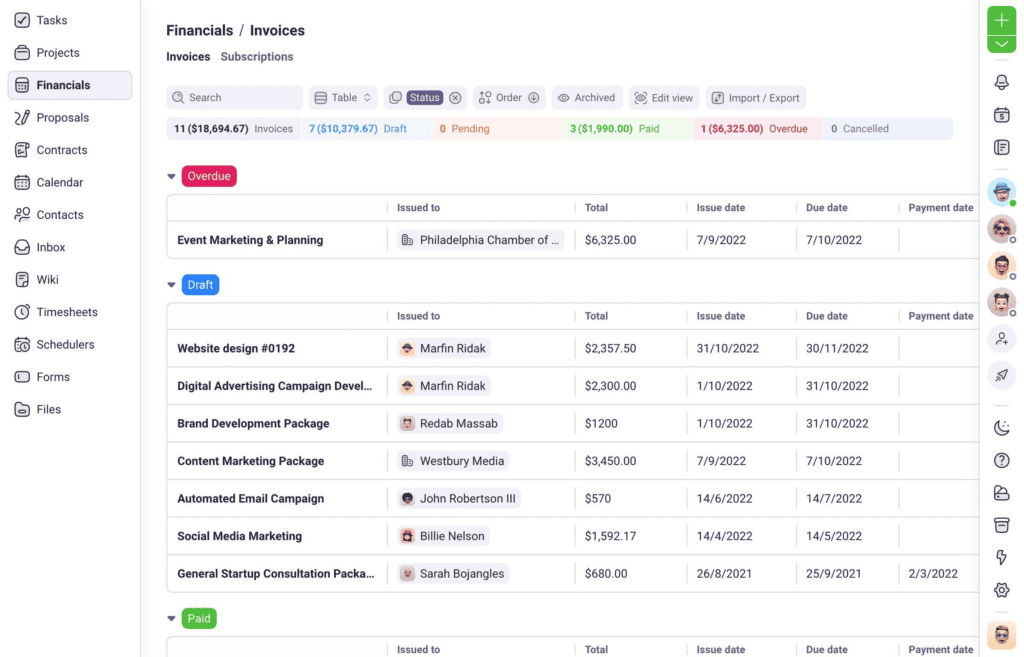 Plutio's invoicing solution lets you create fully responsive and branded invoices, customize every aspect, and track payments effortlessly.
Plutio invoices are a modern take on the age-old request for payment. Instead of using paper, they're fully digital and let your client pay online from any device.
Create your very own invoice template from scratch, or easily get a pre-made template and customize it to fit your needs.
How Plutio Simplifies Your Workflow?
Key features
Automate tasks, stay organized, track time, manage projects, and integrate with other tools – Plutio simplifies your workflow efficiently.
Automation Features
Automate tasks like reminders and project status updates, customize workflows, send email notifications, and eliminate repetitive manual tasks with Plutio. Increase efficiency and save time.
Task Management Capabilities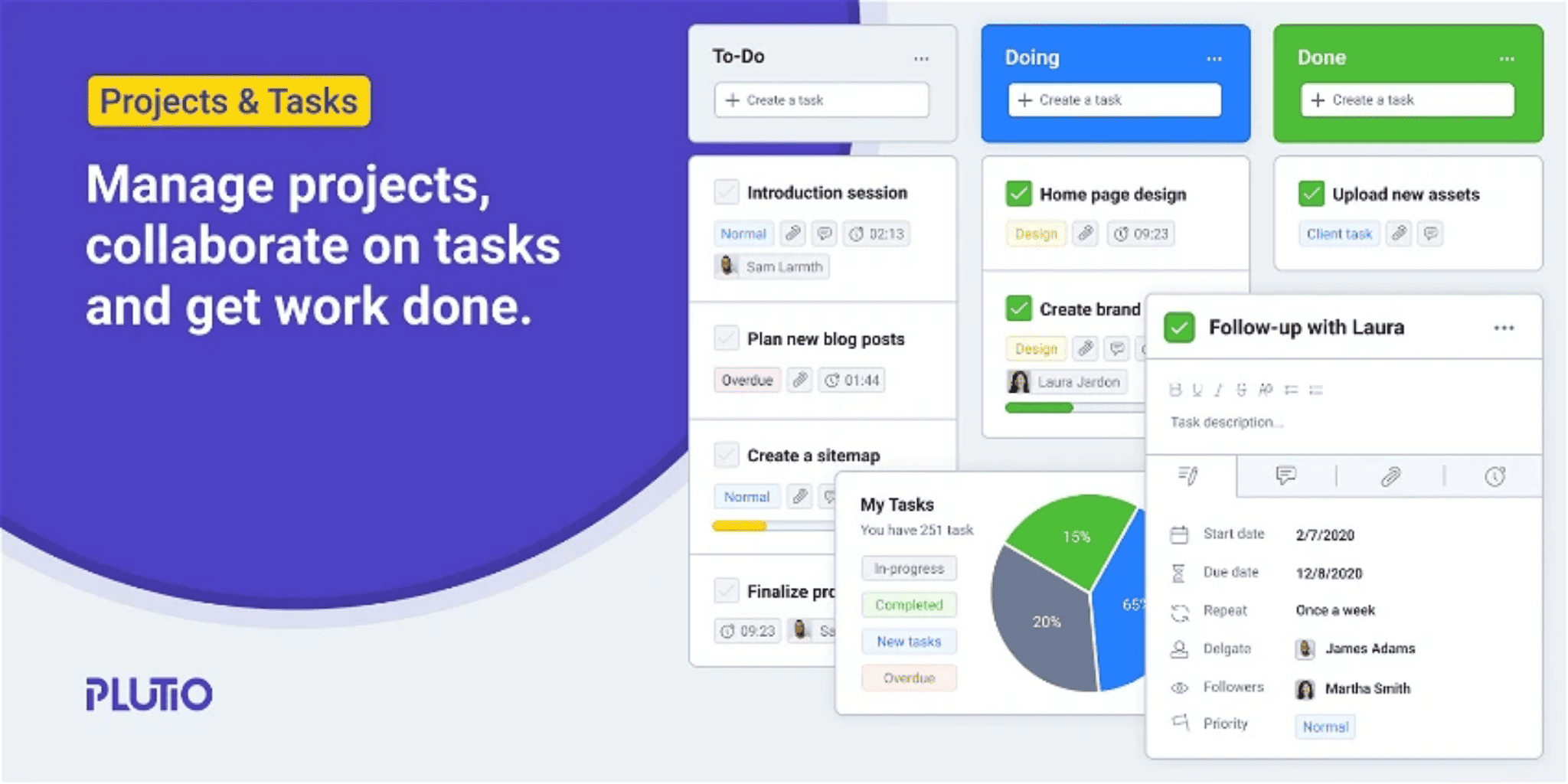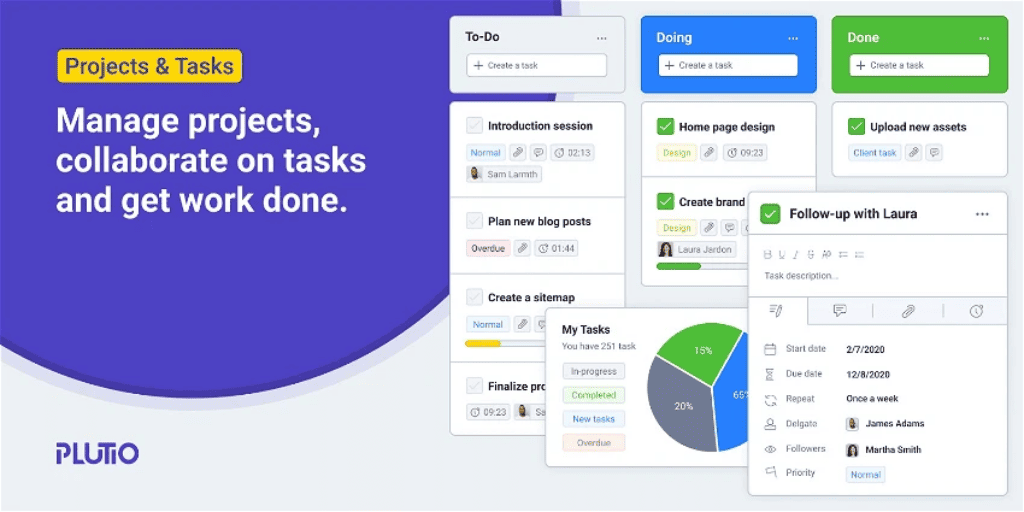 With Plutio, you can create and track tasks effortlessly, set deadlines, and collaborate with ease. Stay organized and focused on your workflow using custom fields and views.
Plutio will automatically help you stay organized and focused by creating tasks for whatever needs to be done or kept track of.
Time Tracking Tools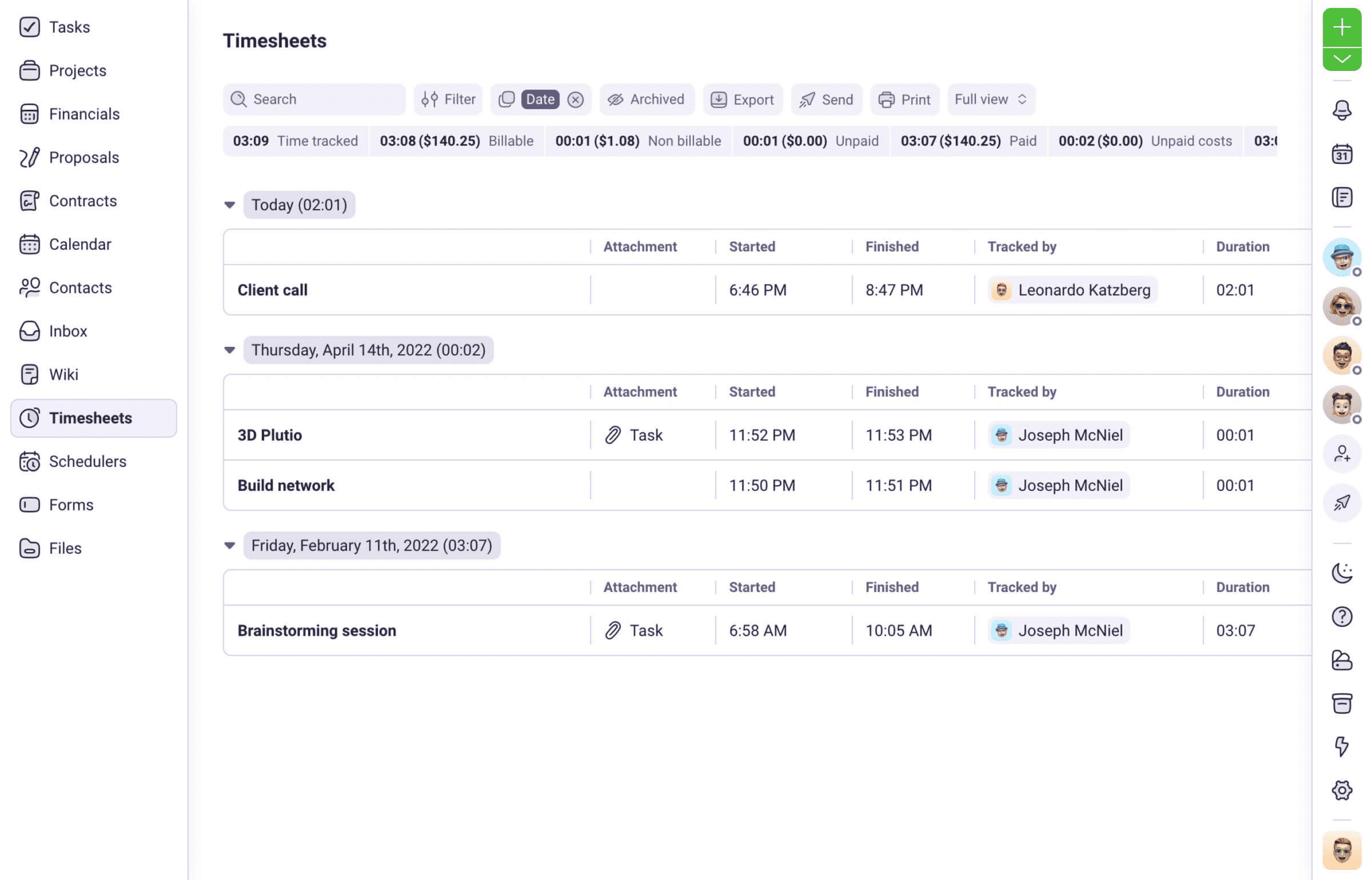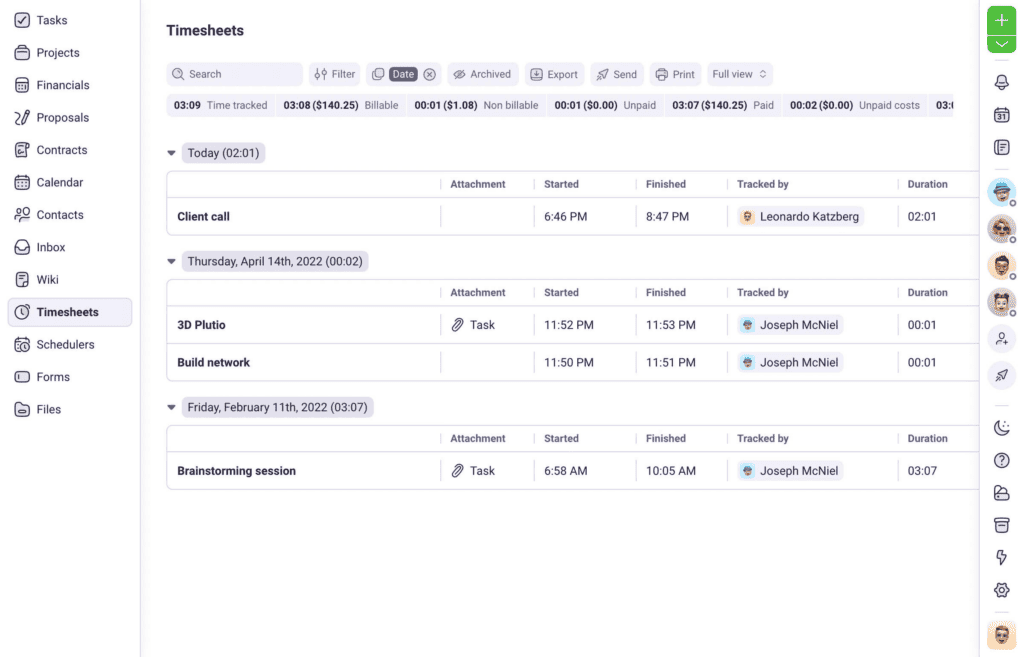 Accurately track time spent on tasks and projects with Plutio's time-tracking tools. Use the timer feature or log time manually. Generate timesheets, and reports, and gain insights into productivity.
Exploring the Advanced Features of Plutio
Why choose Plutio?
Plutio continuously enhances user experience and productivity with new features. Stay updated for the latest enhancements, integrations, and ways to manage business more efficiently. Provide feedback to influence future development.
Forms, Scheduler, and Contracts
Create custom forms to gather client information. Client and audience feedback is essential to growing your business. Plutio makes it easy to create engaging forms and surveys, so you can easily collect the information you need.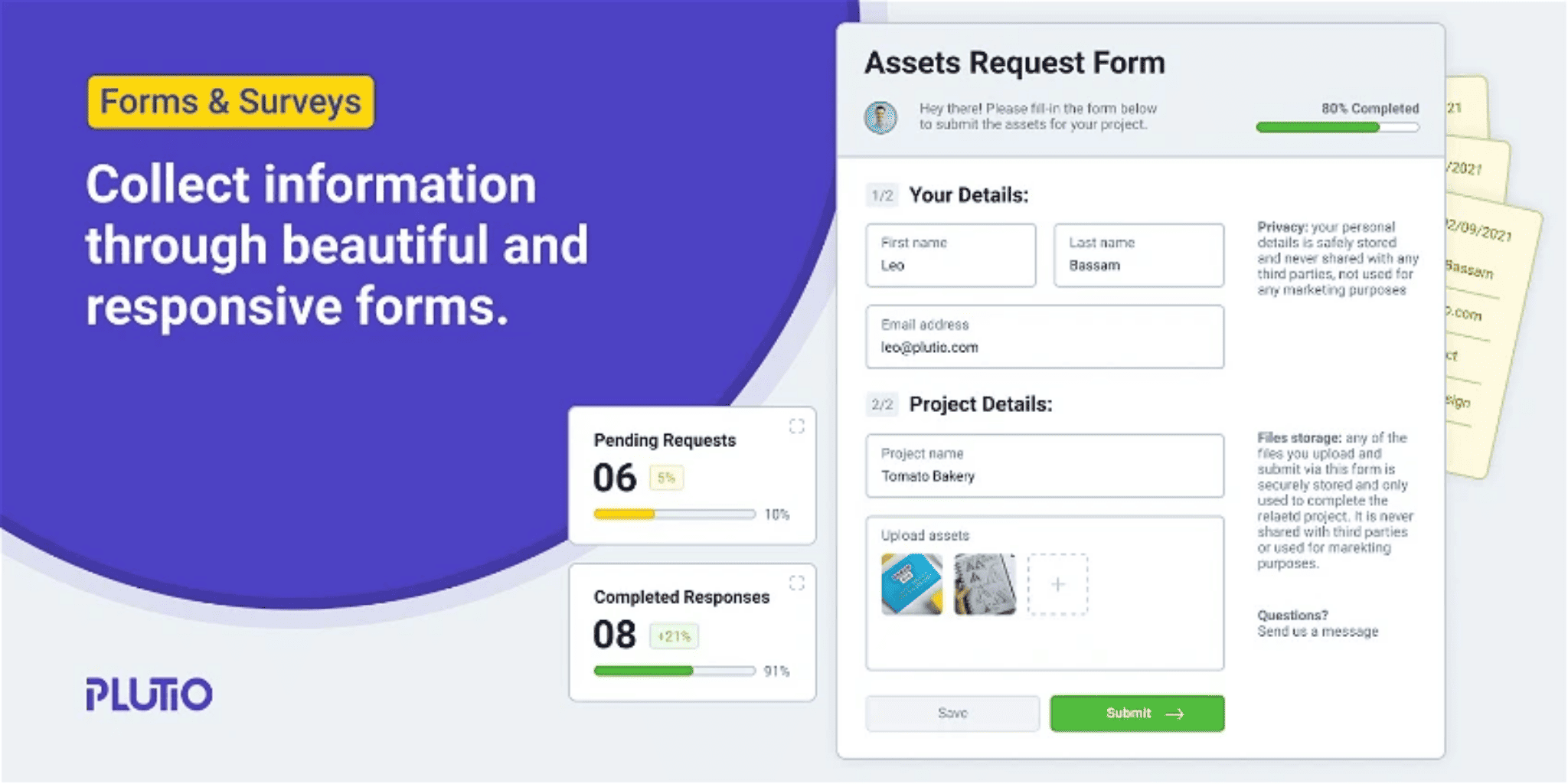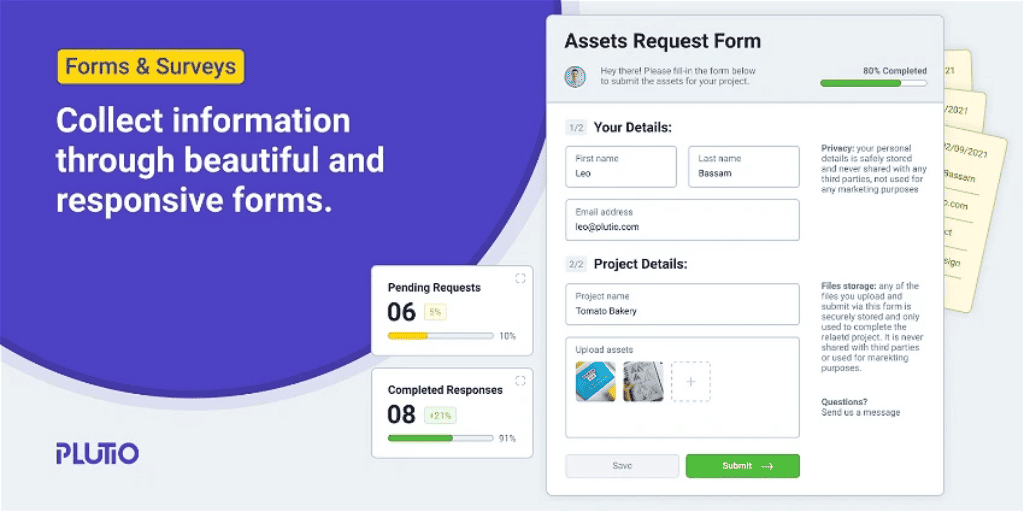 Easily schedule appointments and manage your calendar. Design beautiful documents with the built-in editor. Streamline workflow with automated notifications and reminders. Customizable fields and due dates for efficient task management.
Generate legally enforceable contracts within minutes. Plutio aims to make their collaboration with you as transparent, uncomplicated, and effortless as possible. Transmit, monitor, and authorize legally binding agreements with individuals from any location.
Dashboards and Client Portals
Get real-time overviews of projects with customizable dashboards. Collaborate securely with clients through client portals. Access important metrics in one centralized dashboard. Manage invoices and payments seamlessly.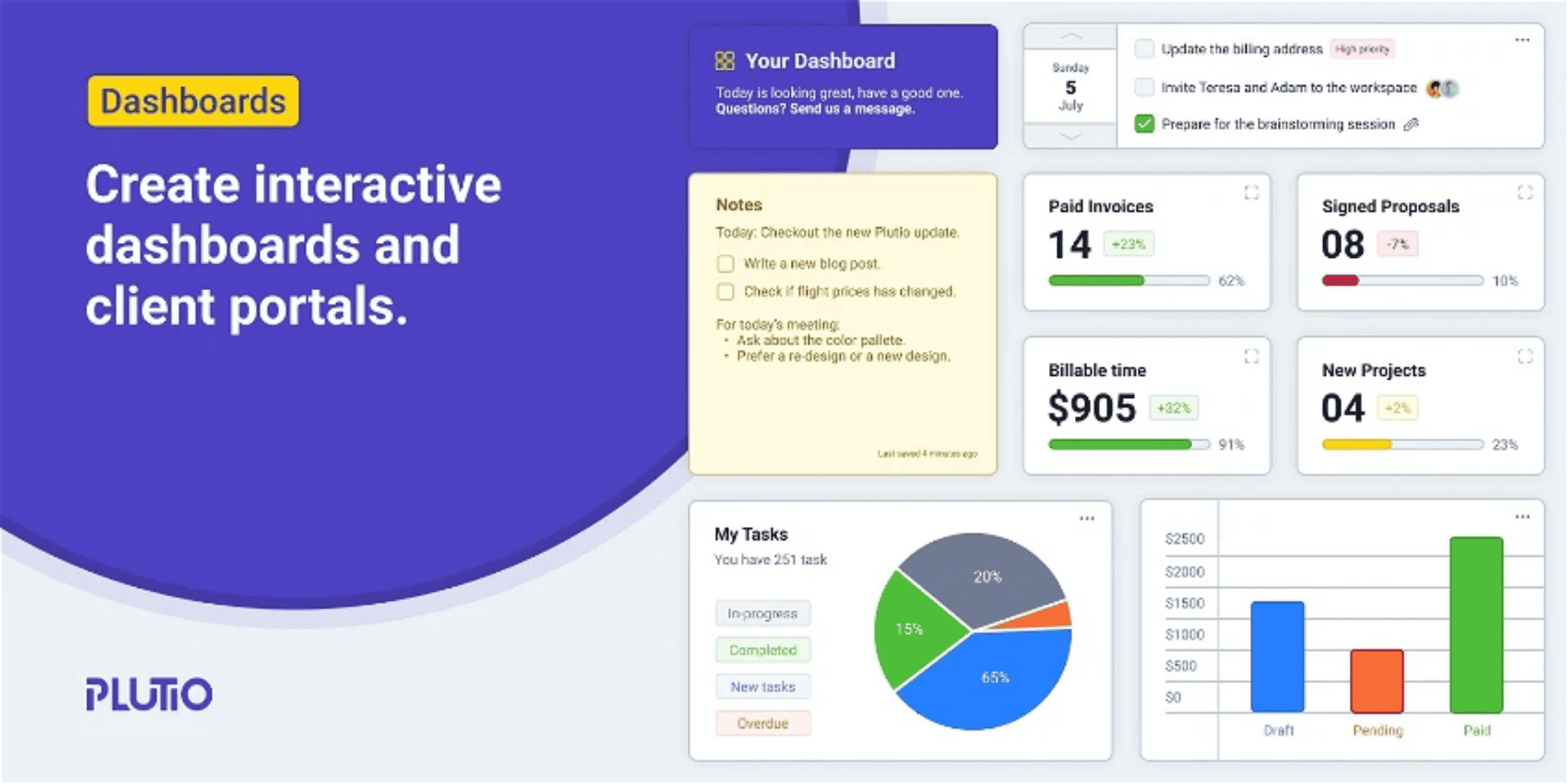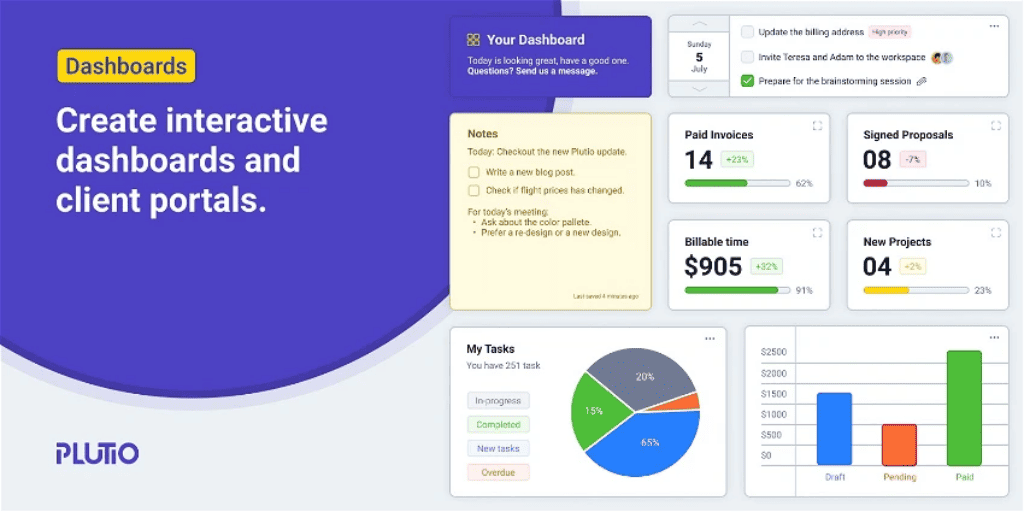 Widgets and Customizations
Customize your workspace with interactive charts and graphs, add widgets for quick access to tasks and information, personalize your dashboard with custom fields and filters, and integrate third-party apps like Stripe and PayPal for easy payment processing. Create a branded experience with a custom domain and logo.
Why Choose Plutio?
Benefits and Uses
Plutio is incredibly flexible to fit your unique needs.
Reliable tool for all sizes of business.
A centralized tool for business
Supports 25+ languages, multi-currencies, and payment methods.
Third-party Integration
Completely secure.
Pricing Plans
subscriptions
Plutio offers a free trial for beginners. You can cancel your plan at any time but no refunds will be issued.



Support
Technical Support, Knowledge Base, Changelogs
Contact support you can chat, tweet, mail and even take the help from community.
Alternatives
Similar Apps
Notion is an app that helps you create, manage, and organize all types of content. It's a workspace that allows you to write, plan, collaborate, and get organized in one place. 
Trello is a job administration tool created to aid individuals and also groups to team up much better and also keep their jobs organized. 
Final Verdict
conclusion
In conclusion, Plutio is the ultimate business management app that streamlines your workflow and enhances productivity. With its user-friendly interface and comprehensive features, Plutio offers everything you need to effectively manage your projects, communicate with clients, share files, create proposals, and handle invoicing and payments.
The UI is also user friendly so you can start your business with Pluito with no doubt.
Review Video
Plutio review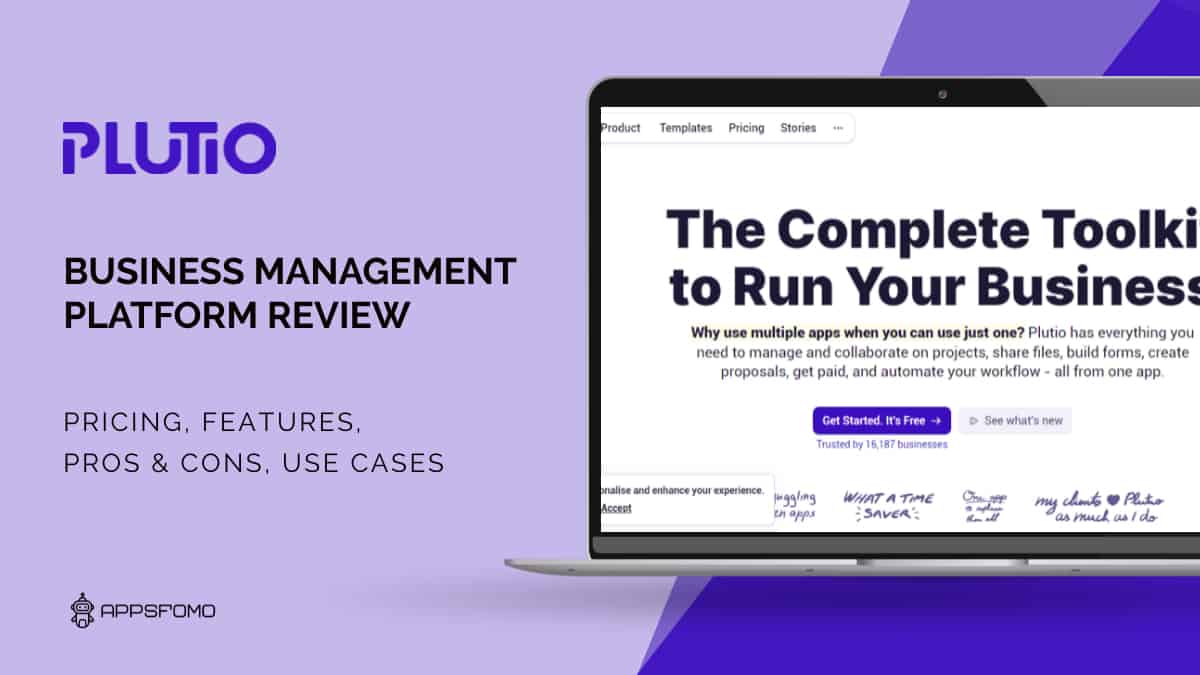 Specification:
Plutio : The Ultimate Business Management App
| | |
| --- | --- |
| Review Date | August 2023 |
| Company | Plutio |
| Country | London |
| Initial Release | 2015 |
| Pricing | Montlhy |
| Free Version | Free Tier |
| Lifetime Deal | Yes |
| LTD Platform | Appsumo |
| Money-Back | N/A |
| Appsfomo Rating | 9 |
| Support type | Email, Live Chat |
| Integrations | Integromat, Pably, PayPal, Project Cards, Stripe, Zapier |
| Supported Device | Android, Web Based, Windows |
| Mobile app | Available |
| Affiliate Program | Yes |
PROS:
14-day free trial
Integrated proposals
Integrated contracts with the signature option
Frequent updates
Invoicing is easy
Small learning curve
Strong community
CONS:
Features Are Still Being Developed
Recurring invoice is not included
Customer Service not up to the mark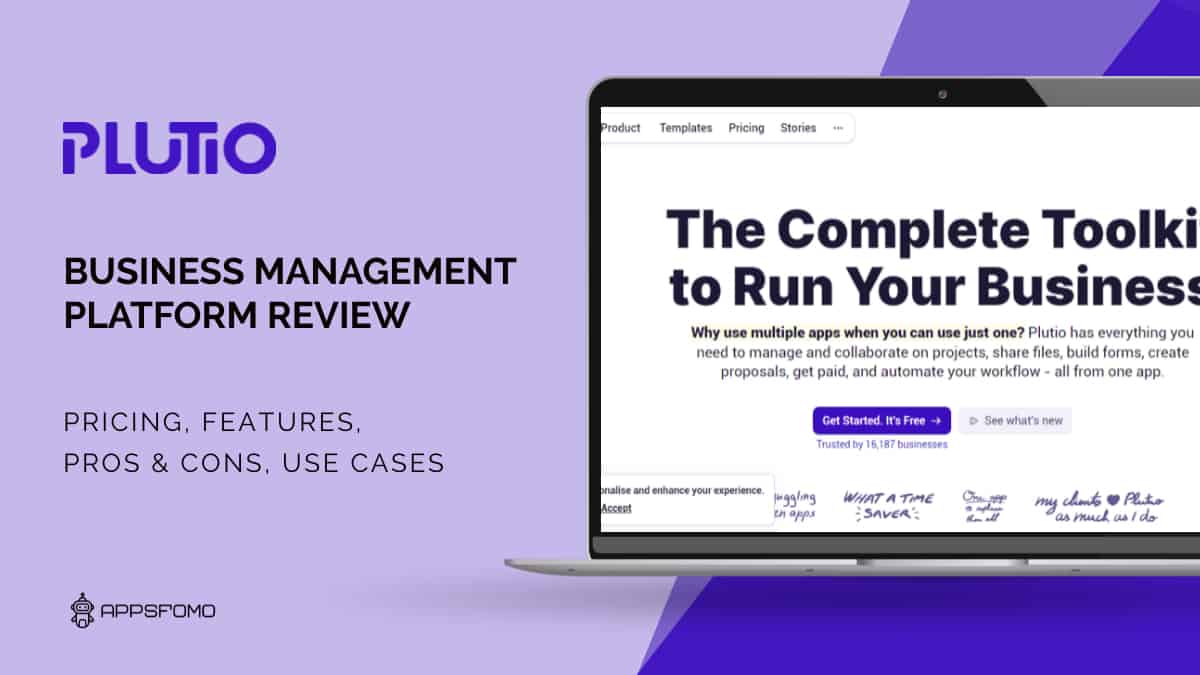 Plutio : The Ultimate Business Management App